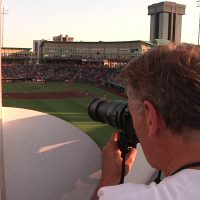 Photography started as a hobby for Mark Harrell, and that hobby has since turned into a 15 year gig as the Springfield Cardinals photographer, starting when the team came to town in 2005.
"I was new, everything was new, the park was new," Harrell said.
Being a baseball fan first and foremost is what helped him get his foot in the door.
"There wasn't any agreement, other than just a gentleman's agreement to come out, we'll give you a pass, you shoot some," said Harrell.
After seven seasons, Mark decided he wanted to document his experiences.
"If something would happen I would take a picture and put it in a folder, and that picture would remind me of a story," said Harrell.
He began writing a book.
"As I got going writing the book, and as I got closer along and realized that this was actually going to happen, then I started to become a pretty good writer if I do say so myself," Harrell said.
In eight years, the book went from an idea in Mark's head, to the shelves of the Springfield Cardinals team store. And just like baseball and photography, Mark is considering adding writing to his list of passions.
"It would be kind of nice to have a sequel, maybe I'll do that on my last year, number 20 or who knows, but I would like to have another book," said Harrell.
The book can be purchased online at darkroomtodugout.com.