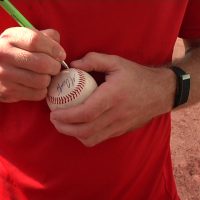 Many things make baseball what it is, from the game itself, down to fan experience. Another big part of the game is players signing autographs for the fans.
"I usually stretch a little before hand, you know, get prepared," said Springfield Cardinals pitcher Alex Fagalde.
Some items like bats and ball caps don't require many rules as far as placement goes, but when it comes to baseballs, that's a different ballgame.
"So the first thing they teach you about autographs is to never sign the sweet spot, because that's where the manager signs the ball," Springfield Cardinals pitcher Mitchell Osnowitz said.
"Some people request for it, and if they do I'll sign the sweet spot, but otherwise, I sign where I'm supposed to," said Springfield Cardinals pitcher Connor Jones.
Different surfaces are more difficult to sign than others.
"Baseball is tricky, I signed a baby yesterday, which is a little trickier." said Fagalde.
No matter what they're signing, they have to know how to sign; staring with their names.
"When I was younger I tried to figure out what I was going to do every time," Fagalde said.
"I just start my signature with an M then a dot, because Mitchell Osnowitz is kind of a long name," said Osnowitz, "It's definitely evolved. This year I'm number 4, so I use it with the 'T' in my name."
Some choose to include their jersey number, while others focus more on legibility.
"When I got autographs as a kid, if you couldn't read then name it's like —
but if you can read the name it means a lot more," Jones said.
Each player puts thought into their autographs. As for whose is the best, who's to say?
"I've never judged anybody else's signature on the ball. I've seen a couple and thought, 'that's terrible,'"Jones said, "but I don't know whose the best is. Having a legible signature means a lot, so if we're judging that by the best."
"Practice makes perfect though, so I guess the more you sign the easier it gets," said Fagalde.
As much as it means for the people receiving the autographs, it means just as much to these Springfield Cardinals handing them out.
"It's relatively new. It's a good feeling when someone thinks your autograph is actually worth something," said Fagalde. "So it's definitely humbling, it's a nice thing to do, and I'm happy whenever I get to do it."