It was a simple question.
Robby Hoegh, coach of the Bolivar Liberators, was asked his thoughts on facing Vashon in Saturday's Class 4 title game, set for 2:40 p.m. at Mizzou Arena in Columbia. The Liberators had just defeated Parkway Central in the Class 4 semifinals and were less than 48 hours away from playing in a state championship game for the first time in 57 years.
Hoegh, normally a wordsmith when it comes to doing interviews, got a bit choked up and took a moment to compose himself amid a sudden wave of emotion.
Perhaps Hoegh realized it was the final game for a tight-knit, family-like group, one that will go down as one of the best Liberator teams in school history. No more coaching Conley Garrison, no more coaching Brandon Emmert.
Fighting back tears, Hoegh received a pat on the back from Garrison and gave a simple-sounding answer for what had become a complexed question.
"We're going to keep doing what we do," Hoegh said. "These guys are more than basketball players. The big thing is, we want to enjoy this."
The opponent
Vashon and Bolivar are at the opposite ends of so many spectrums. The Wolverines are the top-ranked team in Class 4 and are credited with nine MSHSAA titles overall. The school had three state championships from the early 2000s stripped due to MSHSAA rules violations, including player recruitment and use of ineligible players.
Vashon's making its 20th final four appearance overall, tied with Charleston and Scott County Central for the most by any program in state history. Vashon's nine championships are the third-most all-time by any MSHSAA school.
Vashon's one of many public schools within the city limits of St. Louis, which is slightly larger than Bolivar's population of approximately 10,500.
As you'd expect, Vashon boasts top-level talent.
The Wolverines (26-3 overall) are led by Kansas State commit Levi Stockard, a 6'8" 245-pound forward who averages 15 points and 8 rebounds per game. He'll have about two inches and 20 pounds on Bolivar's best inside weapon, Emmert.
Senior Joseph Reece, a 6'8" forward who averages 12.5 points and 6.9 rebounds per game while shooting 44 percent from 3, has scholarship offers from Kansas State, Saint Louis University and Duquesne.
Sophomore guard Mario McKinney (10.0 ppg) has offers from SLU, Mizzou, Tulsa and Southern Mississippi. Koray Gilbert, who had a team-high 50 3-pointers entering the state tournament, has offers from Missouri Western and Missouri Southern. Senior guard Daniel Farris is fielding offers from the likes of Missouri-Kansas City and Eastern Illinois.
Altonio Irons serves as Vashon's head coach. He's the son of longtime coach Floyd Irons, who helped establish the Wolverines as one of the premier programs in the state.
PHOTOS: BOLIVAR VS. PARKWAY CENTRAL
On paper, Vashon's pedigree trumps Bolivar's.
On paper.
The Liberators don't seem to mind the underdog role. They're a team that battled back from a 14-point deficit in the district finals against Hillcrest, then saved their season at the end of regulation in the quarterfinals against Grandview with a game-tying 3-pointer by Garrison.
It took Bolivar until Dec. 21 to crack the Class 4 state poll, when the Liberators came in at a humble No. 10.
Bolivar won a state championship in 1960, under a classification system that no longer exists. Bolivar didn't make another final four until 2015, when it lost to St. Charles and Cape Girardeau Notre Dame.
"I remember coming in (the press conference room) after that St. Charles game and being in tears," Emmert said.
Bolivar funnels the majority of its offense through Emmert (20.7 ppg, 7.8 rpg) and Garrison (18.0 ppg, 5.7 rpg, 5.7 assists per game). The former has committed to play at Central Missouri, while the latter will likely end up playing at an NAIA or Division II school.
In a supporting role, Conner Sechler and Ian Jones have each made at least 45 3-pointers on the season while shooting over 40 percent from deep.
Emmert and Garrison have led Bolivar to three straight district championships, all of which saw the Liberators win at least 24 games per season.
"It means the world," Emmert said of playing in the state finals. "To be in that class with Vashon makes it that much sweeter because we want this so bad after being here two years ago. The whole team has wanted this moment all year.
"That was our goal from the very beginning. We didn't want to be district champs, sectional champs, quarterfinals… we wanted to bring it all the way home. Our guys have dedicated themselves to getting to this game."
A way with words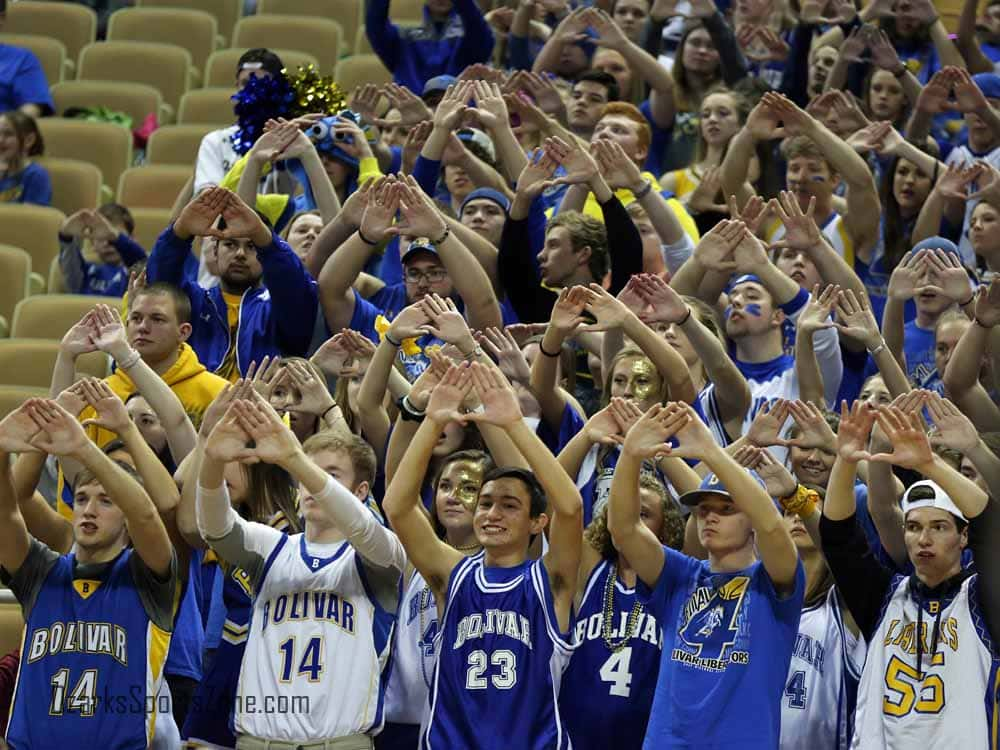 Bolivar's coaching staff doubles as occasional marketing strategists.
The Liberators know how to set a motto, a brand, a style.
Last year, it was #BlueCollarGoldSwagger. This year, #PolkCountyGrind and #EAT have led the way.
There's always someone grinding in Polk County, Garrison explains.
"Polk County, a lot of farmers. A lot of grinders," Garrison said. "Just blue-collar workers doing the little things, the dirty things."
The catchphrases and mottos seem to be bred from the coaching staff and supportive teachers at Bolivar. The @blupantsgldswag Twitter account spreads blue and gold-themed gospel.
"(The phrases) originate mostly from the coaches," Garrison said. "Then, we say, 'Hey, that's fun. Let's keep saying that.'"
Additional messages like #liberatorwisdom and #letsride have worked their way into the team's official Twitter feed this season.
It's part chemistry-building, part confidence-boosting.
Regardless of Saturday's outcome, look for the Liberators to E.A.T.
"These players (at Bolivar) have played in the Tournament of Champions, against Oak Hill and Bishop Gorman," Hoegh said. "Vashon's awesome. We know that. Everyone here (at state) is awesome. We're going to go out and E.A.T. We're going to give great effort, have a great attitude and be great teammates. The results, you can't control. But you can't always control E.A.T. To me, that's what I'm most proud of."