Kickapoo and Webster Groves traded big basket after big basket, lead after lead.
Chiefs senior Cam Davis was seconds away from being the hero and sending Kickapoo back to the Class 5 title game, only to be bested by an improbable shot from Webster Groves junior and Louisville commit Courtney Ramey.
It was a back-and-forth battle fitting for Class 5's top two-ranked teams.
Davis' 3-pointer gave Kickapoo a two-point lead with 21 seconds remaining, but Ramey answered moments later with a go-ahead three-point play that gave Webster Groves a 58-57 victory, spelling heartbreak in Columbia for the Chiefs for the second straight season.
"(Webster Groves) just had one more answer than we did," said Chiefs coach Dick Rippee.
PHOTOS: KICKAPOO VS. WEBSTER GROVES
Davis, a Navy signee, and Jared Ridder combined for 45 points to lead Kickapoo (25-5 overall). The duo accounted for 30 of Kickapoo's 35 second-half points.
Kickapoo faces Chaminade at 11 a.m. tomorrow at Mizzou Arena in Columbia in the Class 5 3rd place game. Chaminade defeated Kickapoo 72-59 in last season's Class 5 title game, behind 40 points from current Duke freshman Jayson Tatum.
Webster Groves (28-2 overall) faces Lee's Summit West (26-2 overall) in the Class 5 championship game at 6:20 p.m. Saturday.
"Our guys are still excited that we have a chance to play one more tomorrow," Rippee said. "We've got a special group of guys and seven seniors."
Kickapoo trailed by four (55-51) with under a minute remaining. A Davis 3-pointer brought the Chiefs within 55-54.
Chaminade missed the front end of a one-and-one free throw with 32 seconds to go, leading to Davis' go-ahead trey. Instead of calling timeout, Webster Graves set up a hand-off to Ramey at the top of the key. He drove right, drew contact and made the shot with seven seconds left on the clock.
"I went underneath the screen (on Davis), which I wasn't supposed to do, so he hit the shot," Ramey said. "I knew I had to make up for it. I knew I had to get the shot up. They fouled me, it went in. I made the free throw and we got the win."
Foul or no foul?
"Our kid thought (Ramey) instigated the contact," Rippee said. "The official did not see it that way. They made one more play than we did, give them credit."
One Ramsey free throw later, Webster Groves led 58-57. The Statesmen blocked a last-second shot attempt by the Chiefs, then celebrated together on court.
"It's tough, but so is life," Rippee said. "It didn't go the way we wanted to go, but we're still very happy with our guys and their preparation for this game."
Kickapoo was out-rebounded 34-24. The Statesmen grabbed 15 offensive rebounds, leading to several second- and third-chance scoring opportunities.
Kickapoo hung close by shooting 21-for-43 from the field overall (compared to 20-for-53 by Webster Groves). The Chiefs made 9 of 16 3-point attempts.
Ramey, a 6'3" junior guard, had 25 points for Webster Groves. Teammate Carte'Are Gordon, a 6'8 255-pound forward who has verbally committed to Saint Louis University, had 18 points and 10 rebounds on 6-for-8 shooting from the field.
"It was an unbelievably good high school basketball game," Webster Groves coach Jay Blossom said about a contest which had five ties and 13 lead changes.
Webster Groves threatened to pull away early in the second half, taking a 36-28 lead midway through the third quarter on a layup by Gordon.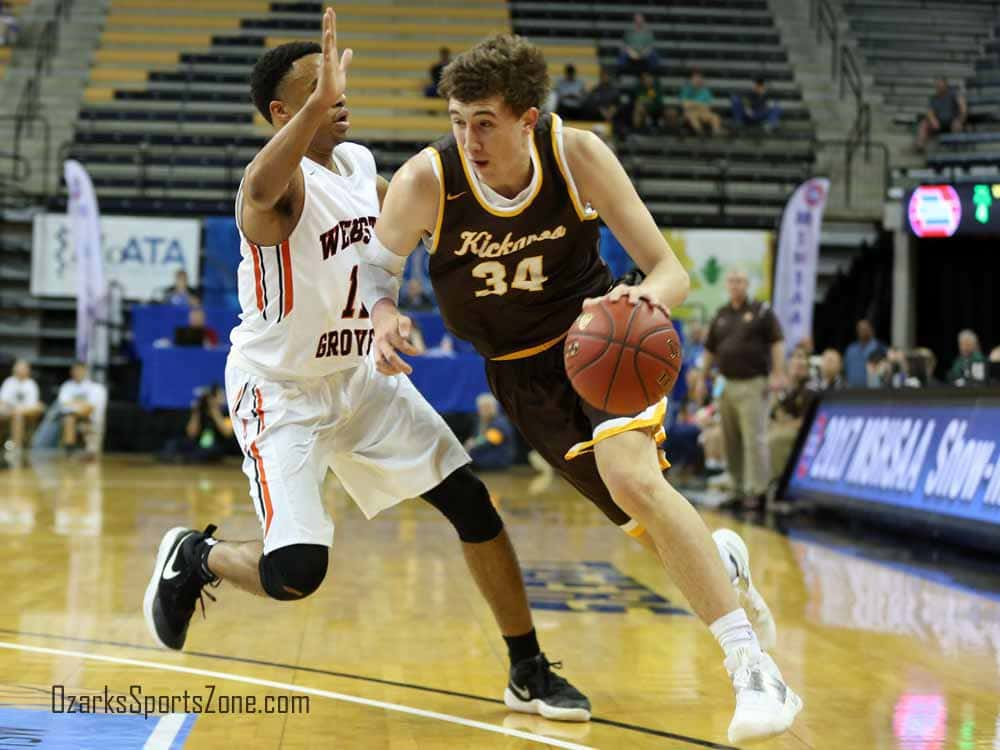 That's when Kickapoo got hot.
The Chiefs ripped off 10 straight points and went ahead 38-36 on a 3-pointer by Ridder with 1:33 remaining in the quarter. It was Kickapoo's first lead since the opening minutes of the game.
Ridder's four-point play in the final minute of the third quarter gave Kickapoo a 45-42 lead, but Ramey answered with a trey to bring the two sides even heading into the fourth quarter.
"When they (Kickapoo) go on runs, they really get going," Blossom said. "And they got going in the second half."
Ridder, a Xavier signee, heated up in the second half, scoring 16 of his 24 points after halftime. He overcame a scary moment in the first quarter when he attempted to take a charge on Gordon and took the brunt of a hard collision.
Ridder remained on the floor for over a minute and sat out the final two minutes of the first quarter before returning for the start of the second quarter.
"I was trying to get back on defense and get set up for a charge," Ridder said. "(Gordon's) knee hit me in the ribs. He's a big dude. It took me out for a bit, so I was just happy to get back in there."
Saturday's game against Chaminade will be the final one for Kickapoo's seven-member senior class and the finale for two program icons in Ridder and Davis.
CLICK HERE FOR A FULL BOX SCORE
Rippee recalled becoming Kickapoo's coach eight years ago, when Davis and Ridder were 4th graders.
"They didn't miss very many camps or very many open gyms. It's been a blessing to coach these two. I've been blessed to call them our players," Rippee said. "They've meant everything to our program."
Added Davis: "We've been here for four years and we couldn't thank everybody who's helped us along this journey," Davis said. "There's a reason God has put all these people in our lives."
Webster Groves 58, Kickapoo 57
Kickapoo 14 8 23 12 — 57
Webster Groves 17 9 19 13 — 58
Kickapoo – Jared Ridder 24, Cam Davis 21, Isaac Blakeslee 8, Travis Vokolek 2, Mitch Closser 2
Webster Groves – Courtney Ramey 25, Carte'Are Gordon 18, Isaiah Ford 5, Kevin Butler 4, Cam Potts 3, Donovan Daniels 3