By Chris Parker
The baseball season started just over a month ago on Mar. 18 and we are less than a month out from post-season starting on May 13, so it is time for a mid-season look around the area. Below is a look at all of the area's teams mentioned in the most recent state rankings as released by the Missouri Baseball Coaches Association.
APR. 19 STATE BASEBALL RANKINGS – CLICK HERE
CLASS 6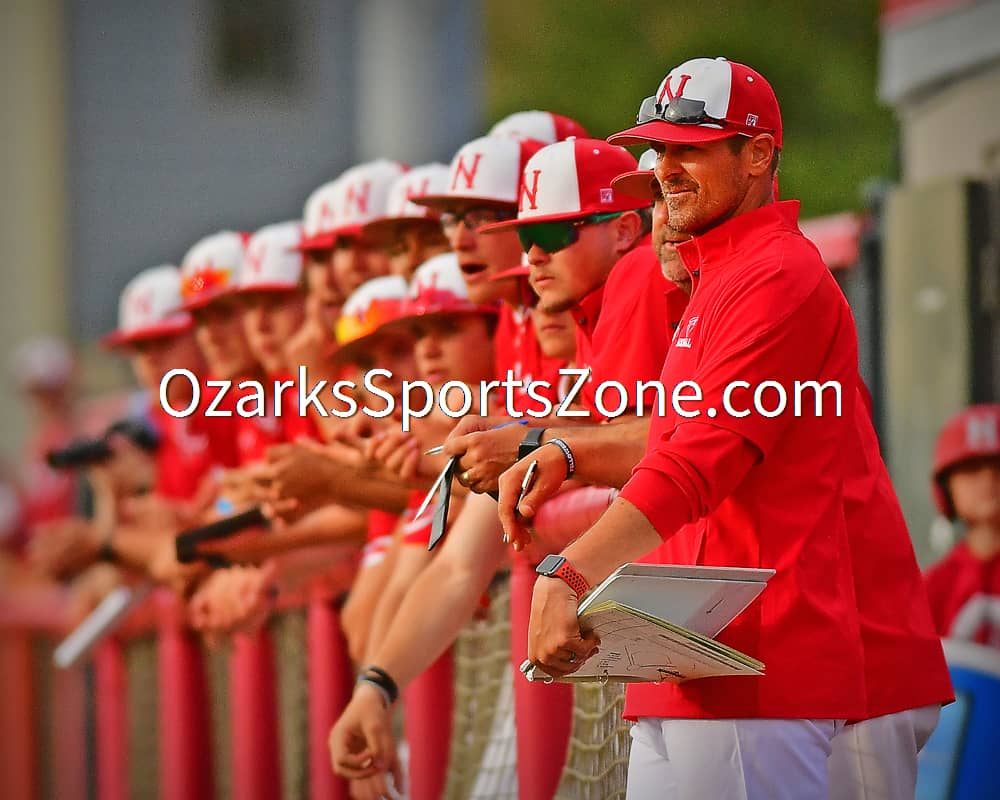 Nixa has looked like the best team in the area in the first part of the season with new coach Logan Hughes at the helm. The Eagles have a 17-1 record and are ranked No. 2 in Class 6.
Offensively, Jaret Nelson, Tanner Grant, Jack Edwards and Sam Russo have led the way.
Nelson is making his case for COC Player of the Year with a .500 batting average and .606 on-base percentage going into Tuesday's game against Ozark. He has hit three home runs and knocked eight doubles with 12 of his 26 hits going for extra bases. The senior is much more than just a power threat with 21 stolen bases.
Grant has driven in 17 runs with a .462 batting average and .541 on-base percentage. He is also a terror on the base paths with 12 steals.
Edwards and Russo are both hovering around the .400 mark with their batting averages at .396 and .392, respectively. Edwards has hit three home runs and driven in 21. Russo has 18 RBI and 11 stolen bases.
On the mound, Keith Piepmeier, Hardy Dougan and Rylan Evans have been getting it done. Going into Tuesday's game against Ozark, Piepmeier was 4-0 with 26 strikeouts in 21 innings with a 1.00 ERA and .157 batting average against. He has been the team's ace throwing complete games against both Willard and Ozark.
Dougan is also 4-0 with 29 strikeouts in 23 innings. He has posted a 2.04 ERA and .229 batting average against. Evans has thrown 10.1 innings with a 1.36 ERA.
As a team, Nixa has stolen 100 bases.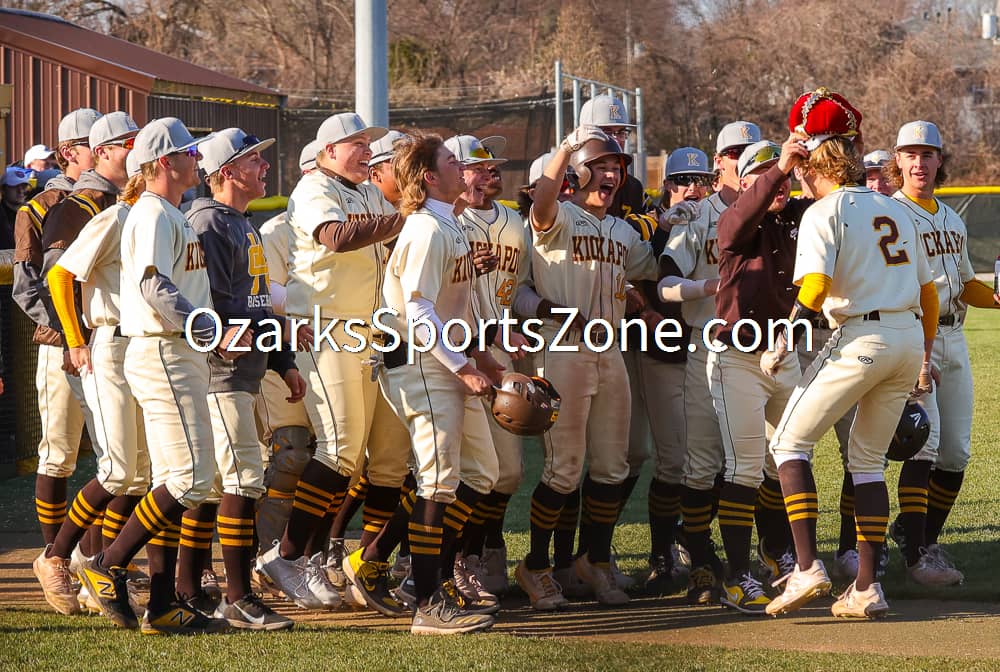 Kickapoo is the area's only other ranked team in Class 6 sitting at No. 8 with a 16-4 record. The Chiefs' only losses have been to out of area teams in Jackson, Marquette, Har-Ber and Springdale. Those four losses occurred on two total days in double headers. The wins have been strong including sweeping through the tough Nike Nine Tournament in Oklahoma.
The offense has been led by Evan Vienhage, Noah Wilkerson and Anderson Underwood. One through nine, the Chiefs grind out at-bats and get on base. Several players on pace to set hit-by-pitch records.
Cross Kubik, Brian Wamsher and Underwood sit atop the pitching rotation. Kubik is 5-0 with a 1.04 ERA. Underwood is sitting below 1.00 with a 0.89 ERA. Wamsher is 2-1 with a 1.25 ERA. The bullpen has been strong as well led by Nate Owens, Morgan Goss and Evan Vienhage.
Kickapoo has 12 games remainig on the schedule with seven of those games coming against teams either ranked in the state or receiving votes in Classes 5 or 6.
Circle May 2 on the calendar. Kickapoo will travel to play Nixa in a game with huge implications for the district tournament. Kickapoo is already 4-0 in the district while Nixa is 2-0 with four games against district opponents remaining. That game will go a long way to deciding the No. 1 seed. Every seed line matters in an always tough Class 6 District 6.
CLASS 5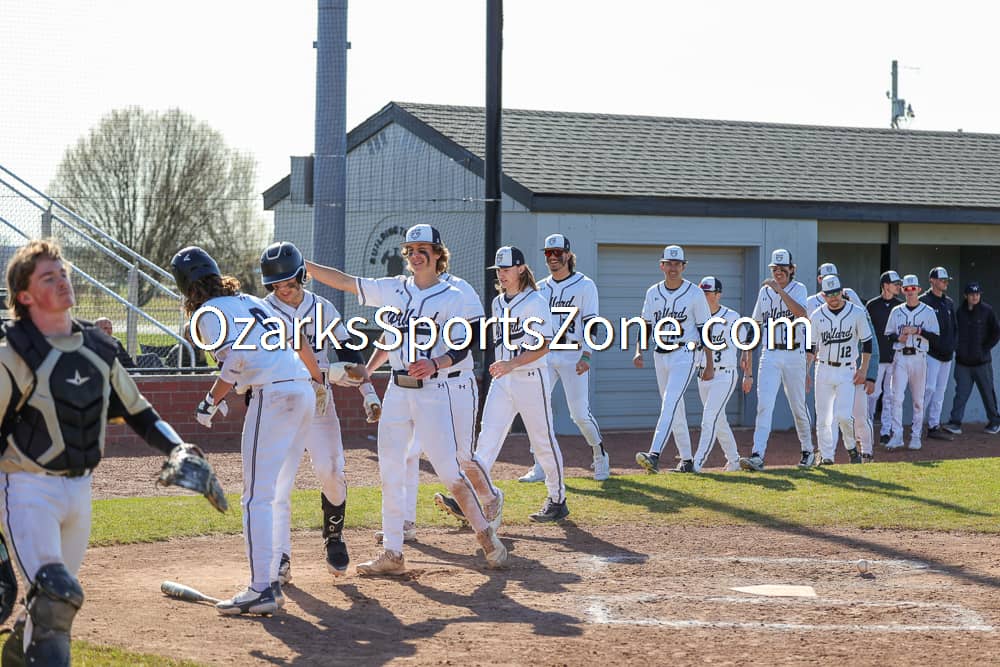 Willard won the Class 5 state title with a young team last year, so it comes as no surprise that the Tigers have been No. 1 in Class 5 in each of the first three statewide rankings of the year. Willard is off to a 17-5 start largely on the strength of a deep pitching staff.
Willard has used eight different pitchers that have tallied 180 total strikeouts so far this season, which is on pace to smash the school record. Kade Biellier has 43 of those strikeouts in 30 innings. Cooper Wilken has made the transition from Class 1 to Class 5 baseball well with 26 strikeouts against just four walks.
Offensively, six different players have driven in double-digit runs with seven players scoring double-digit runs. Outfielder Owen Bushnell is hitting .362 with a .655 slugging percentage. He also has 11 extra base hits.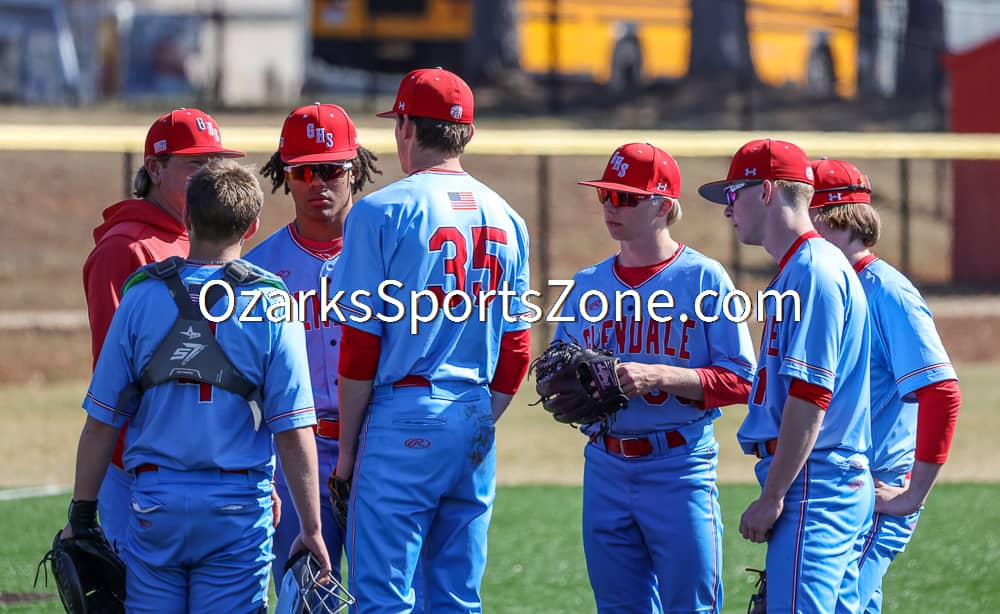 Glendale sits at No. 2 in the Class 5 state rankings with a 12-5 record. Young players are getting it done for Glendale with eight of the top nine players being non-seniors.
Freshman Sebastian Norman leads the team in batting average at .444 including 45 total hits. He has driven in 13 runs and scored 19 with six stolen bases.
Jacob House (senior), Brooks Kettering (junior), DJ Cofield (junior) and Spencer Pottebaum (junior) are the top upperclassmen. House is hitting .333 with nine RBI. He is 2-0 on the mound with 18 strikeouts. Kettering is hitting .391 with 14 RBI, four doubles, three triples and one home run. On the mound, Kettering is 2-1 with a save and a 1.95 ERA. He has 15 strikeouts against just three walks. Cofield is hitting .280 with 10 RBI and 13 runs scored. Pottebaum has thrown most of Glendale's big games posting a 2-3 record with a 2.30 ERA and 22 strikeouts.
The future is bright for Glendale with Norman and the sophomore quartet of Alex Rankin, Mark Ross, Brayden Biggers and Kaleb Julian all playing big innings. Rankin leads the team with 15 RBI behind a .311 batting average. Ross is hitting .306 with five doubles holding down third base. Biggers has more walks than strikeouts with a .324 batting average. Julian is 3-0 on the mound with a 1.96 ERA and an 18-5 strikeout-to-walk ratio. He threw seven innings against Webb City allowing just one earned run.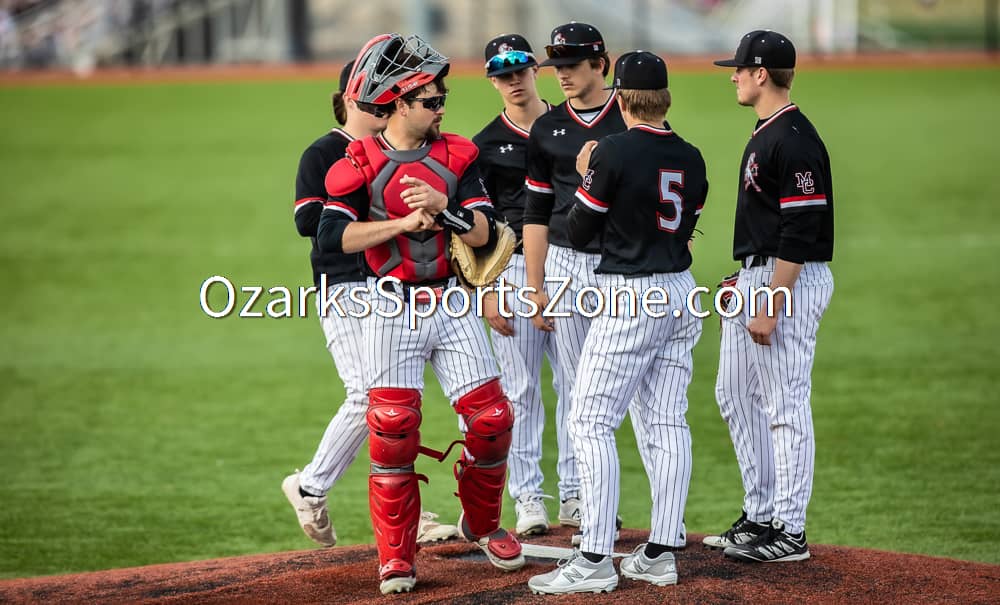 McDonald County is on pace for its best season in many years with a 14-4 start to the season that has the Mustangs ranked No. 6 in Class 5. Last year, McDonald County won 15 total games. In 2010, the Mustangs went 16-5, which is the most wins for the program as far back as MSHSAA records go.
All-Stater Cole Martin is leading McDonald County. He is hitting .481 with 26 total hits and eight stolen bases. Martin has driven in 13 runs. His OPS sits at 1.359 thanks to three home runs, six doubles and 13 walks.
Isaac Behm and Levi Helm have been just behind Martin hitting .455 and .389. Behm has driven in 17 runs with a 1.173 OPS. Helm is hitting .389 with 14 RBI while also serving as the team's top pitcher. He has posted a 2.80 ERA with 41 strikeouts in 30 innings.
Weston Gordon has thrown 30 2/3 innings with a 2.97 ERA and 38 strikeouts.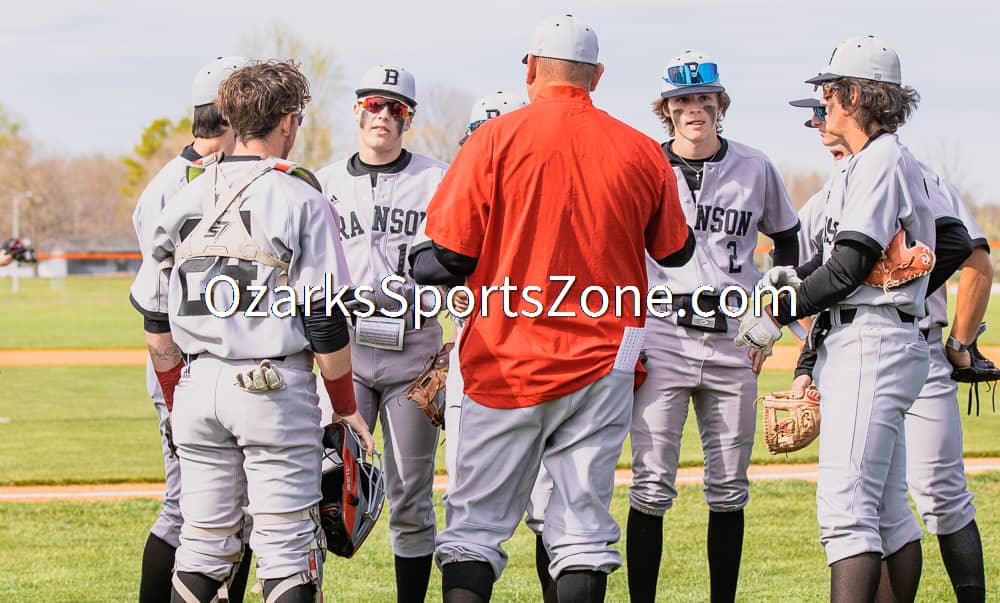 Branson has been one of the area's biggest turnaround stories in coach Kirk Harryman's first season sitting at No. 7 in the state rankings. The Pirates have already won 12 games, which is as many as the program won in 2021 and 2019 combined. They haven't won more than 14 games in a season since going 23-5 in 2010.
Carter Jenkins, Collin Ross, Andrew Bristow and Kale Lankton have been the top players for Branson this year.
Jenkins has been an all-around force hitting .551 with five doubles, two triples, three home runs and 25 RBI at the plate. He has a 4-1 record on the mound with 34 strikeouts and a 2.07 ERA in 27 innings pitched.
Ross is hitting .360 with four doubles a triple and 11 RBI. He has posted a 2-2 record on the mound. Bristow has driven in 14 runs with a .358 batting average while going 2-0 on the mound. Lankton is 1-2 on the mound with a 2.29 ERA in 23.2 innings pitched.
Another big factor to Branson's success is the new turf field the Pirates call home. According to Harryman, the Pirates have yet to miss a single home game date while also getting more practice time on the field.

Camdenton is coming off its biggest win of the season beating Class 5 No. 2, and conference foe, Glendale 2-1 Tuesday night to push its record to 12-4. The Lakers were receiving votes in the latest poll, but are poised to move into the Top 10 the next time around.
Kam Durnin is hitting .463 with four home runs, 13 RBI and 23 runs scored. Brother Kade Durnin is just behind him with a .434 batting average with two home runs and 20 RBI. He is also a force on the mound with 37 strikeouts in 26 innings with a 4-1 record.
Conner Miller has scored 16 times with a .404 batting average while also going 2-1 on the mound. Cole Hilton has hit .308 with 12 RBI.
Noah Normand (3-1) and Mitch Orozsco (2-1) have also been strong on the mound. Orozsco threw a complete game in the win over Glendale.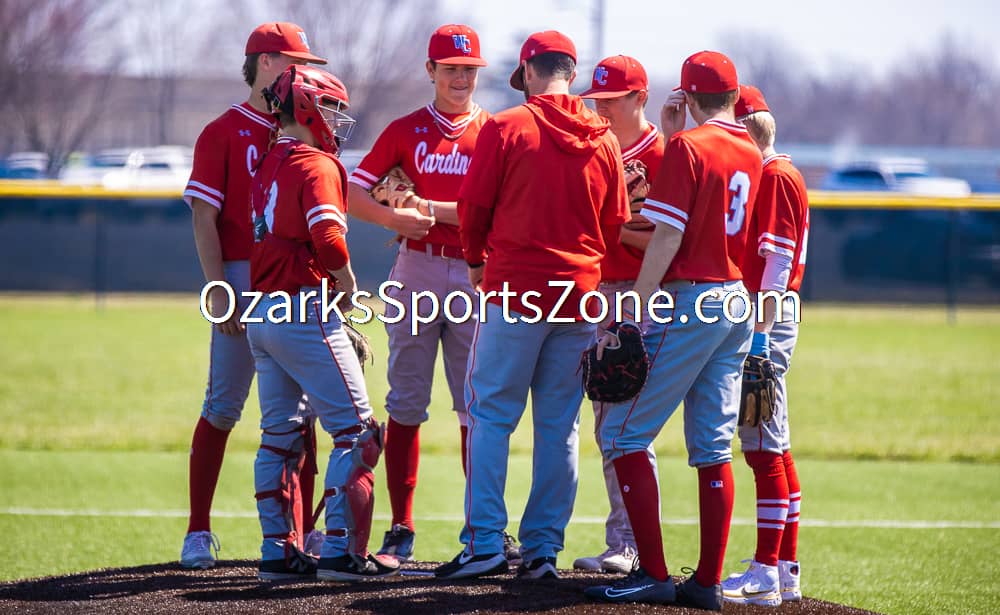 Webb City is getting votes in Class 5 despite a 9-10 record, but that is because of the incredibly difficult schedule the Cardinals have played. Six of the losses have come to state ranked teams including losses by one run to Rogersville, Branson, McDonald County and Glendale with a two-run loss to Springfield Catholic. That degree of difficulty will serve Webb City well in the post-season.
Cy Darnell leads the team in hitting a .361 with Jeramiah Leaming and Kenley Hood each hitting .333. Walker Sweet leads the team in ERA at 2.10 with 27 strikeouts in 16 innings.
Class 4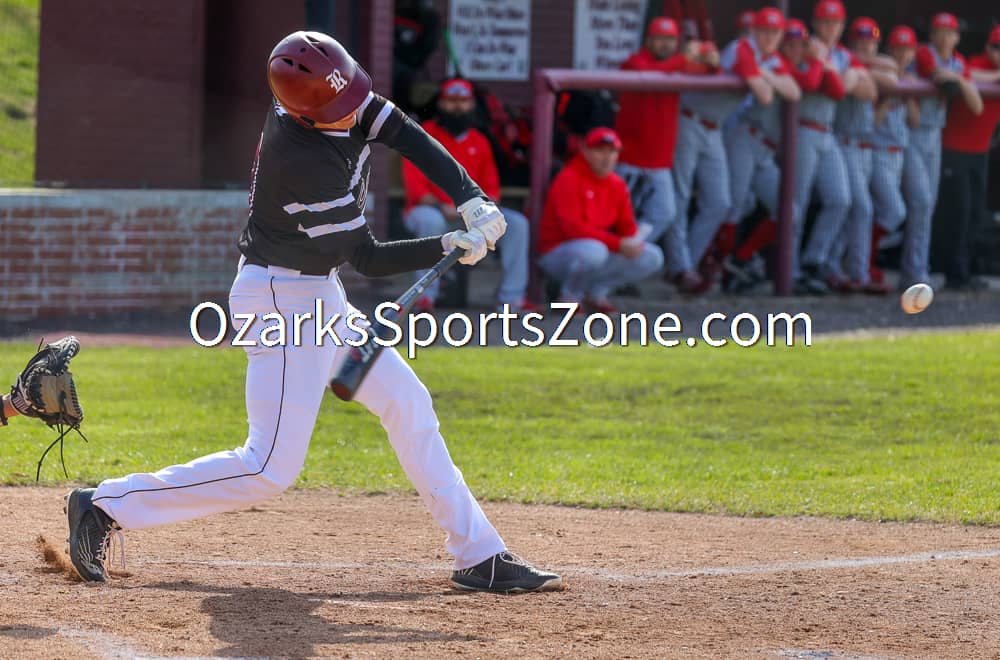 Logan-Rogersville is up to No. 3 in the Class 4 state rankings with an 11-4 record overall. The Wildcats are the only team to hand Nixa a loss so far this season.
Offensively, Hunter Lewis, Noah Carrow, Clay Palen and Logan Taylor are leading the team. Lewis is hitting .400 with 14 RBI. Carrow brings power to the team with two home runs and 15 RBI behind a .342 batting average. Palen has hit .310 with 8 RBI. Taylor has a .531 on-base percentage.
On the mound, Blythe Blakey is 3-0 with a 0.59 ERA and 31 strikeouts. Ross Lawrence is 3-1 with a 2.73 ERA and 35 strikeouts. Tanner Peterson is unbeaten as a pitcher with a 2-0 record.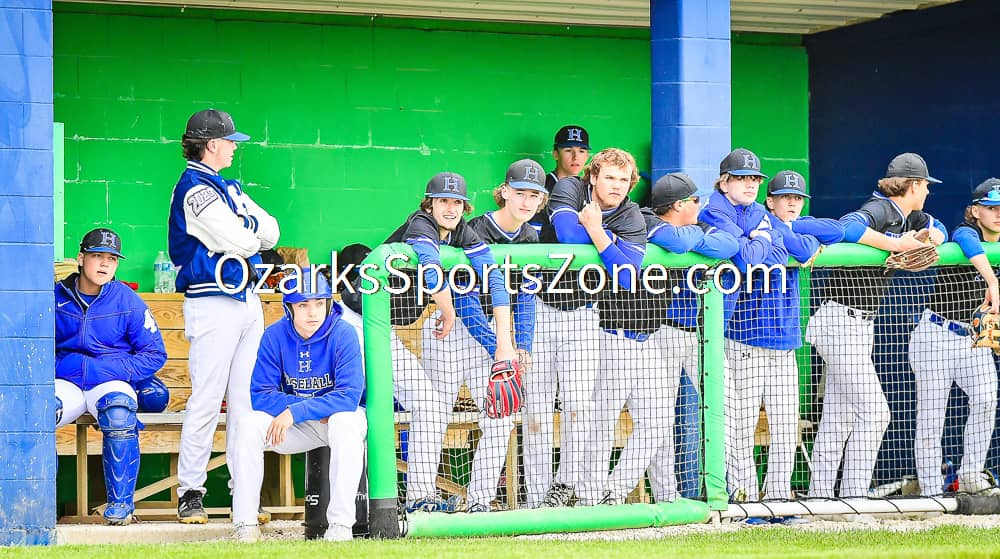 Hollister is having another strong season coming off a final four appearance last year with a 12-4 record to start this season. The losses have been to Nixa and Catholic by one and to Summit Christian Academy and Aurora. The first three are all ranked in the Top 4 of their respective classes while Aurora is receiving votes in Class 4.
All-state pitcher Clay Kemp has returned for his senior year and been the team's top player. Offensively, Kemp is hitting .438 with a .557 on-base percentage including 20 RBI and 14 runs scored. On the mound, Kemp has thrown 24.2 innings with 18 strikeouts and a 1.42 ERA.
Malachi Henry has also contributed at the plate and on the mound in a big way. He is hitting .378 with a .525 on-base percentage including 21 runs scored. On the mound, he is second on the team in innings pitched with 21 with a 2.67 ERA and 17 strikeouts.
Blake Russell, Sam Teaster, Luke Calovich and Ryland Franks have also been strong at the plate. Russell is hitting .380 with a .500 on-base percentage to go with 13 RBI, 19 runs scored and 10 stolen bases. Teaster has driven in 16 runs with 15 runs scored behind a .415 batting average. Calovich is hitting .349 with a .412 on-base percentage. He has scored 15 runs and driven in 13. Franks has contributed 14 RBI and scored 10 runs.
As a team, Hollister is hitting .330 with a .456 on-base percentage.
Ronny Daniels and Hunter Jones have joined Kemp and Henry as top pitchers. Daniels has thrown 16.2 innings with 19 strikeouts. Jones has pitched to a 2.04 ERA with 33 strikeouts in 24 innings.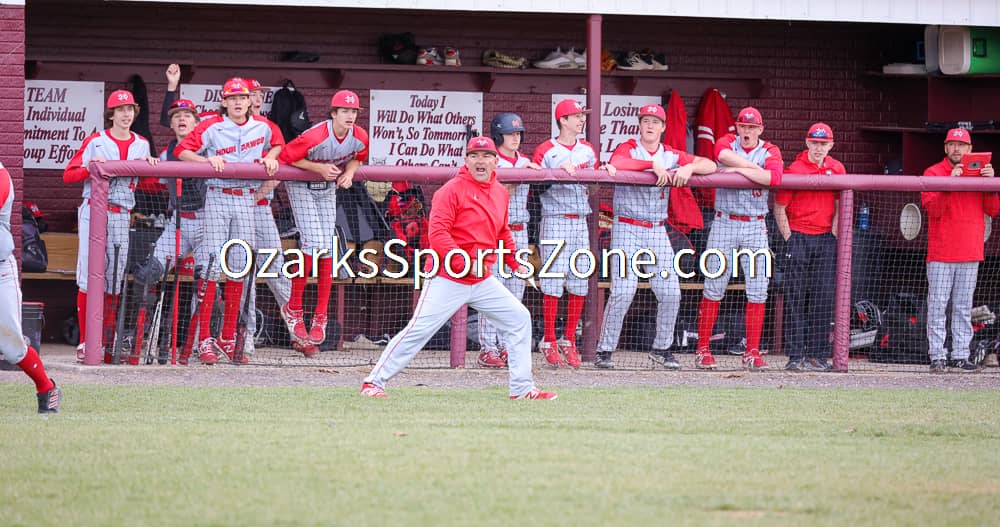 Aurora is off to a 9-5 start and receiving votes in Class 4. The four losses have come to teams either ranked or getting votes in the state poll. The early season has been a work-in-progress for Aurora with players seeing time at multiple, and sometimes new, positions. Three players in the starting lineup had little to no high school baseball experience coming into the season.
Trey Mullholland keys the lineup and pitching staff in his senior season. He is hitting .359 with a .536 on-base percentage thanks to a patience at the plate that has led to 15 walks. The senior brings power to the plate with four home runs and four doubles that has led to 16 RBI and 12 runs scored. On the mound, he is 4-0 with 46 strikeouts in 31.2 innings pitched with a minuscule 0.22 ERA.
Multi-sport stars Jaesik Friggle and Aaron Fisher each have on-base percentages over .400 at .483 and .426, respectively. Friggle has two doubles, three triples, two home runs, 14 RBI and 23 runs scored. He also has struck out 20 in 14 innings with a 2.00 ERA on the mound. Fisher has two home runs, 14 RBI, nine runs scored and nine stole bases.
Hayze Hoffman is 3-1 with 21 strikeouts in 17 innings on the mound. He is dangerous at the plate as well with a .372 batting average, .482 on-base percentage, 14 RBI and 12 runs scored.
Kelton Brown has tallied 23 innings at pitcher with 25 strikeouts and a 3.34 ERA. He also has a .463 on-base percentage. Heath Hoffman has contributed a .348 batting average with a .415 on-base percentage.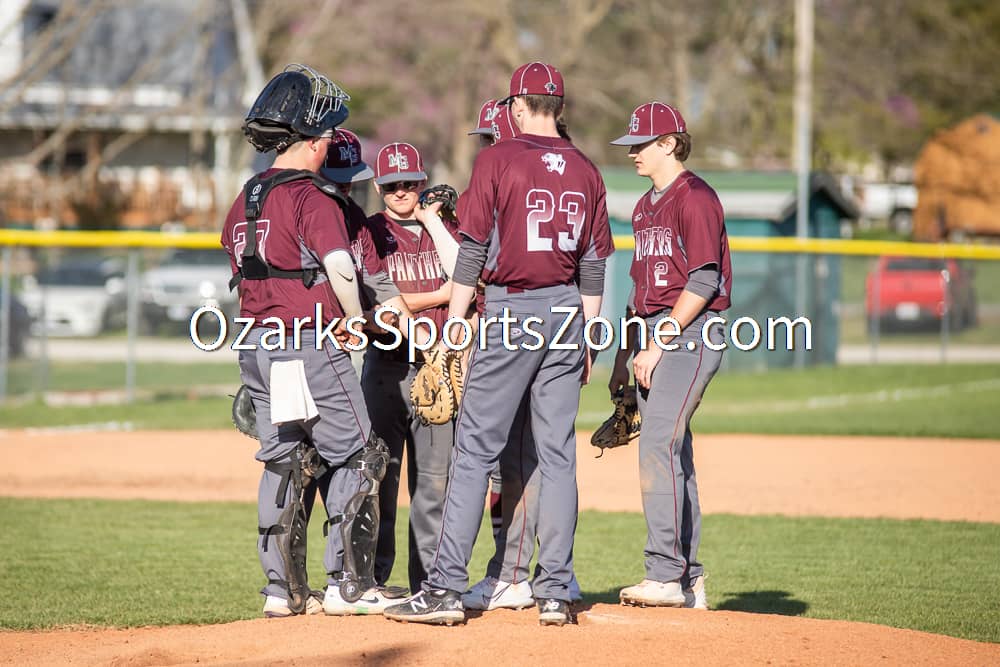 Mountain Grove is looking to climb into the Class 4 rankings after getting votes this last poll. The Panthers are off to a 12-2 start with a schedule that is littered with state-ranked teams. Last year's team started mostly freshmen and sophomores. That experience is paying off this year.
Bryce Stenzel has an incredible resume at pitcher with a 4-1 record and 2 saves. He has struck out 46 in 31.2 innings with a 2.55 ERA. Three of his wins have come over Gainesville, Licking and Ava. He is also the leadoff hitter with a .366 average and 20 runs scored. He also has coerced 11 walks to bump his on-base percentage to .509.
Jackson Raney has run up big numbers on the mound as well with 36 strikeouts in 22 innings pitched. He is 4-0 with a win over Hartville.
Brendan Rogers is 2-1 with a 1.65 ERA and 24 strikeouts pitching. At the plate, he is mashing with a 1.036 OPS and three home runs.
As a staff, Mountain Grove has 129 strikeouts against 56 walks.
Hoyt Mathews has been strong out of the five spot in the order with a .405 batting average and 1.048 OPS. Drew Vaughn has stepped in behind Stenzel at the second spot in the order with a .391 batting average, 19 runs scored and 1.056 OPS.
Hunter Means, who is 2-0 on the mound, has a .316 batting average and 13 RBI. Gatlin Keeling has been a huge producer out of the cleanup spot with 18 RBI and 17 runs scored.
Class 3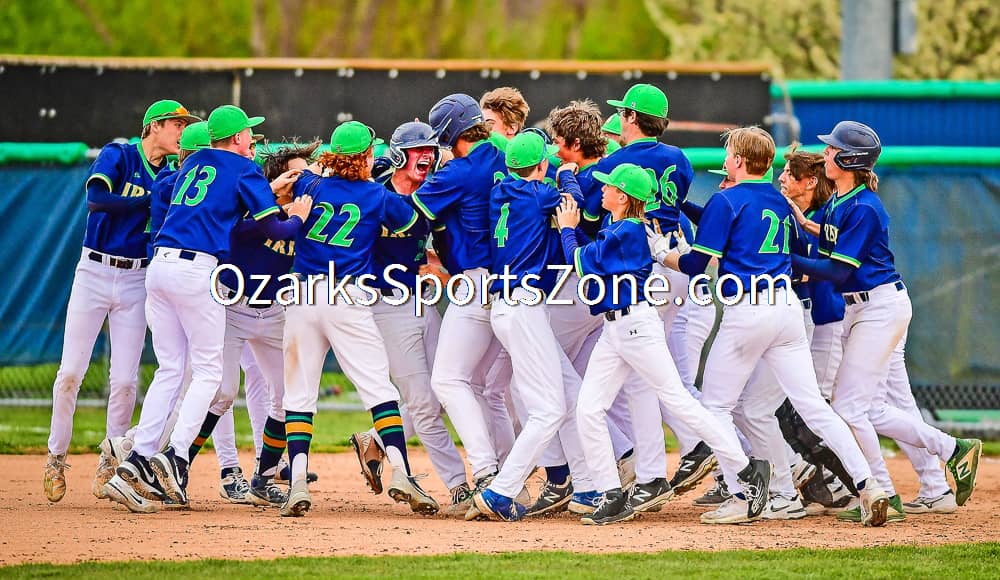 Springfield Catholic dropped down to Class 3 this year and immediately was installed as one of the favorites. The Irish, ranked No. 1 in Class 3, despite an 8-6 record against a stacked schedule. Some of the key wins include Blair Oaks, Webb City, Branson, Strafford, Aurora and Hollister. All are state ranked. All six losses have come against schools in larger classes.
Ben Smith has been at the center of the action for Catholic both ways. He is hitting .571 with a .654 on-base percentage. He does damage when he connects with the ball with five doubles, two triples and three home runs that have resulted in 18 RBI. On the mound, he has thrown 29 innings with 41 strikeouts and a 2.10 ERA. On Tuesday, Smith went seven innings of one-run ball with 12 strikeouts in a win over Class 4 Hollister.
Coleman Morrison is another two-way force. He has thrown 18 innings with 35 strikeouts and a 3.10 ERA. He is hitting .364 with a .429 on-base percentage.
The way the Class 3 playoffs are set up, a team could mostly ride two pitchers through the entire playoffs. Catholic has the best 1-2 punch in Class 3 on the mound with this pair of Mizzou commits.
Weston Cline (20.2 innings, 15 strikeouts) and Cole Schoen (12.2 innings pitched, 17 strikeouts) give the Irish valuable depth in the rotation.
Cole Leon hart has posted a .464 on-base percentage for the Irish.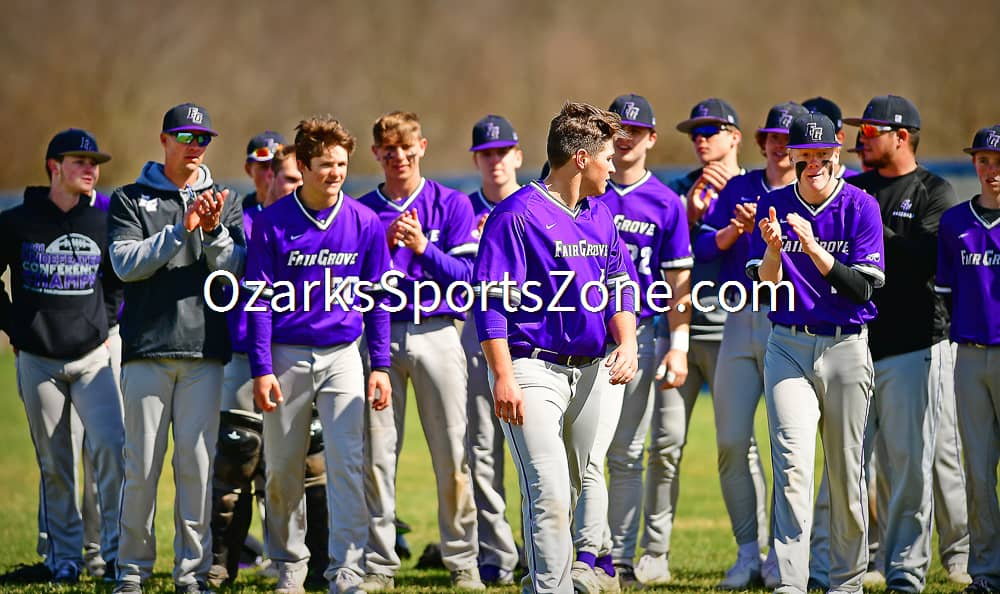 Fair Grove has worked its way up to No. 3 in Class 3 on the strength of a 12-2 start.
Junior lefty Garin Geitz has been one of the top pitchers in the area with a 0.47 ERA and 54 strikeouts across 30 innings. He is giving up a .168 batting average against.
It just isn't Geitz, either. Fair Grove has a team ERA of 1.19 with 114 strikeouts in 88 innings. Andrew Faubion (3-1 record, 1.105 ERA), Jaxon Rowden (2-0 record, 1.75 ERA), and Logan Daniels (.512 ERA, 19K's in 13IP, 2 saves on the year) have also been strong on the mound.
Kade Gallion has been the team's top hitter with a .415 batting average and .529 on-base percentage. Eight of his 17 hits have gone for extra bases. Even when he is just hitting singles, he finds himself on second base more often than not with nine stole bases. Gallion has scored 20 runs.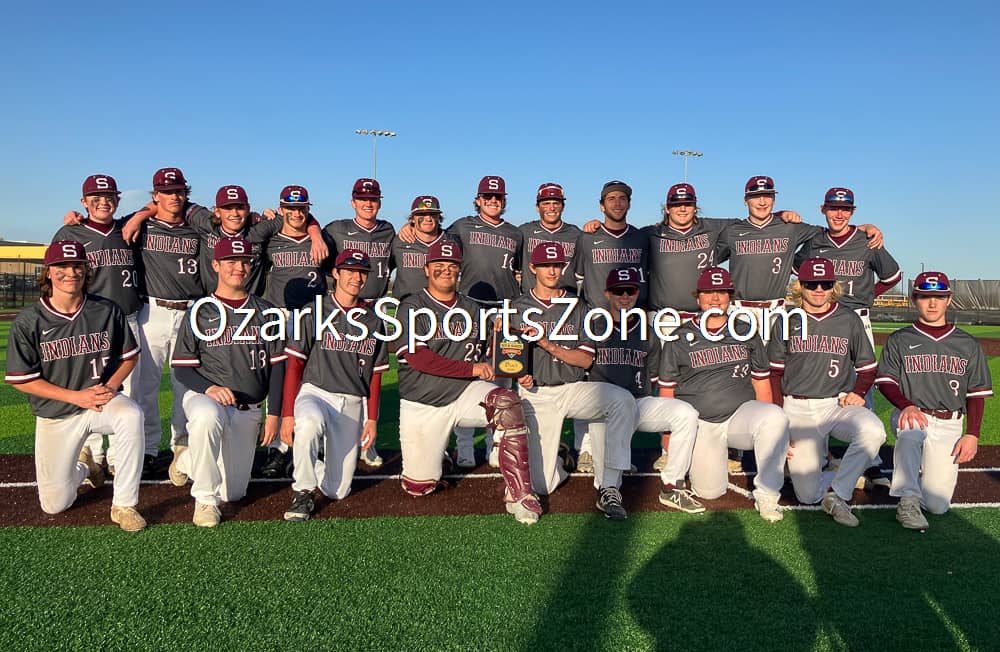 Strafford comes in right behind Mid-Lakes rival Fair Grove in the Class 3 state rankings at No. 4 with a 9-3 record.
Evan Helton has thrown 28 innings with 58 strikeouts and a 0.75 ERA to lead the Indians. He is also hitting .400.
Senior Lane Boswell is a team leader both catching behind the plate and standing next to it with a bat in his hands. He is hitting .412 with 11 RBI.
J.D. Hunt, Blake Cowan and Dekota Ames have been the team's other key leaders. Hunt is hitting .405 with five doubles and five stolen bases. Cowan, who also plays in the outfield, has posted an ERA of 0.88 in eight innings. Ames is hitting .378 with four doubles and 16 RBI. His one home run came in a wood bat tournament.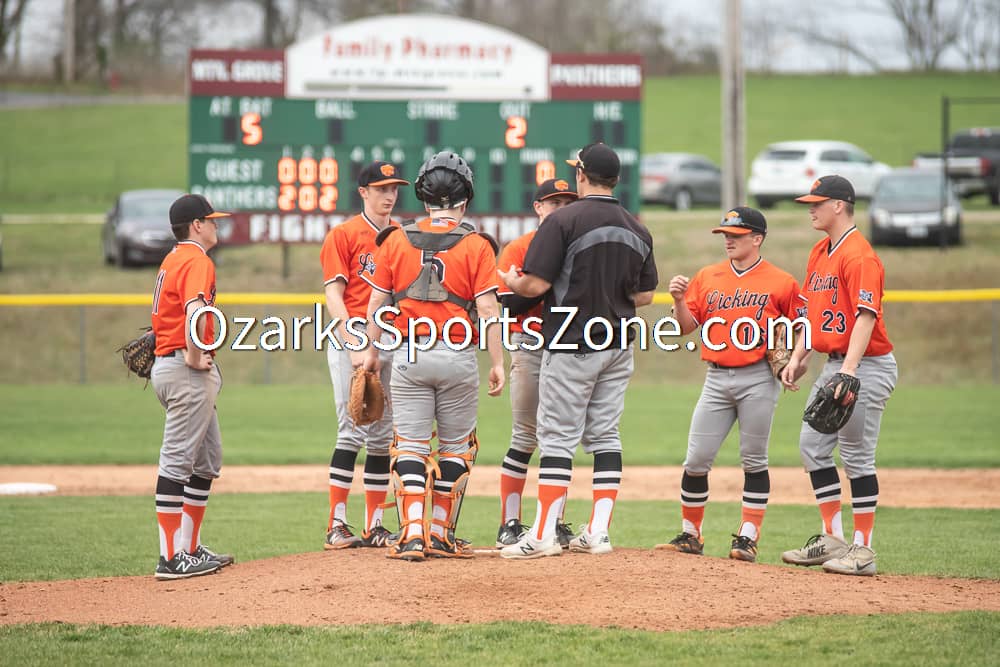 Licking continues a run of local schools ranked in Class 3 at No. 5 with a 12-2 record. The Wildcats have been road warriors with 12 of 14 games coming on the road due to weather. They have been able to practice outside on their home field just three times this year according to Coach Harv Antle.
Offensively, Cole Wallace, Rusty Buckner, Malachi Antle and Silas Antle lead the way. Buckner, a sophomore, is hitting .417 with three home runs and 24 RBI. Wallace, a junior leadoff hitter, is hitting .383 with 27 runs scored. Malachi Antle has upped his average to .378 with 16 RBI while fighting through a leg injury. Silas Antle is hitting .342 with 17 RBI in his sophomore season.
Keyton Rinne has been a strong defender in the middle of the infield with a .400 average over his past seven games.
On the mound, eight different players have thrown innings. Austin Stephens has struck out 14 in 11 innings with a 2.55 ERA. Kannon Buckner is just a freshman but that hasn't stopped him from posting a 3-0 record with a 2.12 ERA. Wallace leads the team in innings pitched at 16.2 with a 3.46 ERA. Silas Antle has struck out 18 in 11 innings. Cook has yet to allow a run in 12.1 innings with 17 strikeouts.
The Wildcats will be tested over the next week with games against Southern Boone (No. 2 in Class 4) and Hartville (No. 6 in Class 3). That game against Hartville is also a district matchup with major seeding implications.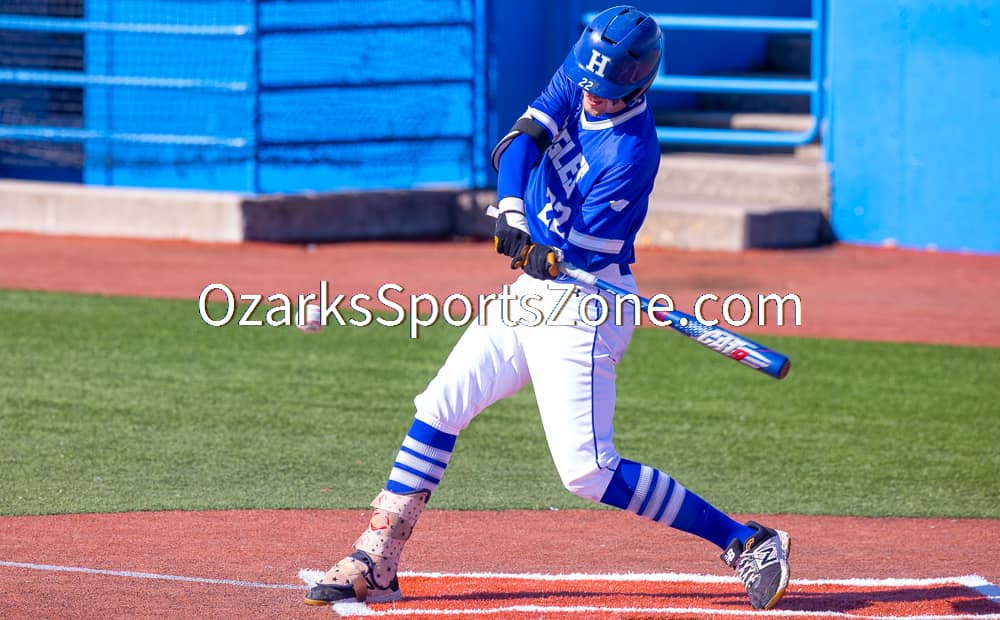 Speaking of Hartville, the Eagles are ranked No. 6 in Class 3, but started the year at No. 1.
Teams go as far as their pitching will carry them, and Hartville has one of the area's best atop its rotation. Junior Missouri State commit Brody McNiel is 2-1 with a save and 27 strikeouts over 16.1 innings pitched on the mound. He has an ERA of 0.43. At the plate, McNiel has hit .419 with a .526 on-base percentage.
Seniors Eric Wilson and Justin Parker have provided good leadership and production with batting averages of .370 and .360, respectively. Wilson hits leadoff and has a .564 on-base percentage. Parker has a .543 OBP with a 2-1 record and 2.33 ERA on the mound across 12 innings.
Juniors Dakota Stigall and Ethan McDaris are two more upperclassmen providing key contributions. Stigall is 2-1 with a 4.26 ERA in 14.2 innings pitched to go with a .333 batting average and .412 OBP. McDaris hits in the middle of the order with a .447 OBP.
Sophomore Grant Culver seems to always be on base with a .568 OBP.
Class 2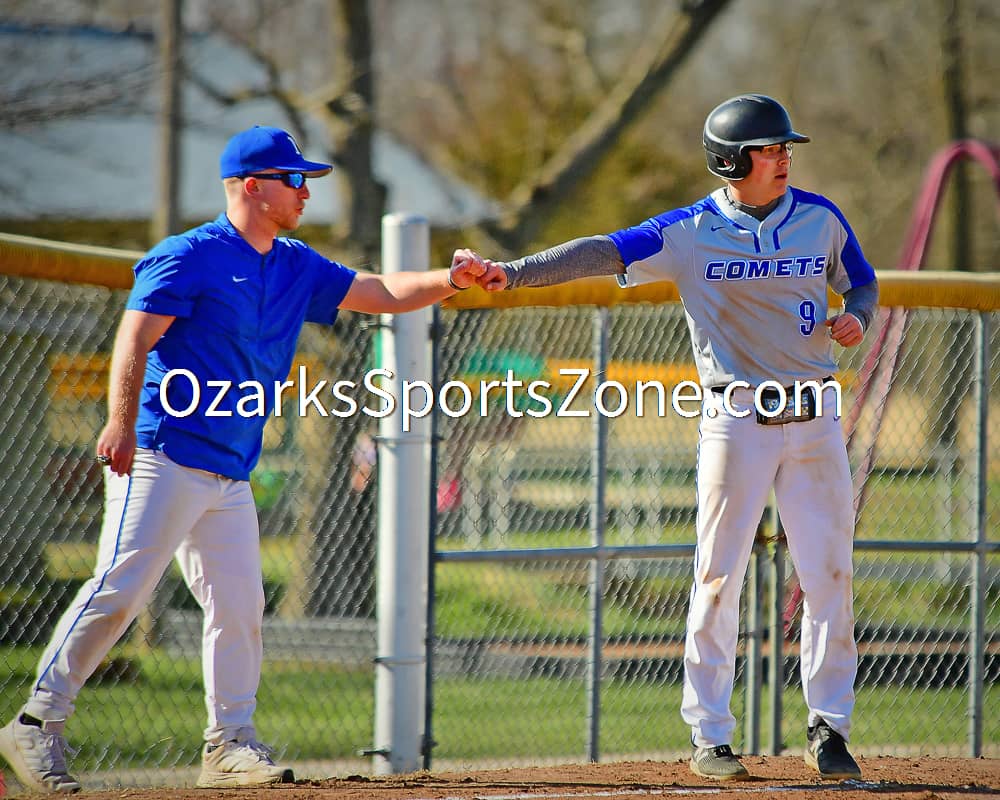 Defending state champion Marionville slipped from No. 1 to No. 3 in Class 2 after suffering the team's first loss of the season in 6-5 decision in eight innings against Forsyth. The loss snapped a 16-game winning streak dating back to last season. The Comets currently have a record of 11-1.
Don't be surprised to see Marionville climb back to that No. 1 spot and make it back-to-back titles with an experienced senior-heavy group leading the team.
Lake High, Cale Clark, Wyley Brown, Jakey Davis and Jacksen Smith are a formidable group of seniors. High is hitting .452 with a .529 on-base percentage. He has also scored 23 runs. On the mound, he is 1-0 with two saves. Clark is a machine at the plate with a .550 batting average and .604 on-base percentage including two home runs and 15 RBI. He has thrown 23 innings with 43 strikeouts on the mound on his way to a 0.91 ERA and a 4-0 record. Brown also has an ERA south of 1.00 at 0.54 and 23 strikeouts. At the plate, he has a .467 OBP with 20 RBI and nine stolen bases. Davis is 3-0 on the mound with a 1.72 ERA and 28 strikeouts in 20.1 innings. He is hitting .366 with a .413 OBP and 13 RBI. Smith has a perfect fielding percentage with a .426 OBP at the plate and 15 RBI.
Blane Young is also a key contributor as a junior. He is hitting .475 with a .571 on-base percentage including 15 RBI and 18 runs scored. He has thrown 7.2 innings with a 1.83 ERA.
---
Few teams in the area are as hungry as Gainesville. Last year, the Bulldogs won the program's first district title in 30 years and advanced to the quarterfinals for the first time in 47 years before falling to Marionville 2-0 one game short of the final four.
The Class 2 No. 4 Bulldogs are off to a 12-1 start this year and their numbers are just insane.
Five(!) players have an OPS above 1.000. That group includes Jake Leeker (1.704 OPS), Bryce Hambelton (1.426 OPS), Landry Jenkins (1.150 OPS), Aden Yarger (1.023 OPS) and Daden House (1.208 OPS). There are just no breaks for any opposing pitcher. Leeker is hitting .558 with seven home runs, 17 RBI and 17 stolen bases. Hambelton has knocked four home runs with 16 RBI. Jenkins, who has a .617 on-base percentage, has almost as many walks (11) as hits (13). Yarger, who is at .600 for his on-base percentage, has scored 10 runs and stolen nine bases. House has scored 15 runs and driven in 11 more with four home runs.
Leeker is also a leader on the mound with a 1-0 record and 28 strikeouts with a 2.06 ERA. Andrew Hambelton is 4-0 with 27 strikeouts and a 1.11 ERA. Jenkins (3-0, no earned runs allowed) and Yarger (1-0, 17 K) are also strong arms in the rotation.
---
Marion C. Early (Morrisville) is sitting at 10-2 and ranked No. 6 in Class 2. That is largely thanks to a pitching staff that has posted a 1.09 team ERA so far.
Seniors Hadan Madewell and Chance Hampton set the table for Morrisville. Madewell is hitting .420 with two home runs and 20 RBI. He is also 2-0 on the mound with 28 strikeouts and a 0.79 ERA in 17.2 innings pitched. Hampton, the team's leadoff hitter, is hitting .410 and leads the team with 17 runs scored. He is tied for the team lead with nine steals.
Junior Triston Bruegman is 3-1 on the mound with a 0.33 ERA across 21.1 innings. He has struck out 28 and allowed 12 total hits.
The sophomore trio of Garrett Loftis, Landen Burrow and Jacob Presley have stepped up in a big way. Loftis is hitting .500 with 16 RBI and eight steals. Burrow has a .306 batting average with 10 RBI and nine steals. Presley is 3-1 on the mound with 29 strikeouts in 14.2 innings pitched. His ERA sits a 0.48.
Class 1
The area doesn't have any teams ranked in Class 1, but Weaubleau and Norwood are both receiving votes.
Weaubleau has played just 11 games so far this year sitting at 8-3.
Wyatt Dennis is 2-1 on the mound for Weaubleau with 18 strikeouts and a 2.90 ERA. He is hitting .433 with a 1.141 OPS and tied for the team lead with 15 runs scored. Gage Culbertson is just ahead of Dennis with a team-high 22 strikeouts on the mound to go with a 2.33 ERA. Ethan Foster sits at 2-0 on the mound with a 1.00 ERA while posting a 1.093 OPS and a team-leading two home runs, 10 RBI, 13 runs scored and five stolen bases. He also leads the team in walks with nine and hit-by-pitchers with six.
Clayton Ginnings (0-1), Lee Lambeth (1-0), Zach Brown (1-0) and Gunner Freeman (1-0) all have one decision on the mound. Ginnings is hitting .364. Lambeth is hitting .370 with six RBI and runs scored. Brown has scored 12 runs and stolen six bases while catching four attempted base stealers as catcher. Freeman has 10 RBI and nine runs scored.
Blane Durnell is one of the team's top hitters with a 1.033 OPS, 13 RBI, 11 runs scored and eight stolen bases.
---
Norwood sits at 6-6 against a strong schedule. The Pirates lost to Licking (12-2) by one, Gainesville (12-1) by three, Hartville (9-3) by three) and Seymour (11-2) by one.