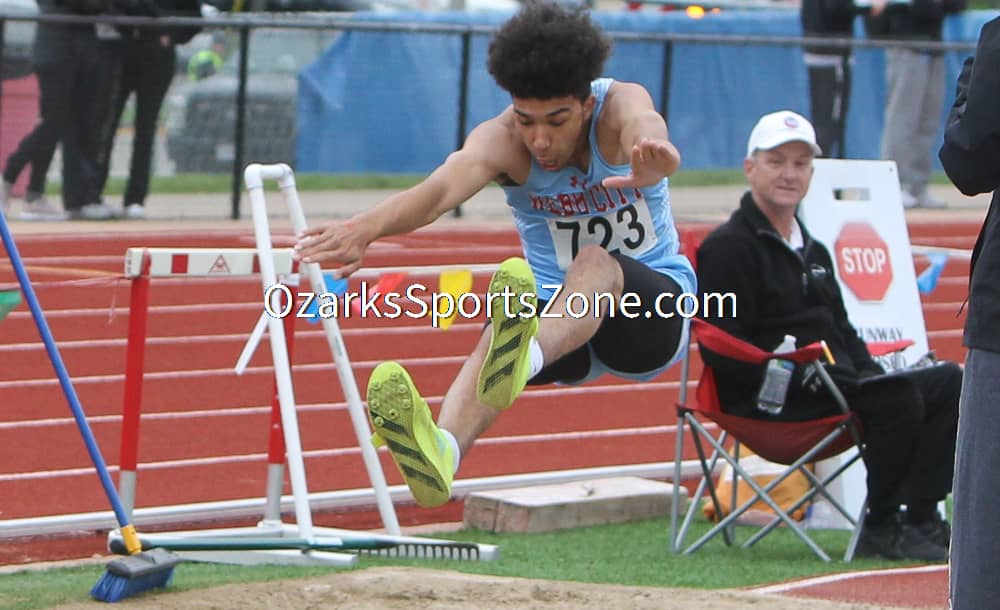 By Cody Thorn (For OzarksSportsZone.com)
JEFFERSON CITY, Mo. — The long wait for a trophy is over for Webb City.
After close calls in recent years, the Cardinals brought home their first trophy — and it said first place.
The Cardinals scored 64 points to claim the MSHSAA State Track and Field Championships and had a seven-point margin over Kearney to win the Class 4 title on Friday at Adkins Stadium.
Webb City scored points in 11 of the 19 events but had only one champion on the day: Mekhi Garrard in the long jump – 23-3 ¼, which came on his first attempt. He only got distances on two of his four attempts – scratching the final two.
"I wanted to start off to get a big jump at the start and let everyone else catch up," Garrard said. "I came in first from the long jump and just to stay holding tight felt pretty good."
Garrard was in line for a second title, this one in the triple jump, but the last jump by Trinity Catholic's Myles Norwood of 46-8 won it. Garrard was second at 45-10.
Webb City had two of the top four in the pole vault with sophomore Grayson Smith finishing as the runner-up (14-10 — a school record) and senior Pryce Mason (13-8 ¼) took fourth.
Luke Brummit (high jump, 4×400, javelin) earned three medals, as did teammate James Morgan (4×400, 110- and 300-meter hurdles). Mason was also on the 4×400 – which had the 16th and last seed time heading into the meet.
"It feels great to be a state champion," Webb City coach Dustin Miller said. "We knew we had the talent. We have been here six of the last seven years we had a shot to earn a plaque. We lost 2020; in 2019 we were young, all these guys were sophomores and we had a lot of 11th, 12th and 13th places. We have been fifth-place three times and sixth place once. You get so close, golly. Some of those years it was a tenth of a second in the 800 or three in the javelin twice that kept us off the podium. Not that those guys didn't perform well, they did; but oh, being so close. To finally get a plaque and be a state championship …we just jumped to the top."
The team, while trying to line up to pose for the trophy, talked discus thrower Zetthew Meister into doing the splits to celebrate. The burly offensive lineman for the football team obliged – but was then quickly told 'no' by a MSHSAA official.
CLICK HERE FOR PHOTOS OF THE MEET
Best Throw Ever

Marshall Swadley wanted to match his brother's 2018 showing at the state meet, when Nate Swadley won the shot put and discus for Willard.
Nate's little brother did and even one-upped his brother, who throws at Missouri S&T. Marshall won the discus but made headlines with his win the shot put. On his second throw of the competition he unleashed a hurl of 66-11 ½.
"Beating the state championship record for all classes is a great honor," said the Southeast Missouri signee. "I knew right as I released it, I knew it was a great throw."
Swadley broke the Class 4 state record held by John Gianini of Hazelwood Central back in 1976 of 66-3 ¼. His mark also broke the all class record set by Corey Jones of Booneville, who threw 66-3 ¾ in 2008.
On his next attempt, Swadley actually threw 67 feet but was scratched.
"It was a bad scratch but I will take what I can get and what I can get is a state championship, so I'm pretty proud of it."
Later in the day, he matched his brother's feat by winning the discus with a toss of 185-4.
"I was hoping to do the same as Nate and I did," he said. "I was feeling confident going into the discus. I knew I would do it, so I just had to do it."
(VIDEO OF THE THROW IS AVAILABLE AT THE BOTTOM OF THIS ARTICLE)
Summer dreams a spring reality for Simpson

West Plains senior Riley Simpson won the state championship in cross country and proved he is among the state's elite distance runners after winning the 800-, 1,600- and 3,200-meter events.
The 800 win, coming in 1:56.64, capped off his banner day.
"I'm feeling tired," Simpson said of how he feels after winning his third state title of the day. "That was a huge goal of mine. Even the last 250 meters, I didn't know if I could hold … I was really, really happy. Once I did win it, my confidence got a lot higher the more I won on the day heading into the last race."
He won the 1,600-meter run (4:22.13) in the middle and opened with a win in the 3,200-meter (9:19.23). For the most part, he didn't get much of a challenge until the last one when Chaminade Prep's Conrad Hogenkamp was less than a second behind in the 800.
"I never thought of (winning all) in track until the end of my junior season when we missed the whole season (because of COVID)," Simpson said. "And trying to make up for it."
Utecht earns four all-state honors

Marshfield senior Brianna Utecht did almost all she could to help Marshfield get a state trophy. She accounted for 27 of the team's 38 points but the Blue Jays finished 1 ½ points behind Platte County for fourth place.
The Blue Jays lined the track and screamed and cheered for any team that was pulling ahead of Platte County in the 4×400. Down to 100 meters left in the race Platte County was in sixth place and Marshfield would hold onto fourth. Instead, a late dash gave the Pirates a runner-up finish and dashed trophy hopes for Marshfield – looking for No. 1.
"We wouldn't be where we are without her," Marshfield coach Roy Kaderly said of Utecht. "We couldn't have asked for anything more."
Utecht was the runner-up in the long jump (18-2 ¼) and 100-meter hurdles (14.33), while adding a third (200) and fourth (100).
The future Wichita State Shocker was constantly going back and forth between events, having to leave events she was competing in to get a medal from the previous event.
"I don't like to sit and wait, I like to get out and do it," she said. "It was a fun day. I really enjoyed it and I'm sad it is over. I know I will move on and this is just the first part of my track and field career. In the 100 hurdles and long jump I was wanting to get first and it will eat at me for a while … probably the rest of my life. I got AAU in the summer and I hope to get first in the Junior Olympics. I start in two days; not much of a break but it is what I love to do."
Other champs


Southwest Missouri swept the shot put and discus events during the meet.
Webb City's Emily Beres won the shot put (39-11 ¼) and West Plains' Emily Howell won the discus (128-6) in her debut at state. Beres, who added a sixth-place showing in the discus, injured her ankle after her state title win and had to be transported to a local hospital.
Howell added a third-place finish in the 4×100 relay for the Zizzers.
The high jump event was also a sweep, with Nevada's Lillian Hart (5-3 ¾) and Carl Junction's Brendan Jewell (6-7 ½) picked up titles. Jewell and Hart are their school's second champions in the event.
Camdenton's Parker Wormek picked up the title in the 110-meter hurdles (14.60) – only the second Laker to win a hurdle race. The other was Jerry Bell in 1963, winning the 180-yard event, which is now a retired event.
ALL AREA ALL-STATE FINISHES
1st – Marshall Swadley (Willard) – Shot Put (66'11.5) – ALL CLASS RECORD
1st – Marshall Swadley (Willard) – Discus (185'4)
1st – Riley Simpson (West Plains) – 3200 (9:19.23)
1st – Riley Simpson (West Plains) – 1600 (4:22.13)
1st – Riley Simpson (West Plains) – 800 (1:56.64)
1st – Lillian Hart (Nevada) – High Jump (5'3.75)
1st – Emily Howell (West Plains) – Discus (128'6)
1st – Mekhi Garrard (Webb City) – Long Jump (23'3.25)
1st – Brendan Jewell (Carl Junction) – High Jump (6'7.5)
1st – Parker Wormek (Camdenton) – 110 Hurdles (14.60)
1st – Emily Beres (Webb City) – Shot Put (39'11.25)
2nd – Claire Pritchett (Nevada) – Shot Put (37'5)
2nd – Brianna Utecht (Marshfield) – Long Jump (18'2.25)
2nd – Brianna Utecht (Marshfield) – 100 Hurdles (14.33)
2nd – Karon Johnson (Willard) – Shot Put (55'0)
2nd – Grayson Smith (Webb City) – Pole Vault (14'10)
2nd – Bolivar (Hunter Davis, Ethan Billingslea, Cale Thiessen, Brett Pollock) – 4×800 (8:14.45)
2nd – Marshfield (Cooper Kimrey, Jackson Wolff, DAYVION HARRIS, John Mccall) – 4×200 (1:32.00)
2nd – Mekhi Garrard (Webb City) – Triple Jump (45'10)
2nd – Carl Junction (Olivia Vediz, Alanza Montez, Salma Lewis, Shiloh Sluder) 4×100 (49.80)
2nd – Alanza Montez (Carl Junction) – 300 Hurdles (45.46)
3rd – Angel Dickerson (Camdenton) – 200 (22.17)
3rd – Brianna Utecht (Marshfield) – 200 (24.86)
3rd – Dailynn VanDeren (Bolivar) – Shot Put (36'10.25)
3rd – Ethan Crouch (Rolla) – Shot Put (54'7.25)
3rd – Nathan Pohlsander (Rolla) – 3200 (9:31.03)
3rd – Luke Brumit (Webb City) – High Jump (6'5)
3rd – James Morgan (Webb City) – 110 Hurdles (14.88)
3rd – Thomas Shuster (Willard) – 1600 (4:28.27)
3rd – West Plains (Megan McCrackin, Katie Bowers, Raigan King, Emily Howell) 4×100 (50.21)
3rd – Brett Pollock (Bolivar) – 800 (1:58.00)
3rd – Webb City (Luke Brumit, Pryce Mason, William Wolfe, James Morgan) – 4×400 (3:30.74)
4th – Brayden Blackman (Camdenton) – 300 Hurdles (40.46)
4th – Anson Pulsipher (Bolivar) – Javelin (160'9)
4th – Peyton McBride (Marshfield) – Triple Jump (45'2.25)
4th – Nathanael Pohlsander (Rolla) – 1600 (4:28.59)
4th – Angel Dickerson (Camdenton) – 100 (10.97)
4th – Alanza Montez (Carl Junction) – 100 Hurdles (14.87)
4th – Pryce Mason (Webb City) – Pole Vault (13'8.25)
4th – Webb City (Owen Weller, Joseph Dawson, Samuel Winesburg, Roman Borboa) – 4×800 (8:16.79)
4th – Zetthew Meister (Webb City) – Discus (165'11)
4th – Brianna Utecht (Marshfield) – 100 (12.12)
4th – Willard (Kanin Keller, Evan Hancock, Kade Thompson, Elijah Aye) – 4×200 (1:32.25)
4th – Marshfield (Emma Dinkins, Kiana Massie, CASSIE FISHEL, Alliyah Joiner) – 4×100 (50.43)
4th – Brayden Kantola (West Plains) – 800 (2:21.34)
5th – Isabella Frost (Rolla) – 3200 (11:25.73)
5th – Waylon Kinder (Rolla) – Shot Put (52'6)
5th – Willard (Cooper Hall, Nolan Hansen, James Sly, Thomas Shuster) – 4×800 (8:18.59)
5th – Kiana Massie (Marshfield) – Javelin (122'11)
5th – West Plains (Aiden Brigman, Joshua Leazer, Connor Lair, Heston Miller) – 4×200 (1:32.45)
5th – Jordan Kantola (West Plains) – 1600 (5:15.50)
5th – Abby Hobbs (Rolla) – Pole Vault (10'11)
6th – Luke Brumit (Webb City) – Javelin (155'4)
6th – Haidyn Berry (Webb City) – Javelin (115'9)
6th – Emily Beres (Webb City) – Discus (116'1)
6th – Thomas Shuster (Willard) – 3200 (9:39.10)
6th – Dane Lapine (Camdenton) – Pole Vault (13'2.5)
6th – Monett (Eduardo Trujillo, Konner Poynter, Ian Hilderbrand, Jose Salas) – 4×400 (3:31.76)
7th – Reagan Reedy (Rolla) – Javelin (113'3)
7th – West Plains (Jayna Gunter, Brayden Kantola, Jordan Kantola, Jorden Woods) – 4×800 (10:02.34)
7th – Abigail McBride (Marshfield) – Triple Jump (35'0.25)
7th – Brayden Blackman (Camdenton) – 110 Hurdles (15.21)
7th – Shaylee Goodman (Bolivar) – Pole Vault (10'5.5)
7th – Joel Mason (Camdenton) – 200 (22.45)
8th – Drew Beachler (Nevada) – Long Jump (21'0.75)
8th – Ethan Crouch (Rolla) – Discus (148'7)
8th – Joel Mason (Camdenton) – 100 (11.03)
8th – Rolla (Olivia Olusanya, Emma Hobbs, Abby Hobbs, Reagan Reedy) – 4×200 (1:48.58)
8th – Roman Borboa (Webb City) – 1600 (4:29.65)
8th – Joshua Leazer (West Plains) – Triple Jump (43'7.75)
8th – Waylon Kinder (Rolla) – Javelin (147'6)
8th – James Morgan (Webb City) – 300 Hurdles (41.28)
MARSHALL SWADLEY'S RECORD THROW