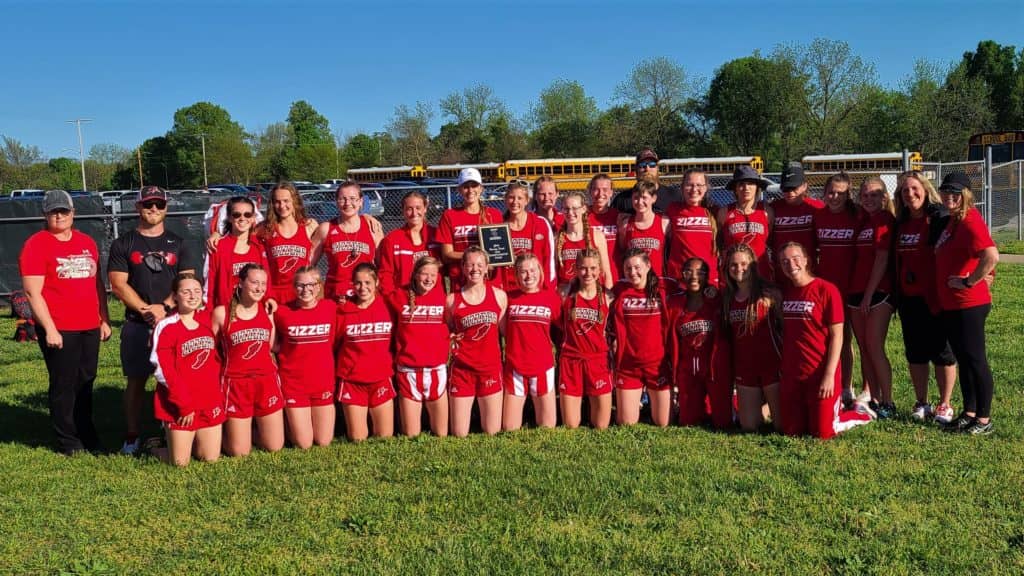 By Scott Vanscoy (For OzarksSportsZone.com)
Springfield – The Ozark Conference held their annual Conference Track and Field Meet on Wednesday at Parkview High School. Twenty varsity teams participated with an estimated 500 athletes attending. The meet saw the West Plains girls win their first Ozark Conference championship in the school's history as they edged out Rolla by 1.5 points. Waynesville won the boys championship by a 24-point margin over runner-up Camdenton.
West Plains Head Girls coach Alicia Gunter was "super proud" of her girls' effort.
"A lot of times in track and field there's one area stronger than others but this really was a total team effort," said Gunter, "it came from the field events, the sprints, and the distance. We had a lot of PR's today and we are super proud to win our first-ever Ozark Conference Championship. It was all the coaches working together as a team and having our athletes work together. We had a girl candy stripe for the first time, which means she set a personal lifetime best in the vault. We had some distance runners that ran lifetime bests in two of their three events today."
Leading the way for West Plains were juniors Brayden and Jordan Kantola. They finished first and second in the 800-meter run, Brayden finished first in the 3200-meter run and Jordan finished second in the 1600-meter run. They also ran the final two legs of the 4×800 relay, leading their team to victory.
CLICK HERE FOR PHOTOS OF THE GIRLS EVENTS
"It was just really a total team effort," said Gunter. "It was everybody working together, the coaches and the girls, to get it done. We had a distance girl (Sadie Hutchinson) that came out and ran in the 4×400 so that we could pick up some points. She's never ran in a 4×400 in her life and she ran the second leg in order to do that. I'm just really happy, proud of all the coaches and athletes working together. It was beautiful weather and the competition really challenged us and helped us do our best. We think we have a chance to get a lot of athletes through Districts and Sectionals."
The Waynesville boys had a little easier time of it, as they won by 24 points. Senior Bryan O'Barr ran three events.
"Bryan O'Barr stepped up, he had a busy day today running the 4×800, the mile, and the two mile," said head coach Mike Rawlings. "He got us a lot of points, there."
Another big point earner was Keyshawn Smith, who stepped up and won the triple jump even though he hasn't been jumping that event for very long. Rawlings was impressed with Smith's focus.
"Going first and second in the triple jump was huge, too," said Rawlings. "The key to tonight's victory is that everybody came down here and did what they've done all year long. That's what we told them all year long, that if they come down, do what we've done, then we had a chance. A lot of our points came from not winning events but from picking up points on the backside of it. It's just a good group of kids that put that together tonight.
CLICK HERE FOR PHOTOS OF THE BOYS EVENTS
Coach Rawlings was impressed with his relays.
"A big surprise today was our 4×800, they dropped a whole bunch of time, they dropped about 14 seconds off the best they had done all year long," said Rawlings. "Our 4×200 dropped two seconds and 4×100 dropped about a second and did awesome. Again, all those guys on the relays ran their hearts out today. We did not have anybody win more than one event; it was a full team effort. The way we are improving, I like our chances in a lot of events next week at Districts. Then if we keep improving, we'll see what we can do."