By Chris Parker
NOTE: All stats are as of the morning of Apr. 22.
The Ozarks produces a bevy of talented athletes across all sports, but no sport in the area consistently produces more Division I talent than baseball.
This year is no exception. The area has more than 20 teams either ranked or receiving votes in the most recent statewide rankings.
Instead of doing a typical power ranking, I am going to take a look around the area at the top teams based on the coaches rankings. Every area team that was mentioned in the latest coaches rankings is mentioned below. 
Postseason Format
Before I get going on the notes, one big thing this year is the addition of a sixth class for baseball. It has caused one huge change. Typically teams will play a district tournament from a Saturday to Tuesday or Wednesday. Then they will play a sectional the following Monday or Tuesday followed by a state quarterfinal on Wednesday or Thursday.
That will still be the format for Classes 1-4 with 16 districts feeding to eight sectionals and four quarterfinals.
Classes 5-6 only have eight districts, which means that the district championship will feed straight to a state quarterfinal game. This is a huge change. Typically a top team would need two starting pitchers to get through districts one week and the sectional and quarterfinal games the following week. Now, every Class 5 & 6 team will need to win three district games and then just one game the following week to get to the final four.
Take Class 6 District 6. It features Carthage, Central, Joplin, Kickapoo, Lebanon, Nixa, Ozark and Republic. Based solely on record, Ozark would be a seven seed and Carthage a six seed right now. That is an incredibly tough draw for a No. 2 or 3 seed. It will be interesting to see how teams line up their pitching to get through a three-game district tournament.
Classes 1-4 all will have byes available, as no district has eight teams. Every local district has five or six teams. This makes getting the one or two seed in six-team districts and a one, two or three seed in five teams districts huge because teams have to cover fewer innings with their pitching staffs.
Class 6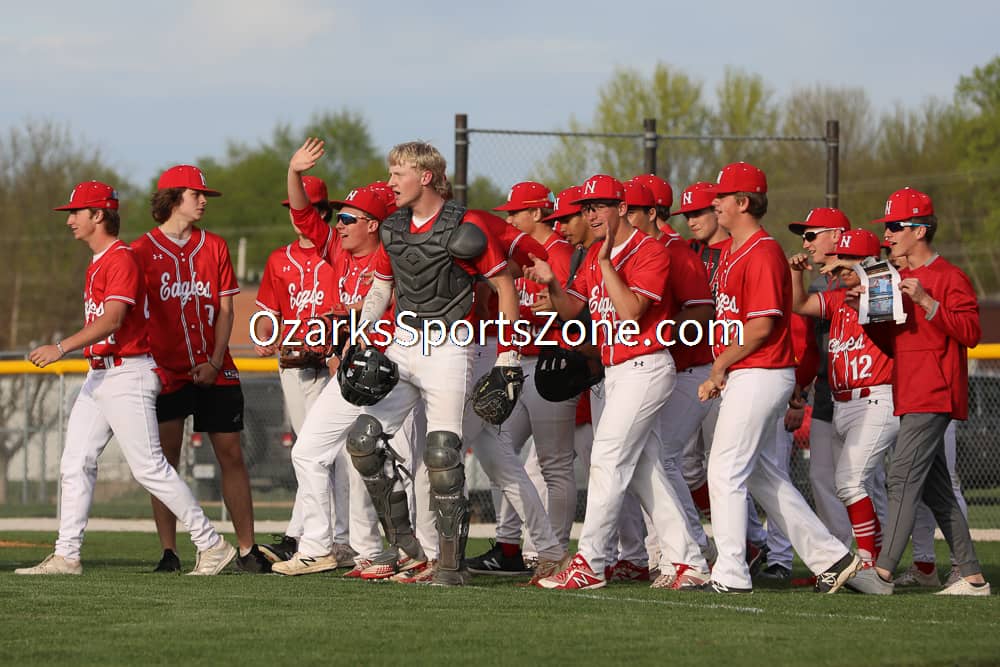 The area has just one ranked team in Class 6, and that is the Nixa Eagles. Nixa is 13-2 on the year with a loss in eight innings to Glendale (9-9) and Webb City (13-3) in a non-conference game.
Things with Nixa start with their ace Isaac Mitchell. The senior Arkansas signee is the area's best pitcher. He is currently 5-0 with a 1.04 ERA and 52 strikeouts in 33.2 innings pitched. Any time he is on the mound, Nixa will be the favorite. He and Willard's Dalen Stewart went head-to-head last week with Nixa coming out on top 1-0 with both pitchers going the distance. That game made Mitchell a clear front runner to win the COC Pitcher of the Year award.
The Eagles go far beyond just Mitchell. This pitching rotation is deep. Keith Piepmeier (3-0, 1.75 ERA with 20 strikeouts in 20 innings), Hardy Dougan (2-1. 1.91 ERA, 14.2 IP, 19 strikeouts) and Parker Bridges (1.14 ERA, 12.1 IP, 17 strikeouts) join Mitchell to form a formidable quartet atop the rotation. Piepmeier has thrown a no-hitter and one-hitter this year. Having four arms of this quality is a huge asset all season, but especially so come playoff time. The Eagles can afford for one of their guys to not be on in a district game and still have enough arms to cover the innings.
Offensively, Jaret Nelson leads the way hitting .467 with a 1.547 OPS including three home runs, three triples, eight doubles, 28 RBI and 21 runs scored. Sam Russo is hitting .417 with a .644 on-base percentage. Yes, he reaches base better than 64% of the time thanks in large part to 21 walks. He has scored 18 runs. Russo also is 1-0 on the mound with a 0.00 ERA.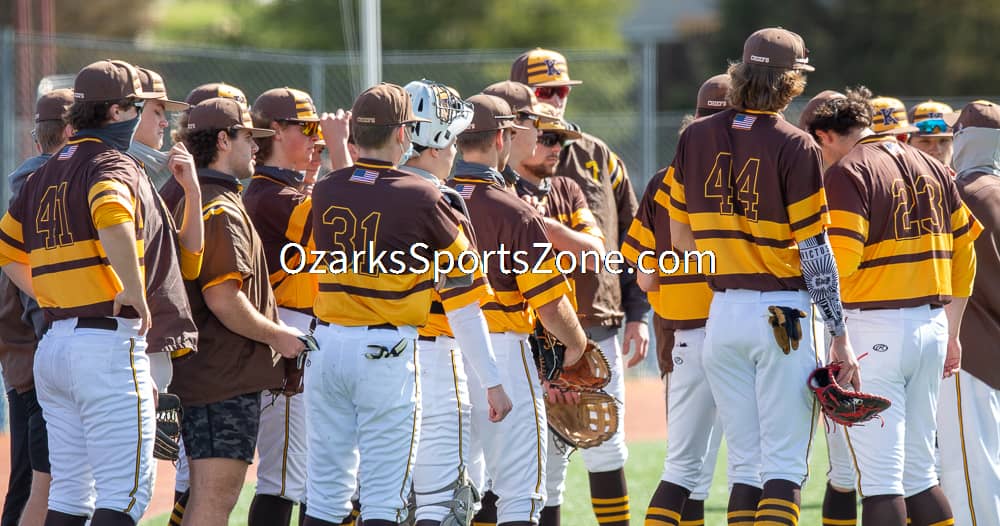 Kickapoo is getting votes in the state poll with an overall record of 13-7. Six of those seven losses have come against teams from out of the area. Zach McKinnis has been Kickapoo's top pitcher throwing 21.2 innings with 32 strikeouts. Erik Broyles is second in innings pitched for the Chiefs with 18.2 innings and 16 strikeouts.
Class 5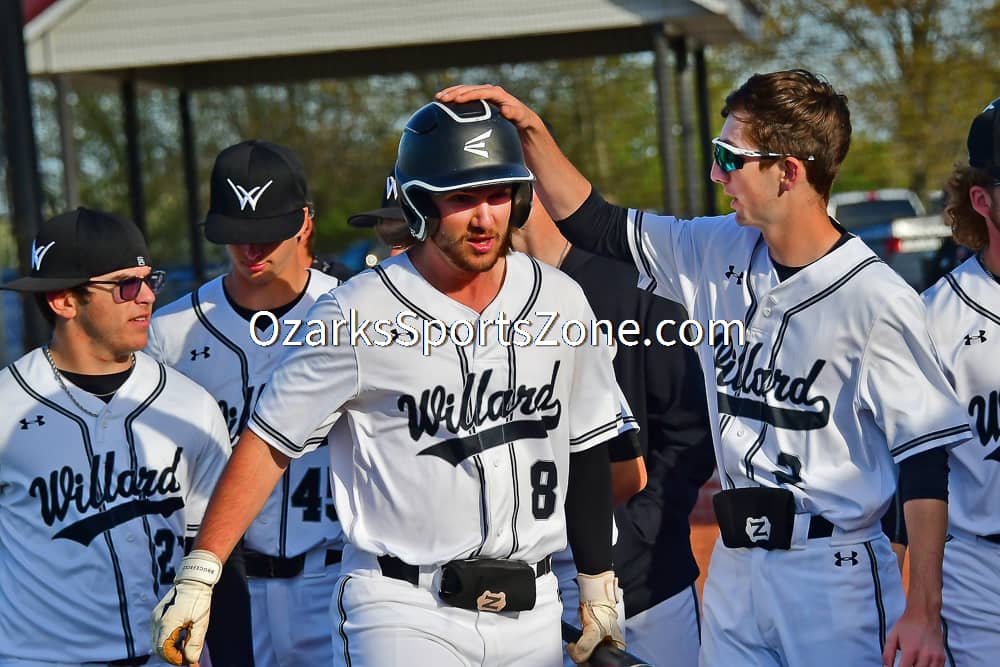 The area boasts the Nos. 1 and 2 ranked teams in this class in Willard and Webb City. The two went head-to-head on Monday with Willard coming out on top 5-4.
Willard coach Scott McGee deserves every coach of the year honor he is eligible for. The Tigers were going to be the state's best team last year. They also had a real shot at making noise in the national rankings. The pandemic took all of that away and with it went basically every bit of experience the Tigers had. Blake Hultgren (eight career hits) and Dalen Stewart (14 career innings pitched) were the sum of the returning players with varsity experience. The inexperience hasn't mattered as evidenced by Willard's 14-6 record and the No. 1 ranking in Class 5.
Stewart has ascended to the top of the Willard rotation with a 3-3 record including 33 innings pitched and 42 strikeouts. He has a 1.91 ERA and 0.88 WHIP. Over his past three starts (against Branson, Nixa and Webb City), Stewart has thrown 17 innings with 22 strikeouts while yielding just two earned runs.
Gavin Burk has slid in as the No. 2 pitcher with a 1.79 ERA and 0.99 WHIP over 27 innings pitched.
Offensively, Blake Hultgren, Kade Biellier, Grant Merryman, Cooper Hampton, Klayton Kiser and Elliott Friend all have double-digit RBI totals led by 23 from Biellier. Those six plus Owen Bushnell and Kyle Beeman have all scored double digit runs led by Hultgren's 21 runs scored.
The Tigers don't hit for a lot of power with just 32 extra base hits in 645 plate appearances, but they find ways to manufacture runs. Willard has drawn 84 walks and stolen 66 bases as a team so far this season.
The talent just keeps coming for Willard too. McGee tweeted that freshman pitcher Hayden Rakestraw was hitting 85 MPH in a game on Apr. 19.
Willard's district features just one other team (No. 10 St. Francis Borgia) currently ranked in Class 5.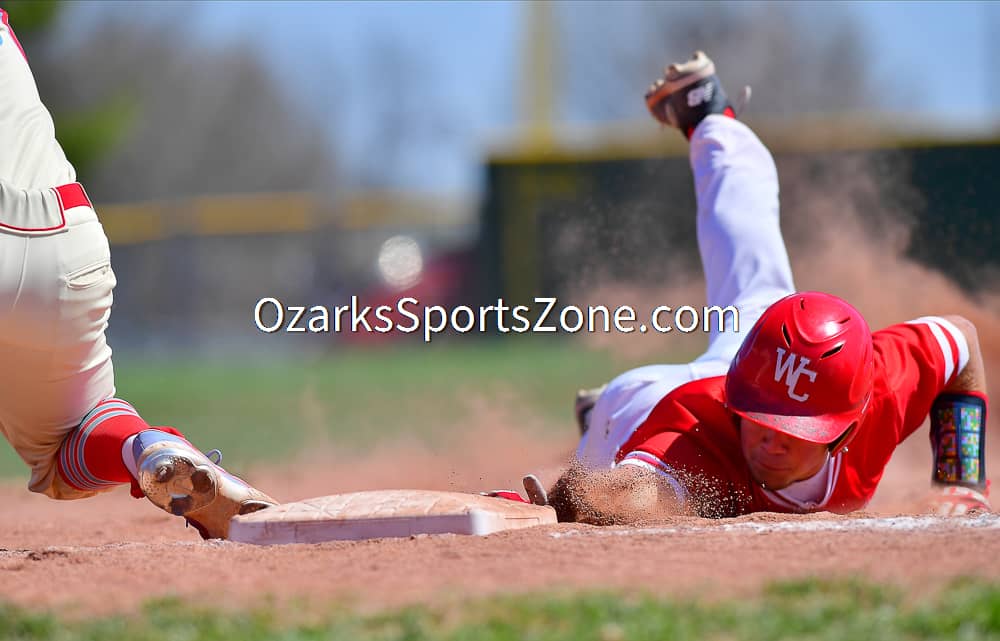 Webb City is currently 13-3 overall with losses to Springfield Catholic (No. 2 in Class 4), Willard (No. 1 in Class 5) and Class 5 Joplin.
Treghan Parker is one of the area's best power hitters this season with five home runs and 32 RBI for a 1.492 OPS. Kansas State football signee Devrin Weathers and Shane Noel each have scored 26 runs to lead the Cardinals. Matt Woodmansee, Eric Fitch, Weathers, Parker and Noel have all scored and driven in double-digit runs. Cole Gayman (18 RBI) and Eli Goddard (11 runs scored) have also been key offensive contributors.
Gayman and Noah Mitchell have been Webb City's top two pitchers. Gayman has thrown 28 innings with 37 strikeouts. Mitchell is at 21.2 innings with nine strikeouts and a 2.59 ERA.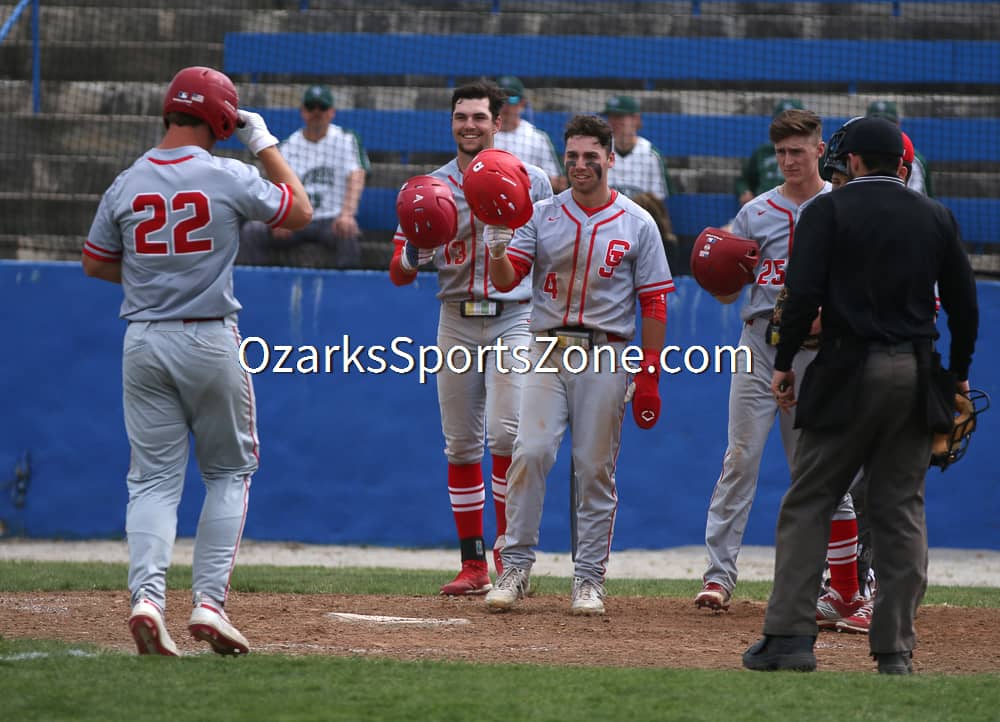 Carl Junction is the final ranked team in the area in Class 5. The Bulldogs sit at No. 6 and make four of 10 Central Ozark Conference teams ranked in Classes 5 and 6. They are 11-4 overall with a tough schedule coming up featuring Willard (Thursday), Webb City (Apr. 27) and Springfield Catholic (May 1).
Alex Baker, Drew Beyer and Dylan Eck sit atop the pitching rotation for Carl Junction. Baker leads the team with 26 innings pitched and 37 strikeouts. Beyer (18.1 IP, 21 K) and Eck (15.1 IP, 19 K) give the Bulldogs a strong top three. Noah Southern is the top offensive threat for Carl Junction.
Carl Junction and Webb City share a district.
Class 4
This is probably my favorite class locally. The area has four ranked teams in Catholic (No. 2), Aurora (No. 4), Rogersville (No. 6) and Hollister (No. 8). That quartet also comprises four of the seven teams in the Big 8 East. So far this year, Rogersville has beaten both Aurora and Hollister. Aurora has beaten Hollister but lost to Catholic and Rogersville. Hollister beat Catholic but lost to Aurora and Rogersville. Catholic has beaten Aurora and lost to Hollister. Rogersville and Catholic meet on Thursday (Apr. 21) to finish out the round robin.
Any of these four teams can make a deep run in the playoffs.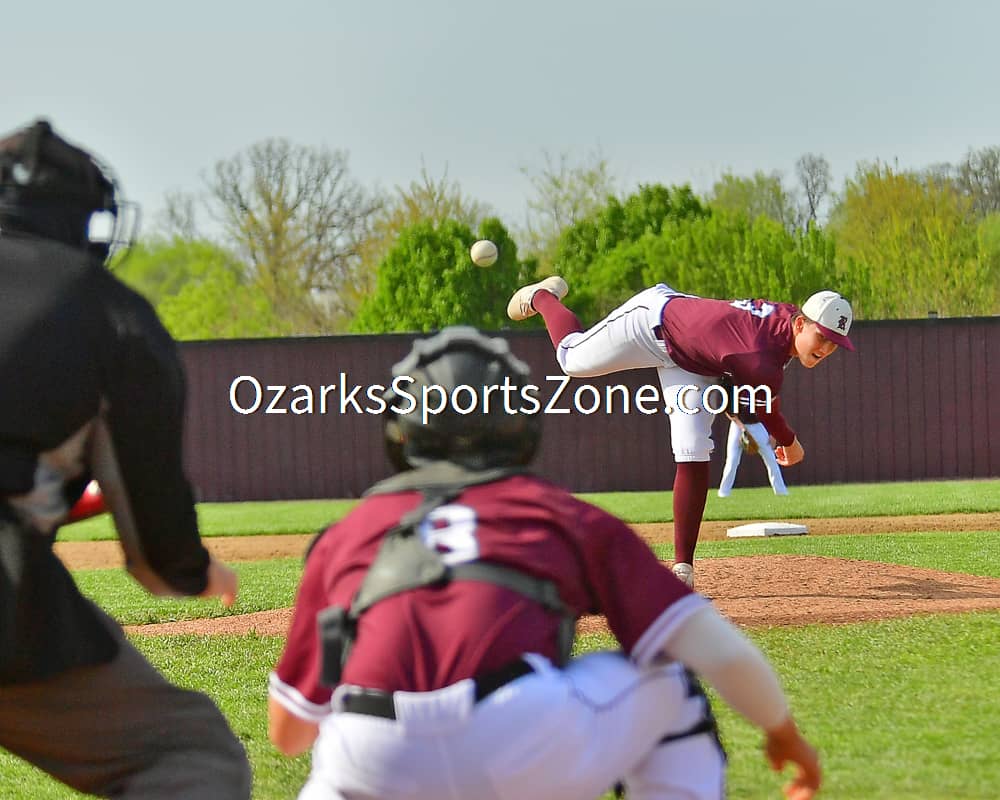 Rogersville has been running the gauntlet with four straight conference games in nine days against Marshfield, Hollister, Aurora and Catholic. The Wildcats are 3-0 heading into Thursday's pivotal showdown with Catholic.
How has Rogersville done it? Pitching depth. The Wildcats use a five-man staff featuring Blythe Blakely, Curry Sutherland, Ross Lawrence, Tanner Peterson and Drew Cornelison. Blakely leads the group with 22 innings pitched. He has 18 strikeouts and a 0.64 ERA. Sutherland, a sophomore verbally committed to Missouri State, has thrown 20 innings with 25 strikeouts posting a 0.70 ERA. Lawrence has thrown 19.1 innings with 22 strikeouts and a 0.72 ERA. Peterson has thrown 17 innings with 11 strikeouts. Cornelison gives Rogersville a fifth player with double digits innings at 11 innings with 12 strikeouts.
Rogersville's team ERA is 1.04 with 90 strikeouts and 50 total walks.
Offensively, Cornelison has hit three home runs with 18 RBI. Blakely has one home run and 14 RBI. Sutherland, Archer and Lewis all have 10-plus RBI.
One thing that is defining Rogersville baseball on offense is doing whatever it takes to reach base. Clay Palen personifies that philosophy. He is only hitting .226, but he has an on-base percentage of .564. This is thanks in large part to getting hit by 12 pitches in just 15 games. He has also walked 12 times.
As a team, Rogersville is hitting .315 and has either been walked or hit by a pitch 116 times.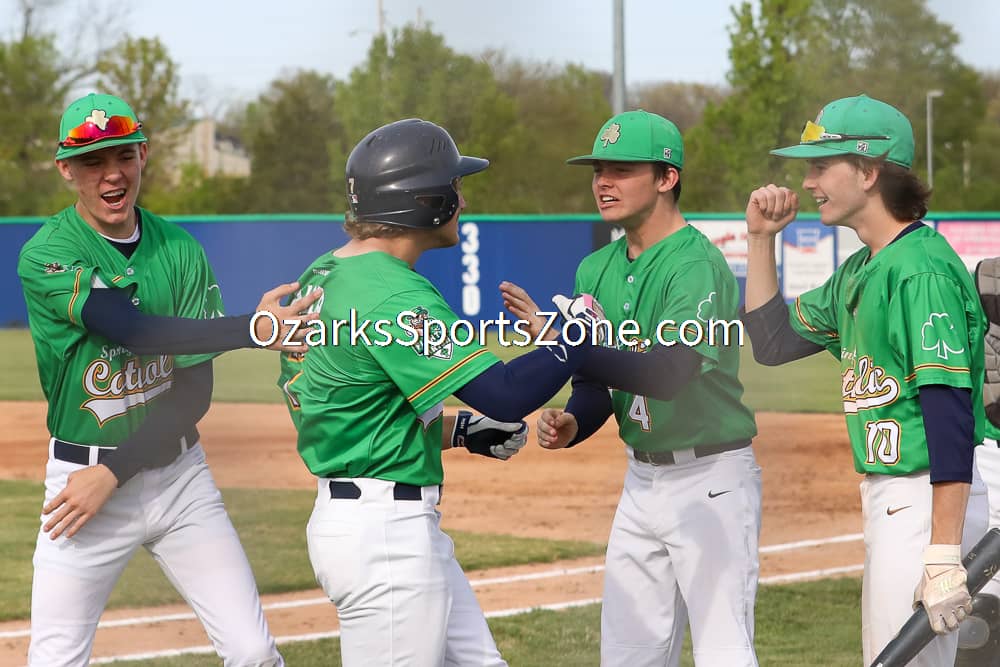 Springfield Catholic baseball boasts one of the area's most potent offenses averaging 10.6 runs per game while giving up just three runs per game. The Irish are 14-2 on the season with a tournament loss to Aurora (in nine innings) and a 4-3 loss to conference rival Hollister.
The Irish have played an incredibly tough schedule that features wins over Class 5 No. 1 Willard, Class 5 No. 2 Webb City and Class 3 No. 9 Strafford in addition to a win over Aurora.
Thursday's game against Rogersville is massive. A loss to Rogersville effectively ends any shot at a earning even a share of the Big 8 East title for Catholic. The other thing on the line is the likely No. 1 seed in Class 4 District 10. That district includes Catholic (14-2), Rogersville (13-3), Ava (10-2), Mountain Grove (7-8) and Buffalo (1-13). The winner of Rogersville-Catholic has an inside track to the No. 1 seed, which would mean not having to face Ava (more on the Bears below) Thursday's opponent in the semifinals.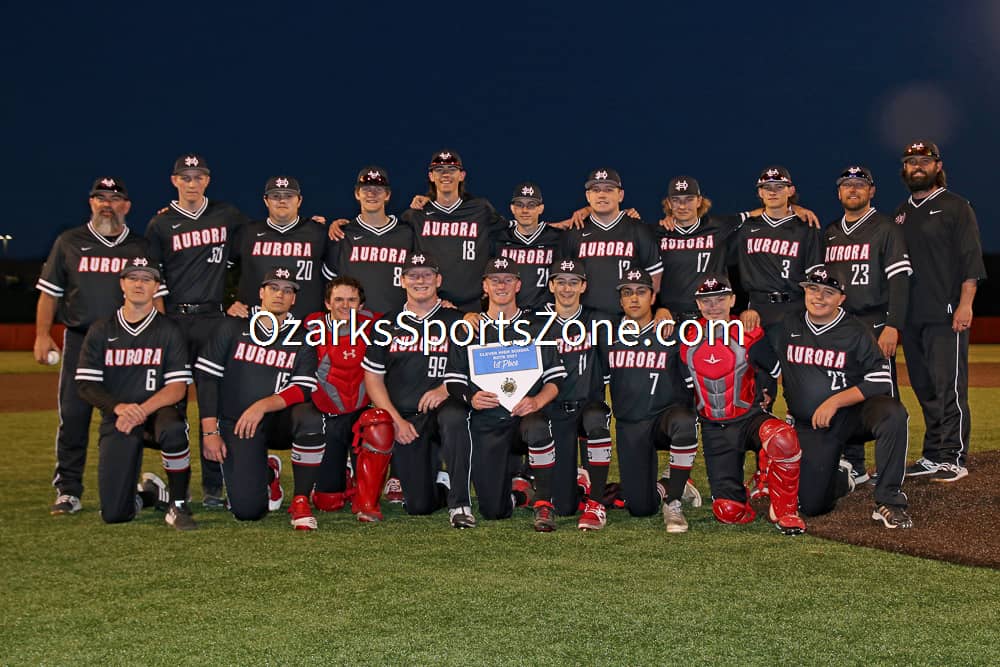 Aurora has been one of the area's most consistently strong programs over the past several years, and that has not changed this year. The Houn' Dawgs started the season 10-0, but are 1-3 in their past four games with losses to Class 6 Republic and conference rivals Catholic and Rogersville. While the Big 8 East title is essentially out of reach, the No. 1 seed in Class 4 District 11 is mostly assured thanks to a head-to-head win over Hollister.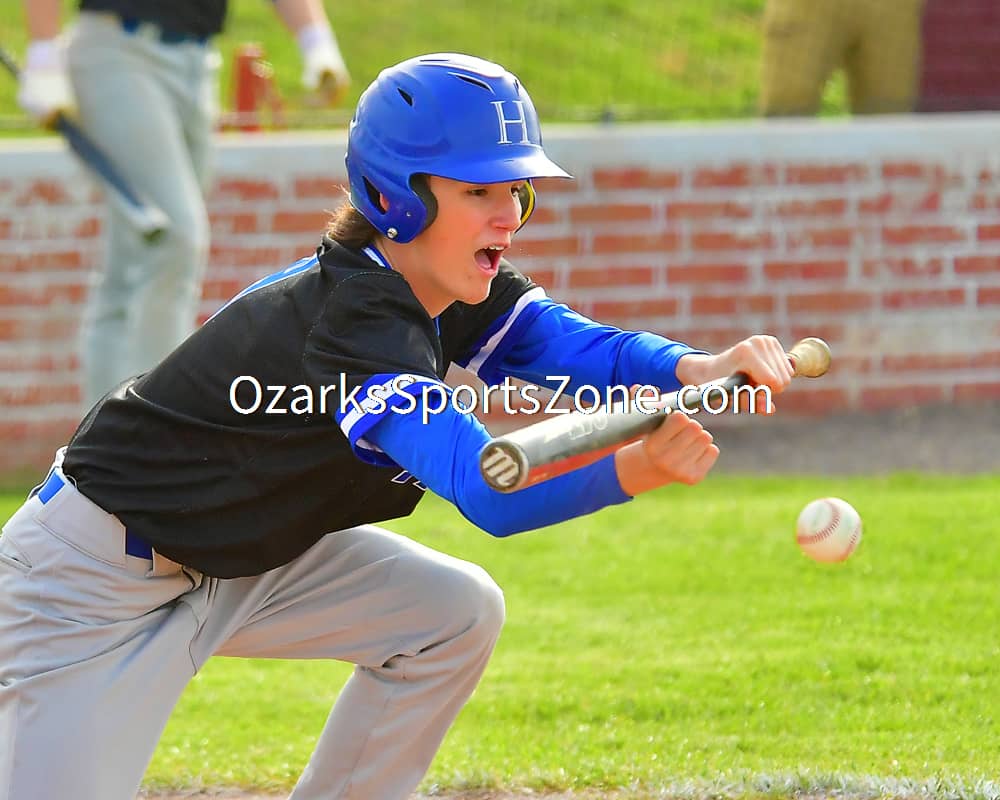 Hollister picked up a huge, confidence-boosting win over Catholic 4-3 on Monday. The Tigers are hitting .312 as a team led by seniors Konner Hatfield, Landon Richards. Colby Teaster and Cole Jones along with junior Clay Kemp and sophomore Blake Russell.
Hatfield is hitting .469 with a .600 on-base percentage. He has scored 22 runs while driving in 20. He has a patient approach at the plate with 16 walks. Richards is the team's power threat with three home runs and 26 RBI to go with a .451 batting average. Teaster is steady with a .424 on-base percentage, 13 RBI and 15 runs scored. Jones has 10 hits and 10 runs scored on the year. Kemp sports an on-base percentage of .519 with 16 RBI and 13 runs scored. His 13 drawn walks have helped boost that OBP. Blake Russell has 16 hits and stolen eight bases while scoring 15 runs.
The pitching staff has a 2.95 ERA while giving up 3.5 runs per game. Richards, Teaster and Kemp do the heavy lifting on the mound with sophomores Ronny Daniels, Ethan Wright and Luke Calovich all emerging to provide key innings.
Richards has the most innings pitched with 28.1. He has struck out 51 in his time on the hill with a 2.97 ERA. Kemp has thrown 25 innings with a 0.84 ERA and 32 strikeouts. Teaster has a line of 19 IP, 20 strikeouts and a 3.31 ERA.
If a Hollister-Aurora district title game were to happen, it would be one of the most intriguing in the area. Two years ago, No. 5 seed Hollister beat No. 1 seed Aurora 5-1 in the district semifinals. Many players on the current teams played in that game.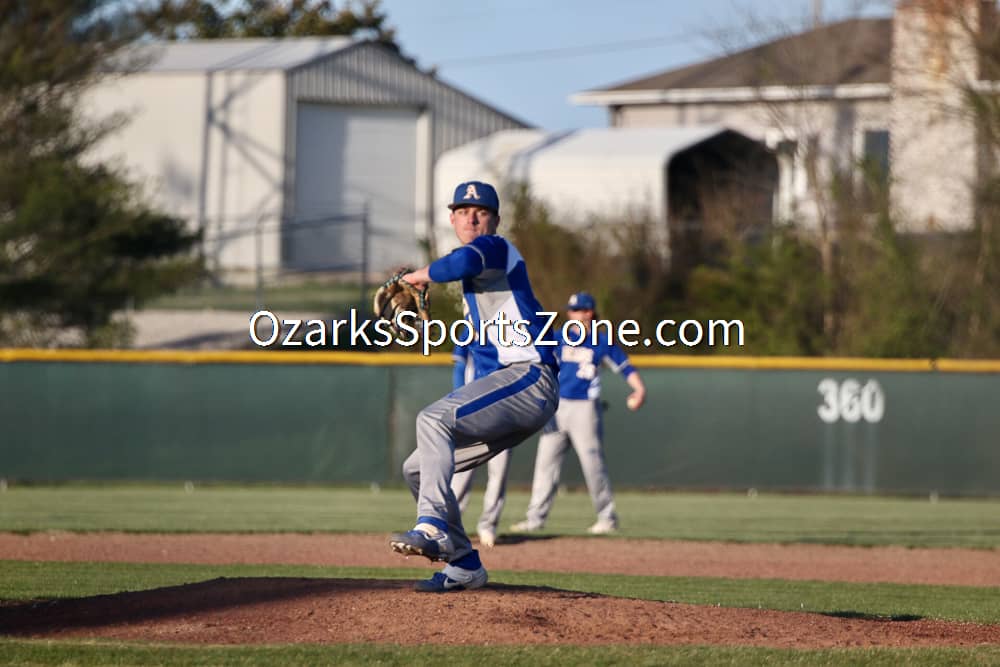 Ava is just outside of the Class 4 rankings with a 10-2 overall record. The losses came to Hollister (4-2) in the first game of the season and Carthage (4-3) in the third game of the season. The Bears are on a nine-game winning streak since then with 104 runs scored against 14 runs yielded. That is an average margin of victory of 11.6-1.6.
Senior Zack Miller along with juniors Zach Richards, Spencer Skyles and Andrew Dalton have led the Bears. Miller, a third baseman, has hit .429 with .535 while scoring 14 runs and knocking in 10. Richards has been the team's ace on the mound with 30 innings pitched. He has struck out 40 with a 1.17 ERA in those innings. At the plate, Richards has two home runs, 12 RBI and 11 runs scored. Dalton has a .524 on-base percentage with a 1.024 OPS. He has also been a strong pitcher with 19 strikeouts and a 1.75 ERA in 12 innings pitched. Skyles has posted a 1.195 OPS thanks to his team-leading 3 home runs. He also leads the team in runs scored at 16.
Two of Ava, Catholic and Rogersville will have to face each other in the semifinal round of Class 4 District 10.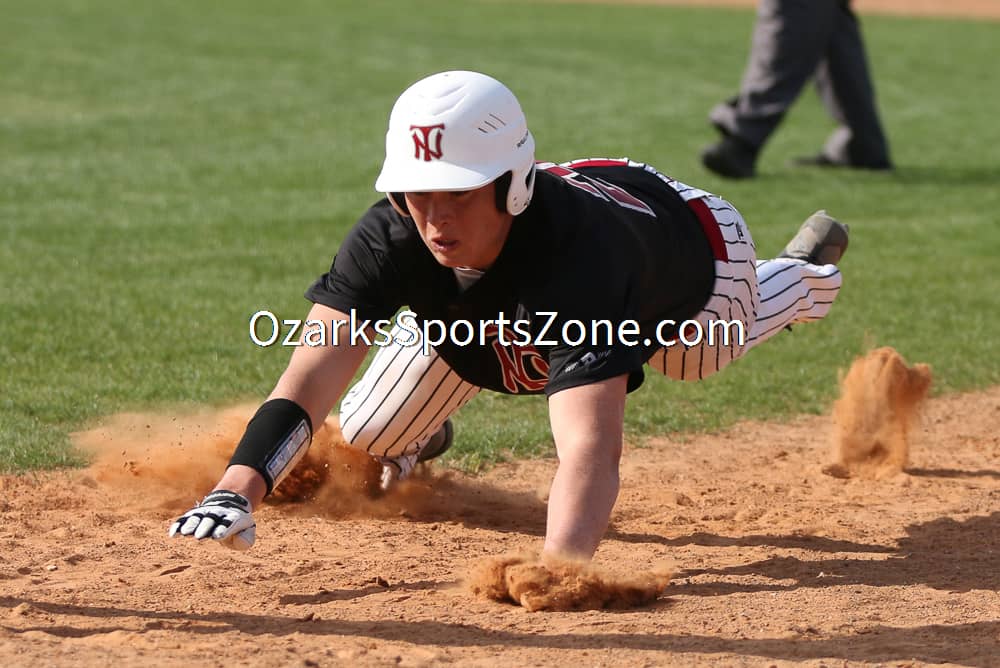 Nevada is knocking on the door of the Class 4 rankings as well. The Tigers are 10-2 overall. Junior shortstop Eli Cheaney is hitting .500 with a .620 on-base percentage. He has scored 22 runs and stolen 8 bases. On the mound, Cheaney is 2-0 with a 1.07 ERA in 13 innings pitched. Sophomore lefthander Case Sanderson has thrown 28 innings with 50 strikeouts and a 1.50 ERA. At the plate, Sanderson is hitting .514 with a .647 on-base percentage. Catcher Blake Pryor has been effective shutting down the running, as he has thrown out eight would-be base stealers. He is also a force on the mound with 15.1 innings pitched and a 1.37 ERA with 25 strikeouts.
Class 3
Class 3 District 12 is, in a word, tough. It is an illustration of why district seeding is so important. That district houses Class 3 No. 1 Conway, No. 4 Skyline and No. 10 El Dorado Springs. Only two of those three teams will get a bye. The rest of the district is: Pleasant Hope (9-3), Stockton (7-5) and Fair Grove (7-6). The difference between a bye and playing a team with a winning record is obviously massive.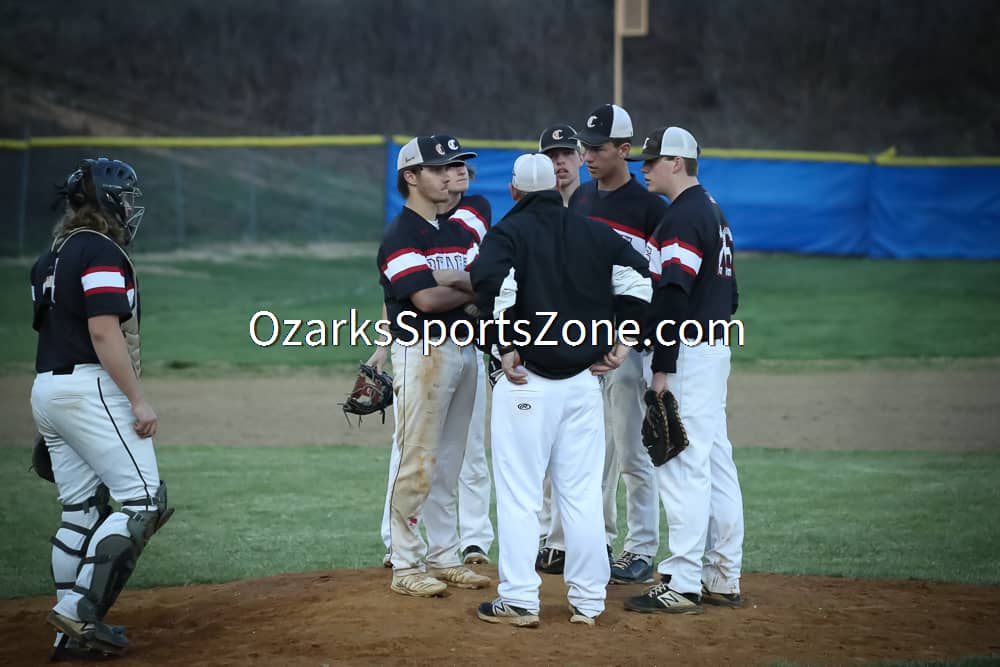 Conway is 12-1 on the year with its one loss coming against Norwood in the Hartville Tournament. The Bears have great wins over Hartville (Class 3 No. 3), Gainesville (Class 2 RV) and Crane (Class 2 No. 9).
Five players have thrown double-digit innings for Conway so far with Chase Caffey and Kory McBride leading the way. Caffey is 3-0 with 34 strikeouts and a 2.33 ERA in 21 innings pitched. McBride has posted an ERA of 1.42 with 25 strikeouts in 19.2 IP. Ryan Dame has been dominant in his 17 innings on the mound with 24 strikeouts and a 0.00 ERA. His WHIP sits at 0.59. Tanner Simpson (10 IP, 19 K, 2.80 ERA) and Trey Earls (13.1 IP, 20 K, 1.05 ERA) have also been strong.
Offensively, Simpson, Caffey and Jake Vestal all have OPS percentages above 1.000. Simpson leads the team with a 1.340 OPS to go with a .513 batting average, 13 RBI and 13 runs scored. Vestal, who sports a 1.300 OPS, has driven in a team-high 15 runs and scored 12. Caffey has scored 12 runs and driven in 11 on his way to a 1.006 OPS. The trio have all tallied 20 hits.
In total, seven players (Simpson, Caffey, Vestal, Earls, Cade Archer, Kason McBride and Troy Replogle) have scored double-digit runs for the Bears.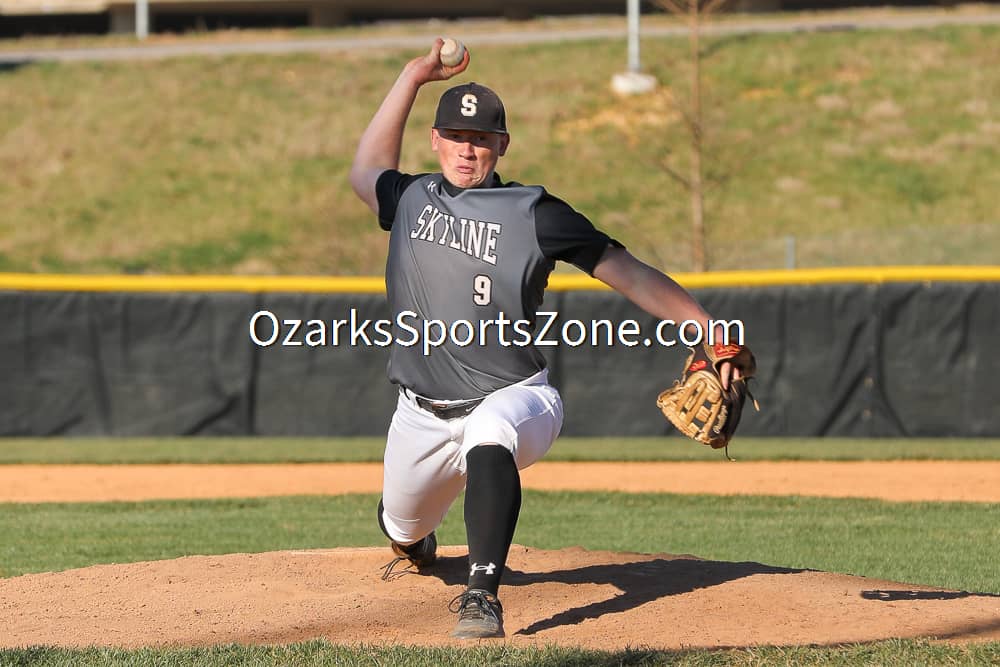 You will have to forgive the Skyline Tigers if they feel disrespected by a No. 4 rankings in Class 3. They earned final four trips in both 2018 and 2019, and they would've been a favorite to go back last year. This year they are unbeaten so far with a 13-0 record.
Skyline also has arguably the best pitcher in Class 3 in senior Ty Pinon. Pinon has thrown 23 innings with 45 strikeouts. He has yielded two earned runs on the season, which has his ERA at 0.61. His dominance includes a one-hitter against 9-3 Pleasant Hope and a perfect game against Class 1 No. 2 Weaubleau. Much like Nixa with Isaac Mitchell, Skyline is the heavy favorite every time Pinon is on the mound. At the plate, he is a force as well with a .531 batting average, two home runs and 10 RBI.
Sophomore brother Trent Pinon has thrown 22 innings with 29 strikeouts and a 2.55 ERA. Junior Dawson Pitts has been the team's top hitter with a .588 batting average and 15 RBI. He has also been a terror on the bases with eight steals. Senior Nic Williams has posted a .483 batting average with 11 RBI.
Skyline is seeking its first conference title in more than a decade. The Tigers will know where they stand in district competition with Stockton (May 6), Conway (May 10) and El Dorado Springs (May 11) to close out the regular season.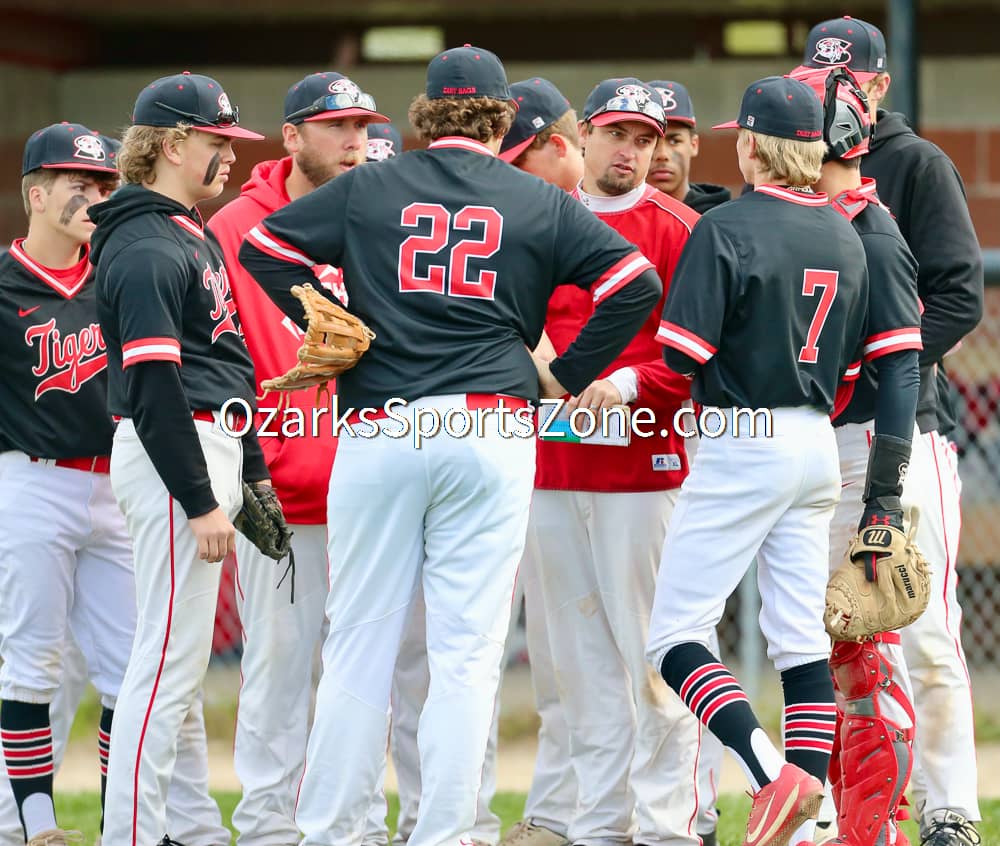 El Dorado Springs was expecting a big year after finishing district runner-up in 2019 with a team that featured seven sophomores or freshmen playing in the game. The Bulldogs have delivered to this point with an 12-3 record overall that has them ranked No. 10 in Class 3.
Trevyn Garringer, Ian Esry, Gaven Morgan, Logan Spencer, Preston Robison, and Trey Graves are all seniors who are leading El Dorado Springs. The team is hitting .405 with 44 extra base hits and 74 stolen bases on the season. The Bulldogs are using a team approach to pitching with no player reaching the 20-inning milestone on the mound to this point through 14 games. They have a team ERA of 2.80 with Spencer, Robison and Garringer leading the team on the mound.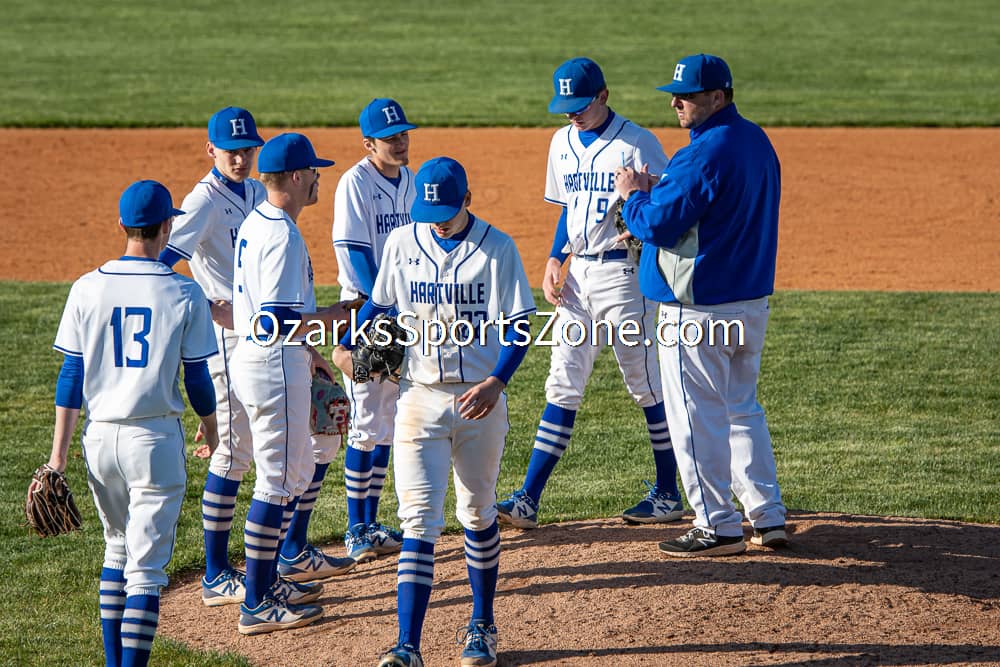 Several of the players who led Hartville to a state championship in basketball are helping position the baseball team for a similar run on the diamond. The Eagles are 14-2 on the year with the two losses coming to Class 3 No. 1 Conway by a 4-3 margin in 10 innings in the first game of the year. The second loss was a 2-1 decision to Forsyth in eight innings.
Senior Ryce Piper, a Drury basketball commit, is 4-0 on the mound with a 3.00 ERA while hitting .350 at the plate with nine stolen bases. Braden Branstetter is also 4-0 on the mound with a 0.56 ERA. Sophomore Brody McNiel, who holds an offer from Missouri State, is 2-1 with a 1.05 ERA. Junior Justin Parker has been the team's top relief arm with three saves and a 0.60 ERA. Hunter Lower has a 3.08 ERA in his junior season. As a team, Hartville has a 1.57 ERA with four guys throwing between 23 and 26 innings.
McNiel has been a force offensively with a .473 batting average and 29 RBI. Senior Eli Cook is hitting .361 with 3 home runs and 25 RBI out of the leadoff spot. He also has 17 stolen bases. Sophomore Rory Kirkpatrick has a .340 batting average with 13 RBI. Junior Isaac Boyer has posted a .356 on-base percentage. Sophomore Kolton Cogdill offers strong production out of the bottom part of the order with a .533 on-base percentage.
Hartville shares a five team district with Forsyth.
Houston's roster looks a lot different than it did two years ago when the Tigers won a district title. They haven't shown many signs of inexperience with a 9-2 record and a No. 7 ranking in Class 3. They have suffered losses to Class 3 No. 5 Licking (by one run) and a Class 4 Ava team that is receiving votes in the state rankings.
Sophomore Garyn Hall is doing a little bit of everything for the Tigers. He is hitting .371 with 18 stolen bases and 8 RBI while leading the team with 25 innings pitched and 41 strikeouts with a 1.12 ERA. He is 3-0 with 1 save on the mound.
Senior Alex Castleman is locked in at the plate with a .667 batting average that includes 3 home runs, 23 RBI and 9 stolen bases. He is also 3-1 with 24 strikeouts and a 2.94 ERA in 19 innings pitched on the mound.
Senior catcher Cody Allen, sophomore second baseman Danny Venable and senior third baseman Trevor Mitchell all have six RBI this year. Allen is hitting .387 with Venable at .370. Mitchell has 10 stolen bases.
Freshman pitcher Wyatt Hughes is off to a strong start with 15 strikeouts and a 0.67 ERA in 10 innings pitched. Sophomore outfielder Ryan Wolfe has eight runs batted in with seven stolen bases.
Licking is sitting at No. 5 in the latest coaches rankings with a 7-5 record overall. The Wildcats started 6-1, but are 1-4 in their last five. They have a key win over Houston from Mar. 26 that will give them the inside track to the No. 1 seed in the district.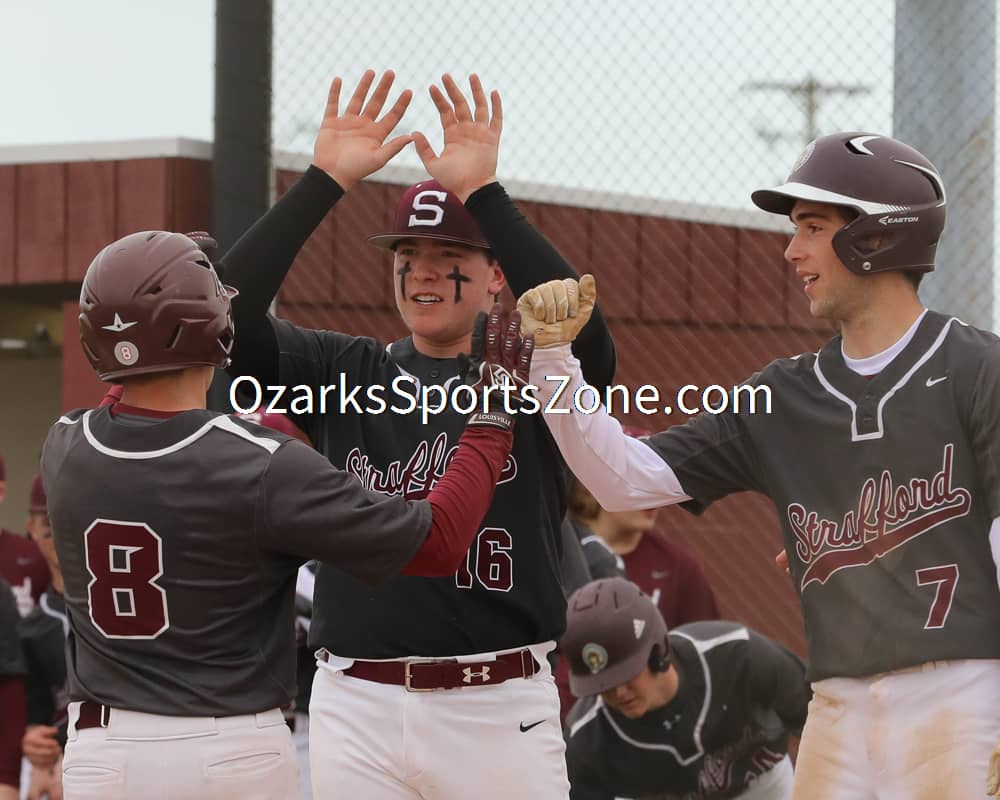 Strafford is 9-6 overall and ranked No. 9 in Class 3. The Indians have played a tough schedule and have the inside track to the No. 1 seed in their district. They are scoring 7.7 runs per game.
Class 2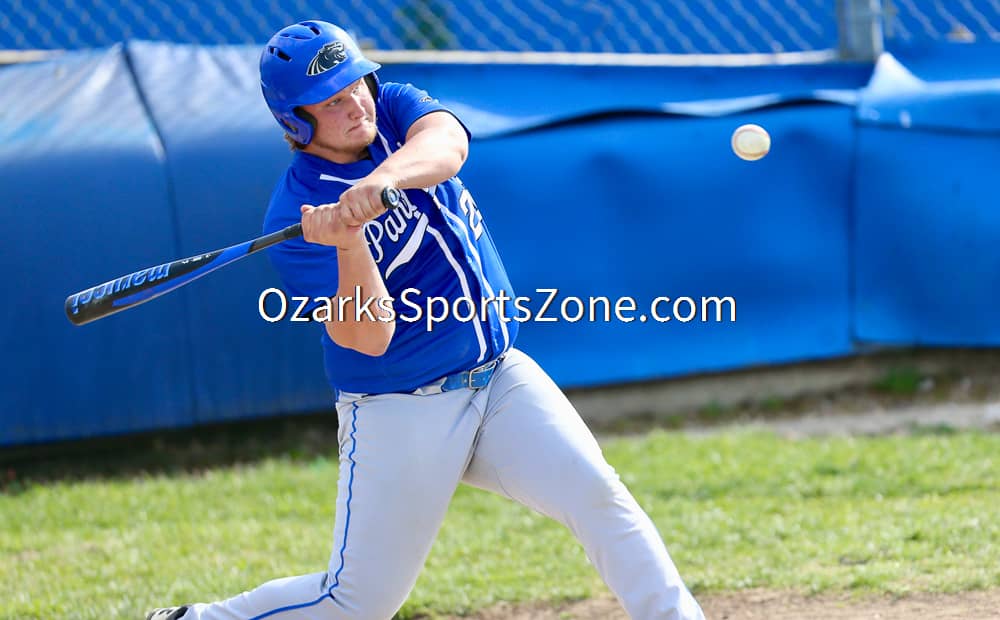 Marion C. Early is the No. 2 ranked team in Class 2, and it is for good reason. The Panthers have an impressive resume that includes wins over state ranked Miller, Crane and Strafford. They are 12-1 on the year with the lone loss coming by two runs to Class 3 No. 3 Hartville.
Dylan Blehm leads the pitching staff with 28 innings pitched and 48 strikeouts. That includes a stellar eight-inning, 16-strikeout performance against Class 3 No. 9 Strafford on Tuesday. He allowed just one hit on a bunt single with no walks in that gem against Strafford Offensively, Blehm is hitting .333 with 10 RBI and 19 runs scored.
Garret Trantham, Chance Hampton, Ty Haynes, Hadan Madewell, Triston Bruegman and Blehm all have double-digit runs scored and runs batted in.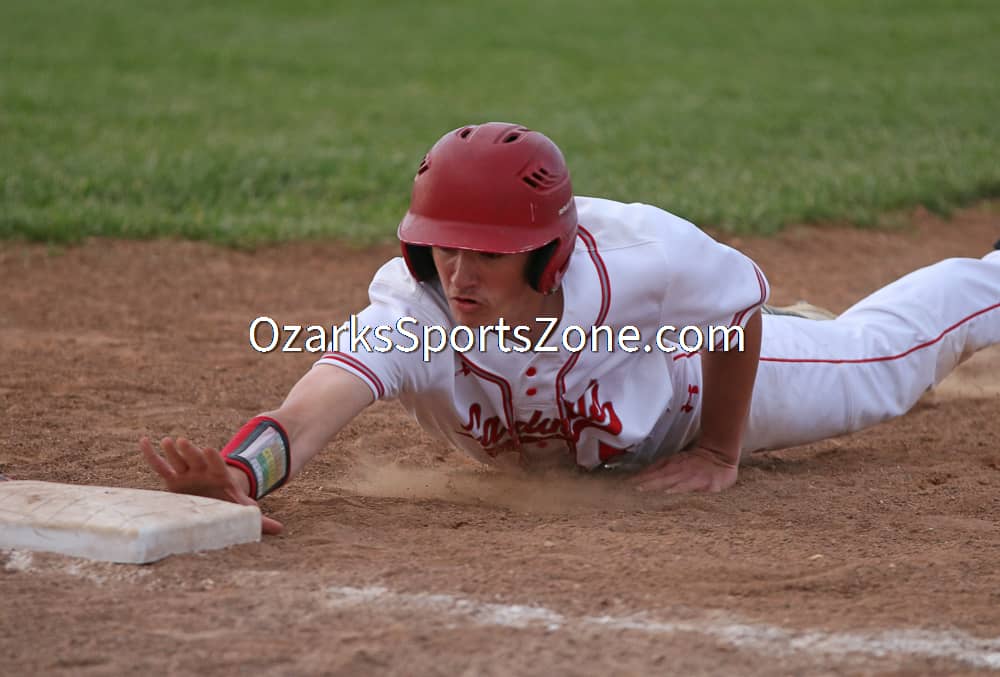 Miller is ranked No. 8 in the Class 2 rankings. The Cardinals picked up a key win over Marionville by an 8-5 margin on Apr. 15, which is the best win of the year for Miller. They lost to MCE 7-4 on Mar. 29, which was key for district seeding purposes.
Jeff Lung (.457 batting average), Logan Adams (.438), Isaiah Bolin (.361) and Gavin Hill (.303) lead the Cardinals in hitting. Adams (2.30 ERA, 46 strikeouts) and Garrett Stewart (0.99 ERA, 26 strikeouts) are the team's top pitchers. Miller has the inside track to the Southwest Conference title currently sporting a 4-0 record.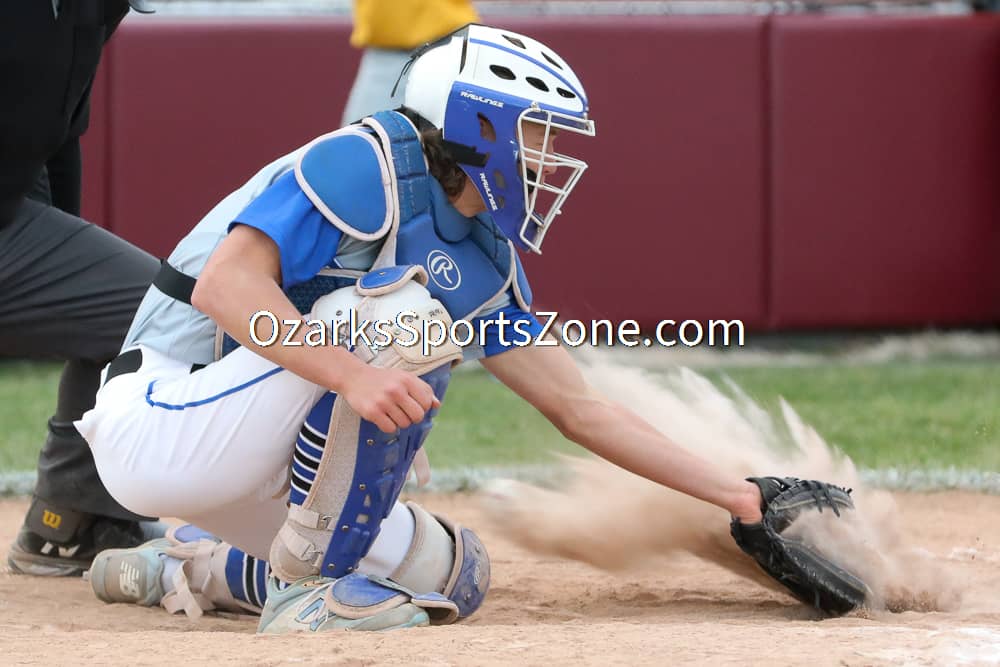 Marionville is ranked just ahead of Miller at No. 7 in Class 2 with an 8-3 record. Cale Clark leads the team in hitting with a .568 average, 21 hits, 7 doubles and 9 RBI. He has thrown 14.2 innings with 25 strikeouts and a 3.34 ERA. Jacob Davis has provided strong defense in the outfield with no errors while adding a home run and 14 RBI at the plate. Senior Jordan Williams is committed to College of the Ozarks. He has thrown 25 innings with 31 strikeouts and a 2.24 ERA. Williams also is the No. 3 hitter in the lineup with a .371 average. Wyley Brown has yet to allow an earned run over 14 innings in which he has struck out 25. He is hitting .355.
Blane Young, Jacksen Smith, Lake High, Kyle Brattin, Gage Guerin, Preston Hurd and Duan Hammonds have all been key performers for Marionville so far this year. The Comets share a tough district with Crane and Purdy.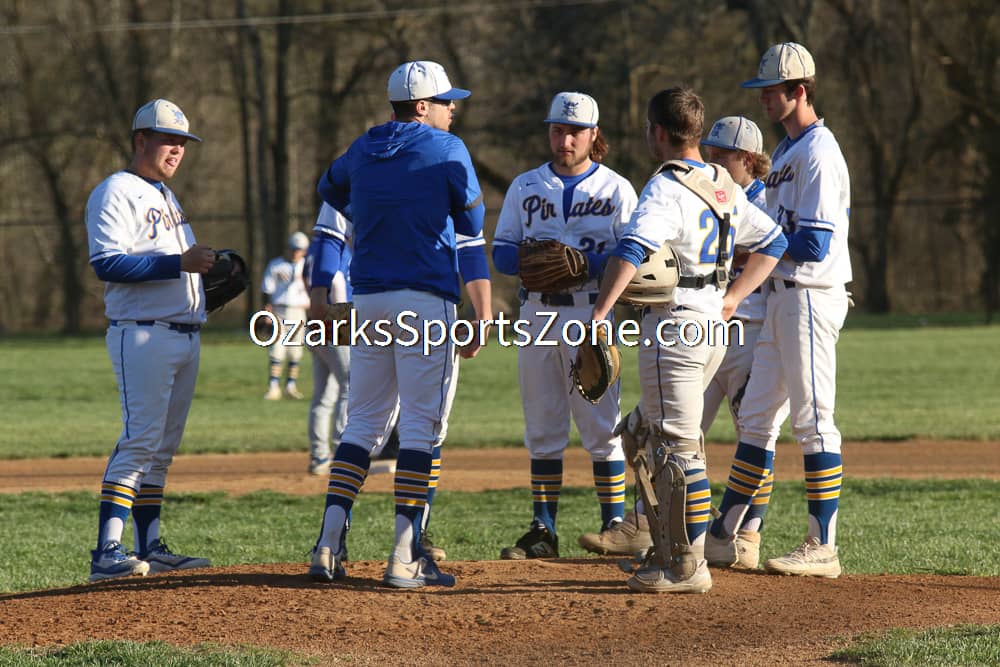 The aforementioned Crane sits at No. 9 in the Class 2 state rankings. Chase Conrad and Koy Essary are the team's top pitchers. Conrad has a 3-1 record with 17 strikeouts in 22 innings pitched. Essary is 2-0 with 11 strikeouts in 14 innings pitched.
Offensively, Isaac Robinson has a .468 batting average and 1.221 OPS with 15 RBI and 16 runs scored. Isaiah Smith is hitting .426 with a 1.266 OPS that includes two home runs, 14 RBI and 20 runs scored. Hayden Shepard is also hitting above .400 (.426) with an OPS north of 1.000 (1.081) with 20 RBI and 14 runs scored. Zane Compton has six doubles, 12 RBI and 16 runs scored. Seth Steele has added in a home run, 9 RBI and 7 runs scored.
Purdy is just outside of the state rankings in Class 2. The Eagles started the season 0-3 before rattling off eight straight wins. The Eagles are 1-2 in their last three.
Osiel Aldava is the team's top hitter with a .512 batting average. His 22 hits lead the team. Clay Henderson is hitting .425 with 11 RBI and 18 runs scored. Aldava is tied for the team lead in runs scored at 19 with Jake Brown. Brown, Aldava and Travis Hughes each have eight extra-base hits. Hughes leads the team in RBI with 18.
On the mound, Brown is 2-1 with a 3.44 ERA in 20.1 innings pitched. He has struck out 30. Ezequiel Garcia has thrown 21.1 innings pitched with 27 strikeouts and a 3.60 ERA.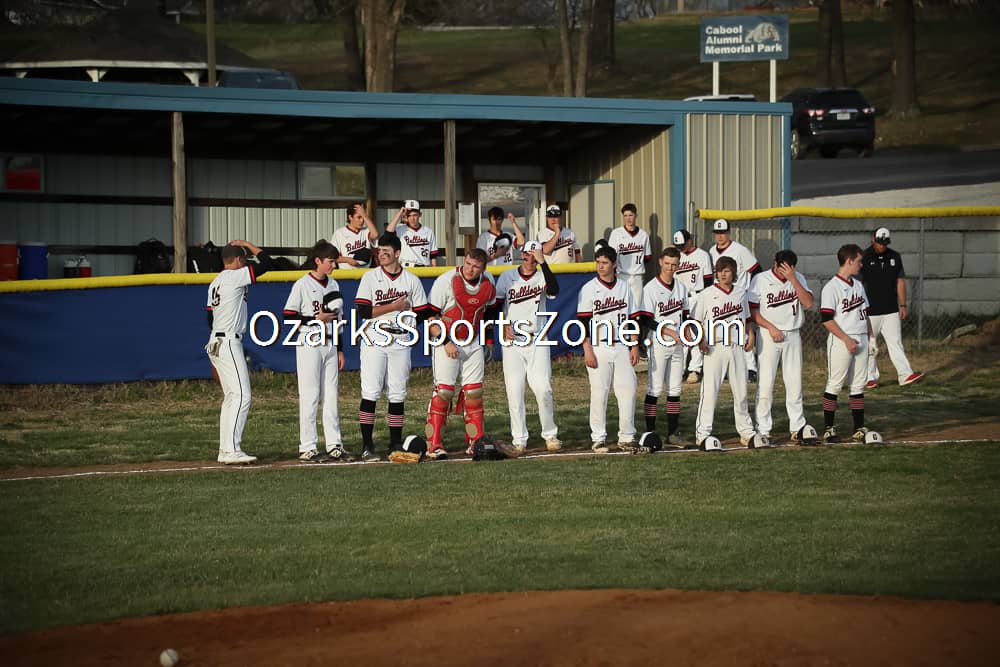 Gainesville is also receiving votes in Class 2 with a 10-4 record. Two of those three losses have come to Class 3 No. 3 Hartville with a third coming to Class 3 No. 1 Conway by a single run.
Jake Leeker has done a bit of everything for Gainesville with a .500 batting average including 3 home runs, 16 RBI and 17 stolen bases. He has also posted a 2-1 record with a 2.88 ERA. Landry Jenkins has been a strong two-way player hitting .282 while posting a 3.06 ERA on the mound. Bryce Hambelton has hit two home runs while striking out 19 with a 3.07 ERA. Andrew Hambelton (1-0, 20 strikeouts, 1.43 ERA) and Briar Walrath (2-1, 17 strikeouts, 1.20 ERA). Aden Yarger (.375 batting average, 1 home run, 13 RBI) and Dymon Van Eperen (.308 average, 5 doubles, 12 RBI) have also been strong hitters.
Class 1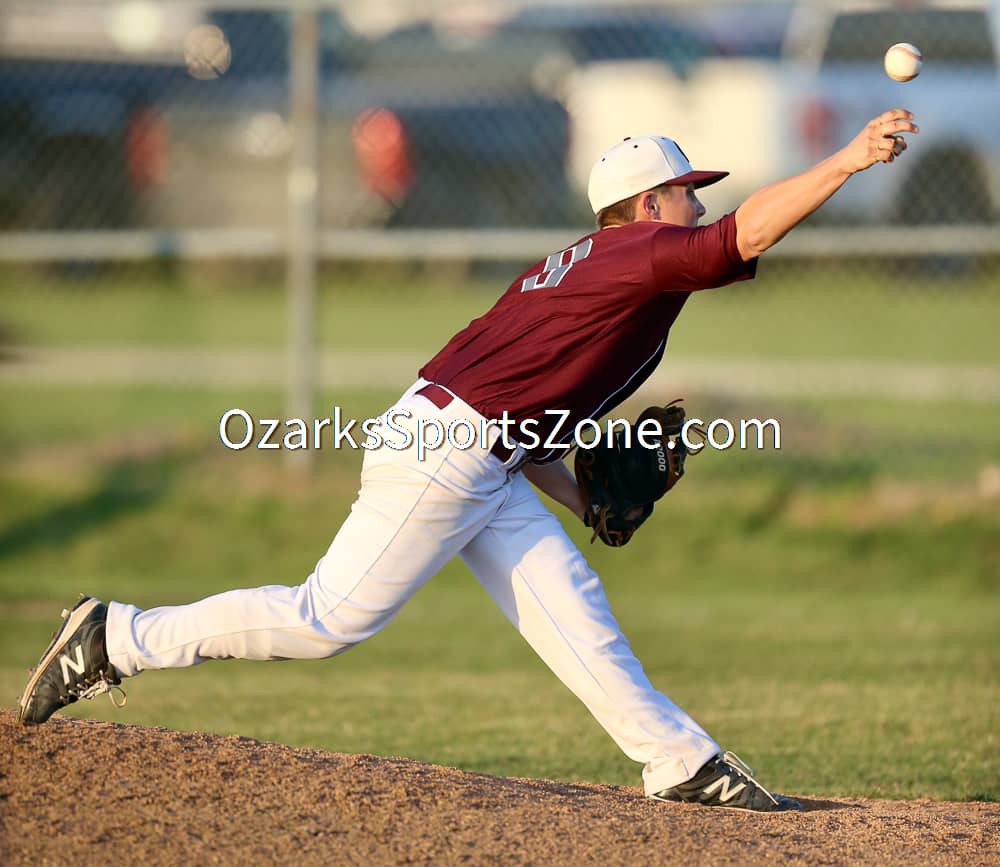 The area has only one Class 1 team even mentioned in the state rankings and that is No. 2 Weaubleau. The Tigers are 11-1 on the year with a 3-0 loss to unbeaten Class 3 No. 4 Skyline being the only blemish.
Everything starts with sophomore Cooper Wilken when discussing the Tigers. Wilken pitched a complete game, no-hitter with 18 strikeouts against Fair Play. As a sophomore, his pitch count limit for one game is 95. He used 54 pitches strictly getting strike 1-2-3 on opposing hitters. He has struck out 61 in 27.1 innings this season with a 5-0 record, 0.51 ERA and 0.66 WHIP. At the plate, Wilken is equally as dominant hitting .606 with 22 runs scored and 10 stolen bases. He is even better with runner in scoring position (if that is possible) hitting .667 in those situations. His on-base percentage .700. Seven out of every 10 plate appearances, Wilken is on the bases. His OPS is 1.458.
Treyton Foster is a strong No. 2 pitcher posting a 1.94 ERA in 18 innings pitched and 29 strikeouts. He is hitting .410 with two home runs, 21 RBI and 14 runs scored.
Ethan Foster is hitting .514 with 3 home runs, 22 RBI, 15 runs scored and 10 stolen bases. He has a team-high 22 RBI. It isn't often that 1.458 isn't enough to lead a team in OPS, but Foster has out-done Wilken to this point with a 1.556 OPS.
Weaubleau is also terrorizing opposing teams on the basepaths with 49 steals on 53 attempts. Wilken, Ethan Foster and Blane Durnell all have 10 stolen bases.
Anything can happen in the playoffs, but Weaubleau will be a heavy favorite to get back to the final four. The only other currently ranked team Weaubleau would have to contend with prior to the final four would be No. 10 St. Elizabeth in a sectional game.