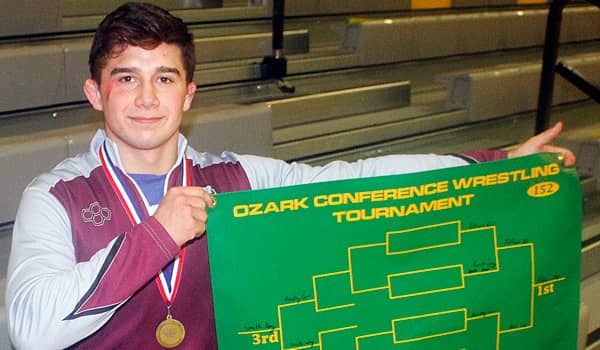 By Pat Dailey (For OzarkSportsZone.com)
Nate Pulliam's 134-1 career record at Rolla makes it obvious that his name and failure are rarely mentioned in the same sentence.
But by his own admission it was his failure to control his weight that cost him nearly a month of his senior season this winter. As he well knows, two-time state champions are usually locked in such a routine that they are well past the days of not making weight.
He owned it and has overcome it.
"I had weight problems, I'm not going to lie," Pulliam said. "This summer, it was tough but I made 145 (pounds) for the Super 32 (Nationals). So, I think I got a little lazy during the (school) season with making weight. I thought I was fine with making 152.
"I'd go to practice six pounds over and then after practice I'd be two pounds over," he added. "I can have a 3- or 4-pound practice easily. Then, the next morning I would run. I'd stick to that. It wasn't good for my body. It was hard for me to make weight for about a solid month."
Pulliam was relegated to being matside for the final three weeks of December, thus missing out on Springfield Parkview's Kinloch Classic, one of the gems of the regular-season schedule for southwest Missouri programs from Branson to Bolivar and McDonald County to Rolla.
"Finally, I told myself I needed to get my rear end in gear," Pulliam said. "After Christmas, I told myself, 'You're sticking to your diet and you're not getting over 156.' I'm fine now. I haven't gotten above 156 during the weeks (this month)."
Pulliam is 19-0 and fresh from winning the 152 title at this past weekend's Ozark Conference Tournament. All 19 of his wins have been by fall. His winning streak that dates back to the start of his sophomore season is at 85.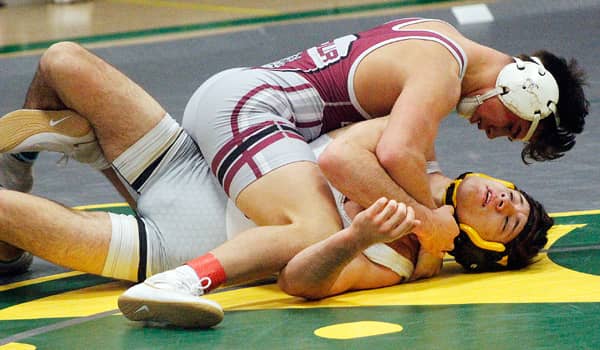 Rolla has remaining duals with Hillcrest and Sullivan before competing in Class 3 District 5 on Feb. 13. Pulliam won't reach the 150-win mark because he also missed mat time as a sophomore and junior. Two years ago, he came back from a broken hip to win the Class 3 132 state title. Last year, he endured a labrum injury on his way to the Class 3 145 state championship.
Pulliam's frequent visits to hospitals have provided him confirmation that he's made the right career choice by aspiring to become a doctor.
"I think I was in seventh grade when I was saying I wanted to be in the medical field," he said. "I've had a lot of insight (at hospitals). I know a lot of the doctors at hospitals from being there. I also have friends whose parents are doctors, so I'm always talking to them about it."
Pulliam has signed to wrestle at Mizzou. He plans to major in biology or biochemistry and attend medical school at MU, as well.
He currently has a 3.90 GPA, but already is aware the workload that awaits him at Mizzou will be more challenging than anything he's faced.
"I'm not going to have much free time," Pulliam said. "I'll have to tell myself, 'If you want to be a doctor, you're going to have to suck it up and do your thing.' I want to be an NCAA All-American and a champ and a doctor, as well. I'll have to stick to that and that only pretty much.
"(As wrestlers), we have to be disciplined with our weight, training and practice," he added. "School is another part of it."
"Our staff really appreciates how Nate is so driven to be successful on the mat, but also in the classroom," Mizzou coach Brian Smith said when Pulliam signed with the Tigers. "Nate is driven to become a national champion and a doctor. He knows he can achieve both of those goals with the support he will get from (Mizzou's wrestling program)."
Pulliam enjoyed a break of sorts early last summer after testing positive for COVID-19. After his quarantine, he decided to rest for June and July. In the past, he'd be traveling all over the country in the summer competing in USA Wrestling tournaments.
"Being a top-level athlete, I'm used to training all the time. It was fun being a kid for once and hanging out with my friends all the time," Pulliam said. "The summer break was fun for me. When the August and September tournaments (came), I was ready to do it again."
Pulliam has been thankful for the arrival of Marty Hauck as Rolla's coach six years ago. Hauck has USA Wrestling coaching experience and has made wrestling as popular as any sport in Phelps County.
"It's been a good run with coach Hauck," Pulliam said. "I was going into the seventh grade (when Hauck was hired). He was telling me we were going to go to all these camps and tournaments. I used to wake up at 5:45 in the morning and bicycle to the high school at 6 and go lift weights. I was doing that like clockwork. I don't think I really knew why at first. But I'm glad I did it."
Pulliam's lone loss as a Bulldog came at the hands of McDonald County grad Oscar Ortiz three years ago. Ortiz edged Pulliam 4-2 in the Class 3 113 state championship match.
They never faced each other again. Instead, Ortiz, who is now wrestling at the University of the Ozarks, engaged in a rivalry with Rolla's Zack Fennell at 138 the past two years.
"It would have been nice to wrestle him again," Pulliam said. "A lot of people say I got away from him and some people say he got away from me. I don't really care. I've always said, 'I'm going to wrestle at this weight and this is the weight I'll be at all season. If you want to wrestle me, do (the same). If not, that's your choice.'"
Pulliam still receives reminders of his hip and shoulder injuries. But he reports that after a good stretch, he's feeling 100 percent in his quest to three-peat as a state champ.
"I've been surprised I haven't had any problems with (his hip)," Pulliam said. "It pops in the mornings. But it doesn't hurt when it pops. There is soreness (in his shoulder) sometimes, but nothing crazy. I'm stretching it more and have a better recovery process now on the weekends. Obviously, I can compete."