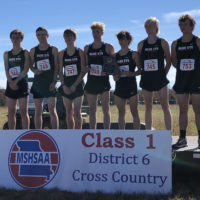 By Brennan Stebbins (For OzarksSportsZone.com)
It was a business-like approach for the Blue Eye cross country team on Saturday in Hollister.
The Bulldogs continued their recent dominance by winning both the boys and girls Class 1 District 6 team titles with juniors Riley Arnold and Ryan Cardenzana claiming individual honors.
Saturday marked the third straight year Blue Eye has swept the district races. The girls were Class 1 state champions last year and the boys were the state runner up.
"Last two years both teams have placed at state," head coach Jacob Thompson-Krug said. "Right now the boys have a chance to win depending on what kind of race we run next Saturday. The girls are looking to crack the top four, which would put them on the podium again. On the girls side I only have two of my seven runners from last year running. To have a chance to get on the podium after losing five runners that won a state championship just goes to show how hard they've been working. The boys have had in their mind since June they don't want to get second at state this year."
Arnold, seeking a third-straight state title, won the district race with a time of 18:23.25. Junior Braylynn Siercks, a fifth-place state finisher last year, followed in second place.
Junior Alexis Litel finished ninth for the Bulldogs, freshman Kieryn Fairchild was 13th, junior Michelle Palumbo-Lins took 14th, freshman Hailey Hobbs was 15th and junior Sophia Palumbo-Lins was 16th.
"Braylynn ran her best time of the season so that was great to see her fight through some injuries she was having," Thompson-Krug said. "Riley was going to be out front and she pushed herself but still in the back of her mind she had a volleyball game she had to go run off and play in. I think she was thinking about that and not wanting to cause any injury before that game."
CLICK HERE FOR PHOTOS OF THE MEET
The Blue Eye boys finished with four of the top six medalists and beat Fordland by a convincing 46 points.
Cardenzana finished with a time of 16:45.90, more than a minute-and-a-half ahead of teammate Jadon Weaver, a sophomore who placed second. Sophomore Houston Parker was fourth and junior Roman Ray was sixth.
"I thought it'd be a little bit closer," Thompson-Krug said. "Ryan really jumped out to a lead, created a huge gap between that mile and mile-and-a-half mark. As I was keeping track of places during the race, every half mile or three quarters of a mile we'd gain one more place, one more place. I think that's how we ended up having four in the top six there, they kept working their way up throughout the race."
Fordland has a strong showing
Because just two full teams – Blue Eye and Fordland – were competing in the Class 1 girls race, only one school qualified as a team for state. That also meant that the top 20 individuals, instead of the usual top 15, would advance.
Senior Mia Wiley led the way with a fifth-place finish, sophomore Kayce Collins was sixth, freshman Emma Trotter was seventh, junior Tessa Feeback was 17th and sophomore Katlyn Fries placed 20th.
The Eagles also grabbed second place in the boys race with help from junior Jack Coursey's 12th-place finish, freshman Caleb Uchtman's 13th-place finish and sophomore Andrew Jones' 16th-place finish.
"We really weren't expecting our boys to get second place," head coach Becky Haynes said. "They were kind of ranked third so it was a shock to us. Everybody ran a good race today. I'm just super proud of them for putting in their full effort today."
She said Coursey, Uchtman and sophomore Drew Jones (16th) all set personal bests on Saturday, as did Feeback for the girls.
"Most of the team has been in quarantine at some point this year," Haynes said. "We had three kids running today that have had COVID and as a coach I've had COVID and been out two weeks so it's been a tough season for us. They did amazing today."
Boys results
Norwood and Chadwick each picked up two state qualifiers. Norwood senior Cameron Jarrett was third individually and freshman Ben Jones was 15th.
Chadwick senior Zach Loveland took eighth and junior Ethan Williams was 14th.
Couch junior Zathan Lhamon placed fifth to qualify. Galena sophomore Cameron Sartin finished 10th and Koshkonong senior Eavan Gardner was 11th.
Galena was third in the team standings (96) followed by Chadwick, Couch and Norwood.
Girls results
Dora was the only other school with more than one state qualifier. Sophomore Autumn Nold earned fourth place and freshman Marayia Deatherage placed 18th.
Chadwick freshman Alexis Loveland was third overall, Koshkonong sophomore Lynsey Wiggs was eighth, Couch sophomore Haylie Larsen placed 10th, Bakersfield junior Nautica Smith finished 11th, Galena senior Chalice Sherer took 12th and Norwood junior Lydia Smith was 19th.