By Don Eskins (For OzarksSportsZone.com)
The Glendale Lady Falcons laid claim to this year's MSU Relays championship upsetting the previously unbeaten Springfield Catholic Fightin' Irish 329-330 at the Bill and Payne Stewart Golf Course here in Springfield on Thursday.
It was a huge one-stroke victory for the Falcons who earlier this week lost to Catholic 323-326 at the Pearson Invitational.
"We got great efforts from all of our kids today," said Glendale coach Ron Yocum. "Although getting off to a rough start this morning they didn't quit. They kept playing hard, recovered and finished really strong. That says a lot about the character of the kids we have this year and I'm just so proud of them all."
Susannah Blackwell carded a 79 to lead the Glendale effort. Other Lady Falcons contributing to the victory were McKenna Baron (81), Catherine Rhoads (84), Jasaea Asa (85) and Zoe Linn (90).
"Susanna, McKenna, Catherine and Jasaea have been very consistent this season. They usually play within five or six strokes of each other," said Yocum. "Their consistency has given us great depth. It's allowed us to be very competitive all year."
CLICK HERE FOR PHOTOS OF THE TOURNAMENT
So far in 2020 Glendale has posted three seconds and two first place finishes.
Catholic entered the MSU Relays tournament at a perfect 4-0 but were without the services of Kyleigh Pfitzner. Pfitzner, who holds down the number two spot on the Irish roster, was out with an ankle injury.
"It was disappointing not to have Kyleigh in our lineup today," said Irish Lady coach Frank Gallant. "She'll be out for a while but the good news is that we should have her back in time for the district and state tournaments."
"As for today we have to give Glendale credit. They've proven to be a very solid team all year and today they were the better team," said Gallant. "Right now though our girls are going through some adversity and despite today's loss they did play hard. I have confidence in them- they'll bounce back."
Leading the way for the Lady Irish and picking up the tournament's top medalist honors was Reagan Zibilski. The Irish junior, who competes at the No. 1 spot for Catholic, just returned from Phoenix where she has been competing for a spot on this year's Jr. Solheim Cup team. Zibilski carded a one under par round of 70.
Lyla Louderbaugh also turned in a solid round for Catholic. Louderbaugh finished just two strokes back of Zibilski with a 72. Rounding out the Irish scorecard was Celia Stiltner (86), Reagan West (102) and Ariana Perches (116).
Zibilski was more than happy to be back on the links with her Irish teammates.
"It is great to be back," she said. "My round was a bit up and down but I did finish out my last hole of play with a birdie. So at least I finished out the day on a positive note."
While the loss was a tough one for Gallant's girls the Lady Irish haven't lost sight of their main goal for the 2020 season.
"We want to bring back another state championship for Springfield Catholic," said Zibilski. "That keeps us going, keeps us working hard and focused."
Rounding out the top four spots in this year's MSU Relays tournament was Rolla, who came in third with a 346 and Kickapoo who placed fourth with a 370.
Rolla Scorecard: Abby Hobbs (77), Calle Harmon (85), Emma Hobbs (86), Lydia Meushe (98) and Mikah Allison (107).
Kickapoo Scorecard: Kaitlyn Pile (87), Elizabeth Finke (91), Emma Prost (94), Riley Vines (98) and Katelyn Deer (98).
The top two teams received plaques.
MSU Relays Results
1. Glendale – 329
2. Catholic – 330
3. Rolla – 346
4. Kickapoo – 370
5. Kickapoo JV – 385
6. Lebanon – 398
7. Willard – 417
8. Marshfield – 418
9. Camdenton – 423
10. Glendale JV – 425
11. West Plains – 432
12. New Covenant – 437
13. Republic – 473
14. Waynesville – 477
15. Hillcrest – 494
MSU Relays Medalists
1. Reagan Zibilski – 70 – Catholic
2. Lyla Louderbaugh – 72 – Catholic
3. Abby Hobbs – 77 – Rolla
4. Susannah Blackwell – 79 – Glendale
5. McKenna Baron – 81 – Glendale
6. Marlee Edgeman – 81 – Marshfield
Team Champion: Glendale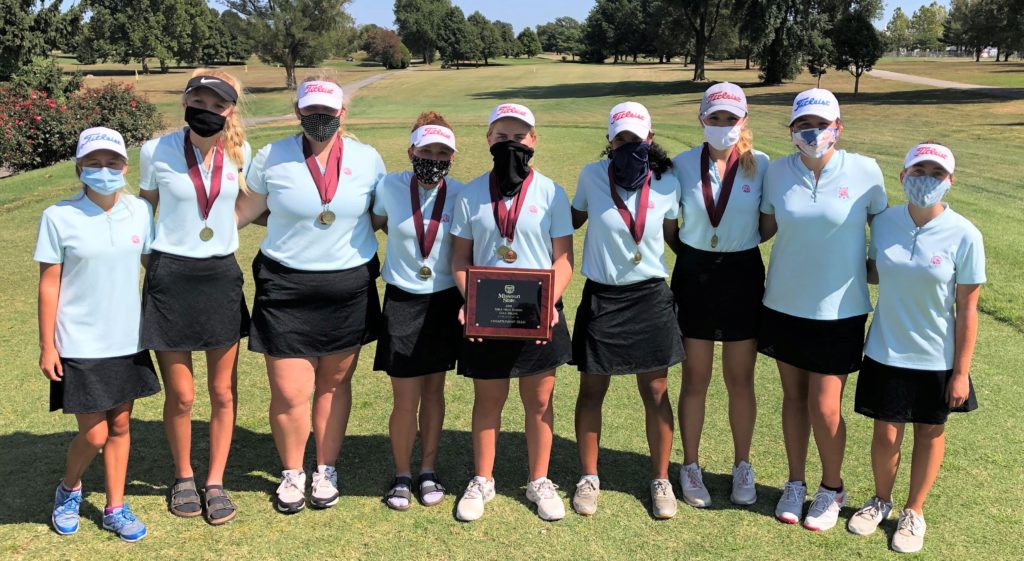 Team Runner-up: Catholic