By Don Eskins (For OzarksSportsZone.com)
The Springfield Catholic Fightin' Irish carded a 323 to capture Monday's Pearson Invitational held at the Horton Smith Golf Course in Springfield.
The Lady Irish, led by tournament top medalist Kyleigh Pfitzner's 71 and runner-up Lyla Louderbaugh's 72, held on to slip past the Glendale High Lady Falcons who came in just three strokes back at 326.
Joining Pfitzner and Louderbaugh in the Catholic winner's circle were teammates Celia Stiltner- 85, Reagan West- 95 and Ariana Perches- 95.
The victory made it four wins in a row for the Lady Irish who entered the event after having previously posted wins at the Springfield Catholic, Seymour and Ozark Invitationals.
The Lady Irish were without the services of Reagan Zibilski at the Pearson meet. Zibilski, who normally occupies the top spot on the Catholic squad has been competing in Jr. Solheim Cup competition in Phoenix.
"We got great efforts from all of our girls today against a very good Glendale High School team," said head Irish girls coach Frank Gallant. "We'll be getting Reagan back later this week. It will be great to have all the girls back together again."
Springfield Catholic has shown great depth in their 4-0 start on the 2020 season. Not only have they posted four wins they've also carded top medalist honors in each meet, with three different girls.
Besides Pfitzner's top medalist performance at the Pearson Invitational on Monday she also topped the field last week at the Ozark Invitational with a 68, Reagan Zibilski led the field at the Irish's own Springfield Catholic Invitational with a 67 and Lyla Louderbaugh logged a 66 to grab top honors at the Seymour Tournament.
While the Irish's Gallant was pleased with the effort he saw from his girls on Monday, so was Glendale head coach Ron Yocum.
"Zibilski not being here today kept the scores at the top a lot closer. But overall our team score was really good and I'm really proud of the effort our kids put out today," said Lady Falcon coach. "That's about where we've be shooting all year."
Leading the way for the Falcons was Jadaea Asa with a 79. Also contributing to the Glendale effort were Susannah Blackwell- 81, McKenna Baron- 82, Kathryn Rhoads- 84 and Zoe Linn- 88.
Yocum was especially pleased with the effort he got from Jadaea Asa and Kathryn Rhoads.
"Jadaea and Kathryn usually occupy our number three and four spots on the team," said Yocum. "I believe they recorded the best combo score they've ever carded together here today with Kathryn carding an 84 and Jadaea at 79."
Through four meets this year Glendale has posted runner-up spots at the Springfield Catholic, Seymour and Pearson Invitational. Last week in Bolivar, the Lady Flacons returned home with their first tournament title of the year.
"Our win in Bolivar was exciting," said Yocum. "We shot very good there."
Finishing third at the Pearson Invitational on Monday was Ozark High. The Lady Tigers were led by Elizabeth Freeman with an 82. Also posting scores for the Tigers were Georgia Frazier- 87, Maddie Greenlee- 89, Katie Marshall- 91 and Emma Bassett- 95.
Both Catholic and Glendale will next compete on Thursday at the Missouri State Relays Tournament set to tee off at the Bill and Payne Stewart Golf Course.
Top 10 Team Results
1. Catholic – 323
2. Glendale – 326
3. Ozark – 349
4. Kickapoo (Won TB) – 376
5. Nixa – 376
6. Republic – 391
7. Willard – 396
8. Kickapoo JV – 412
9. Cassville – 427
10. Hillcrest – 460
Medalists
1. Kyleigh Pfitzner – 71 – Catholic
2. Lyla Louderbaugh – 72 – Catholic
3. Jadaea Asa – 79 – Glendale
4. Susannah Blackwell – 81 – Glendale
5T. McKenna Baron – 82 – Glendale
5T. Elizabeth Freeman – 82 – Ozark
7. Kathryn Rhoads – 84 – Glendale
8. Celia Stiltner – 85 – Catholic
9T. Mia Farrar – 86 – Nixa
9T. Clara Fronabarger – 86 – Republic
Catholic Team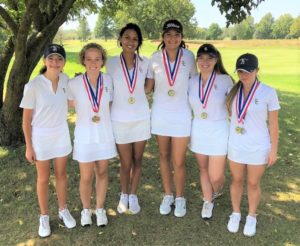 Glendale Team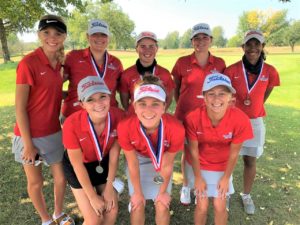 Ozark Team