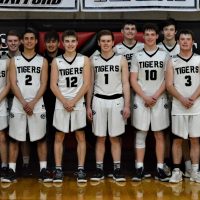 Video can not be played...
By Don Eskins (For OzarksSportsZone.com)
The Skyline Tigers (24-2) have been waiting since 2009 to win another Mid-Lakes Conference basketball title.
But they won't be waiting any longer.
On Thursday night, in Urbana, the Class 2 third-ranked Tigers slipped past the Clever Blue Jays 62-57 to grab this year's conference championship.
The victory gave the Tigers a Mid-Lakes Conference title for only the second time in the school's history.
Senior guard Dax Beem, with 21 points, led the Skyline offensive effort. Tops on the Blue Jay scoresheet was 6'6″ senior forward Taylor Genzler with 19. Close behind, with 17, was Josh Reeves.
Both teams entered the contest with perfect 4-0 league records and an opportunity the wear this year's conference crown in the winner-take-all clash.
"Grabbing this year's Mid-Lakes Conference Championship was a big win for our kids tonight, but it wasn't easy. Clever was really tough," said Skyline head coach Tommy Egan. "With both teams undefeated and the conference championship on the line we didn't expect the Blue Jays (13-12) to be anything else."
"We knew beating Clever was going to be tough. They're a great team," Dax Beem concurred. "We also knew to beat them we'd have to come out and play our game."
CLICK HERE FOR PHOTOS OF THE GAME
The Tigers jumped out in front of the Blue Jays early as opening period play got underway and at one point in the frame pushed their lead up to ten.
But the Blue Jays chipped away at the Tiger lead and by the end of the quarter trailed Skyline by just four, 13-9.
Clever surged in the second period, behind Josh Reeves' 11-point performance, to outscore the Tigers 18-14 and tied the game up at 27-27 as the two teams took the half-time break. Reeves connected on three three-point shots, in the frame.
"We weren't too worried about our slow start tonight," said Clever's Blaze Akins. "We've played from that position a lot this year. It's stressful but we always find a way to get back in the game."
"We struggled early and at one point allowed them to go on a seven-point run," said Genzler. "But we settled down and started to play much better defensively. I feel like that's what kept us in the game."
The Blue Jays showed no signs of slowing down as both teams took the floor to begin third period play. Clever went on a 9-0 run to grab a 36-27 lead.
But the Tigers, after a quick time out, tightened up their defense and by the end of the frame found themselves just one point behind the Jays, 40-39, as the two teams headed into the fourth and final frame of play.
Tied up at 51-51, with 2:15 remaining in the ballgame, Skyline senior guard Chris Logan drilled a three-point shot to put the Tigers out in front 54-51. From there the Tigers never looked back going on to outpoint the Jays 23-17 in the period to grab the 62-57 win.
Dax Beem with nine points and Bradyn Porter with seven led the Tiger fourth period comeback. Beem went seven-for-seven at the free throw line in the quarter.
"Even after watching Clever go on their 9-0 run at the start of the third quarter we never thought we were out of it," said Beem. "It's a credit to our guys the way they kept battling and coming back to get the lead and the win."
Beem wasn't the only Tiger who believed that Skyline could come back.
"Our kids are really mentally tough and they all felt, along with our coaches, that no matter how difficult things might have looked we could still come back," said coach Egan. "I'm just really happy they stayed the course."
Although the 62-57 loss was disappointing Clever head coach Luke Brosius said his Blue Jays did have their chances.
"It was a disappointing loss. But our kids never gave up and they had their chances. We just didn't play very well in our transition game," said Brosius. "But despite the loss I'm very proud of these kids. They got behind, came back to take the lead and came within just a few plays of winning the conference championship against a very good Skyline team."
"I think our kids' efforts tonight have put them in a position for a great shot at winning our upcoming district tournament," said Brosius.
Skyline's Egan, as Brosius, is also looking ahead.
"We're all thrilled to have won this year's conference title. It's something that hasn't happened very often here at Skyline," said Egan. "But winning the conference title was never our goal. We have other things we're hoping to achieve. To do that we have to keep working hard and improving every day. We're hoping to play a lot more basketball this year."
Box Score 1 2 3 4 F
Clever 9 18 13 17 57
Skyline 13 14 12 23 62
Leading Scorers
Skyline: 1. Dax Beem- 21/2. Lawson Beem- 13/3. Bradyn Porter- 11/4. Chris Logan- 9/5. Ethan Edwards- 4/6. Gage Gunter- 2/7. Jaytin DeFreece- 2. (FT's 11-15-73%)
Clever: 1. Taylor Genzler- 19/2. Josh Reeves- 17/3. Bryce Gelle- 10/4. Grant Pellham- 6/5. Jake Twigg- 5. (FT's 6-9-67%)