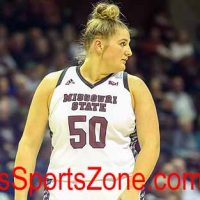 SPRINGFIELD – Missouri State shot a season-high 57.4 percent and got 47 points from its bench Saturday afternoon at JQH Arena to earn an 88-57 victory over Southern Illinois and avenge its only Missouri Valley Conference loss of the season.
The No. 17/24 Lady Bears (21-3, 11-1 MVC) improved to 11-0 at home this year, tying the longest winning streak at JQH Arena with their seventh consecutive victory overall, and remain alone atop the league standings with six games to play.
Elle Ruffridge scored a game-high 16 points and went 4-of-5 from 3-point range, Alexa Willard scored 13 and Jasmine Franklin added 10 while tying a career high with 14 rebounds for her ninth double-double of the season. In fact, Franklin had one more rebound than the entire SIU team when she checked out with 8:21 left in the game, and MSU went on to a 41-20 advantage on the boards.
Missouri State made its first seven field goal attempts of the game and got 15 bench points in the first quarter to lead 26-15 after 10 minutes, wrapping a 17-2 run around the first two periods for a 37-17 lead with 7:29 remaining until halftime following a Sydney Wilson 3-pointer.
Freshman Trinity Knapp's 3-pointer put the finishing touch on an 8-0 run to close the first half ahead 50-29, and the Lady Bears hit 10 consecutive shots – including three Ruffridge treys – in the second half to lead 81-45 with 9:11 remining in the game, pushing their shooting percentage to 68 percent at that point.
The Lady Bears led by as many as 37 points, going 31-for-54 overall, 8-for-16 from 3-point land and 18-for-21 at the foul line against a Southern Illinois (13-10, 5-7) team that entered with the league's top scoring defense in Valley games.
Twelve MSU players scored in the game and 12 grabbed at least one rebound. Emily Gartner had a career-high four assists, as did Brice Calip, and the defense held SIU to 35 percent shooting overall and 2-for-13 from distance.
The Lady Bears continue their three-game home stand Friday at 7 p.m. against Evansville.
—