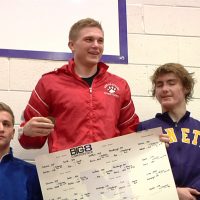 Just like any team, seniors are supposed to be leaders, and the Reeds Spring wrestling coach Chris Lowe thinks no different.
"All the seniors are going to leave a mark. All the kids are going to look up to you and say, 'Hey, Clayton Johnson did this.' Strive to be Clayton," Lowe said.
Clayton Johnson learned how to be a role model by taking after his own. His older brother Tate also wrestled at Reeds Spring.
"Clayton looks at his older brother and looks at things like that, so what we want him to do is be all that he can and leave that mark that the kids will try to achieve," said Lowe.
In his career, Clayton hasn't always been one of Missouri's top wrestlers. Sophomore year, he didn't even qualify for State.
"When I didn't get my hand raised that last match I thought, 'I've been doing this since I was five, and I didn't get anything out of it,"' said Johnson.
The toughest part for him about not qualifying, was thinking he let his brother down. And he had to decide if he was going to continue wrestling, or call it quits.
"I knew it was nobody else's fault but mine," Johnson said. "That was a bad season for me, I almost gave it up. I had a choice to give it up or come back and give it everything, that's what I ended up doing, I started practicing immediately and hit the weights like I never have before."
Then as a junior, he not only qualified for the State Tournament, but he finished third.
"When he loses he's like, 'okay, we can work on this,' and he's always willing to get better," said Lowe.
And in his senior year, wrestling at 170, he's the no. 1 Class 2 wrestler in the state of Missouri. But he's still not settling until the season is over.
"Everybody wants number one. That's what I want, and to win State. But it doesn't matter until you get to State. That's when you find out who the real number one is," Johnson said.