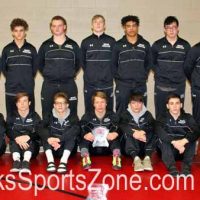 By Scott Vanscoy (For OzarksSportsZone.com)
The Branson Pirates hosted their annual wrestling Invitational on Saturday. Fifteen schools participated on the varsity level, with the Neosho Wildcats bringing home the team championship.
Leading the way for Neosho were seniors Alec Rothman (152) and Braxton Barnes (145). Rothman pinned Gunnar Bradley of Monett at 4:00 minutes and Barnes got a major decision, 16-7, over Ryan Hampton of Smithville.
"Tonight's match, that kid was originally a 160-pounder but I guess he dropped down to 152 to try and take me on but I feel like I was pretty dominant the whole match," said Rothman. "He scored some points but good kids will always score points on you. I just do what I do, keeping it simple and scoring early, keeping the pressure on top. Usually I just go out there and try to have fun."
Barnes, the No. 1 ranked wrestler in the state at his weight class, relished the challenge of facing Hampton, the No. 2 wrestler.
"It's good to see new guys and get opportunities early in the season, before we get to state," said Barnes. "Coach talks about three keys to wrestling: physical, mental, and technical. You've always got to work on all three. The physical side, the gas tank, being able to push in these types of matches, it's hard to score when you're both gassed but that's when the heart really wins. Getting your mind right, that's the mental part. Embrace these opportunities, its fun coming out here and seeing good competition, especially from some of the Kansas City area kids."
Joey Semerad of Monett was voted Outstanding Wrestler of the meet by the coaches. Semerad, a junior, was humbled by the unexpected award. Semerad won the championship at 132 in the final seconds when he got a takedown for the 4-3 win.
CLICK HERE FOR PHOTOS OF THE TOURNAMENT
"It was pretty cool, I wasn't even thinking about that, honestly," said Semerad. "I just came out and wrestled hard, did really good. It is pretty cool to get that award, it is my first time ever. In the back of my mind the whole match I just kept thinking that I just need one, just one takedown, and I got it. After the match, Coach just said 'way to finish', it was a close match and he had been encouraging me to keep wrestling."
At 120, Monett also received a victory from junior Karter Brink.
"I knew it was going to be a tough one going into it, I knew I had to keep my hands heavy and find my angles to my shots," said Brink. "By hands heavy I mean keeping pressure on him and not letting him get on his feet. Just keep the pressure on him the whole match and look for my shots. My energy, keeping my stamina up during the match really is something I want to work on. I've been cutting a lot of weight so I think that's a little bit of it. It will get better."
Monett coach Daryl Bradley was pleased but not fully satisfied with his Cubs' second place finish. At one point in the meet, Bolivar passed them in the standings and they had to mount a comeback to secure second place.
"It was good for us to punch nine top-four finishes," said Bradley. "We got eight in the top three, four finalists, two firsts, two seconds, and four thirds. I thought we wrestled pretty well; we won six out of nine in the championship round and that was good. It pushed us over because had we let Bolivar sneak in there at second for a little bit but then we recaptured that lead and didn't let go. It was a good finish to an okay day. It wasn't our best performance in the semi-finals but I'm proud of our boys for finishing strong."
Coach Bradley was proud of Semerad winning the Outstanding Wrestler award but felt the rest of his team deserved praise.
"Joey is great, he's a good kid, fun to watch, fun to coach," said Bradley. "I've got several like that, though, and Joey is no different. They are like clones; it was just Joey's turn tonight. He wrestled tough today, got a last second takedown, he pushed the action, had the guy on his heels and ended up finishing one of his shots. Joey earned a hard-fought victory and it looked like the other coaches noticed because they voted him Outstanding Wrestler, which I think he deserved. He's good, he's humble, and he won't brag or put himself up there too long. He'll celebrate tonight and then get back to work tomorrow, that's the kind of kid he is."
Bolivar's Hayden Burks (160) and Granite Cunningham (106) both took home individual first place finishes.
"The kid I wrestled in the finals, he was the Arkansas state champ and I was just looking to come out for a win for the team and help the team points," said Burks. "I found an opportunity to stick him and it worked out. I was pretty comfortable; I knew he was going to be good but I also knew if I just did my things and what Coach has taught us that I'd be fine."
Ozark's Wyatt Snyder (113) and Reeds Spring's Clayton Johnson (170) were the lone champions for their schools. Snyder defeated JT O`Rourke of Smithville, 7-2.
"My plan tonight was to try my hardest and try to keep control," said Snyder. "I think I did that pretty well. We have the Nixa dual this Tuesday which is always big and then we have the Winnetonka tournament this weekend in Kansas City. I'm really looking forward to the competition there."
Johnson won his match 6-3 over Jeremiah Larson of Neosho.
"It was a good match, I started a little slow but picked it up again and was able to score some points," said Johnson. "It was kind of a defensive match but I stuck to the game plan. I always like to stay offensive but that's how the match takes you sometimes. You've got to focus on what you need to focus on at the time, what seems the most important. I was trying to score points the whole time but he's good, a good offensive and defensive wrestler, and he scored some points on me."
Neosho coach Jeremy Phillips' team is one of the best in the area again this year. However, Phillips saw today's meet as an opportunity for his team to improve.
"Our goal coming in here, individually and as a team, was to grow, it's as simple as that," said Phillips. "We have things that we've written down, goals in order to finish where we want at the end of the season. I told them to go in with intentional efforts and I felt like most of the day we did that. My biggest note and training takeaway from today is that we've got to keep wrestling tough for the entire six minute as a team. We lost, I think, four close matches that outcomes should have been different but we didn't continue to wrestle and work the score. That's something we will work on fixing between now and the next time we step on the mat, which will be next Tuesday."
Phillips is going to have his team ready as they approach the end of the season.
"We are in a good spot, and we've got to head it downhill and not coast and put it on cruise control," said Phillips. "We've got to continue to work and set goals and those stepping stones, not just when we step on the mat to compete but when we step on the mat to practice. We've got work to do and as long as we understand that and do the work, we'll be in good shape."
Team Results
1. Neosho – 381.0
2. Monett – 263.0
3. Bolivar – 250.0
4. Smithville – 200.5
5. Bentonville – 200.0
6. Carl Junction – 173.5
7. Ozark – 146.5
8. Cassville – 126.5
9. Branson – 117.5
10. Reeds Spring – 104.5
11. Fayetteville – 90.5
12. McDonald County – 50.5
13. Seneca – 39.5
14. Parkview – 39.0
15. Hollister – 33.0
Place Matches
106
• 1st Place – Granite Cunningham of Bolivar
• 2nd Place – Tristan Stafford of Bentonville
• 3rd Place – Landon Kivett of Neosho
1st Place Match
• Granite Cunningham (Bolivar) 25-3, Sr. over Tristan Stafford (Bentonville) 28-4, So. (Dec 8-3)
3rd Place Match
• Landon Kivett (Neosho) 17-3, So. over Nate Copeland (Neosho 2) 3-2, . (Fall 3:38)
113
• 1st Place – Wyatt Snyder of Ozark
• 2nd Place – JT O`Rourke of Smithville
• 3rd Place – Canyon Cunningham of Bolivar
1st Place Match
• Wyatt Snyder (Ozark) 28-3, Jr. over JT O`Rourke (Smithville) 12-12, So. (Dec 7-2)
3rd Place Match
• Canyon Cunningham (Bolivar) 21-7, So. over Hayden Crane (Neosho) 11-8, Fr. (Dec 8-5)
120
• 1st Place – Karter Brink of Monett
• 2nd Place – Gabe Selby of Neosho
• 3rd Place – Christian Cartright of Branson
1st Place Match
• Karter Brink (Monett) 29-5, Jr. over Gabe Selby (Neosho) 4-1, Fr. (MD 16-5)
3rd Place Match
• Christian Cartright (Branson) 27-8, Jr. over Gabe Hunter (Cassville) 14-10, So. (Fall 1:29)
126
• 1st Place – Cayden Auch of Neosho
• 2nd Place – Oscar Ortiz of McDonald County
• 3rd Place – Matthew Bahl of Monett
1st Place Match
• Cayden Auch (Neosho) 15-0, So. over Oscar Ortiz (McDonald County) 29-3, Jr. (Dec 7-5)
3rd Place Match
• Matthew Bahl (Monett) 26-6, So. over Elijah Maskrod (Ozark) 20-12, So. (MD 10-1)
132
• 1st Place – Joseph Semerad of Monett
• 2nd Place – Kolton Sanders of Neosho
• 3rd Place – Obi Smith of Bentonville
1st Place Match
• Joseph Semerad (Monett) 29-3, Jr. over Kolton Sanders (Neosho) 18-2, Jr. (Dec 4-3)
3rd Place Match
• Obi Smith (Bentonville) 4-1, Jr. over Eric Holt (Reeds Spring) 24-7, So. (Dec 4-2)
138
• 1st Place – Mitchell Bohlken of Smithville
• 2nd Place – Elias Barrientos of Monett
• 3rd Place – Caden Lorenz of Branson
1st Place Match
• Mitchell Bohlken (Smithville) 23-4, Sr. over Elias Barrientos (Monett) 24-8, So. (Dec 3-2)
3rd Place Match
• Caden Lorenz (Branson) 20-9, Jr. over Bret Camerer (Neosho) 9-5, Jr. (Dec 10-3)
145
• 1st Place – Braxton Barnes of Neosho
• 2nd Place – Ryan Hampton of Smithville
• 3rd Place – Keaton Artherton of Cassville
1st Place Match
• Braxton Barnes (Neosho) 17-1, Sr. over Ryan Hampton (Smithville) 19-7, Jr. (MD 16-7)
3rd Place Match
• Keaton Artherton (Cassville) 20-3, Sr. over Cole Stewart (Carl Junction) 18-16, So. (Fall 3:21)
152
• 1st Place – Alec Rothman of Neosho
• 2nd Place – Gunnar Bradley of Monett
• 3rd Place – Blake Ackerman of Smithville
1st Place Match
• Alec Rothman (Neosho) 17-3, Sr. over Gunnar Bradley (Monett) 25-7, Jr. (Fall 4:00)
3rd Place Match
• Blake Ackerman (Smithville) 16-9, Sr. over Kale Conway (Ozark) 17-15, Jr. (Fall 1:21)
160
• 1st Place – Hayden Burks of Bolivar
• 2nd Place – Zane Sims of Bentonville
• 3rd Place – Kenyen Keiber of Parkview
1st Place Match
• Hayden Burks (Bolivar) 29-0, Jr. over Zane Sims (Bentonville) 28-3, Sr. (Fall 1:13)
3rd Place Match
• Kenyen Keiber (Parkview) 19-5, Sr. over Keaton Sanders (Neosho) 14-6, Jr. (Dec 4-3)
170
• 1st Place – Clayton Johnson of Reeds Spring
• 2nd Place – Jeremiah Larson of Neosho
• 3rd Place – Ethan Umfleet of Monett
1st Place Match
• Clayton Johnson (Reeds Spring) 32-2, Sr. over Jeremiah Larson (Neosho) 17-3, So. (Dec 6-3)
3rd Place Match
• Ethan Umfleet (Monett) 25-7, Fr. over Collin Andrews (Branson) 24-9, Sr. (Dec 8-2)
182
• 1st Place – Matthew Muller of Fayetteville
• 2nd Place – Drayke Perry of Neosho
• 3rd Place – Max Petruccelli of Branson
1st Place Match
• Matthew Muller (Fayetteville) 35-5, Sr. over Drayke Perry (Neosho) 10-2, So. (Dec 10-6)
3rd Place Match
• Max Petruccelli (Branson) 19-9, Jr. over Dru Guinn (Monett) 15-19, So. (Fall 5:09)
195
• 1st Place – Brian Boyd of Smithville
• 2nd Place – Jesse Cassatt of Carl Junction
• 3rd Place – Wesley Merriman of Monett
1st Place Match
• Brian Boyd (Smithville) 24-2, Sr. over Jesse Cassatt (Carl Junction) 24-6, So. (Dec 3-1)
3rd Place Match
• Wesley Merriman (Monett) 22-8, Jr. over Caleb Elliot (Neosho) 15-5, So. (MD 9-0)
220
• 1st Place – Zane Persinger of Neosho
• 2nd Place – Drayton Huchteman of Bolivar
• 3rd Place – Harrison Merriman of Monett
1st Place Match
• Zane Persinger (Neosho) 14-4, Jr. over Drayton Huchteman (Bolivar) 19-8, So. (Fall 2:48)
3rd Place Match
• Harrison Merriman (Monett) 24-8, Fr. over Grant Hoover (Seneca) 15-11, So. (Fall 1:49)
285
• 1st Place – Tyler Huffman of Carl Junction
• 2nd Place – Dylan Barber of Hollister
• 3rd Place – Garrett Kritz of Cassville
1st Place Match
• Tyler Huffman (Carl Junction) 19-7, Sr. over Dylan Barber (Hollister) 22-7, Sr. (Fall 3:44)
3rd Place Match
• Garrett Kritz (Cassville) 11-12, Fr. over Bryce Brannon (Bolivar) 10-8, Jr. (TB-1 6-2)