By Jordan Burton
The Big 8 is now at 14 teams following what was essentially a merger between the conference and the old COC Small. This means bigger schools and even more depth in Class 3. The league will be split into divisions with the COC Small teams joining Mount Vernon and Aurora in the East and Nevada joining the traditional Big 8 programs in the West. So, you're looking at the Class 2 state champ (Lamar), Class 3 runner-up (Mount Vernon) and four other teams that were ranked or receiving votes in the final regular season state poll (Seneca, Reeds Spring, Catholic, Cassville). The new Big 8 will be the small-school version of the SEC. Here's what you should know.
TEAM-BY-TEAM PREVIEWS – CLICK HERE
CLICK HERE TO FIND OUT WHERE TO PICK UP THE O-ZONE FALL PREVIEW MAGAZINE
Lamar is still King…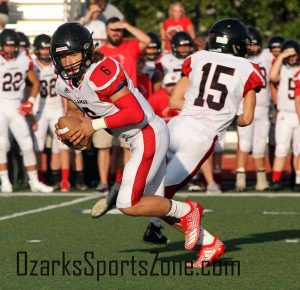 I'm sure you've heard it all before, but let's just talk about how dominant Lamar is. The Tigers have won seven (SEVEN) consecutive Class 2 state championships, riding a 49-game winning streak; which is currently the longest in the nation. I mean, Scott Bailey is on the verge of making it two full four-year rotations of kids that never ended their season without bling. That's crazy. It's easy to look at the graduation of greats Cooper Lucas and T.W. Ayers and say this team will be lacking in talent, but that's not really the case. Senior Travis Bailey will go down as one of the best to ever wear a Lamar uniform. Two-way standout Landon Hardman is a lock-down cover corner and stretches the field offensively. Junior J.D. Bishop started at linebacker as a sophomore and became a playmaker. Senior Caleb Gouge is one of multiple 300-pounders on the line and will play college football and jitterbug Trevor Medlin, who rushed for 151 yards in last year's state championship game, is in-line for a monster year. The Tigers are still plenty loaded and playing an improved schedule is right in their wheelhouse; I'm sure renewing the Nevada rivalry and playing Rogersville is a plus. The thing that continues to be unique about Lamar is their disregard towards history. Don't get me wrong, Bailey and company understand that an eighth state title in a row would tie Marceline and SLUH for the most consecutive in Missouri history. The 49 straight wins is the third-longest streak in state history, four wins from sole possession of second place and 22 wins from matching Jeff City's run. But, Lamar isn't chasing history. They never have. And that's what has made this run so sustainable. Each class takes pride in being the one that doesn't let the previous groups down in terms of effort and intensity. The names and faces have changed but the "Brotherhood" approach that started a decade ago has not. As long as that's in place, I won't see Lamar as anything but the favorite on most Friday nights.
Can Mount Vernon reload?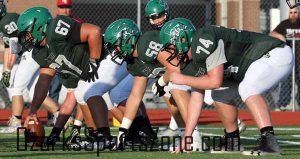 Tom Cox has gone from insurance salesman to building a program that has increased its win total in each of the last four seasons, culminating in a Class 3 runner-up finish. Keep in mind, the 'Neers beat three of the district's top four seeds to steal a title last year. I'm not sure the general public realizes how remarkable this run was. Mount Vernon was 5-4 during the regular season and lost its last three games. Three of those four losses came by double figures and three came against Class 3 teams in their district. To bounce back and make the run they did is truly incredible. But, all that is now in the past and this group will look much different outside of All-World senior linebacker Will Boswell. Cox will count on underclassmen, newcomers and hoopers-turned-football players to help replace last year's production. He's proven that his offense is almost personnel proof and he's got guys that have seen what it takes to win. From 2016 to 2017 it seemed like it would be a large task to replace a loaded senior class and Cox found a way, Mount Vernon will need to recreate that magic in a loaded Big 8.
Seneca is back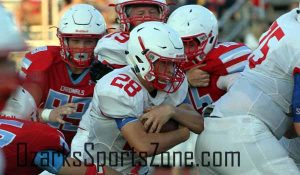 Webb City native Ryan McFarland has resurrected a sleeping giant in Seneca. The Indians were ranked for much of last season, winning nine games and being one of the area's most improved teams. Now, with 14 starters back, expectations are high. Senior Gavin Clouse was born to run the veer and running it from more spread formations is perfect for his skillset. He has multiple weapons back in Trey Wilson and Monty Mailes and an experienced offensive line. Wilson is also fantastic defensively. The best thing for the Indians was how last year went. They picked up wins in tight games (Nevada, Aurora, Mount Vernon), won on the road and made Lamar play meaningful snaps in the second half. One thing that will be an adjustment is a new schedule. Seneca will open with Catholic, Reeds Spring, Nevada, Cassville and Lamar; those teams went a combined 32-12 in 2017. At this point, it's hard not to consider them the local favorite in Class 3.
DOWNLOAD THE O-ZONE APP NOW!
CLICK HERE TO DOWNLOAD FOR APPLE
CLICK HERE TO DOWNLOAD FOR ANDROID
Merger means more good teams in Class 3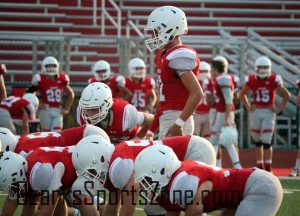 Reeds Spring has been one of the most consistent Class 3 programs in the Ozarks for the better part of a decade. From 2004-11, the program went 14-66 with zero winning seasons. Since then, the Wolves are 53-16, winning at least seven games in every season. Wins may be harder to come by due to the overwhelming strength of schedule, but Reeds will again be a player in Class 3 despite returning just six starters. Senior linebacker Ben Moler is one of the best around, leading the team in tackles last season. His physicality and attention to detail in a run-heavy league will make him even more effective in the Big 8. Classmate Blake Gronvold is back and the dual-threat quarterback will be tasked with leading an offense that won't be as explosive this fall. Reeds may have to muscle out some wins during the regular season, but in the big picture this is what was needed. Losing in the district championship in three of the last four years and having every season since 2012 ended by a Big 8 team has Reeds Spring seeking competition. They'll get just that with five teams that have been to the Class 3 Final Four since 2011 on their schedule… Springfield Catholic might have the best top-end talent of anyone in the conference besides Lamar. Senior QB/DB Tyson Riley is an elite two-way player that is among the best in the business locally. Two-way lineman Wallace Squibb – a Cornell commit – is one of the top linemen. Nick Crites and Tyler Welch are two more seniors that have been two-way starters from Day One. It's now go time. Hall of Fame head coach Steve Hancock has produced at a high level and this might be the most talent Catholic has had on a single team in more than a decade. Is this the year they make a run?… Nevada slides back into Class 3, and I'm not sure they could be more excited about it. The Tigers went 4-5 during the regular season in 2017, including a district win. Wes Beachler has an awesome offensive line, headed by senior Peyton Denney. New faces will lead the skill groups, but with Beachler's system, having an experienced offensive line means everything. This will be a physical group and they'll need that in the Big 8. Nevada is the sleeper in the conference… Rogersville and Marshfield are extremely intriguing programs in the Big 8; both are big schools with passionate, innovative guys at the helm. Mark Talbert takes over at Log-Rog after a decade at Fair Grove and Cody Bull is in Year Two at Class 4 Marshfield. Rogersville will have one of the conference's top perimeter threats in 6-foot-4 senior Ryker Strong. The Blue Jays return 12 starters from last year. Neither program will likely win a state championship this fall, but both are headed in the right direction and will be much improved.
Cassville ready for a run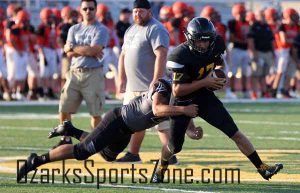 After going 7-4 last fall, Cassville brings back 15 starters and what Lance Parnell considers a more physical presence. Of course, they'll need that to make a run in the Big 8 and in Class 3. If Cassville can regain that old swagger, this year could be special. Anthony Tolbert and Logan Carlin will get plenty of carries from the backfield, working behind an experienced line. Defensively Cassville – who held Lamar to 28 points last season – was solid, but at times struggled to get off the field against good opponents. Getting well-timed stops and the play of senior quarterback Shannon Haney could have this team thinking Final Four this fall. Haney is an accomplished starting quarterback in the Big 8, one that has won big games in the league. Like everyone else in the league, their schedule does them no favors. Aurora, Catholic, Monett and Seneca to start the season with at Nevada, at Reeds Spring and Senior Night against Lamar to close it. The X-factor could be the play of junior DJ White on both sides of the ball. We'll talk more about him in a bit.
Best of the Rest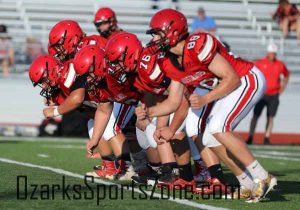 Speaking of righting the ship, McDonald County is one of the teams I'm most excited to see this fall. Kellen Hoover has injected the program with enthusiasm and expectations, something that had been missing for years. Keep in mind, this bunch beat Cassville, Salem and Marshfield last season. They also went toe-to-toe with Aurora on the road. Oakley Roessler will be one of the most productive players in the league and is one of 11 starters back. It'll be interesting to see if Hoover and McDonald County can ride last season's wave into 2018… After winning a state championship in 2016, last year was a rebuild for Derrek Uhl and Monett. And, returning just nine starters from the 2017 edition, the Cubs are trying to make 2018 a reload. There is some good news. This is a group that lost to Mount Vernon by and McDonald County by three. They were competitive in spurts. Uhl will start several underclassmen. This is a team that is built to win in 2019… Craig Weldy is back for Year Two at Aurora and returns just eight starters, but he's already proven he can do more with less. Aurora will count on senior Logan Lauffer (424 receiving yards, 407 rushing yards, 9 TD) to have a monster season. He's sensational in space and he'll get plenty of touches. Colson Husmann will be the man anchoring the trenches and is on deck for a breakout season. The Dawgs have been competitive following that Final Four run in 2015, but haven't been able to win a district game. The 2018 schedule is brutal, they'll be battle-tested come districts…  Hollister will have a new look with Rich Adkins taking over. Adkins has won at Jasper and Mountain Grove, so it's safe to assume Hollister is in good hands. The Tigers welcome back 12 starters with several underclassmen returning to prominent roles. He's been a run-heavy guy in the past, so expect Adkins to implement a system that fits in well with the rest of the Big 8; physical football … Broc Wolfe continues to try to do what no coach at East Newton has done since 2007; have a winning season. Year One was a struggle, and East Newton returns just eight starters, but many of them are impact players. Senior Brett Pendergraft was a two-way starter and All-Big 8 selection as a junior. Wolfe's biggest challenge remains changing the culture at East Newton and continuing to have kids buy-in. The new alignment of the Big 8 could help. The Pats will look to end that 21-game losing streak Week 1 against a Hollister team that carried a 23-game skid earlier this decade.
MVP: Senior Tyson Riley, Springfield Catholic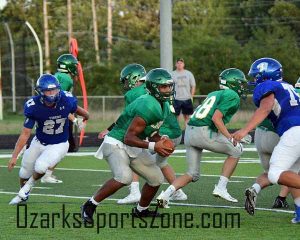 Riley might be the most dynamic athlete in the conference. As a dual-threat quarterback he's a 1,000-1,000 threat, with his biggest strength being when he calls his own number. Bigger, stronger and faster this year – with enough around him – if Riley sees 300 carries/completions combined his numbers could be astronomical. His college projection is likely defensively where he had 50 tackles and four interceptions as a junior. His physical style will suit him well in the Big 8.
Offensive POY: Senior QB Gavin Clouse, Seneca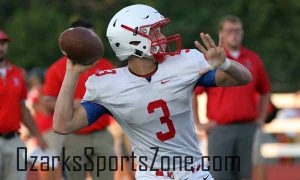 Coach McFarland grew up running the veer and while he's installed it at Seneca, he's not afraid to run it from various formations and using spread concepts along with it. Insert Gavin Clouse, the perfect quarterback to do both. He has a high football IQ and he's truly a dual-threat guy. He passed for 785 yards and 12 touchdowns and rushed for 953 yards and 13 more scores. Those numbers should increase with his offensive line nearly returning intact and most of his skill guys back.
Co-Defensive POY: Senior LB Wil Boswell, Mount Vernon & Senior LB Travis Bailey, Lamar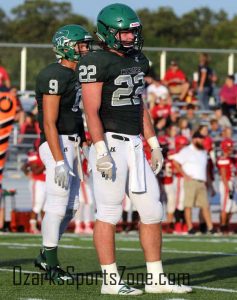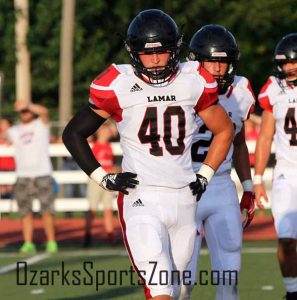 Boswell is the reigning Class 3 Defensive Player of the Year and All-Everything linebacker after one of the best single-seasons you'll ever see a high school backer have with 240 tackles and five interceptions. He's just a playmaker. Mount Vernon loses almost everyone from its defense except him. Because of that, his numbers could stagnate in 2018 but his impact will not. Boswell must be gameplanned for every Friday night.
Bailey is still a rare breed. He's led Lamar in tackles in each of the last two seasons and is elite against the run. He earned All-Big 8 and All-State honors as a junior behind a 111-tackle season. A guy that can fill gaps and run sideline-to-sideline in the Big 8 is an asset and Bailey is one of the best to do it in the O-Zone era.
Breakout Player: Junior ATH D.J. White, Cassville
As a sophomore, White was dynamic (21 receptions, 510 yards, 6 TD) but his junior year could be truly special. His quarterback is back, along with a solid run game and offensive line. Cassville will see loaded boxes that should allow White to make big plays down the field. Defensively, look for him to make an even bigger impact in the secondary.
Co-Most Underrated Player: Senior ATH Landon Hardman, Lamar & Senior LB Ben Moler, Reeds Spring
Lamar has had so many great players and big names over the years that it's easy to get lost in the shuffle, but Hardman is among the best defensive backs Coach Bailey has had during this run. Hardman is another two-way kid that makes plays. His 12 pass breakups and three interceptions are further proof that he's one of the best shutdown corners in the Ozarks, but Hardman can also stretch the field and is a great return man. He'll play an even bigger role for Lamar this fall.
Moler will be a new face to traditional Big 8 teams, but they'll quickly fall in love with his game. His physicality and football intelligence will endear him with fans, regardless of their allegiance. As a junior he had 121 tackles and three interceptions. He's a film junkie that is fantastic against the run, his numbers could be astronomical in the Big 8.
Top Games
Aug. 24
Lamar at Rogersville
Seneca at Catholic
East Newton at Hollister
Aug. 31
Reeds Spring at Seneca
Catholic at Cassville
Sep. 7
Nevada at Seneca
Cassville at Monett
McDonald County at East Newton
Sep. 14
Seneca at Cassville
Sep. 21
Lamar at Seneca
Mount Vernon at Aurora
Catholic at Reeds Spring
Sep. 28
Aurora at Catholic
Oct. 5
Seneca at Mount Vernon
Oct. 12
Catholic at Mount Vernon
Nevada at Lamar
Oct. 19
Lamar at Cassville
Marshfield at Rogersville