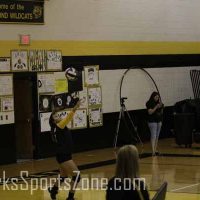 By Chris Parker
Britany Cheek takes over as the head coach of Diamond Volleyball. She will look to bring the same success she experienced at Billings to Diamond. Cheek took Billings to six straight district championship games with four title in seven years at Billings.
She has a good starting point this year with several key players back from Diamond's 14-win team from last season.
Junior Emily Valdez accounted for 393 assists last season. She will set again this season, but also get a chance to hit this year.
"Emily has great hands and a great court presence. She does a great job of getting all her hitters involved in the game and encouraging no matter the situation," Cheek said.
The versatile Loran Atnip accounted for 193 digs last season while finishing second on the team in kills at 108.
CLICK HERE TO SEE ALL OF THE FALL SPORTS PREVIEWS
"Loran is the quickest girl on the court," Cheek said. "She reads the other team's hitters extremely well and can switch directions quickly. She will also be one of our go to hitters on the front row this year as well."
Seniors Dayle Chasten (outside hitter), Maddie Cupp (libero) and Aleya Dudley (defensive specialist) will have big contributions this year. Cupp was second on the team with 182 digs last year.
The junior class is deep beyond Valdez and Atnip with Jae Cowan (outside hitter), Hadyn Russow (outside hitter), Savannah Divine (middle) and Emily Moore (setter) all competing for time on the varsity squad.
"I expect them to be a competitive contender for the conference and to push teams in the post-season," Cheek said. "The girls have come in with good work ethic, and are doing a good job of getting used to two new coaches for the season. Look for positive things from this team, as they continue to learn each day and get better."
Diamond opens the season on Aug. 28 at Monett.
DOWNLOAD THE O-ZONE APP NOW!
CLICK HERE TO DOWNLOAD FOR APPLE
CLICK HERE TO DOWNLOAD FOR ANDROID