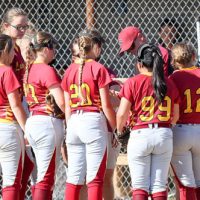 By Dana Harding (For OzarksSportsZone.com)
In 2017, Mansfield ended the season with an 11-9 record. The Lady Lions reached the district title game, but fell 2-1 to Ava.
While head coach Aaron Gray's team fell a bit short of its goal, Mansfield was able to get its promising young pitcher some valuable varsity experience.
"Last year we went with a freshman pitcher and had to learn to play around her strengths," Gray said. "Things really came together as the fall progressed and we were playing some of our best ball leading into districts. We didn't quite get there but the loss helped us understand what we need to work on to not only make it back to the championship game but hopefully take home the championship."
Graduated seniors Elanna Sabado, Lexie Morris, Caylan Higley and McKenna Jones leave a particular mark on the Mansfield program, as the four represent Gray's initial freshman class at the program's helm.
"They were my first group of freshmen when I took over and have been with me for four years," Gray said. "All four of these young ladies played an important role in our program and will be greatly missed."
The Lady Lions return six starters from the 2017 and will be led by a quartet of seniors.
CLICK HERE TO SEE ALL OF THE FALL SPORTS PREVIEWS
Shortstop Karsyn Brooke (.400 / 4 HR), catcher Sydnee Greene (.305), third baseman Ashley Nelson (.313 / 4 HR / 23 RBI) and first baseman Tallana Carter give Mansfield veteran leadership and plenty of varsity experience heading into the 2018 campaign.
They are joined by junior center fielder Gracie Williams (.339 / 24 SB) and sophomore pitcher Megan Langley (90 strikeouts).
Newcomers this fall include juniors Shyanna Kile (OF), Shatavia Scott (3B) and Macey Helms (INF), along with sophomores Ashley Russo (OF), Ashleyn Heil (OF/INF/C), and Parker Mattix (INF).
"Our biggest strength heading into this season is our experience," Gray said. "We have six returning starters combined with a number of options to fight for playing time. After last year's tough district loss our players better understand what it is going to take to get to the next level."
Gray also believes a quartet of incoming freshmen could have an impact on the varsity lineup.
Madalyn Ivy, Hailey Nelson, Madeline Coble and Morgan McGuire are all versatile players who can fill roles in multiple positions for the Lady Lions.
"Right now, our biggest x-factor is finding the right combination that works on the field," Gray said. "We have a number of girls that will be fighting for varsity playing time and need girls to step up and separate themselves from the pack."
Mansfield's success this season begins in the circle with Langley, who enters her sophomore year after throwing 95% of the innings for the Lady Lions in 2017.
"When Megan is most effective, she locates her fastball and isn't afraid to pitch inside," Gray said. "Our wildcard for the fall is freshman Madalyn Ivy. She throws multiple pitches and can throw them all for strikes. These two young ladies can be a powerful one-two punch that will give us a chance to be successful."
With an experienced team full of both talent and depth, Gray has high hopes for the season.
"My expectations generally remain constant," Gray said. "I want us to go out and compete on a daily basis, and we expect to compete for a Summit Conference title as well as a district title."
Mansfield opens its season Aug. 25 in the Buffalo Tournament.
DOWNLOAD THE O-ZONE APP NOW!
CLICK HERE TO DOWNLOAD FOR APPLE
CLICK HERE TO DOWNLOAD FOR ANDROID