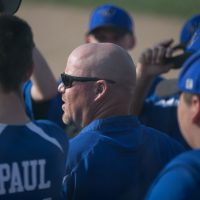 By Amanda Perkins (For OzarksSportsZone.com)
Even though the Wheatland Mules went .500 last year, they were disappointed with their finish, going 3-4 in the Polk County League and losing to St. Elizabeth in the championship game of the district tournament. "We had bright moments but were too inconsistent," said Pat Dougherty, who has spent 17 years at Wheatland as head coach.
Now the Mules will focus on rebuilding their team after the loss of six seniors.
"We will take that as a challenge, and work hard to find the players that will step up and be productive," said Coach Dougherty.
Zac Sutt is one graduate Wheatland will miss. The all-district first team pitcher and shortstop batted in the two or three hole, went 3-0 on the mound with a 2.03 ERA, and batted .309 with 15 RBIs. Devin Shields had a .63 ERA, .310 average, and 23 stolen bases, and was a big key to the Mules' offensive production. Hunter Jones was an all-conference and all-district first team catcher who started four years, had a 3.92 ERA and .431 batting average. Austin Daniels was a versatile leadoff hitter who had a .367 average. He was a pitcher (3.71 ERA), catcher, and infielder as well. Bailey Jones, .327, was the team's best outfielder with strong numbers as a senior, including 9 RBIs and 14 stolen bases. Cole Claunch was a team guy with a great attitude who contributed in multiple positions.
Three starters return. Senior Tristen Shaddox (.415, 15 RBI) is the biggest offensive threat for the Mules and a leader for the team. He will anchor the staff on the mound and will be working to find control of his live arm.
CLICK HERE FOR ALL OF THE SPRING SPORTS PREVIEWS
Javier Mendoza, senior, will hold down first base but could also pitch. He will be expected to drive in a lot of runs and to improve upon last year's .238 average. "Javy is a fan favorite and we look for him to have a big year," said Coach Dougherty.
Junior Trystin Newbold (.290) will pitch and could play middle infield or outfield, and might lead off as well. His speed, versatility, and athleticism could be big assets to the team this season.
Dylan Baker is a senior newcomer to the team. While he didn't play last year, he is athletic and could pitch, catch, or play infield or outfield.
Junior Devin Daniels will split time at multiple spots, including pitcher, catcher, infield, and outfield. "This year is his chance to shine," said Coach Dougherty.
Keenan Sneed has not yet played in high school, but the 6'2", 220-pound junior could develop into a pitcher and a good hitter.
Sophomores Dusty Nichols and Corbin Evans will contribute. Nichols is an outfielder who works hard, and may join the pitching staff. Evans didn't play last year but will likely be in the outfield as well.
Josh Galloway, freshman, "is a baseball kid," said Coach Dougherty. "He loves it and works hard at it." He will be on the mound and in the infield. "He could be an immediate impact type of freshman in all phases," added Dougherty.
Kennedy Griffin, freshman, found success on the softball team in the fall and will try to make the necessary adjustments to the game of baseball. "She will be able to help us out this year…I think she is more than capable of doing so," said Coach Dougherty.
"Our main goal is to get better every day," said Coach Dougherty. "I know that sounds cliché, but it's true. We have a lot of young kids and inexperience on our team. If they work hard and do the little things right, we should be okay by the end of the year. We would like to be in a position to be very competitive at district tourney time."
Wheatland will open their season with a double header at Hermitage on March 17.