By Jordan Burton (For OzarksSportsZone.com) – @thejordanburton
Named after one of the world's greatest athletes, Tyger Campbell – who had the "y" thrown in for flavor – had no choice but to be great.
"I was giving birth to him in 2000 when Tiger Woods was winning the Mercedes Championship on Jan. 9 so his dad and I were announcing different names and how they would sound coming from a sportscaster," said Tyger's mother, Jennifer Campbell. "We thought he'd be a football player and we tried to pick out the coolest name a sportscaster could say if he did something good and we came up with Tyger Campbell, adding the 'y' to make it different than the animal."
But, if the name doesn't catch your eye, then the hair certainly will.
Campbell has not had a haircut since the fifth grade, with his German roots leading to an interesting configuration of hair. A look that came from disdain of the process of haircuts.
"When I was younger I didn't like haircuts," said Campbell. "Now it's kind of my thing, it's my swag. Obviously, the hair is different, and I do some different things on the court, so it's expected. A lot of people either like it or hate it."
His mother, Jennifer, agreed.
"He literally hated them," said Mrs. Campbell. "He would cry every time we'd go so in fifth grade I told him that I wasn't going to take him anymore and he was going to have to pick out his afro. He decided not to pick out his afro which is why he has free-form locks. He hasn't had a haircut since he was 11. He embraced it as his look so we support him and it's made him the individual he is."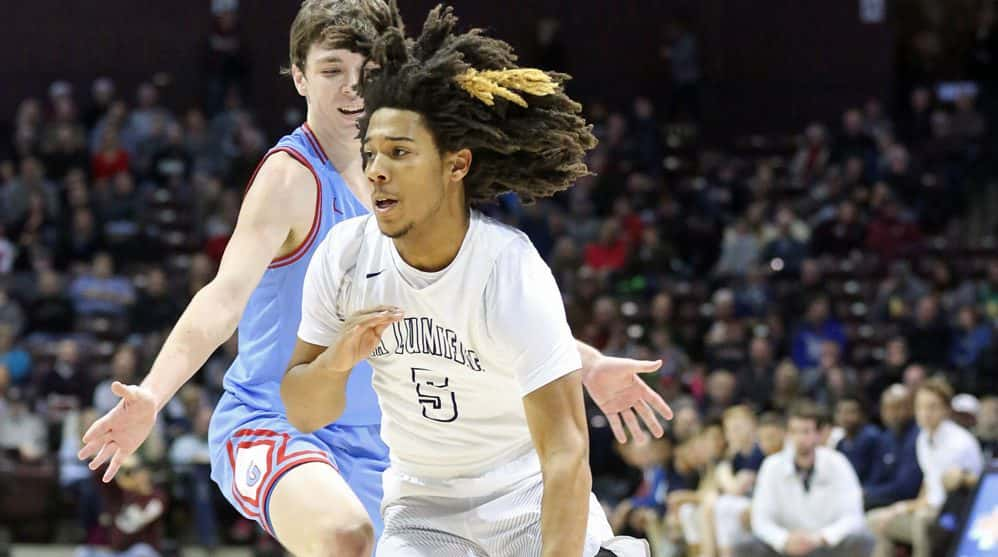 Honestly, the hair fits the name and game.
Campbell is a bulldog of a point guard, known for his gritty toughness, defense and willingness to get others involved. Through two games he's averaging 12.5 points and 7.5 assists with just four total turnovers and 69 percent field goal percentage.
Performances like these have garnered the 6-foot point guard four stars from both ESPN and Rivals, as well as offers from UCLA, Michigan State, Illinois, Purdue and DePaul.
Following a 63-51 semifinal win over Brentwood Academy on Friday, Campbell and his La Lumiere teammates have yet another matchup with national power Oak Hill in what is the first of what could be multiple meetings.
And, much like his matchup with ESPN's No. 11 ranked player in the 2018 class Darius Garland (Brentwood Academy), Saturday will bring yet another elite point guard battle, this time with 4-star combo guard and Oregon signee Will Richardson.
Campbell maintains that he cares far less about matchups than winning, although his near double-double would suggest otherwise. The senior guard seems to find another gear when there's a prominent player lined up across from him.
"I'm never too worried about individual matchups, I'm more concerned with winning the game," said Campbell. "It's just part of basketball. Playing on TV does juice you up, every kid dreams of playing on television so to have it happen is cool. Honestly, it's all in preparation for college and that's what I'm thankful for."
As for what college it's preparing him for, that remains to be seen.
Pundits have Campbell landing all over the United States, while the "crystal ball" on 247 Sports has Purdue (70%) as the overwhelming favorite, followed by Michigan State (10%), DePaul (10%) and Maryland (10%).
Wherever the youngest Campbell opts to take his talents will be getting one of the nation's top point guards. They'll also be getting the mother of a recruit that is excited to see the years-long process finally come to an end.
"It's been a positive experience, but I'll probably go on a two-week hiatus and throw my phone into the ocean and just rest when it's all over," said Mrs. Campbell. "It feels like I haven't slept in about two months. He's got some great schools on the table but it's time for him to make that decision and move onto the next phase of his life. The process has been great, but I'll be excited when it's over and time to move on."
La Lumiere and Oak Hill will tip off at 9 p.m. at JQH Arena. The game will be shown live on CBS Sports Network.