By Nolan Epstein (For OzarksSportsZone.com)
Not much went wrong for the Lady Jays on Tuesday night as Clever (21-8-4) executed its game plan to virtual perfection – making quick work of the Crane Lady Pirates (21-14) to grab a straight-set victory and the Class 2, District 10 crown in the process.
The 25-11, 25-10 win marked the second time in two weeks that Clever was able to turn away the Lady Pirates. While the first matchup between the two clubs came down to a third and final set, head coach Angie Wise saw her squad make a clear statement early that this was their night.
"I didn't have to do a lot of coaching tonight," Wise said following the win. "They pretty much had it in their heads that they were going to play ball and they came to play ball. They did it."
Clever trailed just once in both sets in the early going – seeing a first-set deficit of 2-1 and a 3-2 hole in the second set. Aided by sizable runs coming soon after, those deficits quickly became distant memories.
Perhaps the biggest factor contributing to Tuesday's success for the Lady Jays was the presence of nearly error-free play, which was something that Wise was preaching to her team on a consistent basis.
CLICK HERE FOR PHOTOS OF THE MATCH
"We've really been focused on minimizing the errors," said Wise. "We've come up with all kinds of little situational games in practice to try to discretely understand that every error is going to be critical."
The Lady Jays also enjoyed an impressive showing when it came to their serving as the entire squad didn't misfire throughout the tournament.
"When you get those two aspects of the game coming together, the rest pretty much plays along," Wise added.
Junior outside hitter Harper Little led the way with seven kills in the victory en route to earning MVP honors for the district tourney.
"I was on tonight, thankfully," said Little, chuckling. "I was nervous, but it was good."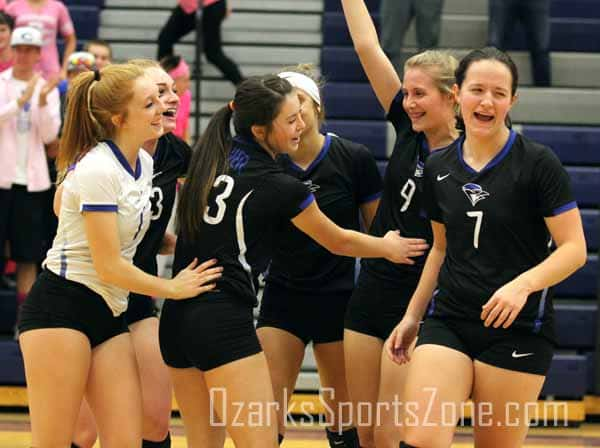 Senior Lindsay Peebles tallied a game-high nine assists, while junior Abi Menzies took command defensively by racking up seven blocks.
Along with Peebles and Little, sophomore Carly Debriyn was named to the First-Team All-Tournament squad. The individual accolades are always nice, but Clever knows it takes a full team effort to keep its season going as it gets ready for the state tournament starting on Saturday against Strafford (29-4-1).
"We just have to look at every single game. You can't look past a game," added Little. "We just have to come out strong every set, every play and every ball."