By Matt Turer — mturer@ky3.com
@MattTurer
Mountain Grove threw the football 77 times last season. So it came as a bit of a surprise to see the Panthers on the list of participants at last week's Parkview 7-on-7 tournament—largely known as a warm-up for pass-heavy (or at least more balanced) offenses. But with a closer look at the numbers and what the Panthers already do so well (run, run, run), the decision made a whole lot of sense.
It starts with third-year starter at quarterback Carter Otwell. After a successful sophomore season under David Stuckey in 2015 (1,261 rush yards, 12 TD), Otwell transitioned seamlessly to Rich Adkins' scheme last season (1,254 rush yards, 19 TD) in the coach's first year at Mountain Grove after leaving Jasper.
Otwell has proven his ability to read defenses in the running game, and that decision-making has a direct correlation to Mountain Grove finishing 2016 with three 1,000-yard rushers—including himself, the now-graduated Trystan Short (1,578 yards, 19 TD) and rising senior Chance Barbe (1,177 yards, 20 TD).
Point is, the Panthers know they can run and—even without Short—have a lot of ground yards returning. That rushing attack buoyed a 10-2 season in 2016 that ended in a 26-25 district championship loss to MV-BT/Liberty, who handed the Panthers both of their losses last season. But what if that dominant running attack found a little more balance?
An underrated and potentially underdeveloped part of Otwell's game could be his arm. (You can't blame Mountain Grove. When you rush for 4,438 yards and average 8.7 YPC as a team, passing isn't necessarily necessary). The senior has completed 80-of-123 passes (65%) for 1,257 yards over two years as a starter, tossing 14 touchdowns to seven interceptions. With efficient numbers like that (albeit a small sample size), why not figure out if throwing the football should act as more than a keep-the-defense-honest type threat?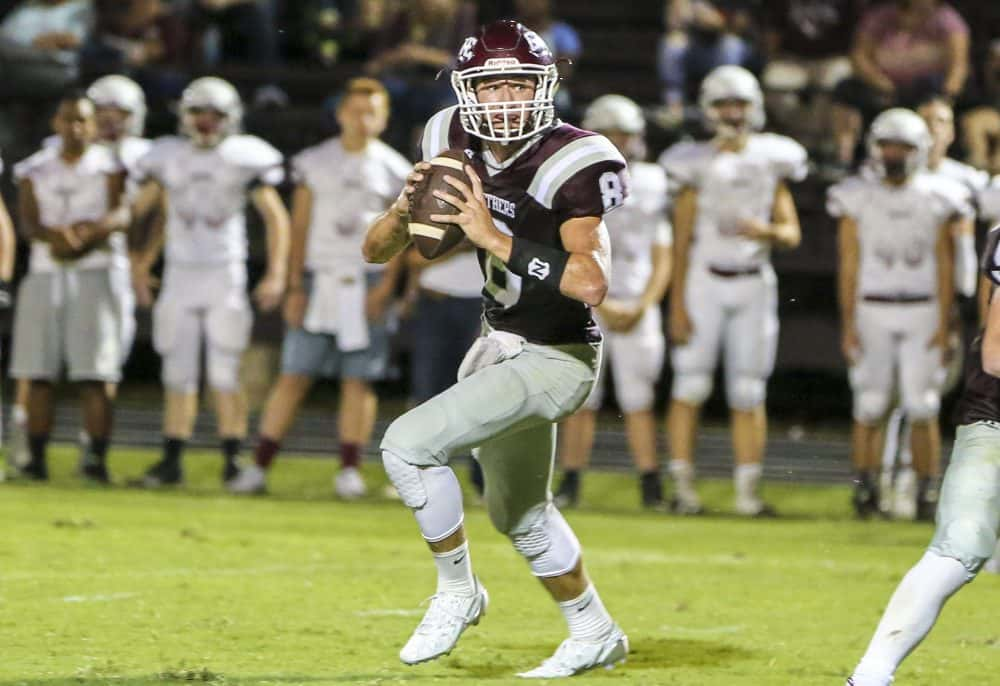 "We've been working on our passing game just trying to become more balanced," Adkins said at the Parkview 7-on-7 tournament. "We face a lot of passing teams [in the SCA], so we just want to work on those things throughout the summer."
If anything can be taken from a padless 7-on-7 tournament, it's that the more balanced attacked Adkins mentioned may be more than just a pipedream after Otwell and the Panthers proved they could move it through the air by making the semifinals in the 24-team tournament, beating Mt. Vernon in the quarterfinals before losing to Harrison (Ark.) in the semis.
"We graduated a lot of guys up front on the offensive line so we just need to be prepared to be able to throw it, and I think if we can create a little more balance in our offense we might have a chance to get a little bit farther on down the road," Adkins said.
Adkins and Mountain Grove's coaching staff have worked with Otwell on his passing technique when the three-sport athlete isn't busy with basketball or baseball, and we're now just a couple short months away from seeing what that means.
At a minimum it will mean more of a safety net if it takes the new faces on Mountain Grove's offensive line some time to adjust to run blocking. The Panthers lost All-SCA offensive line selections Steele Buttram, Austin Williams and Trenton Thompson to graduation.
"Our skill guys we're excited about. We've got Otwell and Chance Barbe and…[we return a lot of] our tight end position and receivers," Adkins said. "Our big focus right now is trying to develop an offensive line up front, which is exciting because we're going to have a lot of new guys competing for those spots."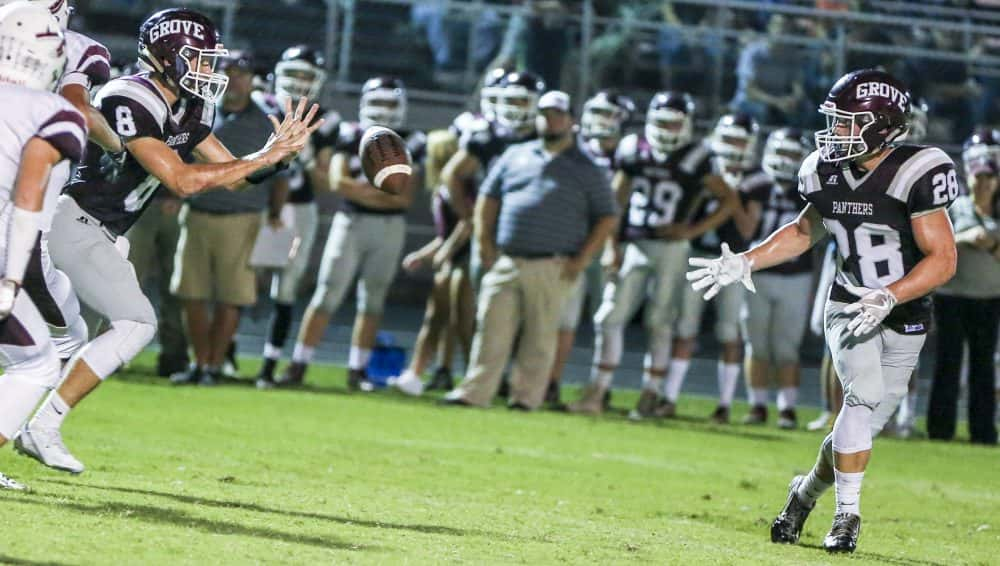 If the trenches get straightened out, the Panthers may be on the verge of being the top contender in Southwest Missouri to threaten for a Class 2 state title with MV-BT/Liberty graduating Josh Pruett and Lamar losing the bulk of its top-end skill position players after the Tigers won their sixth-straight state title. But even with that path opening up, Adkins isn't ready to pencil the Panthers in for a state appearance, or even an SCA or district title.
"I think Liberty has plenty coming back," Adkins said. "They have a lot of good players and a lot of guys up front that we could hardly block last year, so that's going to be real difficult to handle.
"We look for Ava to be really improved and continue to get better and be a tough team within the district. Then Strafford, who was very young last year. Traditionally they're real good so we know they're going to be tough."
The single question mark on Mountain Grove's offense is who will replace Short in the backfield. Turns out, Adkins already knows: speedster Will Gourley, who averaged 4.8 yards per carry in limited offensive action last season. The Panthers also bring back Patrick Lane and Gavin Veach and will utilize Trevor Thompson at tight end.
Thompson (102 tackles, 2.5 sacks) is one of five linebackers returning for the Panthers, who also return every starting defensive back (including Lane and his team-high four interceptions). Mountain Grove allowed double-digit points just five times last season and should be even better on the defensive end in 2017. The Panthers pressured quarterbacks into 32 sacks last season with eight starters recording at least two sacks (Barbe's seven were tied for the team lead).
"We need to find some defensive linemen but that does excite us a little bit," Adkins said. "We've got a lot of young guys up front that are coming along and we try to coach up."