By Kary Booher – For Ozone
No, no one is breathing out their eyelids, nor getting dinged in Kangeroo Court for, say, spitting sunflower seeds the wrong way. And, unless these guys aren't being truthful, there's no sign of a Voodoo doll flanked by a shot of rum.
So, what's the secret to the Springfield Cardinals' success this year?
"There's never a dull moment," slugger Jacob Wilson said, all but rolling his eyes. "(Alex) Mejia slaps everyone on the butt as hard as he can before games."
Um, your veteran shortstop does what?
"Yeah, he gets Johnny every day," Wilson said, referring to Johnny Rodriguez. You know, the manager? "(Mejia) just brings so much energy to the table. Everyone just falls in line right behind him."
Hey, whatever works, right? In fact, if you're looking for the next Boys of Summer – now that the loveable Missouri State Bears' NCAA run has ended, the NBA Finals have come and gone or your favorite big-league club is all too maddeningly inconsistent – it might be a good time to hop on the Springfield Cardinals bandwagon, 2017 edition.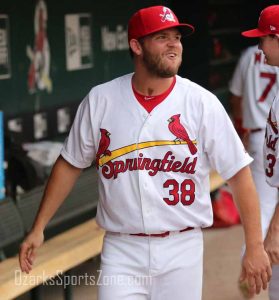 What a cast of characters that have come together to make this a fun year under the sun. Tonight, they open a 12-game homestand at Hammons Field and sit within striking distance of securing an early Texas League playoff berth (only a game back of the North Division lead with six to play in the first half).
And who knows what you'll see out of this group?
For his part, Mejia is putting a twist on the phrase "bringing up the rear."
"You don't have a bruise the next day," first baseman Casey Grayson said with a laugh. "But the one or two people he gets, it hurts more than others."
Truth is, Mejia's pre-game antics seem to solidify a group which hadn't played together all that much before this season.
Keep in mind that Springfield's roster is carrying the most St. Louis Cardinals prospects in five years – those were the Oscar Taveras-led Texas League pennant winners – while it's also anchored by a heady veteran cast including Mejia, a key part of the Arizona Wildcats' 2012 College World Series team.
"This is the most tight-knit team I've played on," Mejia said. "Everybody works well with each other."
Any funny moments he has enjoyed? That, you know, can be published?
"Not really," Mejia said with a sheepish grin. "But it's a joy being around these guys. It's really organic chemistry."
Organic such as …
"Jenner dancing in the dugout before games, getting guys loose," Grayson said of catcher Jesse Jenner, although not exactly suggesting Jenner should be a candidate on the next "Dancing with the Stars" season.
"That's one cool thing about this team. There's not a whole lot of quiet guys. Today during BP, (Corey) Baker was jumping up and robbing home runs," Wilson said, referring not of a prospect outfielder but of a veteran relief pitcher. "And everyone was screaming at the top of their lungs. He was dead sprint on every ball. If you're in his way, he'll run you over."
Wilson then summarized the season, saying, "It's easy to go out and play when you're having fun like that."
Overall, they've done it with …
These guys have turned 66 double plays, the third-most among 30 clubs in all of Double-A baseball. In fact, they turned 20 in an 11-game stretch last month. Of course, it helps to have Grayson at first base, where he swallows even the toughest of short hops, and to have what is said to be the best outfield in the minor leagues – Oscar Mercado, Magnerius Sierra (the recent rookie sensation in St. Louis) and $2.5 million Cuban import Adolis Garcia.
Thanks to since-promoted (to Triple-A) prospect right-hander Jack Flaherty, 2016 first-rounder Dakota Hudson and emerging prospect Matt Pearce, the club entered the week with the Texas League's second-best earned run average (3.72) – with those three all among the top 10 in league ERA leaders.
Offense, featuring leadoff man Oscar Mercado. Relocated from shortstop and having found home in center field, Mercado now ranks among the top five in seven offensive statistical categories, including the league's most hits (79).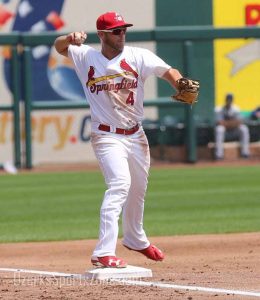 "The veterans keep everyone relaxed and cool-minded," Mercado said. "And, overall, we have a lot of talent that gets along, with guys who know how to play the game together."
Wilson, Mejia, Baker and previously Bruce Caldwell have been the veterans to steady the ship. All have their own cool backstories, with Baker having earned a Texas League victory in 2014 when his catcher was none other than future Hall of Famer Yadier Molina.
Even better, the veterans appreciate that the younger guys push them to be even better. For Wilson, it's a badge of honor because he grew up in Memphis and is proud to wear the Birds on the Bat.
"We have talent, and it's showing. It's nice to have some of these young kids … to where we are going out and competing and they are coming to us with questions," Wilson said. "We know what this league is about and the grind. It's kind of cool for some of these young guys to come to you and ask questions.
"You don't want to be the guy who doesn't run out a ground ball hard."
That, or the guy not having fun.