By Matt Turer — mturer@ky3.com
@MattTurer
Jefferson City, Mo. — Alexys Barton won a trio of long-distance golds at this weekend's Class 1 state championships in Jefferson City, walking away with the most individual titles of any area Class 1 athlete after gathering two more wins Saturday. Also below, big days for Dora's Ashlynn Vanatter, School of the Ozarks and Humansville, plus a silver for Hermitage's Sabala.
CLICK HERE FOR CLASS 1 BOYS RESULTS
CLICK HERE FOR CLASS 1 GIRLS RESULTS
CLICK HERE FOR CLASS 1 TRACK PHOTOS
CLICK HERE FOR CLASS 1 FIELD PHOTOS
Barton Writes A Golden Final Chapter
It was the perfect ending. Three golds and one grungy old hat. Those are the four priceless souvenirs that Alexys Barton is bringing home to Liberal this weekend after a perfect showing in three championship events.
"That's the end of the story," Barton said after winning the 800-meter run in 2:22.76, overcoming Salisbury's Erinn Fitzgerald on the home stretch with her family cheering her on from the crowd.
"It's a little sad and a little happy. I never really thought this day would come, but I'm ready for a new challenge at Kansas."
By never thought this day would come, Barton means the end of her high school running career. The three state titles in a single meet? The ones coming in the 800, the 1,600 (5:22.27) and Friday's 3,200 (11:45.98)? That was a day she had envisioned.
"It was always a goal of mine," she said. "But I knew it was going to be super tough with [Claire and Katie McCune] and [Claire] Workman. I would have liked to race Claire one more year, but I'm also super thankful for this."
It took a second day of races for the moment to sink in for Barton. The end of something special often comes with that delay for athletes, and ending Liberal's track state title drought in this fashion is something special.
"It definitely feels more real today," she said. "I had that moment in the mile that, holy cow, this is real. This is happening."
After the New Covenant Academy trio of the McCune's and Workman were bumped to Class 2, Barton assumed the crown on top of Class 1's distance throne. And in the process, she's usurped the old, grungy baseball cap from coach Robert Williams as well, just a day after saying she wouldn't dare touch the suddenly legendary hat.
"It's gone and I had to touch it last night. It's mine now," she said.
Vanatter Adds Career Gold No. 6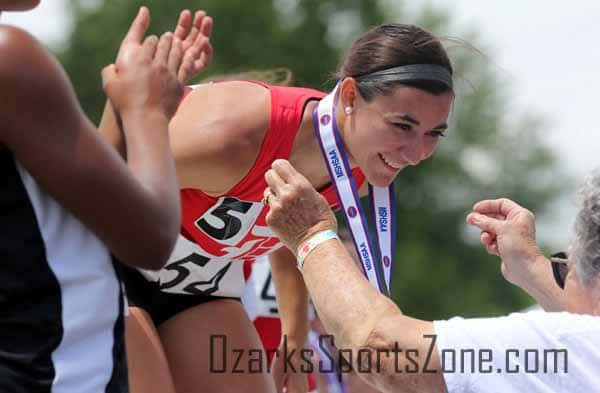 Sprinters in Class 1 saw no sweeter sight this weekend that Ashlynn Vanatter's final dance at state.
The decorated Dora senior sprinter gathered her sixth career gold medal at the state championships, winning the 400-meter dash in 58.36, 0.36 seconds better than in 2016 and a mark that is now the best in all of southwest Missouri this year, regardless of Class.
"It feels absolutely amazing," Vanatter, who goes out as the three-time defending champ in the 400, said. "The 400 is definitely my favorite race so it feels great coming out here and winning it. I love it because it's the challenge. It's not easy. It's the love-hate relationship, really."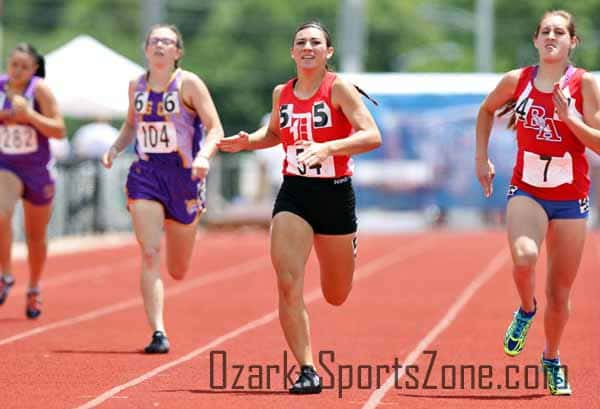 Vanatter, who finished third in the 100-meter dash (13.04) and second in the 200-meter dash (26.54), was forced to relocate from her home-away-from-home after flooding destroyed the track in West Plains and ended the school year early for Dora. That forced Vanatter and Dora, who train at West Plains due to not having a home track, to travel nearly 40 minutes to MV-BT/Liberty for practice.
"It's just a state of mind," Vanatter said of overcoming that adversity. "You can't let everything else overwhelm you. You have to go out there and just run."
Patriots Add To Friday Medal Haul With Relay Title
Friday's success for School of the Ozarks carried into Saturday with a team gold medal in the 4×200-meter girls relay, dropping a full two seconds from their previous season best in the event set just last week.
The group of Evelyn Carswell, Nicole Voerman, Mary Beth Porter and Victoria Smith regrouped from a timing error in their Friday heat to win the Class 1 girls 4×200 final in 1:48.93, 0.33 seconds ahead of Mound City.
"It was kind of strange after they didn't get everyone's times right and we had to run our heat again. but we came out and this was the event we were going to be running today so we just left it all out on the track," Voerman said. "For Eve and I as seniors this was our last 200 meters so we were like, might as well end with a bang."
Voerman couldn't contain her excitement on the podium, constantly alternating between smiles, laughs and putting her hands over her mouth in apparent disbelief of the state title.
"It was kind of surreal standing up there," she said. "We came with not exactly high or low expectations. We just come to run. No one from Class 1 or 2 expects anything from us (S of O). We're just here to run. Coming to state is just huge. Being at this level is surreal. We don't necessarily have a rival. We're just here to run and that's what we do best.
Each member of the relay team set a new personal record in the 200 with their split times.
"We just run to feel God's pleasure and to just run our best," Carswell, who finished second in the high jump Friday, said. "It was low stress, because we know that if we just run to the best of our ability, you can't ask for more. No one can ask for more."
Humansville Runner-Up In Boys 4×800 Relay
Dustin Shoemaker collapsed across the finish line after passing Liberal anchor Tyler Stebbins on the final stretch of the 4×800-meter relay. Shoemaker's push clinched a state runner-up spot for Humansville.
"I was about to black out on the [final stretch]," Shoemaker, a senior, said. "My ligs literally felt like they were going to give out. But I knew the guy was coming behind me so I just had to push a little bit harder, and that's why I gave everything I had at the finish. I could barely stand so I just collapsed. I was done. I did what I wanted to do. So I just laid there."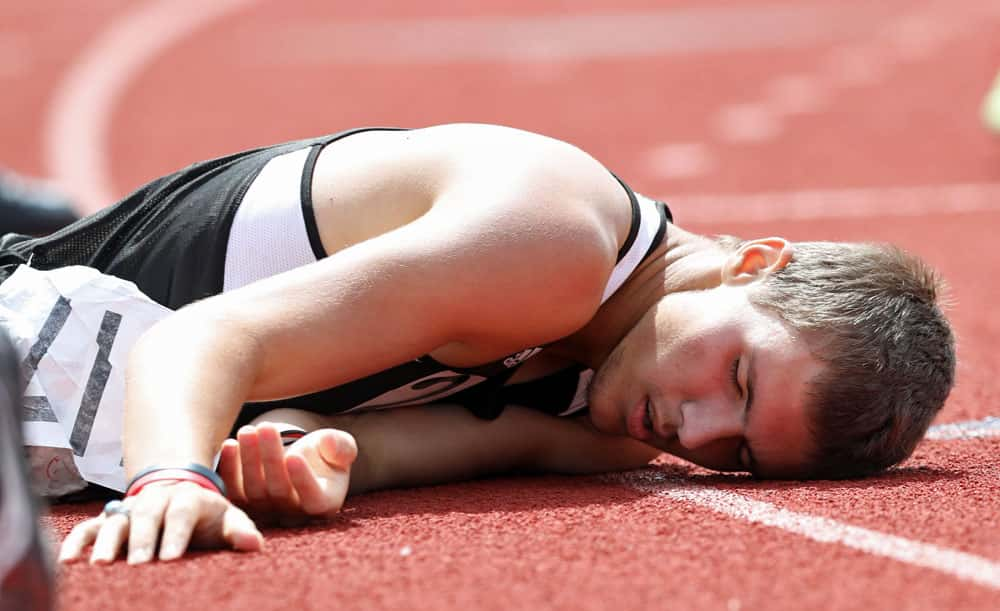 Humansville's 4×800 also included sophomore Donald Decker, senior Broque Decker and freshman Braeden Decker. The three brothers ran the relay's first three legs.
"It means a lot for the boys to have me work my hardest and get us in a good place to start off," Donald Decker said. "The last 100 I got on my toes and I took off. I couldn't feel anything from my hips down. It was crazy."
Each member of Humansville's 4×800 relay ran their season-best splits on Saturday
Sabala Goes Silver In Two-Mile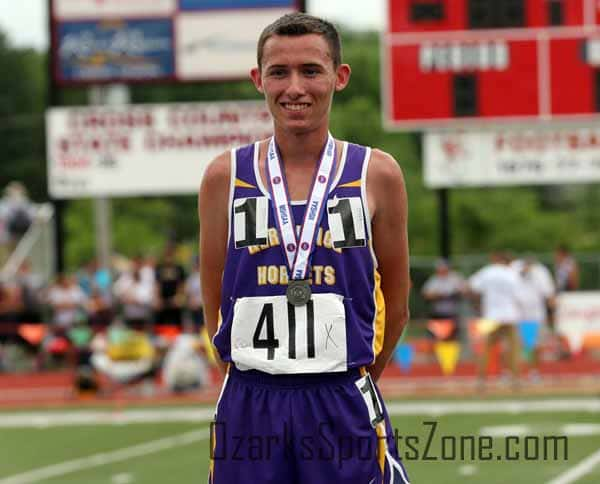 Even while splitting time in the spring between running 90-foot basepaths and 10,560-foot distance races, Hermitage junior Easton Sabala still found a way to bring home a silver medal.
"I've felt pretty good considering that I'm part-time training because of baseball," Sabala said. "I set a PR in every event this weekend, so I'm pretty happy with my performance."
Sabala finished seven seconds behind first-place Riley Gorham in the 3,200-meter run but easily established himself as the No. 2 two-miler in Class 1 by crossing the finish line over 13 seconds ahead of the rest of the field (10:00.52).
"I thought I could beat Riley since I did last week, but he's been doing this for a long time and I respect him a lot and he deserves to take first place. I just focused on being No. 2 because I don't want anyone else beating me."