By Matt Turer — mturer@ky3.com
@MattTurer
Purdy, Mo. — The postseason makes its own heroes. Or maybe the heroes make the postseason. Either way, it might be time to crown Mikey Schad "Miss May."
For the second consecutive game out of the seven-hole, Purdy's junior first baseman delivered.
Schad broke a 0-0 tie in the fifth inning with an RBI single, driving in Sami House and later scoring. Then in the sixth, Schad ripped her third double in two games, again driving in House and putting Purdy up 3-0, and again coming around to score herself, helping Purdy advance to next weekend's state tournament in Springfield with a 4-1 win over Pierce City on Friday.
Schad's hot bat isn't completely out of nowhere after hitting over .400 this season, but after five doubles through her team's first 25 games, the three two-baggers in the past two games have been a revelation.
"I guess I just decided to hit the ball now finally, which is good, because this is the right time to start hitting the ball," Schad said.
CLICK HERE FOR PURDY VS. PIERCE CITY PHOTOS
In a game that saw Rion Boyd, Hallie Henderson and Casey Ellison go hitless against Pierce City's Ragan Blinzer despite each batting over .500 this season, Schad and House's big days couldn't have been more timely efforts in Purdy's push into its first-ever spring softball Final Four.
"It's pretty awesome," Purdy head coach Lori Videmschek said. "Pretty awesome. We've battled the last couple years and now we get our chance."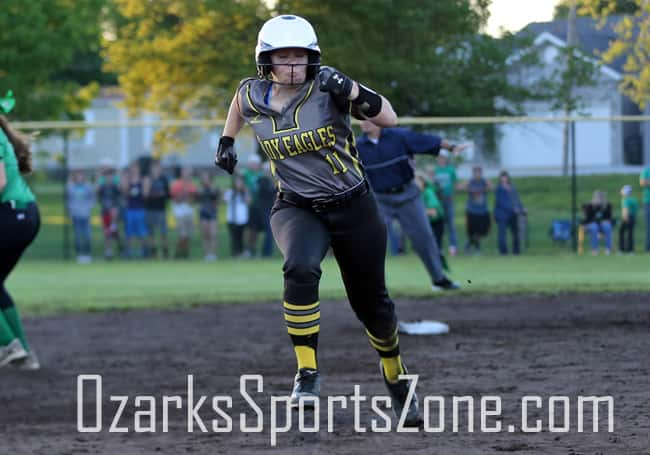 Purdy (26-1) has won over 20 games each of the past three seasons and came as far as the quarterfinals in 2015.
"These kids this year have been one of the most enjoyable groups of kids to coach all year long," Videmschek said. "They just come into practice every day and they're all giggly and goofy and they just go to work. They go to work and work hard in practice and get it done then they come in games and know what their jobs are. I can't be more proud of these girls than I am today."
Pierce City (22-5) threatened in the bottom of the seventh, getting the tying run to the plate against Henderson with Blinzer on deck.
But Blinzer wouldn't get the chance to play hero. Henderson got Kate Zebert to ground out to second, where Zoe Brown gobbled up the game's final out and tagged second base to secure history.
"I wasn't nervous. It was a routine ground ball," Brown said after.
No nerves shook Henderson either despite Blinzer waiting on deck after having doubled an inning earlier.
"I was really trying to get the batter at the plate," Henderson said. "[Blinzer] is great. My goal was to just stay focused and work on one batter at a time, because I knew my defense had me behind me, and all I had to do is throw how I know how."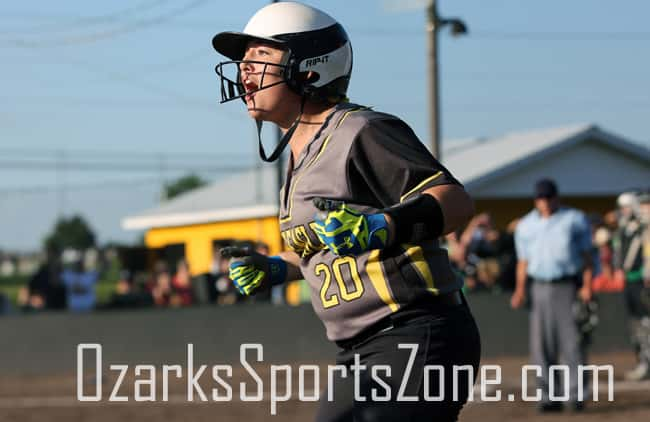 Henderson struck out six over seven innings, allowing five hits and hitting a batter.
For four innings, Blinzer matched Henderson stride-for-stride. After allowing a leadoff triple to Devyn Callahan, Blinzer sat down nine consecutive Purdy batters over the first three innings.
"At some point you've got to score to win," Pierce City head coach Kacy Whitley said. "Purdy came together. They put some hits together and scored some runs. We just couldn't execute with the right hits at the right time. In our lineup, we hit, and then we get three-up-three-down."
Pierce City put runners in scoring position in the second and fourth innings on Ali Raley doubles, in the sixth on Blinzer's double and in the seventh, but only managed to drive home one run.
The green and black Lady Eagles graduate Hannah Argyris, Jonna Brottlund, Kristen Jones, Ashley Marcum, Jessica Prescott and Christine Stellwagen, and will be losing a head coach with Whitley leaving the team to focus on family life.
"That's one of the hardest endings right there," Whitley said with tears in her eyes. "I'm going out on my last year, and losing these seniors, they've got some big shoes to fill coming up. But, man, those girls wanted it. They had their heart in the right place and they gave it everything they had. You can't ask for more than that. You can't ask for it. You can't trade players for what I've got and I wouldn't trade them for the world."
Purdy will face the winner of Saturday's Lincoln (20-0) vs. Kingsville (10-2) quarterfinal in the Final Four.
FINAL: Purdy 4, Pierce City 1
Purdy 0-0-0-0-2-2-0 |4|9|X|
Pierce City 0-0-0-0-0-1-0 |1|5|X|