By Joey Morgan/For OzarksSportsZone.com
Amid the rain and cold, the Glendale Falcons did not waste any time putting pressure on Republic in the first half of Thursday's match, keeping the ball in Tiger territory routinely. Several shots were fired from Glendale early but saved by Republic junior Goal Keeper Tara Campbell.
Finally, Kyndall Phillips saw an opportunity to drive the ball down field for a goal midway through the first half, a play she won't soon forget.
"I was a little nervous but I just said to myself, 'I'm going to score, I have to relax.' I saw the goalkeeper come at me and chose to put it in the corner of the goal," Phillips said.
"I am a freshman and this is my first goal I have ever scored so it was an awesome feeling seeing all my teammates running towards me."
Glendale found the back of the net two more times in the second half with goals from Kaileigh Clark and Brooke Briscoe in an eventual 3-0 victory.
While down in the first half, Campbell gave it her all to keep the Falcons from scoring. Campbell saw many shots and had blocked several of them to keep the Falcons lead at a minimum.
"I thought their keeper did a good job, especially in the second half she definitely came up big for them," said Glendale coach Jeff Rogers.
After falling behind 1-0 in the first half, Republic continued to battle through the rest of the first half looking to change the momentum of the game and put the ball in Falcon territory. Republic saw a couple opportunities to shoot but could not manage to find the goal.
Republic's Anna Jones saw an opportunity with the ball to take it up field and challenge the GHS keeper with a kick that was knocked down for a save.
Republic continued to fight through the second half with a shot from defender Abbie Hicks that was again knocked down by Glendale's keeper.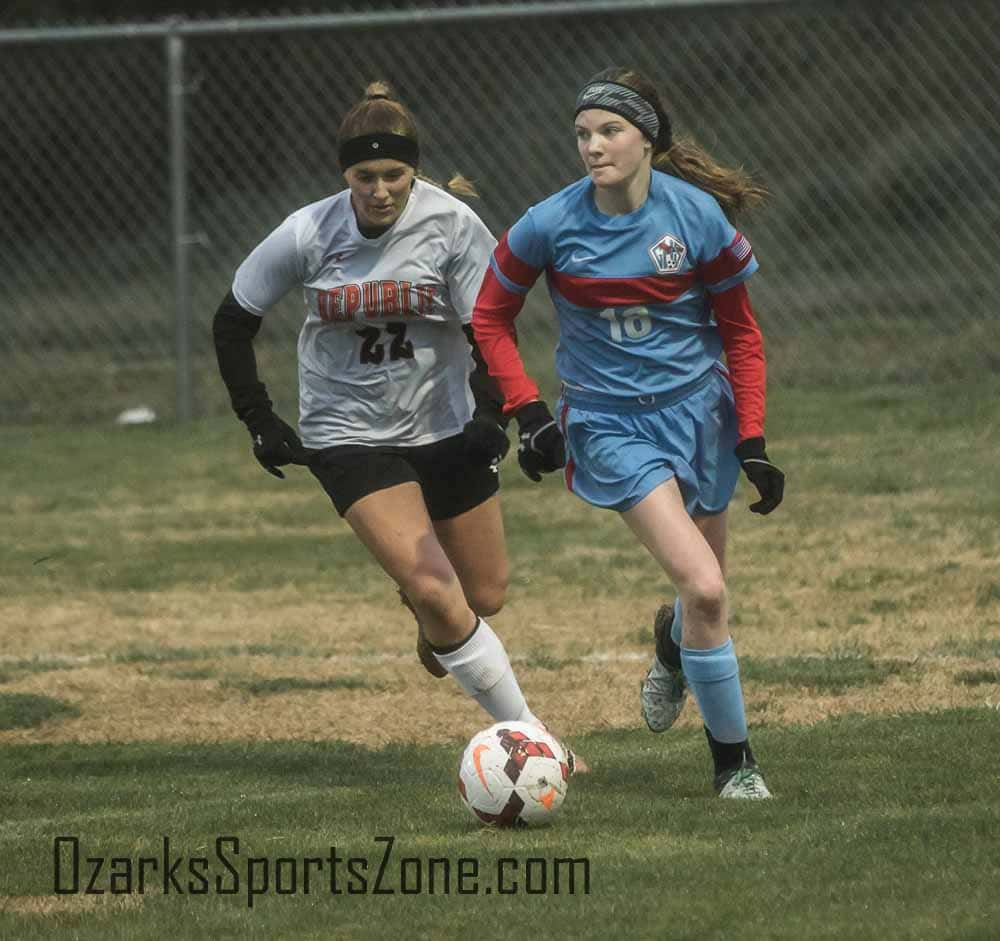 Glendale (1-1 overall) competes in the Parkway College Showcase this weekend.
"If you can keep the kids healthy and find the win then that's the bonus. Tonight is a bonus for us," Rogers said.
Republic dropped to 2-4 overall with the loss.
"I'm really proud of my goalie. Tara is a junior and a really big competitor. Tara came up big for us and made some really big saves," said Republic coach Kevin Hauck.
Republic was without all-stater Emily Jordan for the game. The Tigers will also compete in the Parkway College Showcase this weekend.
"We had to do some shuffling. We had our star player out who was diagnosed with a concussion so we lost her and had to make some changes to the roster," Hauck said. "We had to really try to get some shots off which we didn't generate very much of tonight. We just tried to compete and be competitive which we did majority of the game but had some letdowns along the way."