By Scott Vanscoy/For OzarkSportsZone.com
The Glendale Falcons shut out the Nixa Eagles, 8-0, on Tuesday night. With the wind gusting in from the east, the conditions were not the best. The game originally was scheduled for Nixa but was moved to Glendale due to field conditions.
Glendale rode the strong arm of junior Ethan Paschke for the complete-game victory. Paschke went seven innings, allowing three hits and no walks.
"I was hitting my spots a lot and my curveball was working really well," said Paschke. "My fastball and my two-seam was breaking out right on the corner just about every time which was helping me a lot. When I get ahead in the count I normally get them out."
Glendale coach Mike Snodgrass could not stop singing the praises of his junior hurler and how efficient he was.
"Everything starts on the mound and we had a plan," said Snodgrass. "Ethan has a good curveball, he's got a good fastball. We need him to be good and he was very good tonight. He's got good arm action and he can spot his pitch and we really talked about not just giving an easy pitch. He maybe only made one bad pitch this whole game. When he establishes his curveball his fastball looks pretty good and that's what the story was tonight. When he could really get the curveball over then his fastball looked that much better."
With Paschke clicking on all cylinders, the Glendale offense managed three runs through the first six innings by stringing consecutive hits together.  Nixa hurler Corey Lummis, a senior, held Glendale down but the defense behind him did not play well.
"Worst game of the year for us," said Nixa coach Howard Greenwood. "We weren't mentally ready. Glendale was ready to play but I'm not sure why we weren't, I guess that's on me. If we hit, if we adjust at the plate and go with what they are serving us, then maybe it would look different. We didn't do a very good job of adjusting at the plate. We didn't execute at the plate when we needed to, and we didn't execute on the defensive side when Glendale put the ball into play. What is so frustrating is that we know what to do, we just didn't do it."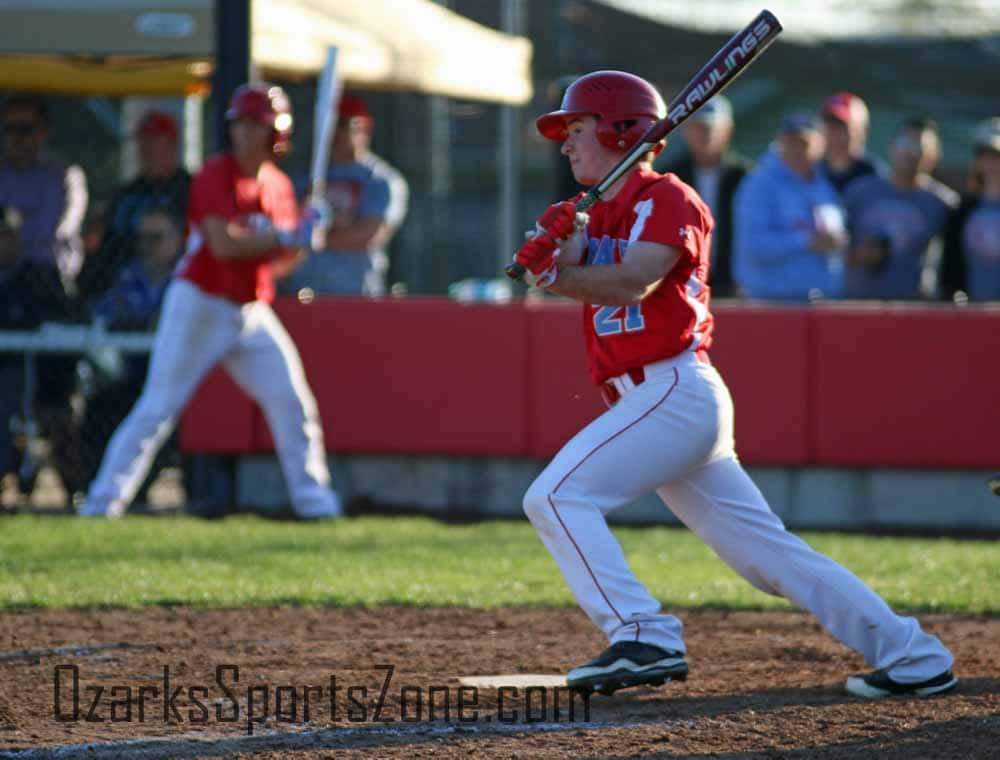 A key contributor to the Falcons on offense was senior Tripp Horsey who went one for four with two RBIs. Horsey was a factor in the game as he forced Lummis to increase his pitch count each time he stepped to the plate.
"Corey Lummis is a really good pitcher," said Horsey. "We knew getting the pitch count high would be a big deal for us so my first objective was to get on base and to see as many pitches as I could. We had good quality team at-bats."
Glendale spread out their hits with eight of the nine batters getting hits in the game. Glendale loaded the bases in the first inning but Nixa shortstop Brett Hammit turned a double play to end the inning.
"Our season so far has been getting tough breaks with bases loaded," said Snodgrass. "In the first inning we hit it hard up the middle but right at second base and the shortstop made the play. We could have easily got another run in the first if that ball went through, but they got the double play on us. That was a big play for them. We managed to get another run in the second inning by just playing basic baseball: a single, a sacrifice bunt, and a ground out."
With a guy at third, Horsey hit the ball to second base and driving in the run. Glendale was up 3-0 after six with the pitch count quickly climbing on Lummis. The game got away from Nixa in the seventh inning when Glendale batted around, scoring five runs, making the final score 8-0.
Glendale (3-3 overall) hosts the Red and Blue Tournament March 30-April 1. Nixa (2-3 overall) travels to Willard on Thursday.