By Jordan Burton/For OzarksSportsZone.com
Shouts of 'let's go' could be heard outside the doors of an elated Kickapoo locker room. Even the usually stoic head coach Dick Rippee joined in with a few exclamations of excitement.
The Chiefs are going back to Columbia.
After withstanding an early haymaker from Rock Bridge, Kickapoo outscored the Bruins 53-35 over the game's final 20 minutes to secure a 71-65 win Saturday at SBU and advance to back-to-back final fours for the first time since 2005-06.
PHOTOS: KICKAPOO VS. ROCK BRIDGE
"I'm really happy for our guys," said Rippee. "With five of our top eight guys back that was the goal for them and it's really hard to do. Our guys did a tremendous drop of containing their composure; they gave us a pretty good shot early. We didn't wilt  and that's what experience does for you."
That veteran leadership was key with the start that Rock Bridge came out with.
The Bruins led 21-9 after the first quarter, 12 of those points came off of the flaming hot right hand of 6-foot-6 sophomore Isiaih Mosley.
Rock Bridge also played a combination of 3-2 and 2-3 zone to help keep the Chiefs off balance, holding them to just nine points in what was a stagnant offensive quarter.
"They're so athletic in it," said Rippee of Rock Bridge's zone. "People think of a zone as just sitting back there, but they're not just sitting there; they're out in passing lanes. They're long and aggressive and really good basketball players, not just athletes. I think that zone and their length bothered us a little bit."
Kickapoo trailed 30-18 at the midway point of the second quarter, tied for its largest of the game, but responded with a 10-0 run to pull within two. A nifty reverse layup by Cam Davis, followed by back-to-back 3s from Davis and Xavier signee Jared Ridder ignited the run.
Isaac Blakeslee's layup capped the run. He scored all eight of his points in the first half.
"We're a much better team when we're making the extra pass and we just tried to refocus on that," said Rippee. "We also started getting some stops and made it difficult for them. I figured the offense would take care of itself because we have some talented players, we just needed to focus on getting stops."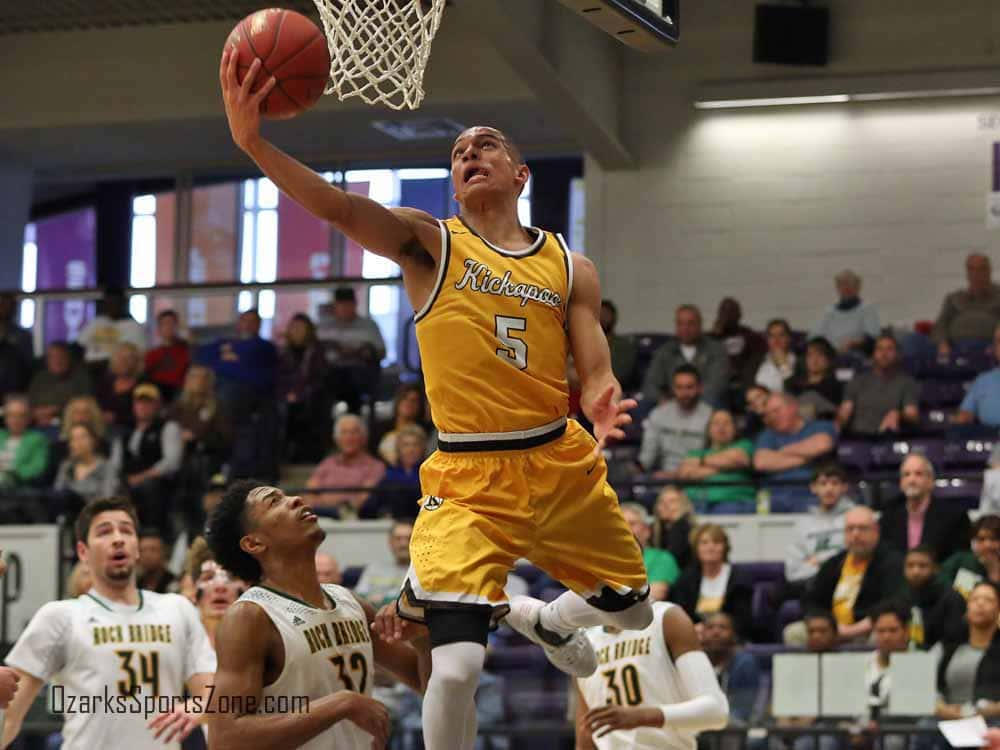 Kickapoo trailed 33-28 at the half, but took its first lead of the game early in the third quarter on a 15-foot jumper by Davis, 37-35. Kickapoo's 19-5 run at that point was powered by an impressive defensive effort by Davis.
The senior guard limited Mosley to just three points in the second and third quarter combined.
"Cameron did a great job of denying him and limiting his touches," said Rippee. "He's only 6-foot-1 but he's got the heart of a big kid and he's one of the hardest workers we've ever had in the program. He doesn't back down from challenges."
Ridder made possibly his biggest shot of the night at the end of the quarter, connecting on a 55-foot 3-point attempt just before the buzzer, making eye contact with his brother, SBU redshirt freshman Matt Ridder, and his Bearcat teammates.
The shot helped Kickapoo extend its momentum into the fourth quarter where the Chiefs never trailed.
Mosley finished with 28 points. Classmate Dejaun Harris added 15 and senior Eyesan Wiley scored 14.
Davis, a Navy signee, finished with 28 points to go along with six rebounds and six assists for Kickapoo. Ridder finished with 21 points. Rutgers football signee Travis Vokolek finished with 10 points, seven of which came in the fourth quarter.
Blakeslee added four assists and sophomore Donyae McCaskill helped provide energy on both ends of the floor.
For the fourth time since 2003 the Chiefs will make the trip to Columbia. After losing Chaminade in last year's Class 5 state championship game – with current Duke freshman Jayson Tatum scoring 40 points – Kickapoo is eager to complete some unfinished business.
Ridder was hobbled in that game with a sprained ankle, scoring just nine points in the 72-59 loss.
Kickapoo will again see a loaded St. Louis team with 27-2 Webster Groves – led by Carte'Are Gordon (No. 10 in ESPN's 2018 rankings) and Courtney Ramey (No. 28 in Rivals 2018 rankings) – but the Chiefs believe that last year's experience, including a healthy Ridder, has them prepared for a title run.
"He's a difference maker for our team," said Davis. "You saw the tough shots he hit, you saw him do everything possible on the basketball court today. He's a game changer. To have him at full strength will be huge… it'll also be nice to not play against the top player in the nation. We're excited, we're going to get back at it and try to win a state championship."
Kickapoo and Webster Groves are set for a 4:15 p.m. tipoff on March 17 at Mizzou Arena.
Kickapoo 71, Rock Bridge 65
Rock Bridge 21-12-10-22 – 65
Kickapoo 9-19-20-23 – 71
Rock Bridge (22-5): Mosley 28, Harris 15, Wiley 14, Black 8.
Kickapoo (25-4): Davis 28, Ridder 21, Blakeslee 8, Vokolek 10, McCaskill 4.