By Riley Bean
Waynesville, MO – From the opening tip to the final horn, Willard was in the lead and in control of the Class 5, District 10 title game against Lebanon in Waynesville on Friday night.  The Tigers won 53-41, claiming their first district title since 2014.
"I saw a group of guys that were hungry for a taste of success," said Willard head coach Lamont Frazier.  "This is a group… that has, the last couple of years, gone through a lot of ups and downs.  Even throughout this year, they battled.  They battled through suspensions, they battled through injuries.  And I think for us, this is somewhat some redemption for December 30 loss that we had.  I think that really turned the corner for us."
Willard fell in the Blue & Gold tournament – Gold Division championship game to Ozark back at the end of December.  Since then, the Tigers have won 11 of their last 15 games, including Friday's win over Lebanon.
Defense was the team's calling card on Friday, as they allowed just 41 points overall and did not allow Lebanon to score at all in the second quarter, setting them up with a comfortable 19-8 lead at halftime.
"We always talk about, 'finish it,'" said junior guard Kenny Chambers.  "Finish the game, always finish the game.  We came into the halftime not letting them score in the second quarter, and I think that's really what boosted our defense up, was coming out and knowing that we didn't let them score in the second quarter.  We came out and got stops."
The defense effort was key, but the Tigers were terrific at controlling the pace when they had possession of the ball.  They moved the ball well and took their time initiating plays on the offensive end, turning the clock into their ally.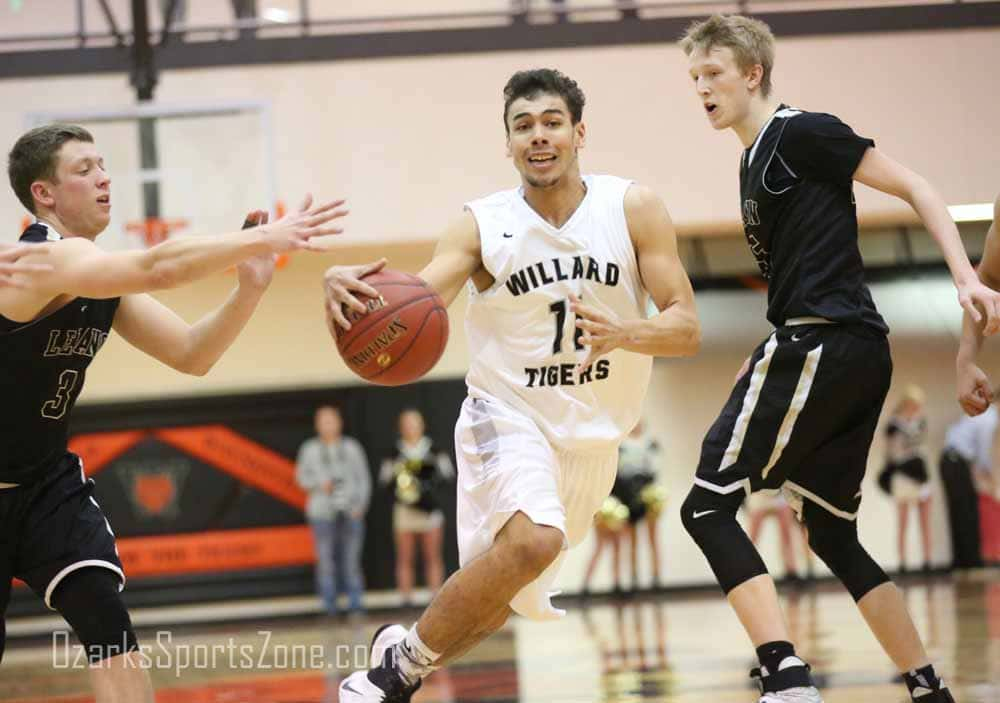 Chambers led Willard with 19 points on the night.  Sam Bird contributed 12 points and Quinton Batson and Houston Johnson each added 10 on the night.
Lebanon made an admirable comeback effort in the final frame.  They put up 23 points in the fourth quarter, which were the most points in a quarter by either team in the game.  But the scoreless second period proved to be too costly for the Yellowjackets.
Senior Jack Ehrhardt did his best to keep his team alive, leading the way with 19 points of his own to match Chambers.  Those two were guarding each other down the stretch.
"We've been playing together in football and we played AAU ball together," Chambers said of Ehrhardt.  "I think that [Coach Frazier] knew that we knew each other the best, and I know Jack.  I know how Jack plays.  He's a good player.  I just had to come out and do my job."
Willard will play the winner of the Rock Bridge (20-4) and Blue Springs (17-9), who play Saturday at 1:00 for the District 9 championship.
Willard – 11 – 8 – 16 – 18 – 53
Lebanon – 8 – 0 – 10 – 23 – 41
Willard – Kenny Chambers 19, Sam Bird 12, Quinton Batson 10, Houston Johnson 10, Kobe Holloman 2
Lebanon – Jack Ehrhardt 19, Quenton Shelton 13, Jorge Torres 4, Dawson Zimdars 4, Keon Carter 1.