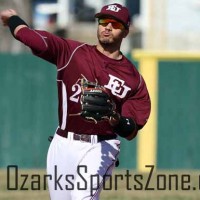 Phillip Dowden (Evangel Sports Information) SPRINGFIELD, Mo. – The Evangel baseball team swept a pair of games from Crowley's Ridge College, 5-0 and 8-1, to set a school record for consecutive wins with its 11th straight Friday afternoon.
The Crusaders tied the school record set in 1974, 2004 and 2014 after game one with their 10th consecutive victory. The game two win broke the school record giving Evangel 11 straight wins, going back to a 9-8 victory over perennial power Oklahoma City University on Feb. 7.
Starter Derek Kennell pitched a complete game shutout to earn his third win of the season. Kennell allowed just four hits over seven innings while walking one and striking out two.
The Crusaders jumped on the board early pushing a run across in the bottom of the first and adding another in the third. A pair of miscues from the Pioneers allowed Evangel another run in the fifth and two more in the bottom of the sixth to finish off the win.
Evangel tallied seven hits in game one as Austin Alfrey and Kyle Thurman each finished with two hits apiece. Alfrey also added two RBI as Thurman scored once.
The second game saw more offense from Evangel as the Crusaders exploded for six runs in the second inning.
Jordan Yates hit a sacrifice fly to score Alfrey followed by a 2-RBI double from Calab Kauffman in the gap in centerfield, giving Evangel a 3-1 lead. A single and a stolen base from Jose Vargas allowed the shortstop and Ryan Frye to score on a pair of Crowley's Ridge errors to complete the scoring in the inning.
Vargas finished 3-for-4 with a RBI and two runs scored as the Crusaders tallied eight hits altogether.
Brad Potts earned his third win of the season as he scattered three hits over five innings. He walked none and struck out five before Deric Link pitched the final two innings for Evangel.
UP NEXT
Evangel and Crowley's Ridge finish a four-game series on Saturday with a double-header starting at noon.
For the latest information on Evangel athletics, follow the Crusaders on Facebook at Facebook.com/EvangelAthletics or go to www.EvangelAthletics.com.