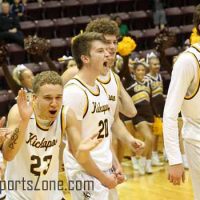 When things got tight in Thursday night's Class 5 District 11 boys' championship game, the Kickapoo Chiefs buckled down with veteran calm and played defense.
Kickapoo hoisted its third straight district championship – and 21st overall – by defeating Ozark 52-41 at Hammons Student Center behind 22 points from Cam Davis. A pivotal 24-6 run that stretched from the third quarter into the fourth quarter won it for the Chiefs.
"I'm happy for them, proud of them," Chiefs coach Dick Rippee said of his district championship group, which saw six seniors provide key roles. "It's not easy to do."
Kickapoo also defeated Ozark in the district finals in 2015 (62-61, OT) and 2016 (68-59).
The Chiefs (23-4 overall) face the winner of District 12 – either Republic or Nixa – at 6 p.m. on Wednesday, March 8 at Drury's O'Reilly Family Event Center.
"I can't describe it. After a big win like that – our third district championship – it means everything. It means everything to our school, means everything to us," Davis said. "We're not finished yet. We're hungry for more, that's for sure."
Kickapoo's usual high-octane offense was slowed considerably by a patient Ozark offense over the first three quarters. The Chiefs were finally able to gain some separation in the early moments of the fourth quarter.
Jared Ridder scored and was fouled, extending the Chiefs' lead to 30-26. He missed the ensuing free throw, but 6'6" center Travis Vokolek grabbed the rebound and scored on a putback, giving Kickapoo its biggest lead of the game (32-26) at the time.
The Chiefs' lead soon swelled to double digits, after Ozark had led much of the first half.
"There's no panic in our locker room," Rippee said. "I've been on some teams where they get tight around the collar a little bit when they get pressured. I thought our guys had good composure. That comes from good leadership from our veterans that have been through it so many times."
Davis' 3-pointer at the 3:30 mark of the fourth quarter gave Kickapoo a 43-28 lead and all but sealed the victory.
"We won on the defensive end, to be honest," Rippee said. "We sat down and guarded. You have to be able to guard people if you want to extend your season."
Ozark utilized a methodical pace to its favor for much of the game, leading 12-8 after the first quarter as its patient offense led to layups. The Chiefs closed the first half with a steal and Cam Davis layup to take a 19-18 lead into intermission.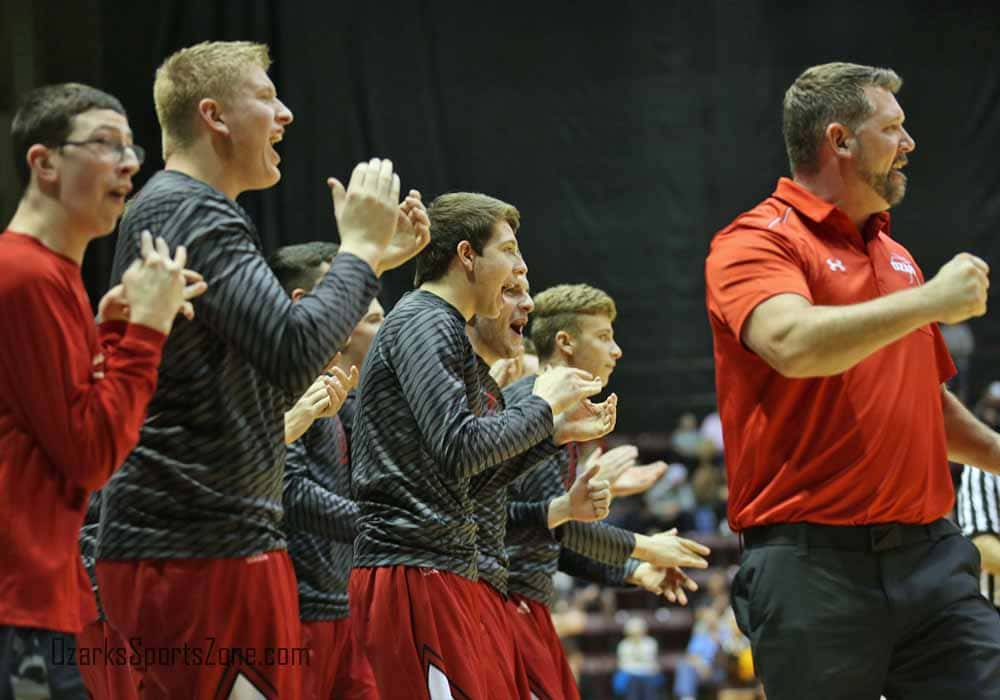 Ozark was led by Parker Hanks' 11 points. The Tigers' sharpshooters – Quinn Nelson and Noah Suiter – were closely watched by Kickapoo's defenders. Suiter drained a deep 3-pointer at the end of the first quarter.
"Our kids did a great job of back-cutting in the first half and we got good, high-efficiency shots," Schweitzer said. "We did not shoot the ball well. Quinn did not have a lot of room and Noah didn't either. That's a credit to Kickapoo's defense. If we shoot the ball better, it opens it up even more. We just weren't able to do that."
Ozark scored the first two baskets of the second half to take a brief 22-19 lead. Kickapoo's defense tightened up, as the Chiefs went on a 24-6 run over the next 10 minutes of game time.
Schweitzer maintains that the Tigers will soon conquer their district-finals demons.
"My kids have proven in this game, for three years in a row now, that we're good enough to compete," Schweitzer said. "Sooner or later, we'll have a group that's going to get over this hump."
Ozark finishes 19-9 overall and graduates six seniors, but figures to be a contender in the local Class 5 race in 2017-18. The Tigers had four juniors in the starting lineup versus Kickapoo.
"It stings, because we believed in our game plan," Schweitzer said. "We've got a lot of kids that are teary-eyed. I'm teary-eyed. It's because we believed we could win. If we didn't believe we could win, we shouldn't have shown up."
Kickapoo owns wins over both Nixa (61-57, Jan. 20) and Republic (64-61, Jan. 14) this season. Rippee said the Chiefs' schedule over the past 10 days has prepared them well for the postseason.
"The game against Parkview on Monday prepared us for tonight, the game against Hazelwood Central last Friday prepared us for tonight and the game against Hillcrest (last week) prepared us for tonight," Rippee said. "It prepared us to where we're used to grinding out games. We had a stretch in our conference where we had some games that weren't very competitive – we played awfully well in those games – but that's not what the postseason is like. The second and third time you play a team, people make adjustments and I thought Ozark made great adjustments. Our guys grinded it out."
The outcome marks the fourth time in program history that the Chiefs have won district championships in three or more consecutive seasons. Kickapoo also achieved the same feat from 1991-93, 1995-98, and 2003-06.
Kickapoo 52, Ozark 41
Ozark 12 6 8 15 — 41
Kickapoo 8 11 9 24 — 52
Ozark – Parker Hanks 11, Quinn Nelson 10, Payton Nichols 8, Noah Suiter 5, Curt Gracey 5, Carter Burgess 2
Kickapoo – Cameron Davis 22, Jared Ridder 13, Travis Vokolek 11, Donyae McCaskill 4, Isaac Blakeslee 2