By Nolan Epstein
Sparta, Mo. — Chalk dominates the boys Class 2, District 4 tournament as the top-seeded Eagles and the No. 2 seed Lions marched to the championship game after easy wins over their respective opponents in Sparta on Wednesday night. The two teams will meet on Friday at 7:45 p.m.
Hartville overwhelms Plato on both ends of the court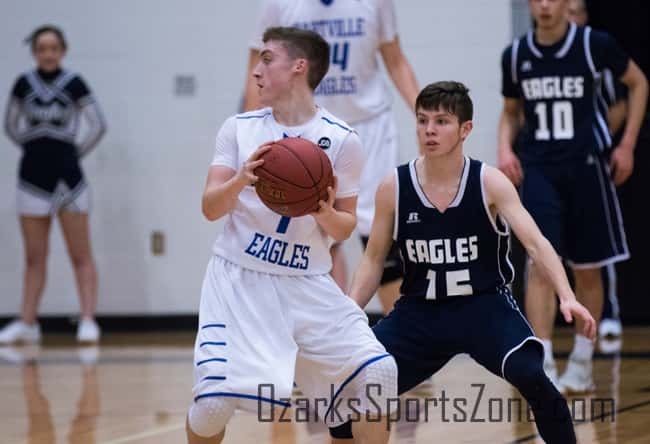 After steamrolling No. 8 seed Norwood by 48 points on Monday night, Hartville (19-5) continued the defense of its 2016 state championship by putting 4-seed Plato (17-9) away early, thanks to a 12-0 run over the game's first five minutes.
Senior guard Deric Jones scored ten of the Eagles' first 16 points and head coach Brett Reed's club never skipped a beat – thumping Plato to the tune of a 73-41 final.
"This is the best we've played in a while," Reed said following the semifinal win. "We were clicking on all cylinders on the offensive end and locking down on the defensive end. I'm really happy with where my team is at."
CLICK HERE FOR PLATO VS. HARTVILLE PHOTOS
Holding a 16-4 advantage after the opening quarter, Hartville further turned up the heat on Plato and constructed a 16-5 spurt to begin the second period – eventually building a 28-point lead by halftime.
The second-quarter charge was led by junior Wyatt Ward, who drained four 3-pointers in the segment. Three of those shots came within a span of just over a minute.
"We were getting great ball movement and I guess I was just the lucky one to get open," said Ward. "I just stepped up and knocked them down."
Wednesday's game marked the 13th time this season in which the Eagles held their opponent to 41 points or less, and the fourth straight time they've achieved that feat.
The key to the defensive success this time around? Limiting second chances.
"I think the kids really did a great job on the defensive end of the floor tonight," Reed added. "We knew Plato could really hit the offensive glass hard. We blocked out well and really locked down, and I think that was the difference."
Four players scored in double figures for Hartville, including Ward (18), Dune Piper (16), Deric Jones (15) and Jace Keith (14).
Freshman Grady Todd, who posted 10 points on the night, led the way for Plato.
Box Score
Plato – 4 10 14 13 – 41
Hartville – 16 26 16 15 – 73
Plato – Grady Todd 10, Jacob Supancic 9, Wesley Wilson 7, Marshall Pittman 4, Kyle Jenkins 3, Caden Wyatt 2, Cain Couch 2, Ty Humphrey 2, Seth Thomas 2
Hartville – Wyatt Ward 18, Dune Piper 16, Deric Jones 15, Jace Keith 14, Cody Kelley 6, James Schmidt 2, Matthew Marco 2
Mansfield creates separation from Fordland in third quarter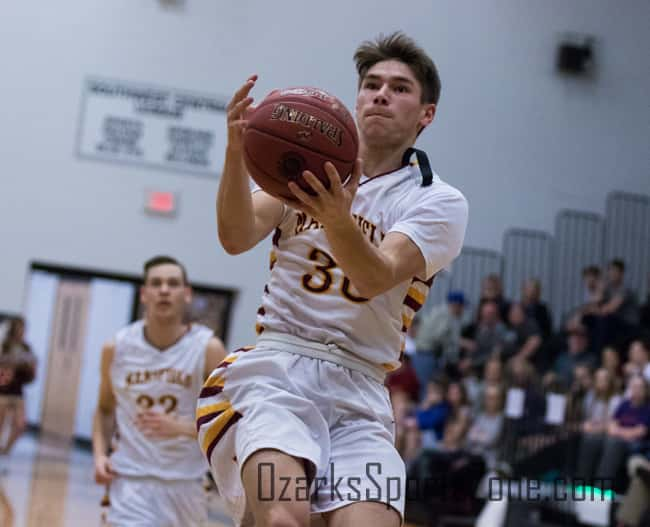 One quarter proved to be the biggest difference for the Lions on Wednesday as Mansfield (19-6) turned a slim three-point halftime lead into a comfortable 15-point edge by the end of the third period.
Powered by the talents of senior guard Mason Roy, Mansfield used a 9-3 run at the start of the second half to ultimately outscore the No. 3 seed Fordland Eagles (17-7) 21-9 in the third on the way to a 72-57 victory.
"We just hit some shots," Mansfield head coach Terry Writer said. "Roy got some breakaways and drives that really helped loosen us up because I felt like we were pretty tight in the first half. We just couldn't get away to where we could relax."
CLICK HERE FOR FORDLAND VS. MANSFIELD PHOTOS
The Fordland duo of Noah Abbasi and Jake Farnsworth virtually single-handedly kept the underdog Eagles afloat by scoring 23 of the team's 30 total points in the first half, but Mansfield started to pick apart the dual attack over the final two quarters, thanks to a dangerous duo of its own.
Along with Roy and his 23 points, sophomore center Dylan Caruso commanded the floor on both ends – using his 6-foot-9 frame frame to secure rebound after rebound and give his squad a myriad of second-chance opportunities.
"They pounded the offensive boards," Fordland coach Terry Mitchell said of Mansfield. "If they ever missed, they got the offensive rebound and put it back in. We talked before the game that if we gave them second chances, they were way too good to give them more than one shot."
The Mansfield big man powered his way to a game-high 27 points, including 15 in the second half.
"He rebounds, blocks shots, does all those things on a consistent basis, but tonight, he got more opportunities inside and he hit most of his shots," Writer said of Caruso. "He had a good ball game."
Although just two players, Hunter Burks and Noah Sparks, managed to enter the scoring column for Fordland outside of Abbasi and Farnsworth, the Eagles left the gym with their heads held high – knowing they gave Mansfield all it wanted for over 16 minutes.
"I just wanted them to battle," Mitchell added of his group. "I wanted them to make Mansfield win the game, not let us hand it to them. I felt like we did that and I thought every kid out there just played their tail off."
Box Score
Fordland – 12 18 9 18 – 57
Mansfield – 14 19 21 18 – 72
Fordland – Jake Farnsworth 22, Noah Abbasi 16, Noah Sparks 10, Hunter Burks 9
Mansfield – Dylan Caruso 27, Mason Roy 23, Payton Watterson 8, Michael Tate 6, Jonah Williamson 3, Bret Berry 2, Spencer Greene 2, Britt Keith 1