By Riley Bean
Columbia, MO – Despite have just one individual state champion in the tournament, the Neosho Wildcats completed a 5-peat, winning their fifth-straight MSHSAA state wrestling championship as a team in Columbia this weekend.
CLICK HERE FOR THIRD AND FIFTH PLACE MATCH PHOTOS
CLICK HERE FOR CHAMPIONSHIP BOUT PHOTOS
CLICK HERE FOR PODIUM AND CELEBRATION PHOTOS
Heavyweight grappler Adrian Hitchcock was the lone champ for the Wildcats.  He won by fall over Carl Junction's Zeke Wall in the 285-pound championship bout in the second period.  This is Hitchcock's first state championship to wrap up his junior season.
"I have big aspirations for the future," he said.  "This win doesn't really matter in the long run; it's for the things to come.  All glory be to God.  It's just amazing out there."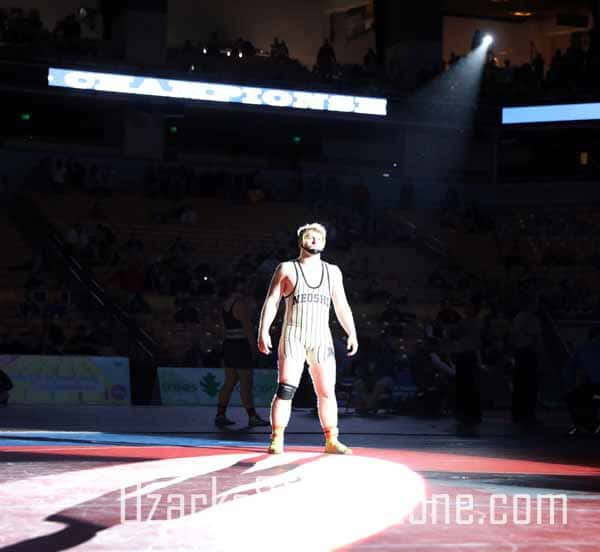 Hitchcock has high praise for his coach Jeremy Phillips and the coaching staff that has pioneered the path to a whopping five straight team state titles.
"Coach Phillips knows how to coach us," he said.  "He's very amazing at what he does.  I guarantee you he's one of the hardest working coaches in the state of Missouri.
"It feels amazing to get another, a fifth one.  It's a real team effort.  I love all of them.  I bleed for them.  It's amazing."
That sentiment summarizes Neosho wrestling for the past half-decade.  The Wildcats operate as a single unit, which is impressive in an individualized sport like wrestling.
"To see these guys perform and peak when it mattered most is so rewarding to me," said Coach Phillips.  "Because after day two, we very easily could have let doubt consume us.  We work very hard not only training our body physically, but also our mind.  The mind is a very important factor for wrestling well as a team at this tournament.  We came in with one focus, one family and one direction."
After Friday – day two of the state tournament – Neosho held a narrow ten-point lead over the next closest Class 3 team.  The Wildcats lost four of their six semifinal bouts on Friday, sending many wrestlers to the back half of the bracket and putting their 5-peat in jeopardy.
But they came roaring back in the third-place matches on Saturday.  Trenton Young, Braxton Barnes, Joey Williams and Zachary Plummer got the ball rolling on Saturday morning, as each of them won by fall in their consolation semifinals.  That secured valuable points for the team and sent all those four to third-place bouts.
Young and Williams won their third-place matches.  Barnes and Plummer fell in their third-place matches, finishing fourth in their respective weight classes.
Gannon Millard was the other finalist for Neosho alongside Hitchcock, but fell in a 5-3 decision in his 132-pound championship match to earn second place.
Christian Nutz also earned a medal for the Wildcats, earning sixth place at 220 pounds.  Nutz's finish made seven medalists for Neosho.
"We gotta step up, and that's one thing that I talked to them about today," Phillips said.  "Step up and embrace this challenge.  We can either let it slip through our hands and try to hang on to this little lead that we have, or we can go out there and battle and take what's ours.  So with that mindset, taking what we want and what we we've worked hard for, these guys have a lot of grit and fight and that's what I love to see.
"A win is for the individual," he continued.  "Bonus points are for us.  That bleed-for-us mentality."
Neosho finished with 150 team points, 32 points ahead of Smithville who finished second in Class 3 with 118 points.
———————————————–
Elsewhere in Class 3…
Webb City's Hunter Vanlue completed an undefeated season and stood atop the podium as a state champion at 182 pounds to cap off an impressive senior campaign.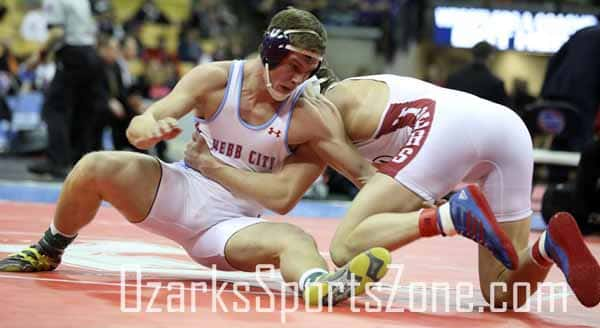 "Very excited, very happy," said Vanlue.  "I just feel that all my hard work has really paid off.  I've been wrestling since I was in kindergarten, and I've always wanted to win it on the biggest stage that I'd be able to go to, and I just did that tonight.  It feels really good."
Vanlue wrestled with a heavy heart this season.  His friend and teammate Brandon Musselman – who won state at 220 pounds last year – suffered an injury on the football field and could not compete for his senior year on the wrestling mat.
"That was always on the back of my mind this whole year," Vanlue said.  "Brandon couldn't be with us.  He's a really good teammate.  Me and him always pushed each other in practice, and I really miss having him here.  But that one was definitely for him…it's just really an emotional win for me."
Defending state champion Niko Chavez from Willard came up one match short of a repeat state championship and an undefeated senior season.
Chavez was leading his opponent 4-1 in the third period when Jacob Warren from Windsor scored a reversal and worked Chavez to his back.  He pinned Chavez to the mat and claimed the state championship at 145 pounds.  Chavez finished 47-1.
Rolla's Tristan Barr suffered a similar defeat in his championship bout at 126 pounds.  The senior Barr was leading Cameron Rudy from Ft. Zumwalt South 8-6 in the final minute of the third period, when Rudy scored an escape and a takedown to go up 9-8 with just seconds remaining.
"My high school career is over," said Barr, "but it's only just getting started with college… I just gotta still take it one match at a time and work hard in the room."
Next season, Barr will continue his wrestling career at Maryville University in St. Louis.  He'll use his final match in high school as motivation to jump start what seems to be a bright future on the mat.
Branson's Jacob Ulrich finished with a bronze medal at 145 pounds in his senior year.  He won by fall over his opponent Austin Denson from Ft. Zumwalt South in the third-place match.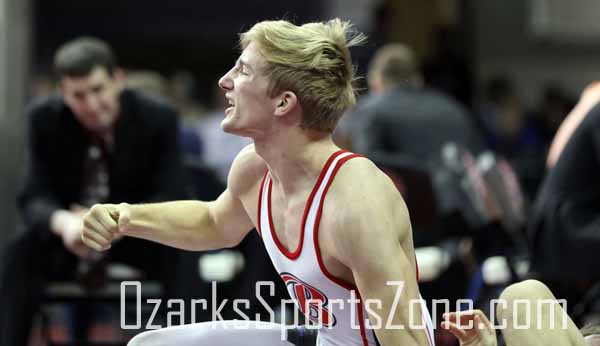 "I'm kind of disappointed to lose in the semis," said Ulrich.  "It was my dream all four years of my high school career to get in the finals.  It just kinda hurt me, but I came back and decided I'm going to take that bronze.
"Right now, I'm just thinking, it's all over," he continued.  "I just went out with the bronze medal and I'm never going to get that feeling again."
———————————————–
For the underclassmen in this tournament, they'll have a chance to come back and compete again next year at the highest level in the state.  But for the seniors, this marks the end of a career.
Each wrestler's perspective will be different, and each will walk away with an experience to savor for a lifetime.
One thing is for sure: the Neosho wrestlers have been groomed and prepared for success, whether it be in their wrestling careers or their personal lives beyond the mat.
"We might not be the most talented," said Coach Phillips, "but we'll go out there and fight ya.  We're determined to work hard for our teammates.  That's what is most rewarding and exciting for me as a coach."