By Riley Bean
Columbia, MO – The Class 3 semifinal mats were littered with southwest Missouri wrestlers on Friday in Columbia at the MSHSAA state championship tournament.
CLICK HERE FOR CLASS 3-4 WRESTLING PHOTOS
Of the sixteen wrestlers competing in the semifinal round in Class 3, just six punched their ticket to their state championship bout.
Neosho led the way in Class 3 as usual.  The Wildcats will be in pursuit of their fifth-straight team state championship on Saturday.  They have a good chance to do so, as they currently hold a ten-point lead over Kearney heading into the final day of the tournament.
"Nothing changes for us as far as what we're trying to do," said Neosho head coach Jeremy Phillips.  "We've got to keep our focus.  We had some obviously big wins, but we had some tough losses as well."
Six Neosho grapplers wrestled in the semifinals: Trenton Young (126 pounds), Gannon Millard (132 pounds), Joey Williams (170 pounds), Zachary Plummer (195 pounds), Christian Nutz (220 pounds) and Adrian Hitchcock (285 pounds).
Young fell to Cameron Rudy from Ft. Zumwalt South in a 9-6 decision.  Williams ran into undefeated senior Ottis Peeler from Raytown South (40-0), but held his own in a tough 11-8 loss.  Plummer was upended by Smithville's two-loss senior Jacob Boyd 14-3.  Nutz fell to Platte County's Casey Jumps 10-0.
"The key for those who have lost," Coach Phillips continued, "is they've got to keep their head up and battle back.  That's huge in this tournament.  We've got to have those guys on the back side scoring points, not just being satisfied with being a medalist at this point."
However, Millard and Hitchcock both picked up clutch wins for Neosho in the semifinals.  Millard improved his record to 44-5 with a win over Calvin Obermark from Washington in a 13-6 decision.  And Hitchcock pinned Emanuel Childs from Raytown South in the first period of his heavyweight bout.
Hitchcock will square off with Carl Junction's Zeke Wall on Saturday for the state championship.  Wall also picked up a win by fall in the first period of his 285-pound semifinal bout.  The two heavyweights have battled twice this year already, with both bouts going to Hitchcock – one by fall, and one by major decision.
"We've just got to stick together and stay true to what we do and not deviating from what we do best," said Phillips.  "Just like Adrian in that last match, I told him to slow down.  'Slow down and just do what you do.  Quit trying to do too much.'  Because at times, I felt like that's what we did today is we weren't focused on wrestling our match."
The Rolla Bulldogs had three wrestlers in the semifinals in Zack Fennell (120 pounds), Tristan Barr (126 pounds) and Coleman Brainard (138 pounds).  Fennell was pinned by Kearney's Clayton Singh, and Brainard fell to the undefeated Wolfgang Clapper (43-0) in a 5-0 decision.
But Barr came away with a big win over Battle's Andrew Shea with a 4-0 decision to improve his record to 49-1.  This is his second appearance in the MSHSAA state championship match in his career.  He was the state runner-up as a sophomore in 2015, but he has different plans this time around in his senior campaign.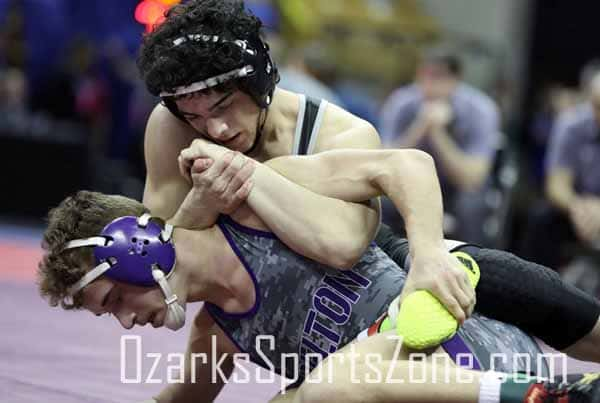 "It feels great to make it to the finals," Barr said.  "Gotta go back to the room and get some rest and see what happens tomorrow at 4:30.  I'll get some sleep and prepare myself for a big fight tomorrow."
Two area wrestlers have gone through the entire season without losing a single match, and that remained the same for them on Friday.
Willard's defending state champion Niko Chavez (47-0) and Webb City stud Hunter Vanlue (51-0) both advanced to their respective championship bouts after picking up wins in the semifinals.
Both wrestlers came from behind in their matches to secure a win.
Chavez was trailing 3-2 to Belton's Joe Biondo in the third period of the 145-pound semifinal bout when he managed a takedown to go ahead 4-3.  Chavez rode him out and earned the win, setting up a chance to repeat as a MSHSAA state champion.
"I just tried to ride him and hold him down," Chavez said.  "I'm going to drink a lot of water… because I'm pretty tired.  Then I'm going to go to sleep, wake up early and eat a good breakfast and then start my day as if it's a normal day.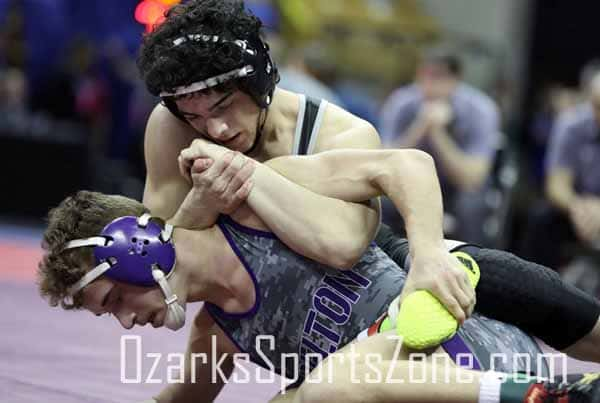 "I'm ready to get this over with, to beat the kid in the finals and go home a happy guy again."
As for Vanlue, he gutted out a 6-3 victory over Windsor's Ryan Yarnell after falling behind 2-1 early on in his 170-pound semifinal match.  His best finish was fourth place in 2015.
"I'm really excited, but my goal wasn't to be in the finals," said Vanlue.  "It is to win it.  So I gotta go back and put in some more time and watch film and fix my mistakes before tomorrow."
The competitors that lost in their semifinal bouts on Friday will have a chance to battle for third place on Saturday if they win out in the wrestleback rounds.  Twenty four Class 3 wrestlers are guaranteed to earn a medal after the tournament wraps up.
The story to keep an eye on will be Neosho seeking their fifth state championship in a row.  It will take a complete team effort to achieve that ultimate goal.
Coach Phillips implores his guys to, "Be a finisher" on Saturday.
"A day like today can definitely work on you, and it has for me as a coach.  I feel like I've wrestled every one of these matches with them." Phillips said.
"Honestly, I'm very confident with my boys," he continued.  "If I can get them to believe, and have the faith that I have in them, and with where we're at, I don't know.  I don't know what else to say.  I've said everything I can say.  We've got to keep the faith in our fight.  Eyes up, rise up.  It's going to be a battle.  Every match matters.  Bonus points matter…  Half-points matter.  We've got to not just show up tomorrow, we've got to step up and fight that final day."