By Riley Bean
Camdenton, MO – A total of 51 area wrestlers qualified for the MSHSAA state tournament on Saturday in the Class 3, District 3 tournament, hosted by Camdenton.
Neosho won the district as a team and had 11 total qualifiers, more than any other team at the tournament.  Neosho is in pursuit of their fifth-straight state championship as a team.
CLICK HERE FOR ALL AREA STATE QUALIFIERS
CLICK HERE FOR FULL CLASS 3, DISTRICT 3 RESULTS
"This is a tough district, there are some real tough kids and teams here," said Neosho head coach Jeremy Phillips.  "I think it's good preparation for the battles that we're going to have next week."
Next week is the MSHSAA state tournament in Columbia, MO, the final stop for the best wrestlers in the state and the ultimate prize for these competitors.
The usual suspects for the Neosho Wildcats include Dalton Kivett (113 pounds), Gannon Millard (132 pounds), Joey Williams (170 pounds) and Adrian Hitchcock (285 pounds), all of whom won their district championship in their respective weight classes on Saturday.

(Joey Williams grapples with Rolla's Seth Veatch in the 170-pound title match)
The Willard Tigers qualified eight wrestlers, setting a new bench mark for the wrestling program.
"We set a program record with eight state qualifiers today, the most ever.  That's exciting," said Willard coach Justin Wisdom.
Riley Wertz (106 pounds) finished third place with a 5-1 win in overtime of his third-place match.  Tallon Heimbach (138 pounds) also finished third in his weight division.  Morgan Earl (170 pounds) came in fourth and Cameron Caldwell (182 pounds) came in second, falling to the undefeated Hunter Vanlue in the district title match.
All four of those Willard wrestlers will get a taste of Columbia for the first time in their high school careers.
"Obviously that's the ultimate goal, to get to Columbia and let the bullets fly a little bit and see what we can do," Coach Wisdom said.  "I'm sure they were super happy.  A couple of them did it in the semis, others had to do it in the wrestle backs in the bubble match.  So it's going to mean a lot for their confidence and for where they're going to grow as a wrestler.  But we can't be satisfied."
Willard senior Niko Chavez won his district title at 145 pounds over Jacob Ulrich from Branson.  Chavez is seeking back-to-back state championships.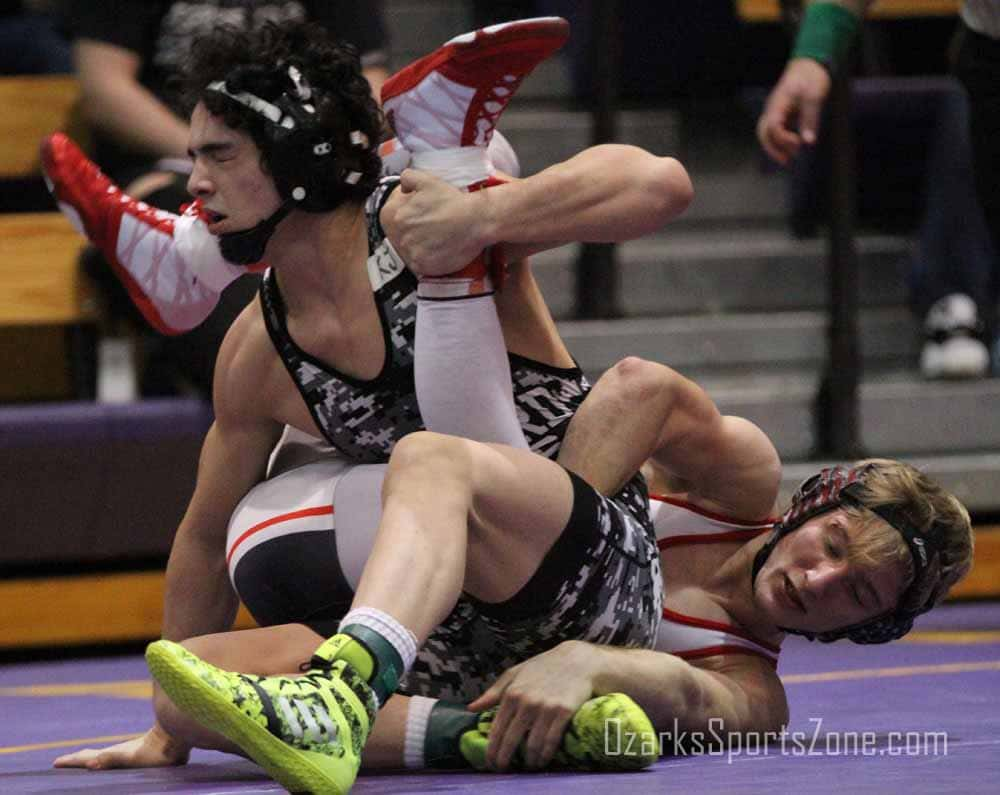 (Niko Chavez and Jacob Ulrich battle for position in the 145-pound title match)
Carthage had seven state qualifiers on Saturday, including a pair of cousins that finished atop their weight class in the district.
Markkel Moore, a senior, won his bracket at 152 pounds.  Younger cousin Dalen Moore, a sophomore, did the same at 120 pounds.  Markkel won by a medical forfeit in his championship match.  Dalen earned a 1-0 decision victory over Jakob Gerow from McDonald County in his title bout.
"It was really tough," Dalen said.  "I got an escape in the second period, and I rode him out."
The cousins are familiar with making the trip to state.  Markkel was the state runner-up at 145 pounds last year, and Dalen came in fifth place at state at 106 pounds as a freshman.
"We have to continue doing what we do at practice.  Practice hard and drill hard," said Markkel.  "Just go out there and wrestle."
Branson qualified five wrestlers on Saturday.  Senior Isaiah Whittmer will punch his very first ticket to the state tournament.  He did so in style, taking the district championship at 160 pounds in a 9-4 decision victory over Neosho's Kyle Sanders.
"Right now, I'm honestly just absolutely stoked that my last, final year of wrestling, I actually made it," Whittmer said.  "I got to be top of the district, I got to wrestle with some of my best friends making it and being on the team.  I'm just stoked right now, actually."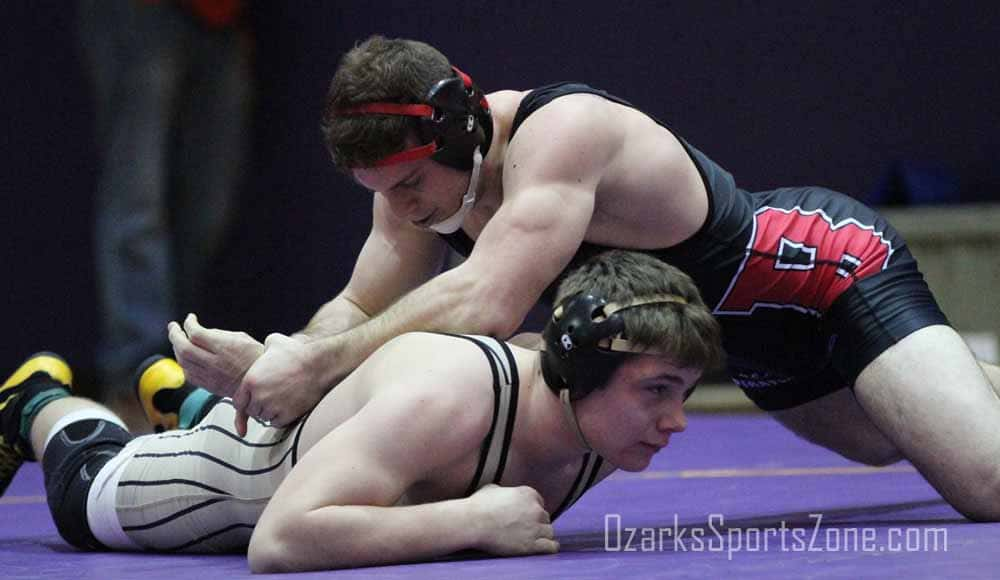 (Isaiah Whittmer gains leverage on Kyle Sanders in the 160-pound title match)
Whittmer's left shoe broke in the middle of his title match.  He laced up a new shoe and completed the task at hand.
"It was a little bit nerve-racking as far as not having that traction to drive to possibly get a potential two points," he said, "but I just worked through it and quickly did a quick switch up on the left shoe that broke.  It was absolutely not even an obstacle at all.  I was just straight focused on my match and what I had to do to win and get that bracket and to be at the top of my district."
Many wrestlers saw their season end on Saturday.  Others made memories for a lifetime by getting a chance to compete for a state championship.  The state tournament begins on Thursday, Feb. 16 in Columbia on the campus of the University of Missouri.
"We just gotta take what we did this weekend and build off of it," said Coach Phillips.  "I think we're moving in the right direction, that's for sure.  I believe our kids wrestled well this weekend.  We're seeing some good growth.  That's exciting.
"We can't think that because we won the district tournament and we had these great finishes that we're done.  We gotta be healthy and hungry and again, and use this as a catapult to be where we want to be in the end.  Ultimately, our goal comes from our motto, and that's, 'be a finisher.'"
Neosho and Coach Phillips are operating under a new motto for this weekend in particular.
"Eyes up, rise up," Phillips added.  "Have faith in the fight."