THE NEW OZONE APP IS HERE!
CLICK HERE TO DOWNLOAD FOR APPLE
CLICK HERE TO DOWNLOAD FOR ANDROID
By Riley Bean
Willard, MO – For the second time this season, the Ozark Tigers got the best of COC-Large opponent Willard.  On Tuesday, Ozark marched into Willard's gym and proved they were the better Tigers on the night, beating Willard 60-47.
The two teams met in the Blue & Gold Tournament in the Gold Division championship game, where Ozark prevailed 54-46.  That game on Dec. 29 gave some foresight to what the fans saw on Tuesday.
"We were familiar with their personnel and what they like to do," said Ozark coach Mark Schweitzer.  "We were very poised.  I thought we took care of the ball well.  I thought we closed out well.  I thought our kids played very tough defense.  I thought Noah Suiter gave us a huge lift off the bench and stepped up for us.  It was just a great team effort."
Suiter, the senior forward, provided 11 points off the bench.  He was one of three Ozark players to score in double figures in the game.
Parker Hanks and Quinn Nelson were the other two in double figures and led all scorers on Tuesday.  Hanks scored 16 and Nelson put in 15.
"It felt like the whole team was moving the ball well," Hanks said after the game.  "It was good that my teammates were just able to find me, and I was able to make the most of my opportunities and put the ball in the hole."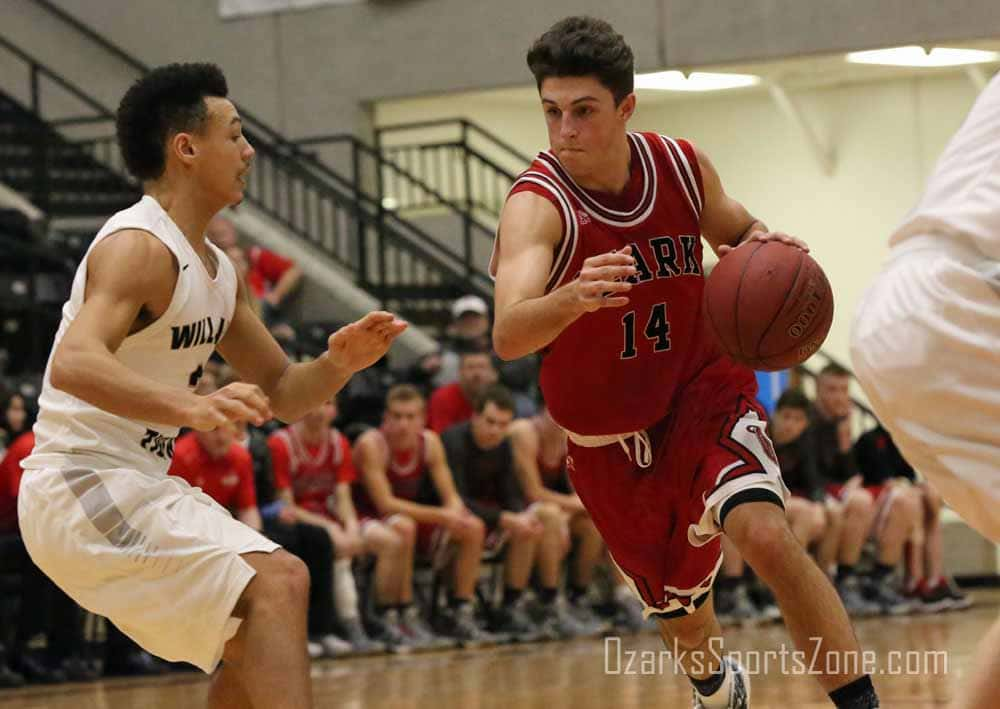 (No. 14 Parker Hanks drives to the basket)
Willard did not go away quietly.  They were able to keep the deficit under ten points for most of the contest until fouling became the prudent strategy down the stretch.
"They gave us a good game," Hanks added.  "Willard is a good ball club and they're physical and they can 'D' us up pretty well.  So we just focused on running our motion well and screening really well and that opened up some buckets tonight."
Willard has a slight height advantage on Ozark, but Ozark was able to negate that advantage with a fluent offense that kept Willard off balance.
"Once we had the lead, we wanted to be intelligent with it," Coach Schweitzer said.  "We knew that they had a size advantage.  It's not just their size; they're very mobile and physical.  So on the perimeter, they really get up in you and they're really aggressive on defense.  So we wanted to spread them out and use it against them and get layups.  That's how we closed the game out."
Willard's Sam Bird led his team with 11 points.  Daniel Abreu and Kobe Holloman each netted 10 and Kenny Chambers added 9 points.
Before Tuesday's game, Willard was riding a three-game winning streak against Camdenton (67-30), Carthage (67-36) and Carl Junction (51-32).  They'll welcome in Neosho on Friday, Feb. 10 and will look to get back on track.
Ozark (13-7) will be back in action on Wednesday at home against Webb City.
"Teams that make deep runs, they don't start winning the last week of February," said Schweitzer.  "They start winning mid- to late-January to early February, so right now… Six of our seven losses were from state-ranked teams.  Three of those losses were by more than five points; the two Nixa losses and the Kickapoo loss.  The Republic loss was extended because of free throws, but we're in close ball games with chances to win.  So hopefully we've learned to close games out, and that's what we're looking for our kids to do."
Ozark – 10 – 15 – 16 – 19 – 60
Willard – 9 – 11 – 10 – 17 – 47
Ozark – Parker Hanks 16, Quinn Nelson 15, Noah Suiter 11, Curt Gracey 7, Carter Burgess 6, Payton Nichols 5.
Willard – Sam Bird 11, Daniel Abreu 10, Kobe Holloman 10, Kenny Chambers 9, Houston Johnson 6, Quinton Batson 1.