THE NEW OZONE APP IS HERE!
CLICK HERE TO DOWNLOAD FOR APPLE
CLICK HERE TO DOWNLOAD FOR ANDROID
By Riley Bean
Lebanon, MO – Lebanon has been an outstanding dual team all season.  On Saturday, they proved that they are an outstanding tournament team as well.
The Yellowjackets came in first place as a team in their conference tournament with 200.5 team points, followed by last year's winner Waynesville (174), Rolla (164), Camdenton (67), Joplin (57), Parkview (45), Hillcrest (38), Kickapoo (28) and Glendale (27).
"They came ready to wrestle," said Lebanon coach Randy Roark.  "We had some guys pull off some upsets and picked up a lot of points on the pins, and we pulled it out."
Lebanon boasts a strong lineup with solid wrestlers at every weight.  That strong lineup was on full display Saturday.  The Yellowjackets finished either first, second or third in 12 of the 14 total weight classes at the conference tournament with five individual champions.
Hunter Lewis (106 pounds), Trevor Christian (132 pounds), Braxton Lewis (152 pounds), Brock Reeves (160 pounds) and Noah Simmonds (195 pounds) each brought home gold medals.
Hogan Fisher (113 pounds), Reagan Mowery (145 pounds), and Dakota Shockley (170 pounds) made it to the championship match, but came in second place.  Cole Roark (120 pounds), Caleb Shields (126 pounds), Cade Schmitz (138 pounds) and John Berry (182 pounds) all won their third-place matches.
"My teammates, they keep pushing every single day," said the senior Brock Reeves.  "You should see us in the wrestling room.  The faces they make whenever we're going real hard, you know that they're almost done and they're gassed, but they keep on going.  I think that's why we won today.  We definitely push hard and we reap what we sow."
Reeves won by fall over Bryce O'Connor from Rolla in the first period of the 160-pound title match.
"He's a solid wrestler," Reeves said of O'Connor.  "I just wrestled to my best ability.  I saw an opportunity for a move called the head and arm, and I took it and I ended up ending the match then."
To top off Lebanon's success, Coach Roark was voted as the Coach of the Year in the Ozark Conference.
"[My team] just said, 'You worked hard for it. Good job, Coach.'  That's cool."
Were it not for Waynesville's Sean Sax, Lebanon may have had a clean sweep of all the accolades on Saturday.  The junior Sax won Most Outstanding Wrestler in the conference for the second year in a row.
Sax's 126-pound title match came down to the final moments in the third period.  Sax was leading 2-1 when Rolla's Tristan Barr scored a takedown with under ten seconds remaining to go up 3-2.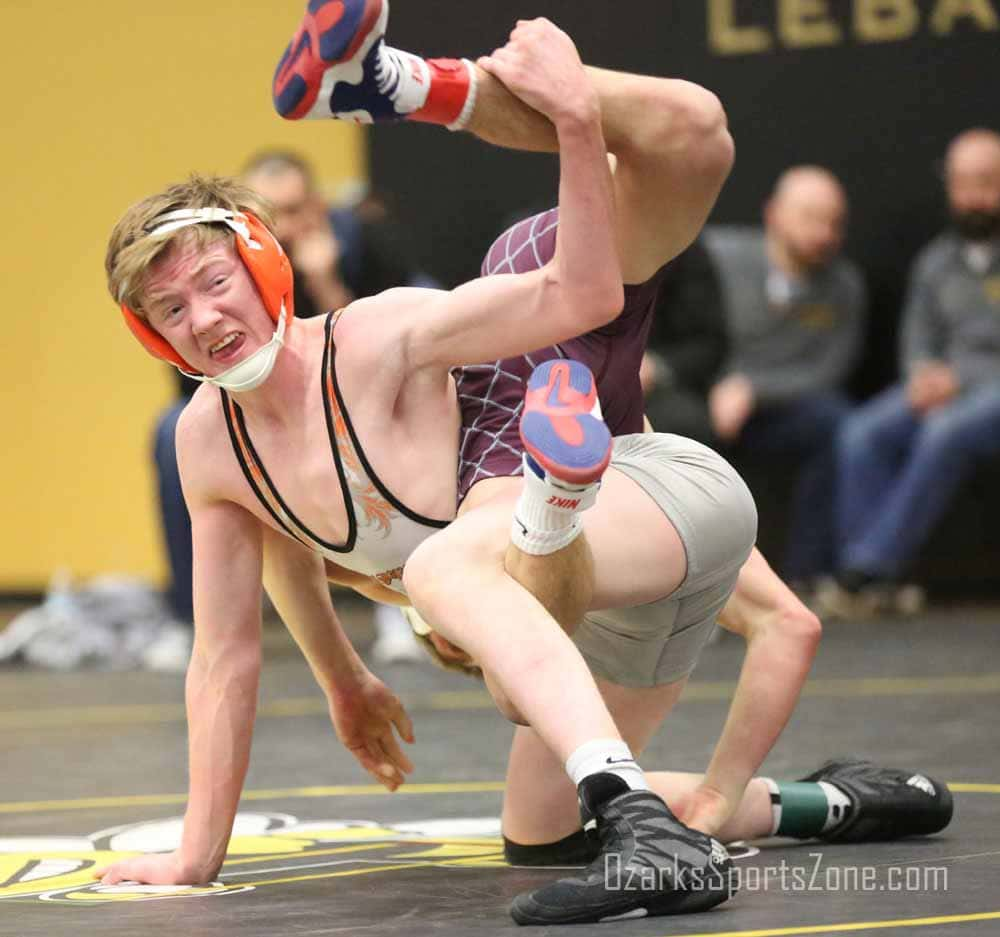 (Sean Sax gets tied up with Rolla's Tristan Barr)
"I was thinking, 'oh s—, I gotta go, I gotta go," said Sax.  "I had ten seconds left and I saw that they gave him two [points].  I thought I was good until they gave that to him.  So my whole mind switched from just winning, to now I have to get back to win.  It's just two different mindsets for me."
With little time remaining, Sax immediately scored a reversal and came out on top 4-3, handing Barr his first loss of the season.  Barr is now 42-1.  Sax improved his record to 32-2.
"Losses are part of the game," Sax said.  "Me myself, I've lost two already.  You can't learn how to win without losing first.  So in my opinion, undefeated is a horrible way to go.  If you lose, then you learn your mistakes before state.  I'd rather lose here than at state."
Waynesville matched Lebanon with five individual champs in the tournament.  Chance Carmack (113 pounds), Peter Lucitt (145 pounds), Devin Stearns (182 pounds) and Andrew Lietold (285 pounds) joined Sax as conference champions.
Rolla had eight wrestlers in title matches with three champions.  Zach Fennell (120 pounds) improved to 38-5 after beating Waynesville's Gaven Sax in a 6-3 decision.  Coleman Brainard (138 pounds) pinned Davontay Carter from Hillcrest in their title match and now sits at 41-3 on the season.  Seth Veatch (170 pounds) beat Lebanon's Dakota Shockley in a 4-0 decision and has a 24-1 record.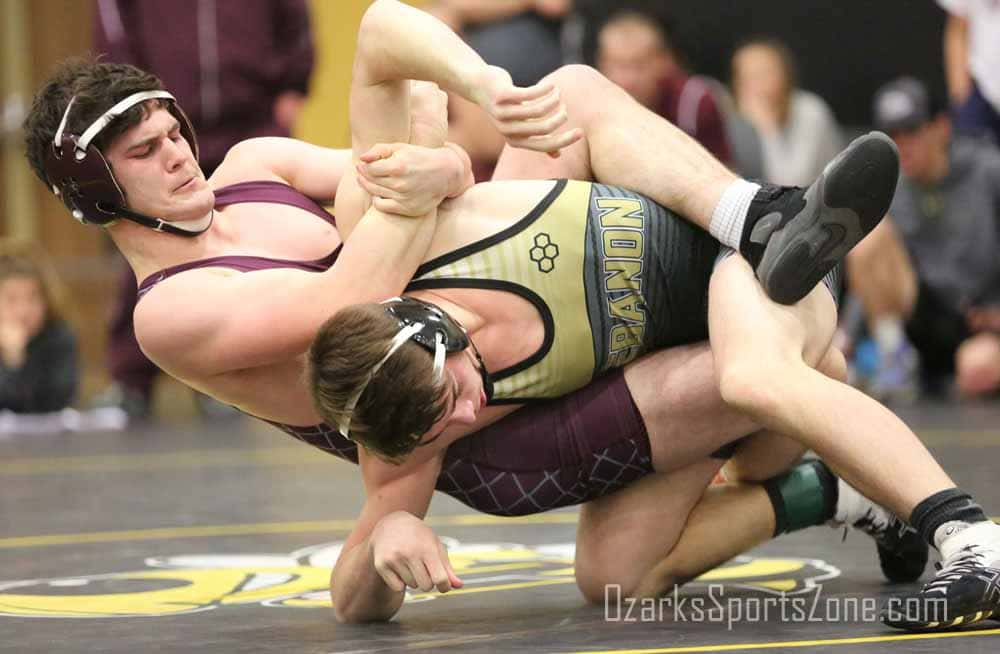 (Seth Veatch grapples with Lebanon's Dakota Shockley)
Lebanon, Waynesville or Rolla won every single championship bout on Saturday, except for one.  Joplin's Jadyn Withrow, a sophomore, beat PJ Walker from Kickapoo in a 3-2 decision in the 220-pound title match that needed two overtime periods.
Teams will now gear up for district tournaments next weekend.  The importance of performing well in districts cannot be overstated.
"All the season is just practice until conference, districts and state," said Roark.  "Somebody needs to step up and be the hero.  We've had three duals this year that came down to the last match.  Our 106-pounder got to be the hero twice, and a 132-pound freshman got to be the hero once.  It came down to whoever won, won the dual.  I told the guys today, we need somebody to step up and be the hero and pull those bonus points.  We had a few guys rise up and surprise some people.
"We go up to Lee's Summit," he added.  "Hopefully we can keep rolling."