By Matt Turer — mturer@ky3.com
@MattTurer
Springfield, Mo. — It was one for the ages. Three fourth-quarter lead changes. Six fourth-quarter ties. One buzzer-beating three that will go down in Bass Pro Tournament of Champions lore.
Memphis East's Alex Lomax pushed the ball upcourt, seconds after Montverde sophomore R.J. Barrett tied Friday-night's semifinal 56-56 with 13 seconds left in a game pitting two of the country's top three programs.
CLICK HERE FOR MEMPHIS EAST VS. MONTVERDE PHOTO GALLERY
The clock hit 10 seconds as Lomax crossed halfcourt. He settled beyond the perimeter. Eight seconds. He looked for an open teammate and saw none. Seven seconds.
"Once R.J. Barrett made that last shot to tie the game up, I felt in my head, I'm going to make the best play," Lomax said.
Six seconds.
"If I've got to give the ball to another teammate, I will. If I've got to take a tough shot, an open shot, I will."
Five seconds. Four.
"When I just had the ball in my hand, I felt like I could take them one-on-one."
Three seconds. Two.
"[The defense] didn't help, so I just went one-on-one and shot it."
One second. Swish. Buzzer. Bedlam.
"We wouldn't die," Memphis East head coach Penny Hardaway said. "That's what we preached. Just don't die. Just stay in the game, and if we tie it up, we're gonna win. That's what you've got to give them mentally. If we tie this game up, we're gonna win the game. They'll push a little harder. They're gonna get it. And our guys played hard for us, man. They played hard for us."
CLICK HERE FOR ALL OF OUR BASS PRO T OF C COVERAGE
For Memphis East, Friday's 59-56 win over USA Today No. 2 Montverde was a coronation. Outside of local Springfield participants Kickapoo and Republic, Memphis East is the only public school in the Tournament of Champions. This is a school full of local kids representing a neighborhood representing a city.
Now, they have a chance Saturday night to compete with USA Today No. 10 Sierra Canyon and the top recruit in America, Marvin Bagley, for a championship in the biggest high school basketball tournament in the country.
"That's saying a lot about Memphis, Tenn. and East High basketball," Hardaway said. "We're a high school. We're not a prep school. We can't pick kids from around the country to go there. And we have so much respect for the prep schools and that's why we're chasing them. We're chasing the Montverde's. The Sierra Canyon's. We want to be on that level, and right now I can't say our program is better, but I can say we're equal."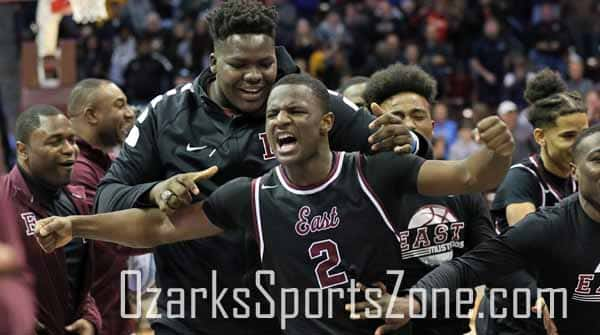 Friday's buzzer-beater was heartbreak for Montverde—the three-time defending national champion has now fallen to Memphis East on last-second shots in consecutive games. But for Memphis East, what happened Friday furthered an all-too-rare belief that public school athletic programs can compete on the highest of levels in today's growing prep-school centered atmosphere.
"Memphis East high school is a regular high school. A neighborhood high school. That's not what it is to coach Penny. To coach Penny, Memphis East high school is Memphis University. It's a high school but it's basically a college," Lomax said.
"And he's showing us that inner-city kids, we don't have to go to prep schools. We can stay right here in inner-city and think basketball all day. Play basketball all day. Have the right mindset. Be prepared for college. He mentally prepared us for this season right here and we can't do nothing but thank him."
With a chance to take a two-point lead from the free-throw stripe with 1:19 to play, Antavion Collum missed the first and hit the second, putting Memphis East up, 54-53. Barrett, who finished with 23 points, hit one of two free throws on the subsequent possession, tying the game, 54-54.
That set up Lomax, who put Memphis East up two in the final minute before Barrett tied the game with 13 seconds remaining, setting the table for the game-winner.
"[This type of game is] why we entered the City of Palms Tournament. That's why we entered the Bass Pro. Because we knew were going to face this type of talent and we wanted to showcase our talent against them," Hardaway said. "We felt like we were as good as anybody in the country and we needed to see. And this was a dream game with an ideal finish."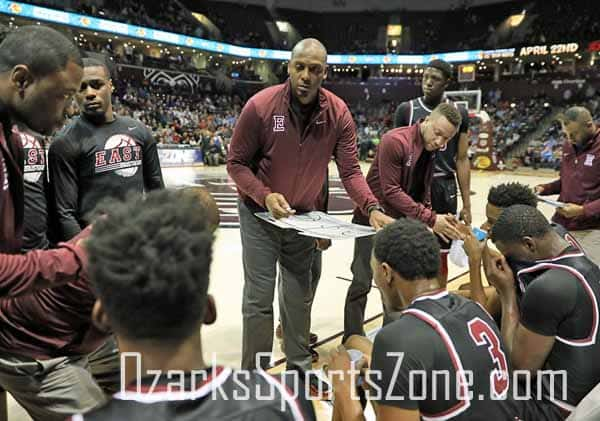 After trailing by as many as six three times in the fourth quarter, a Collum free throw put Memphis East up 50-49 with 3:40 remaining. It was the first time the Mustangs led since 3:12 of the third quarter.
Montverde was without point guard Andrew Nembhard for the final four minutes after the sophomore point guard and ESPN #15 sophomore fouled out.
Montverde opened the second half on a 6-0 run to grab a 33-29 lead. Not long after, Memphis East responded. Trailing 36-31, the Mustangs used a 7-1 run to grab the lead back.
Memphis East junior and Rivals.com #53 junior T.J. Moss was just 1-10 through three quarters. He finished the night 1-11 with three points.
Chandler Lawson finished with a double-double for Memphis East with 13 points and 13 rebounds.
Montverde flipped a 21-percent shooting effort in the first quarter into a 60-percent second quarter, turning a 13-6 deficit into a 29-27 deficit entering halftime.
Montverde led 27-26 before a Jayden Hardaway three at the buzzer gave the lead back to Memphis East.
Barrett had a team-best eight points for Montverde in the first half. Memphis East spread out its scoring in the first half with Chandler Lawson, Jayden Hardaway and Malcolm Dandridge all scoring six.
A Nembhard free throw gave Montverde its first lead, 22-21, with 1:33 left in the first half. Montverde's largest first-half lead of 23-21 came on the heels of a 9-2 scoring run that saw a nearly four-minute long Memphis East scoring drought mixed in.
Montverde was doomed early by a 21-percent clip from the field that dug them into a 13-6 deficit.
FINAL: Memphis East 59, Montverde 56
Memphis East 13 16 10 20- 59
Montverde 6 21 17 12- 56
Memphis East- Alex Lomax 19, Chandler Lawson 13, Malcolm Dandridge 10, Antavion Collum 8, Jayden Hardaway 6, T.J. Moss 3
Montverde- R.J. Barrett 23, Rechon Black 12, Marcus Carr 9, Andrew Nembhard 6, Sean Mobley 4, Sandro Mamukelashvili 2