The grind of playing three games in three days didn't stop Kickapoo and Republic from putting on a good show in Saturday's Tournament of Champions opener.
Kickapoo led from start to finish in its 7th place victory over Republic, but the Tigers never let the Chiefs enjoy the comforts of a sure-fire victory.
Republic battled back from an 11-point deficit with three minutes remaining and nearly sent the game into overtime, as Treydon Rackley's potential game-tying 3-pointer rolled in and out at the buzzer.
Kickapoo escaped with a 64-61 victory behind 18 points and nine rebounds from Xavier commit Jared Ridder.
"They're just so fundamental and well-coached that even when you're up 10, you never really feel safe," Chiefs coach Dick Rippee said of Republic. "They execute so well and they're so good defensively."
Corey Dye's jumper put the Chiefs in front 57-46 with 3:03 remaining. But Republic, aided by two Chiefs' turnovers against a full-court press, responded with a quick 11-2 spurt over the next minute and a half.
Ty Stevens' 3-pointer brought Republic within 59-57 and forced the Chiefs into pressure free throw situations down the stretch.
Kickapoo (No. 5 in Class 5 state coaches' poll) went 4-for-6 at the free throw line in the game's final 38 seconds. A missed Kickapoo free throw gave Republic a chance at the end.
Treydon Rackley grabbed the rebound, avoided a foul by Cam Davis, and quickly dribbled up court before taking an open 3-pointer from the top of the key as time expired.
Rippee said the Chiefs were trying to foul in order to prevent Republic from shooting a 3-pointer.
BOX SCORE: REPUBLIC VS. KICKAPOO
"Cam just got a little too tight on (Rackley) and (Rackley) made a move and got around him before he could foul, instead of getting back to half court," Rippee said. "We dodged a bullet. Mitch (Closser) did a good job, head's up, of at least trying to contest (Rackley's) shot and not fouling."
Kickapoo never trailed and led by as many as 15 late in the second quarter.
Republic (11-5 overall, No. 10 in Class 5 state coaches' poll) suffered its third straight loss and fourth in its last five games. The Tigers had four players score in double figures, led by Rackley's 17 points. Caleb Singley added 14 points and nine rebounds.
Republic coach Trevyor Fisher said, despite the three losses, his players gave a worthy effort all three nights in the tournament. The Tigers (11-5 overall) lost to Sierra Canyon (Calif.) 72-54 on Thursday and 43-39 to Madison Prep (La.) on Friday.
"I'm very pleased with our effort, our willingness to compete and the way we represented Republic in a first-class manner," he said. "Couldn't be more pleased with our kids' effort, would've liked to get one or two more wins out of it. We gave ourselves a chance, just didn't' get over the hump."
Kickapoo (11-4 overall) shot 24-for-16 from the field overall, helping it overcome a 4-for-15 effort on 3-point attempts.
The Chiefs got solid contributions from bench players Donyae McCaskill, Tanner Oetting and Mitch Closser.
For senior Isaac Blakeslee, the Tournament of Champions offers a lifetime of basketball memories against top talent.
"There are so many great players in this tournament," Blakeslee said. "It's a great opportunity to see who you're up to par with. It's some great competition."
CLICK HERE FOR ALL OF OUR BASS PRO T OF C COVERAGE
Kickapoo 17 18 14 15 — 64
Republic 7 15 18 21 — 61
Kickapoo – Jared Ridder 18, Cameron Davis 10, Mitch Closser 8, Travis Vokolek 6, Donyae McCaskill 6, Corey Dye 6, Tanner Oetting 5, Isaac Blakeslee 5
Republic – Treydon Rackley 17, Caleb Singley 14, Broc Smith 12, Ty Stevens 10, Mitch Coiner 6, Devon Ward 2
Greenforest beats Madison Prep in 5th place game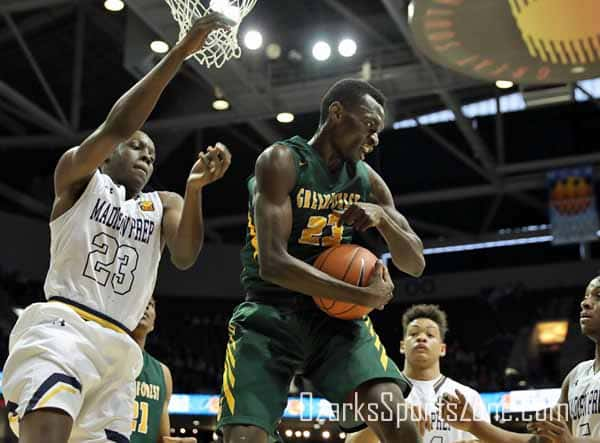 Greenforest (Ga.) put the defensive clamps on Madison Prep (La.), limiting the Chargers to 29 percent shooting (14-for-47 overall), and used superb scoring balance to prevail in the Tournament of Champions 5th place game.
Ten players scored for Greenforest, although none of which reached double figures. Abayomi "Bebe" Lyiola had eight points and seven rebounds, while Justin Forrest added eight points for Greenforest.
GAME PHOTOS: MADISON PREP VS. GREENFOREST
Josh Anderson scored a game-high 17 for Madison Prep (16-2 overall). Greenforest (12-4 overall) won the rebounding battle 39-27, including a 15-10 edge in offensive rebounds.
Greenforest also benefited from a 22-2 advantage in bench points.
BOX SCORE: GREENFOREST VS. MADISON PREP
Greenforest's Ikey Obiagu had two blocks, two points and seven rebounds in 20 minutes. He finished the tournament with 19 blocks, three shy of Damon Boneparte's tournament record (22) set in 1993.
Greenforest 9 18 12 14 — 53
Madison Prep 12 9 8 12 — 41
Greenforest – Abayomi Lyiola 8, Justin Forrest 8, David Quimby 7, Michael Evans 6, Victor Enoh 6, Jandan Duggan 6, Mohammad Abdusalam 5, Zion Fluellen 3, Terrell Saunders 2, Ikey Obiagu 2
Madison Prep – Josh Anderson 17, Josh LeBlanc 10, Jharon Whitfield 10, Tyresse Walker 2, Troy James 2