By Jordan Burton
Each year there are several future Division I standouts and NBA draftees at the legendary Bass Pro Tournament of Champions, so seeing major college coaches and scouts at JQH Arena is nothing new. But this year you might also see a few college football coaches looking to put the finishing touches on their 2017 recruiting class by securing the commitment of Kickapoo senior Travis Vokolek.
The 6-foot-6 athlete is the Basketball Chiefs' starting center, but doubles as one of the most highly coveted Missouri football prospects in the 2017 class. Vokolek – who is being recruited to potentially play several different positions – has seen his recruitment pick up with Rutgers and Minnesota both offering in recent weeks.
They join an increasing list of programs jumping in the hunt as Signing Day approaches and in what is often a copycat game, could help Vokolek attractive even more programs. Wyoming, Buffalo, Northern Iowa and Missouri State are also just a few of several schools that have offered Vokolek as teams continue to evaluate his impressive mix of size and athleticism.
"I have narrowed my list down a little bit but not much," said Vokolek. "I am still trying to stay open minded through everything, but I know I'll have to make some tough decisions here soon. I try not to let the whole recruiting process get in the way of basketball, but I am always constantly thinking about where I will be playing and going to school next year in the back of my mind."
With just a month remaining before National Signing Day, things will likely continue heating up for Vokolek in the coming weeks.
Rutgers will be in town to watch Kickapoo in the Tournament of Champions, joining Minnesota and Missouri State as other football programs that are using basketball games as a chance to get see more of Vokolek.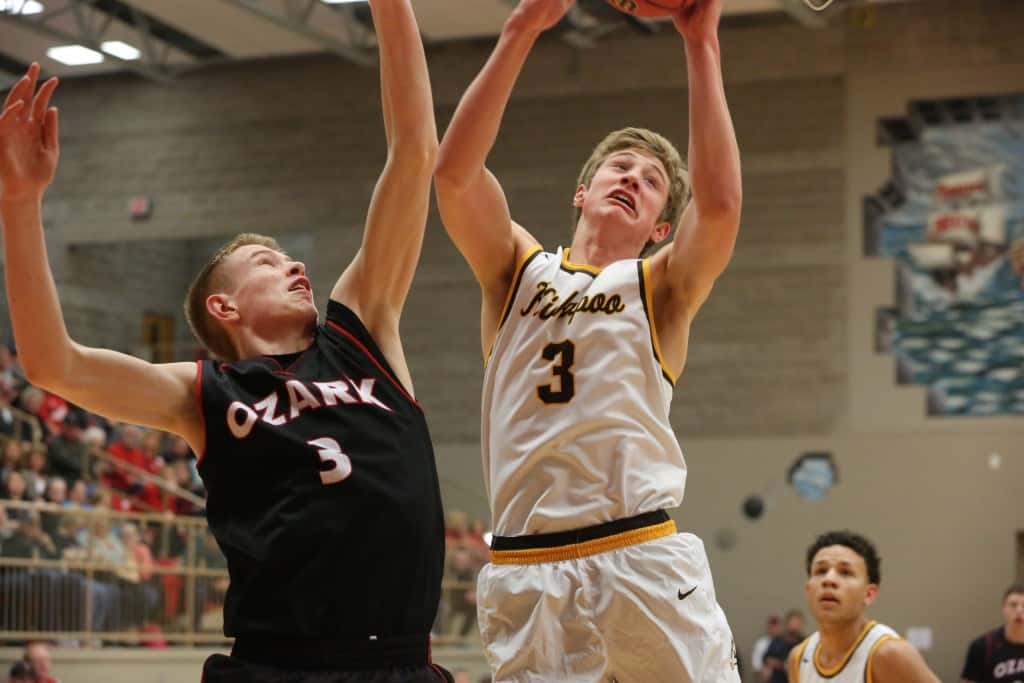 The madness that is the recruiting process is nothing new to Vokolek or his family.
D.J. Vokolek – Travis' father – coached college football from 1997-2015 with stops at Northern Iowa, Missouri State and Buffalo included. Terry Allen – Travis' uncle – has been the head coach at Northern Iowa, Kansas and Missouri State and Chase Allen – Travis' cousin – is a freshman tight end at Iowa State.
After seeing Jim Harbaugh and other coaches come to basketball games to recruit Allen, Vokolek isn't phased by who is watching.
"It's not really a big deal," said Vokolek. "I know they are coming to see how I run, how physical I am and my overall athletic ability."
Vokolek has enjoyed having family to lean on throughout what is sometimes a stressful process.
He and Chase remain in contact as Allen also went through the struggle of playing a senior basketball season in the midst of the recruiting process, with many of the same coaches and programs showing interest in each prospect.
Vokolek has also been able to lean on his dad. The elder Vokolek was an assistant on Kickapoo's staff this year after spending two years at Buffalo.
"Having a dad that had lived the business for more than twenty years has definitely helped," said Vokolek. "He explains the business side of it as well as the football side of it. It is a little different when coaches come in and talk with us as a family, as he is used to walking into other homes to visit with families, but I think he has enjoyed it.
"It was awesome having him on the field everyday with the guys and I. It's crazy how I dreamed of playing for him one day and it came true. It was a lot of fun. If he was to get back into the business then I could see a possibility of playing for him. Playing in high school for him was extremely fun, but playing in college for him would also be pretty cool."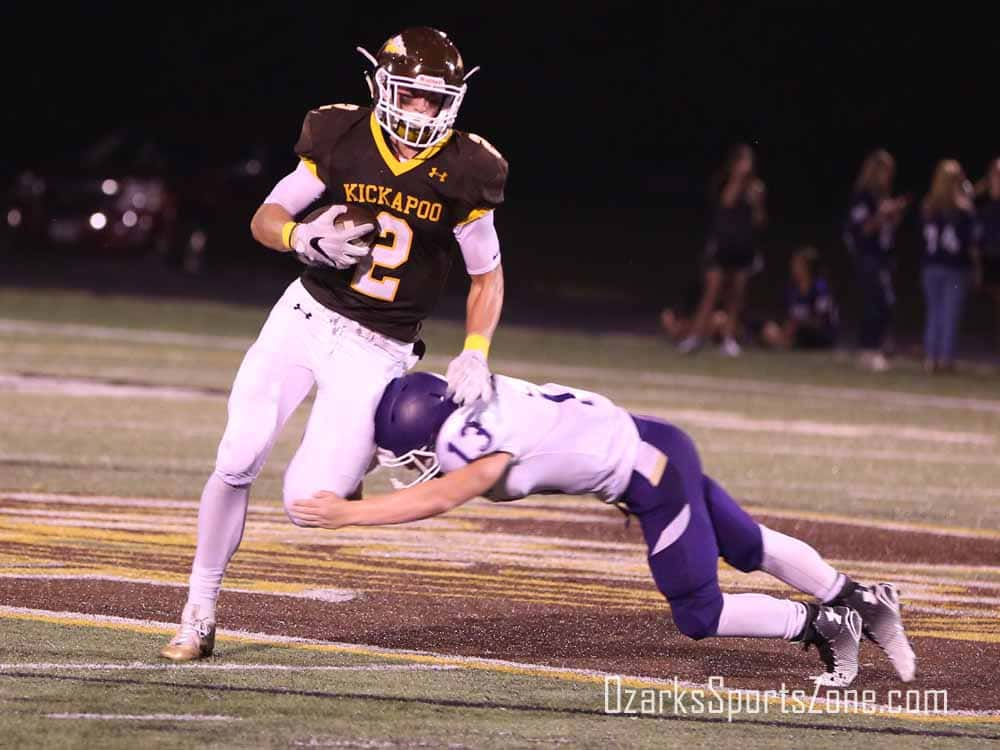 A visit to Wyoming at the end of January and an eventual trip to Rutgers are in the works. Vokolek also hopes to sit down with new Minnesota frontman P.J. Fleck to gauge the Gopher's interest as they go through a coaching change.
There is no timetable in place for if/when Vokolek will make his decision; teams may have to wait until Signing Day to receive his fax. In fact, even his position remains up in the air as that too will hinge on which program he chooses.
But, while his future program and position are still in question, there is no question about Vokolek's decision to continue to high school basketball career and dreams of winning a state championship in a Kickapoo jersey.
In an era of kids that love to specialize in hopes of realizing D-1 dreams, Vokolek is just a month away from inking with a major program without sacrificing his other passions. Further driving home the point that specialization isn't always best.
"I've always played basketball and have enjoyed playing the game. I have played all four years at Kickapoo and not playing this year wasn't an option for me," said Vokolek. "I lift everyday and still play basketball so why not do both.
"I would definitely tell any athlete that comes through Kickapoo to stick to what they've been doing because you can only play multiple sports once in your lifetime in high school. You can play another sport and still work on your main sport, in my case football. I use basketball to work on my speed and change of direction. So I'd say that there is no need to quit other sports that you've been playing since you could ever remember because you can use another sport that you enjoy playing to work on key skills needed for your main sport."
Kickapoo opens the 2017 Bass Pro Tournament of Champions against No. 4 Montverde Academy at 8 p.m. on Thursday at JQH Arena.