By Jordan Burton
Springfield, MO – After winning its first four games of the season, Willard had lost each of its last four contests, relegating the Tigers to unseeded territory.
But, entering Monday's opening round matchup with No. 7 Lebanon, Willard wasn't concerned with seeds or pulling upsets, Lamont Frazier's team was focused solely on the chance to step on the court.
"We often talk about the fact that we get what we deserve," said Frazier. "You can whine, you can pout and you can be upset over not getting a seed, but sometimes you just have to count your blessings and be thankful for the opportunity to play. Forget the numbers, that doesn't guarantee you anything – seeded teams can lose too."
His players might think he's a prophet…
Willard battled adversity, foul trouble and rust to "upset" Lebanon 62-59 in the opening round of the Blue and Gold Tournament's Gold Division.
Things seemed bleak for Willard late though. Standout senior Houston Johnson was whistled for his fifth foul on a questionable block/charge call with more than four minutes remaining in the fourth quarter. The Tigers trailed 55-48 at that point, but were able to end the game with a 14-4 run keyed by freshman Daniel Abreu.
The 6-foot-3 forward even scored the go-ahead basket for Willard in the game's final seconds. He finished with eight points and nine rebounds.
"He's a kid that has made plays all year," said Frazier. "He's a student of the game and very knowledgeable – he's like a sponge because he's always wanting to learn. When you have a guy with that kind of ability and plays with that kind of effort, he's going to make some things happen."
Lebanon scored 12 of the game's first 15 points thanks to a quick start by freshman Quentin Shelton. The 6-foot-1 guard scored 10 of his game-high 27 points in the first quarter. Shelton scored 17 of Lebanon's 27 first half points and 22 of their 45 through three quarters.
His hot hand – finishing 6-for-10 from 3-point range – helped the Jackets take a 45-44 lead into the fourth quarter.
"Watching him, it felt like just another game," said Lebanon coach Adam Thronhill. "He played with confidence as he has in every other game this season, it didn't bother him that we were in JQH Arena. His competitiveness and his mature are well beyond his age."
Willard was also buoyed by the return of junior guard Kenny Chambers. The Tigers were 4-0 before losing Chambers for a month due to a disciplinary incident.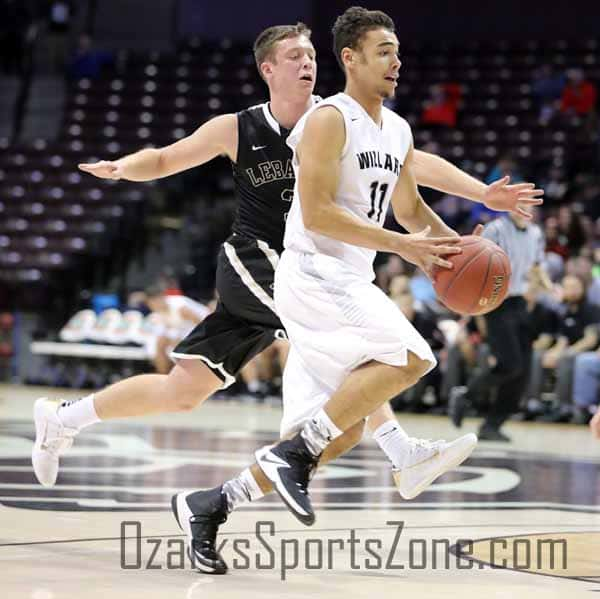 Chambers scored 10 of his 17 points in the second quarter to help Willard dig out of its early deficit. Defensively he added three steals and was able to help limit Shelton and Lebanon senior Jack Ehrhardt – the Jackets two leading scorers – to a combined four field goals in the second half.
"Having him back makes everyone else better," said Frazier. "Even just his presence because everyone else on the team knows what he's capable of. Our battle tonight was reigning him in and keeping him from trying to get everything back at once. He's not a selfish guy, he'll give it up, and when he's efficient our team is more efficient."
Seniors Seth Bird (17) and Houston Johnson (11) also reached double figures for Willard. Ehrhardt added 15 points for Lebanon.
The win ends a four-game skid for the Tigers and catapults them into a huge quarterfinal matchup with state-ranked Bolivar, a 74-47 winner over Camdenton on Monday.
For Lebanon, the loss sends the Jackets to the consolation side of the bracket. It's the third straight year that Thornhill's team has lost a game by one possession.
Thornhill hopes that his team can get refocused and be ready to play on Tuesday.
"There wasn't any huge momentum shift tonight, it was just a lot of small things that young, soft teams do. We didn't box out, didn't defend and didn't communicate and that's a softness issue… That's something we will address tomorrow in shootaround and for the rest of the week."