By Jordan Burton
Springfield, MO – He will never be the most skilled basketball player on the court, but you'll rarely find anyone that plays with more heart than Dalton Cloyd.
And on Monday his heart was the difference…
With Fair Grove clinging to a 60-59 lead in the game's final seconds, Cloyd was able to come up with a steal and deflect the ball out of bounds off of a West Plains defender. That play resulted in a pair of free throws and the Eagles surviving an upset bid from the Zizzers in a 64-59 win in the opening round of the Blue and Gold Tournament's Gold Division.
"You never question what you're going to get with Dalton – he's going to give you everything he has every time he steps on the court," said Fair Grove coach Tim Brown. "He's got a "W" on his chest because he's a winner. He's going to play college football one day and make someone's program better.
"He sat a lot of that second half because we went with a better offensive lineup. He didn't hang his head or pout, he just cheered his teammates on and when it was time for him to step in and make a play he did that. I'm not surprised that he made that play, but i'm more proud of him for the kind of leader and teammate he is."
Cloyd's play help offset a sluggish game for the Eagles.
West Plains tied the game at 59 all following back-to-back layups by senior guard Dalton Ross. This after the Zizzers led by eight in the first quarter, 17-9, and took a 27-23 lead into the intermission. No. 5 Fair Grove trailed for nearly the duration of Monday's game as West Plains was able to slow the tempo and pick them apart in the half court.
"Fair Grove is really talented so we did what we thought we had to do to put ourselves in a position to win," said West Plains coach Kevin Smith. "We knew we had to rebound and force them to make shots over us. We also thought we could maybe spread them out and take advantage of our motion. We just wanted a chance at the end and we had that."
Senior Garrett Kesterson – who entered Monday averaging 21 PPG – hit right at his average with 21, 17 of which came in the second half. Kesterson led four Eagles in double figures. Classmate Evan Fullerton finished with 10 and freshmen Cole Gilpin and David Oplotnik scored 12 each.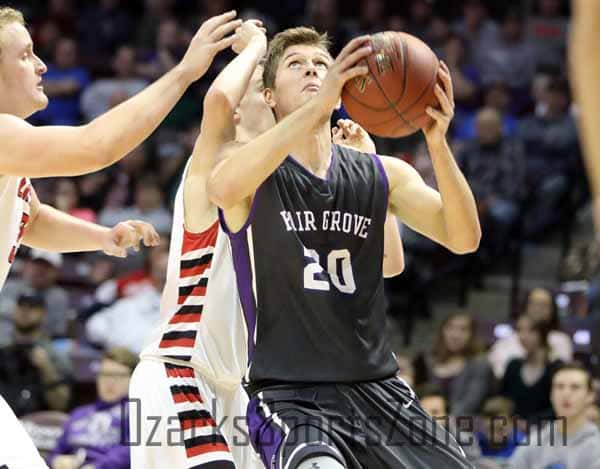 Brown challenged his seniors at halftime, but he continues to be impressed with how quickly his freshmen have acclimated to varsity basketball.
"I can't say enough about our two freshmen," said Brown. "They stepped up and made plays as they have all year. They have no fear when they step on the floor."
Junior Landry Randolph led West Plains with 12 points. Mitchell Mahan and Clay Butler each scored 11.
The Zizzers continue to adjust to new roles after losing a loaded senior class. Going toe-to-toe with one of the best Class 3 teams in Missouri is yet another example of how this inexperienced group continues to grow.
"We have several guys adjusting to the speed of varsity basketball and it almost feels like we're doing on the job training," said Smith. "But from where we were at a month ago to where we are now feels like night and day. I feel better about where we are and the direction we are going."
Up next for Fair Grove is No. 4 seed Ozark.
These two teams have spent each of their last four jamborees together so they are familiar. Each team also played in last year's semifinal and is eager for another shot at a Blue and Gold title.
But Brown admits for that to happen his team's effort and focus must improve.
"They played harder than we did today," said Brown. "We really didn't meet their effort level until the six minute mark of the third quarter and it was a dogfight for the rest of the game.
"We've struggled the last two weeks. I don't feel like we've gotten better and our mindset and effort just hasn't been there. If ever there is a time for us to right the ship it is now or we're going to be on the wrong end of a team that is known for bringing it with an edge."
Fair Grove and Ozark are set for a 6:30 tip on Wednesday at JQH Arena.
Ozarks blasts Buffalo
Ozark has played for a championship in each of the last two Blue and Gold Tournaments and on Monday the Tigers took their first step towards a third-straight championship appearance with an 88-38 win over Buffalo.
Junior Quinn Nelson dropped a game-high 24 points including a trio of 3s and a baby dunk. Parker Hanks (14) Payton Nichols (10) and Garrett Reinke (10) all joined Nelson in double figures.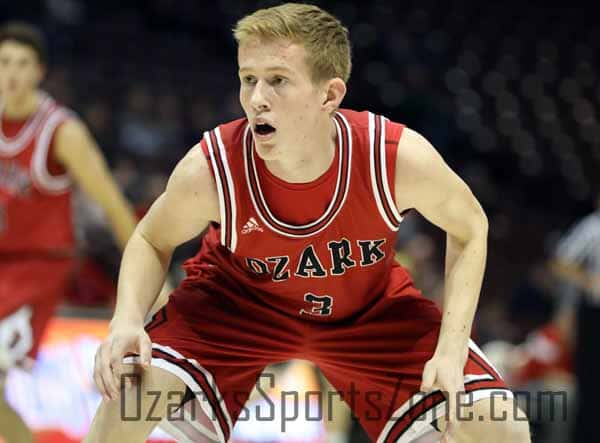 The Tigers led 24-6 after the first quarter, prompting Buffalo coach Kyle Gawlowski to call all but one of his timeouts before halftime.
The Bison were led by senior Ben Smith's 12 points.