By Matt Turer — mturer@ky3.com
@MattTurer
Thayer, Mo. — Not yet a month into the season, the Thayer Lady Bobcats now have 10 good reasons to forget about last year.
Julie Stone scored a game-high 29 points—with 16 coming in the fourth quarter—as Class 2 Thayer (10-0) stayed perfect with a 68-56 win over Class 4 Salem (3-3) in one of its toughest early tests.
The Bobcats began the season unranked in the state after winning just 10 games last season, but an early upset of state-ranked Van Buren in the Van Buren tournament championship began to draw a spotlight on the green-and-white clad 'Cats.
CLICK HERE FOR SALEM VS. THAYER PHOTO GALLERY
"From Day 1 we talked about pride in the program," Thayer head coach Cecil Meyer said. "Putting pride back into the program. And you're starting to see it. You see kids fighting for loose balls. Fighting for rebounds. That's the main thing for us. To turn the program around."
Now ranked No. 5 in Class 2, Thayer has added a win over a Salem team that was previously ranked in Class 4.
"That was a big win for us," Meyer said. "[Salem] had a lot of size and have good guard play. They have a little bit of everything. We've proven we can hang with anyone, I guess."
For evidence of that proof, look no further than what Thayer's defense did to Salem's Payton Curley. Curley came into Monday night's SCA matchup averaging 24.8 points per game and hadn't been held under 21 all season. But Thayer's active half-court press defense bothered the Tigers throughout, forcing double-digit turnovers and limiting Curley to a season-low 16 points.
"When we got out of [the press], they're hard to stop with the [Baylee Bilyeu] and then all the shooters that surround her," Meyer said. "We didn't come out of it at first because we were worried about Curly, but we've got enough length where I think we can cause problems."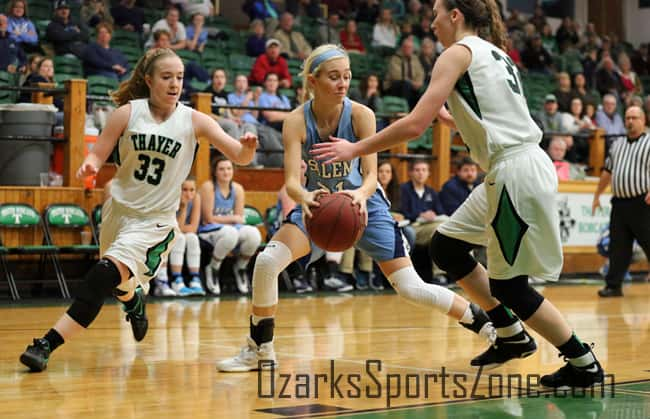 Kari Hatridge finished with 17 points for Salem and Bilyeu 16. No other Tiger scored more than four.
On the offensive end, Stone has been a star for Thayer. After being limited to a pair of first-quarter three-pointers in the first half, she poured on 23 points in the second half. Angela Sorrell carried Thayer with 10 first-half points.
Salem led 8-3 early and held a 19-17 lead after a frantic first quarter.
"I think [the girls] were prepared because last year they got embarrassed by Salem," Meyer said. "They were ready to come out and show what they could do. Play a bigger school and maybe silence some of that talk about our schedule and stuff. We'll play who's on there and the kids came out and showed that tonight."
Salem will participate in the Mountain Grove Tournament on Dec. 26.
Thayer has 16 days to rest before the Liberty Tournament on Jan. 5, 2017.

FINAL: Thayer 68, Salem 56
Salem 19 11 7 19 – 56
Thayer 17 14 11 26 – 68
Salem- Kari Hatridge 17, Payton Curley 16, Baylee Bilyeu 16, Kara Powell 4, Camryn Pryor 3
Thayer- Julie Stone 29, Angela Sorrell 12, Caity Jones 10, Taylor Madden 9, Kyla Crawford 5, Caity Corsey 3