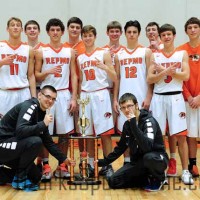 By Nolan Epstein
After surrendering a ten-point lead in the final six minutes of regulation, the Republic Tigers (3-0) righted the ship in overtime and hung on for a tough 56-45 victory over Ozark (2-1) in the championship game of the Republic Invitational on Saturday.
Defense was the calling card throughout the first three quarters for a Republic team that had held both of its opponents to 50 or fewer points over its first two games, but a 15-9 run by Ozark in the fourth, completed with a clutch 3-pointer by junior Quinn Nelson with 30 seconds to play, forced an extra session and postponed the celebration plans for the host team.
CLICK HERE FOR PHOTOS OF THE GAME
Fortunately for Trevyor Fisher's group, the overtime period provided a defensive renaissance for Republic as it yielded just one basket and a free-throw in the extra four minutes.
"We talked about how [Ozark] had all the momentum going into overtime, but if we sat down on the defensive end, guarded, got stops and got rebounds, we would be OK," said Fisher. "Ultimately, they scored three points in overtime and that was the difference."
Republic wreaked havoc with Ozark's offensive rhythm for the majority of the contest – leaving head coach Mark Schweitzer's team with a bevy of missed shots and a grand total of 27 points after three quarters of play.
"We just did a really poor job of executing on screens, we didn't cut hard hard and our motion did not look good at all," Schweitzer said after the loss. "A lot of it had to do with how physical [Republic] was on defense and they did a great job."
The offensive showing for Republic on Saturday was not exactly a clinic either, but senior Ty Stevens did more than enough to lead the team to the win.
After scoring 10 points in the semifinal win on Friday, Stevens took charge against Ozark and compiled a game-high 21 points. Stevens did most of his damage with the clock stopped – going 15-for-17 at the foul line.
"We ask him to do quite a bit," Fisher said of Stevens. "He got to the basket, got to the free-throw line, and stepped up and made [free-throws]. He did what seniors are supposed to do."
12 of Stevens' 21 points came in the fourth quarter and overtime as the senior took it upon himself to steer his squad through rough waters and find a way to remain perfect on the young season.
"When [Ozark] tied it at the end of regulation, that was obviously a little bit scary to say the least," Stevens said. "I think, being a veteran team, we were able to keep our composure, just finish out the rest of the game and keep it going through overtime."
Fellow senior Treydon Rackley, who put up 28 points a night earlier, finished right behind Stevens with 20.
In the loss, Quinn Nelson, Parker Hanks and Payton Nichols all scored 11 points to lead an Ozark team that's still finding its way after an impressive run to the tournament final.
"I don't think that a lot of people thought we would get to the championship and we did do that," Schweitzer added. "That's always a goal is to play in a championship of any tournament we play in."
Republic faces Cardinal Ritter at Glendale next Saturday, while Ozark comes home to host Central on Tuesday.
Box Score
Ozark – 8 9 10 15 3 – 45
Republic – 8 16 9 9 14 – 56
Ozark – Quinn Nelson 11, Parker Hanks 11, Payton Nichols 11, Noah Suiter 6, Carter Burgess 4, Garrett Reinke 1, Will Pickering 1
Republic – Ty Stevens 21, Treydon Rackley 20, Cameron Doke 7, Broc Smith 5, Caleb Singley 2, Devon Ward 1