By Kai Raymer (kraymer@ky3.com)
Who's ready for some district volleyball?! The action comes hard and heavy next week, as districts play their opening rounds on Monday and most have their semifinals and finals on Tuesday.
Here's an outlook on our local district tournaments, and maybe a few predictions as to who could be moving on to the state playoffs…
Note: These previews for Class 1 and Class 2 were written on Wednesday and Thursday, so there may be a game or two missing from certain teams' bios.
CLASS 1 DISTRICT 5 @ BUNKER HS – CLICK HERE FOR THE BRACKET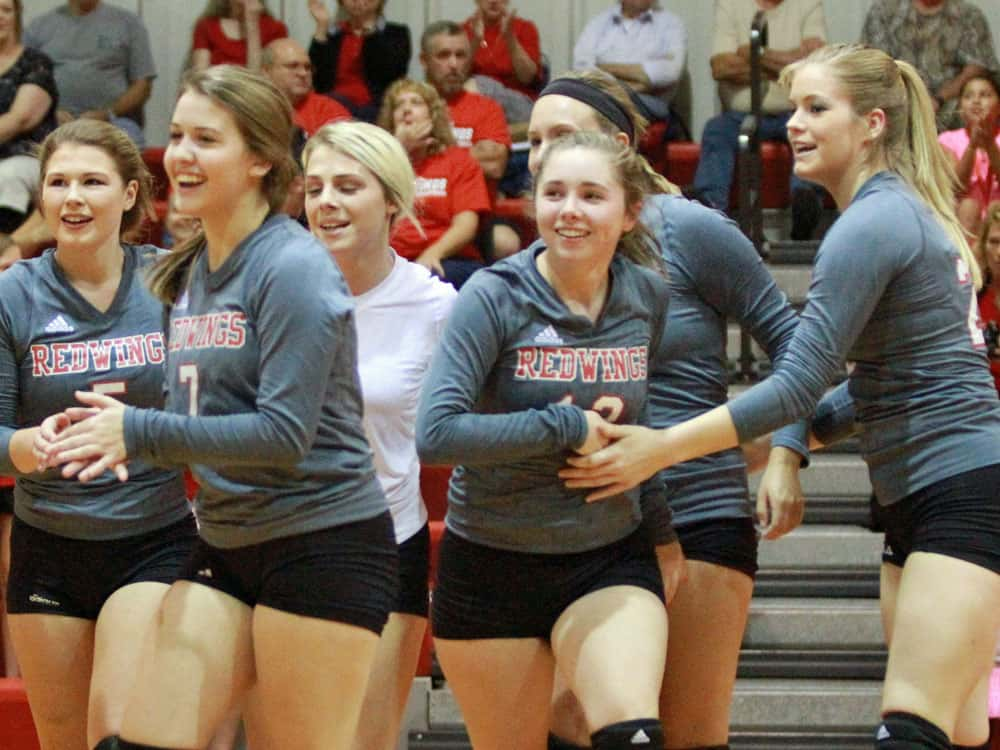 History says winning this district means a trip to state is in your near future. Well, if your name is Winona or Eminence.
The Shannon County rivals, often meeting up in the same district, have traded off Final Four appearances this century, with one or the other reaching state each year since 2000, including a run of four straight state championships from 2011-2014 (three by Winona).
I think they're again the best of our local Class 1 teams this year, but only one will be advancing to the state tournament.
Eminence won the head-to-head matchup on Sept. 6, 25-19, 25-21. For what it's worth, Winona owns a win over two common opponents: the Wildcats beat Saxony Lutheran 2-1 in the Dig for Life Challenge in Cape Girardeau on Sept. 10. Eminence lost 2-0 to Saxony Lutheran in pool play of that same event.
Tuesday night, Winona beat Lesterville 2-0 at home. Eminence lost 2-1 at Lesterville in late September. The Team A beat Team B, Team B beat Team C, Team C beat Team A factor always makes it fun.
The favorite: Eminence's win over Winona in early September helped it land the No. 1 seed here, and that's significant because a challenging match looms for Winona in the semifinals against Summersville.
Eminence's tandem of Wendy Smith and Madison Keeling were too much for Winona to handle in the first meeting. They combined for 19 kills, a kill percentage of around 50 percent, and a hitting percentage over 45 percent.
Smith leads the team in kills. Senior Kim Rolen does the dirty work in the back, leading Eminence in digs. Eminence's attacks are orchestrated through sophomore setter Sydney Williams.
Eminence hasn't just beaten up on small schools, either. The Red Wings own wins over Class 3 Marshfield, Class 4 Rolla and Class 2 power Mountain View-Birch Tree/Liberty.
They're also playing well at the right time. Eminence is 9-1 in its last 10 games, the lone loss coming to Class 4 Willard in the finals of the Licking Tournament.
Eminence doesn't have much height (no player taller than 5'9") but that factor hasn't held them back this season. The Red Wings will have to avoid a look-ahead, let-down scenario when they face likely semifinals opponent Viburnum (15-8 overall).
The spoiler: The underdog role isn't all that new for Winona. But the Wildcats, with four straight Final Four appearances and three state championships from 2011-14, aren't your typical No. 2 seed.
Keep in mind, Winona lost to Fordland in the regular season last year, received a No. 2 seed in districts, and ended up beating Fordland in the finals.
Winona had a shaky start to the season, but the Wildcats have fared better since a Sept. 22 home loss to Dexter. They're 6-0 in non-tournament matches since then, including an impressive 25-18, 25-20 home win against Lesterville earlier this week. Lesterville (22-7-2 overall) is the No. 1 seed in the Class 1, District 3 tournament.
Winona really balances out its attacks. Kyndal Thomason, Kiley Counts, Bridgette Rutledge, Lilly Wright and Anna Cox all have over 100 kills for the season. Thomason, the lone senior of the group, has been Winona's most consistent hitter.
Winona's blocking could be better – the Wildcats don't have a player averaging more than .5 blocks per set – but libero Delaney Hicks has stepped up with a team-high 475 digs over 67 sets this season. She averages 15.3 digs per match.
Winona's 6-2 system is ran by setters Wright (291 assists) and Madison Counts (258 assists).
It's hard to beat a good team – and a rival no less – twice in one season, especially when that team (Winona) has recent history and tradition on its side. This might be the most competitive finals match we have next week.
The spoiler: But wait, there's more! Keep an eye out for No. 3 seed Summersville.
The Wildcats have been really dangerous of late. They beat Plato, a No. 1 seed in another local district, 2-1 on the road Oct. 4.
Summersville has also pushed both Eminence (Sept. 29) and Winona (Oct. 6) to three-set losses on the road in the last two weeks.
Summersville has wins over Class 3 and 4 schools such as Waynesville, Parkview, Cassville, Rolla and Webb City, and even pushed Class 2 power Fair Grove to a three-set loss in the Stockton Tournament.
Junior captain Nicole Watson is listed at 5'6", but she packs a punch with a team-high 207 kills. Sophomore Lauren Shockley brings a presence in the middle (188 kills, team-high 57 blocks.). Sophie Haynes has a team-high 40 aces. The Wildcats hope to have defensive specialist Leatha Keller back for districts. Currently dealing with an injury, she leads Summersville with 221 digs.
The winner of this district would face the winner of District 8 (Wheaton, Miller or Pierce City, likely) in the first game of sectional/quarterfinal Saturday.
CLASS 1 DISTRICT 6 @ BILLINGS HIGH SCHOOL – CLICK HERE FOR THE BRACKET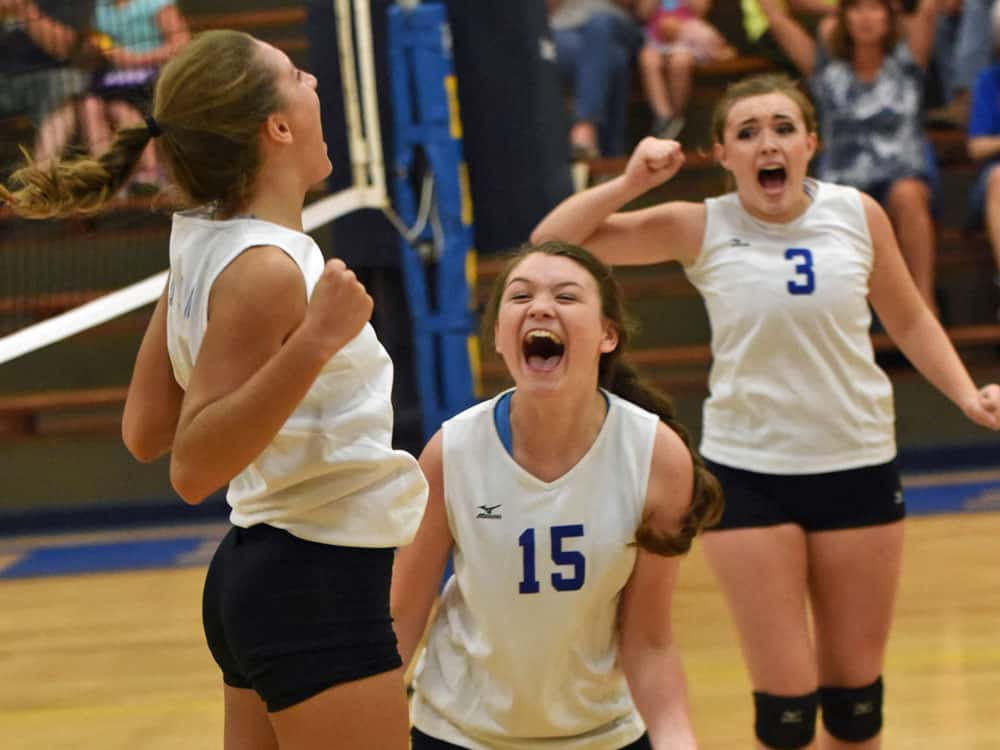 Some districts are pretty easy to predict when you see the bracket, and then there are ones like Class 1 District 6. The top four seeds – Plato, Fordland, Billings and New Covenant – all have double-digit losses.
The favorite: Top seed Plato only faced Fordland (a three-set win for Plato) and Niangua (a pair of 2-0 wins this season) among this district field, so we don't have much to go off for them.
Plato has played several Class 2-4 schools, but most of its wins have come against sub-.500 teams. It's definitely a wide-open district, but Plato has a more favorable road to the finals.
The Eagles, who dropped down from Class 2 this year, are a team led by underclassmen. Sophomore Allie Hall leads the team in kills (124 through Oct. 6). Junior Kiara Evans tops the stat chart for blocks (29). Sophomore Hannah Smith has the most aces (39), and Shaylln Earls has posted the most digs.
This is already Plato's winningest volleyball season in a while and more accolades could be coming the Eagles' way next week.
The spoiler: Last year, it was Fordland coming in as the No. 1 seed (and 24-3-1 overall) and falling in the finals to perennial power Winona.
Fordland graduated a lot of talent from that 2015 team, but there's no Winona-level team standing in the Eagles' way in districts this year.
Fordland has split a pair of meetings with Billings this season and owns a win over New Covenant, but has been up-and-down in recent weeks. The Eagles are 4-5-1 dating back to a Sept. 26 home loss to Hurley. Fordland played its best volleyball in mid-September when it went 4-1 over a five-game stretch that included wins against School of the Ozarks, Billings, New Covenant and Galena.
Junior Danielle Bailey has become Fordland's primary hitter in the absence of 2016 graduate Ali Sparks. Bailey is also very active defensively, averaging nearly two blocks per set. Sophomores Sophie Sparks (404 digs) and Emily Whiteford (296 assists) are also big contributors for the senior-less Eagles who, like Plato, rely on a lot of underclassmen.
The darkhorse: The names may change, but the results stay the same at Billings. The Wildcats, thanks to recent wins over Blue Eye, Spokane and Hurley, have clinched a sixth straight winning season.
If I had to pick a non-Top 2 seed to win a district… Billings might fit the bill. The Wildcats have a recent win over Fordland and I think they've played the most demanding schedule of anyone in this district.
Update: Maybe I'm on to something here. Billings took league champ Clever to three sets in a home loss on Wednesday. Positive steps…
To continue the running theme of youth in this district, Billings' attack is led by sophomores Kortney Kimberling (101 kills) and Carlea Jenkins (98 kills). They've also combined for 90 total blocks, an average of nearly 4 per match.
Seniors Kacie Baxter (254 digs) and Sarah Sommer (230 digs, 70 kills) key the defense. Elizabeth Gearing (273 assists) runs the offense.
A victory in the finals next week would mark the third district title in four years for Billings.
The winner of this district would play the winner of the next district in our preview (District 7) in the sectional round.
CLASS 1 DISTRICT 7 @ GALENA HIGH SCHOOL – CLICK HERE FOR THE BRACKET
Well, this district is pretty wild, too. All six teams – even No. 1 seed School of the Ozarks – have currently between 8 and 17 losses. The team with the most losses? No. 2 seed Blue Eye, which is 8-17-4 overall as of Oct. 12. It pays to win games against district opponents during the regular season.
The favorite: School of the Ozarks, one of the youngest programs in the state, is on pace for its fourth-straight 20-win season. Despite all the wins, including a 30-3-1 record last year, the Patriots are still seeking their first district championship.
The district bracket this year is pretty favorable.
School of the Ozarks is 8-1-1 against district opponents this year, although four of those wins came in three-set matches. The lone loss came at Blue Eye on Sept. 22.
The Blue Eye match looks to be an outlier in an otherwise strong 30-day stretch for the Patriots, who are 13-1-1 since Sept. 15 and have won two tournaments in that span.
Brooke Housley (MB, .367 attacking percentage) and Olivia Vinton (OH/3.5 kills per set) form a big presence up front for S of O. Setter Abby Mutrux (6.05 assists per set) and libero Lucy Watson (4.35) key the Patriots' passing and back-row defense, respectively.
The spoiler: If you're only going to have eight wins through Oct. 12, might as well make a few of them count for something.
Blue Eye (8-17-4 overall as of Oct. 12) has wins over School of the Ozarks (1-1-1 against the Patriots overall this season) and also defeated Galena 2-0 at home last on Oct. 6. Four of Blue Eye's losses have come in matches that went three sets, including a rough stretch in late September and early October where the Bulldogs lost consecutively to Spokane, Crane and Billings in three sets, so this team isn't far off from being around .500.
Blue Eye has one-two hitting punch in Trinity Young and Kohnnar Patton, with Kenzie Hobbs running the offense at setter.
The darkhorse(s): Galena (12-12-2 overall as of Oct. 12) is chasing its first district title since 2009. That was also the last season the program posted a winning record.
The Bears have defeated both Hurley and Chadwick this season, but took a recent loss to Blue Eye and also fell to School of the Ozarks in three sets in two meetings.
Megan Caulfield (105 kills, 57 solo blocks) contributes with hitting and blocking. Senior middle Bailey May (101 kills, 29 blocks) gives Galena another option in the middle. Outside, junior Mary Yocum has added 67 kills and 73 digs. Another underclassmen, sophomore Tatum Johnson has added 51 kills to go with a team-high 56 aces.
Coach Hannah Mohler-Fondriest has kept her setters rotated for the majority of the season. Junior Jayden Greene has 121 assists and 30 digs. Sophomore Jaymie Burk has 136 assists, 27 digs and 41 aces.
Despite a win over Blue Eye, losses to Galena (twice) and School of the Ozarks (in three sets) bumped Hurley all the way down to the No. 4 seed.
Hurley has some good wins on its resume, notably: Crane (a team that beat Blue Eye), Fordland and Class 2 Pleasant Hope. Hurley has been streaky this year: it won five-straight non-tournament games in the early part of the season, four straight non-tournament games in late September, but has recently lost four straight to close the season.
First-year coach Melissa Dhondt has helped keep Hurley above .500 after taking over for longtime coach Brent Moody. Hurley's key players this season include: sophomore libero Samantha Hall (384 digs, 8.4 per set), senior MH/MB Lexie Winfree (106 kills, 2.9 per set, .53 blocks per set) and junior middle Sierra Flood (104 kills, 2.8 kills per set, 3.4 digs per set). Sophomore OPP Paige Simpson (2.1 kills per set, 43 aces) and sophomore setter Hailey Chamberlain (9 assists per season) have also provided good production to a Hurley team that graduated an all-time great in Zava Bennett after last season.
The winner of this district would play the winner of District 6, where Plato is the top seed, in the sectional round.
CLASS 1 DISTRICT 8 @ PIERCE CITY HIGH SCHOOL – CLICK HERE FOR THE BRACKET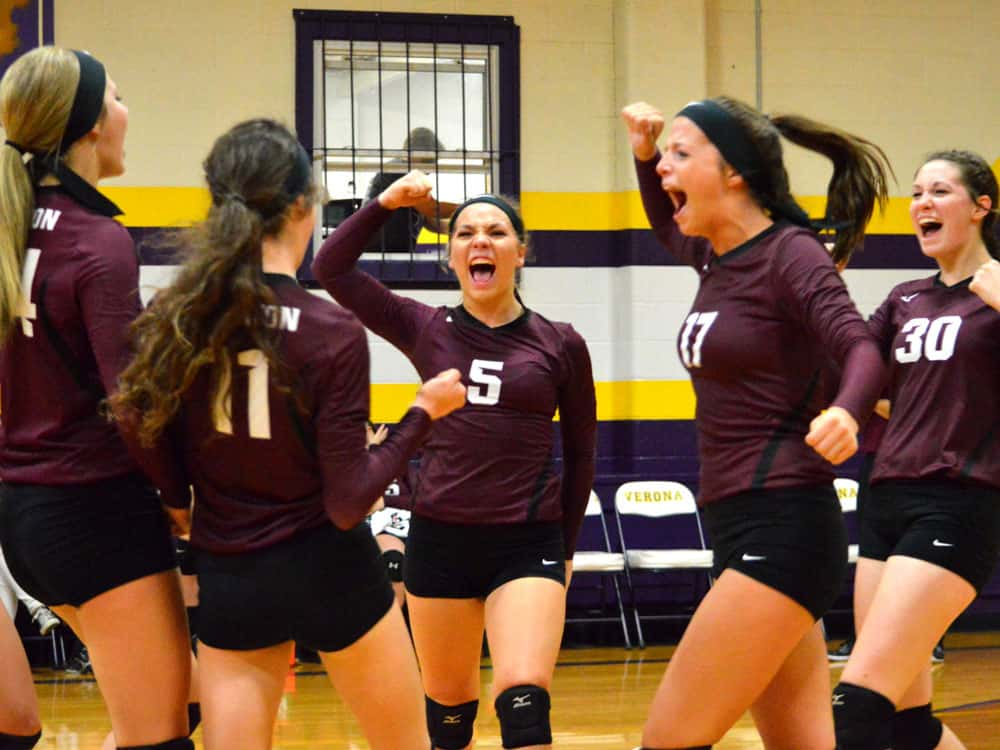 We could have a great finals matchup here featuring a pair of 20-win teams, but the home-standing Pierce City Eagles won't be an easy out.
The favorite: Wheaton, after its winningest season in a while, will look to continue the good times with a district championship.
The Bulldogs (21-6-4 overall) have yet to lose to a Class 1 school. Their losses were against: Class 3 East Newton, Class 3 Seneca, Class 2 Fair Grove (in the Ash Grove Tournament finals), Huntsville, Ark. (in the Southwest Volleyfest finals) and Class 4 McDonald County (twice).
A senior trio has carried Wheaton for much of the season. Middle hitter Emily Killion does a little bit of everything (305 digs, 24 blocks), and she's Wheaton's top offensive weapon (258 kills).
Middle hitter Karlee Mason (223 kills, 351 digs, 38 blocks) is another versatile piece in Wheaton's arsenal. Setter Adison Goostree (557 assists) feeds a lot of passes to that duo.
Wheaton, which went undefeated in Ozark 7 play (including a 2-0 win at potential semifinals opponent Verona), didn't play Miller in the regular season but beat Pierce City twice at the Ash Grove Tournament.
The spoiler: The lean years of the early 2010s are long gone for Miller. The Cardinals have already locked up their first winning season since 2009 and are out to defend their district championship.
Miller (25-3-2 overall) claimed an undefeated SRVC regular season championship Wednesday night with a three-set win at Pierce City, a likely preview of Tuesday's district semifinals. Miller's notable wins include: Fordland, Billings, Marionville, Sarcoxie, Ash Grove, Pierce City and Lockwood.
Dalyn Hadlock is set to finish with over 600 assists this season; she had 538 entering this week. Lynna Hadlock (290 digs), Tori Collins (236 kills) and Bethany Gulick (26 blocks) highlight a young but balanced Miller squad.
Miller's three losses – to Marionville, Fair Grove and Pierce City – came amid a three-day span in early September.
After beating Pierce City on Wednesday, Miller is undefeated (13-0-1 overall) in its last 14 matches.
Pierce City is about as tough of a semifinals opponent as Miller can ask for. The Eagles are one of only three teams to beat Miller this season and Tuesday's potential semifinals match would be the second meeting between the two SRVC schools in less than a week.
Pierce City's 5-1 system runs through senior setter Kayla Portillo, who averages about 20 assists per night. Fellow senior and OH/DS Christine Stellwagen will be all over the court – she leads Pierce City in kills, digs and aces and packs a lot of hitting punch in her 5'6" frame.
The Eagles have also gotten steady contributions from junior OH Libbey Strickler and middle Belle Golubski. Kenzie Portillo has quickly adapted to a libero role as a freshman.
Pierce City's better than its 14-13-3 overall record indicates. Six of those losses occurred in three-set matches, including to Class 2 schools such as Marionville, College Heights Christian (twice) and Sarcoxie.
The Eagles have played a quality schedule and they could reap the benefits of it here with home court on their side.
The winner of this district would likely face either Eminence, Winona or Summersville in the sectional round, with the winner of that going on to face the District 5 vs. District 6 winner for a trip to Cape Girardeau.
CLASS 1 DISTRICT 9 @ LIBERAL HIGH SCHOOL – CLICK HERE FOR THE BRACKET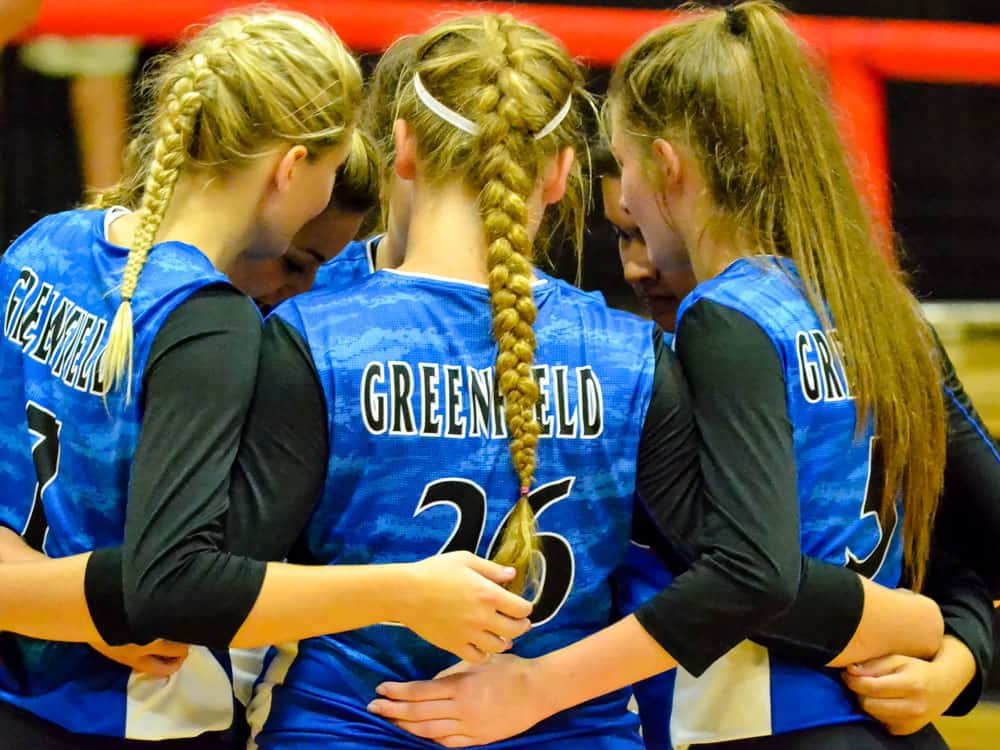 These final two districts in our Class 1 preview sectional, 9 and 10, are in a different sectional/quarterfinal pod, so there's a chance we have multiple Class 1 teams state-bound. It's happened before in the O-Zone era, with Osceola and Winona both going in 2012 and 2013.
This SRVC-heavy district features one team (Liberal) at the 20-win mark and five others around .500.
The favorite: The 2010s have been good to Liberal. The Bulldogs have clinched their third 20-win season since 2010 and seven winning season in eight years.
Liberal's fared well against Missouri teams this season. Entering this week, the only two in-state losses for the Bulldogs, who also lost to a pair of Kansas school, were to Miller and Lamar.
The Bulldogs enter districts winners of sixth straight, including a trio of three-set wins in that stretch. Liberal closed the regular season with a 2-1 home win over Sarcoxie, a No. 1 seed in a local Class 2 district, on Tuesday.
It's been a really competitive year for SRVC volleyball between Miller, Liberal, Pierce City and Sarcoxie.
The (spoilers): Take your pick. There's a lot of potential upsets among the No. 2 through No. 6 seeds here. All have around the same record and are conference opponents.
No. 2 seed Golden City split a pair of meetings with Jasper this season, including a three-set win in late September. Golden City also split a pair of meetings with Lockwood and has two wins over Greenfield. Like I said, it's a pretty wide-open field after Liberal.
Greenfield has 17 losses, but the Wildcats have been competitive against Golden City (a three-set loss) and are 1-2 against Jasper. Taylor Burns (131 kills, 114 digs) continues to be a key player despite playing with a fractured finger on her hitting finger for the past two weeks, said coach Marla Kemp.
Setter Macy Wilson, the daughter of the head coach, has 383 assists and a 95 percent serving percentage on 213 serves with 26 aces. She's added 132 kills.
Senior outside hitter Sadie Fare (115 kills), sophomore middle Lauren Jones (team-high 25 blocks, 112 kills, 129 digs) and libero Autumn Phillips (team-high 178 digs) round out Greenfield's main rotation.
Greenfield's opponent is 2015 SRVC champ, Jasper, which has undergone a bit of a rebuilding season after graduating a lot of key players. The Eagles won a district title last year, but enter this new-look bracket 13-13-2 overall. Jasper's really young. Most of its key varsity players – Stevie Galiani (135 kills, 48 blocks), Reagan Dumm (80 kills, 62 digs), Kierstin Johnston (386 assists), and freshman Kristy Holliday (96 kills, 43 blocks, both second on the team) – will be back next year.
No. 3 seed Lockwood is also a dangerous team to watch.
The Tigers have played the likes of Miller, Osceola and Golden City to three-set losses. Junior Moriah Coose (215 kills, 3.6 per set, 93 total blocks) is one of the premier middles in SWMO Class 1. Rylee Neill runs the offense (364 assists) and is also one of Lockwood's best defensive players in the back.
The winner of this district would likely play either Calvary Lutheran (23-0 overall) or New Haven (26-4 overall) in the sectional round.
CLASS 1 DISTRICT 10 @ Osceola – CLICK HERE FOR THE BRACKET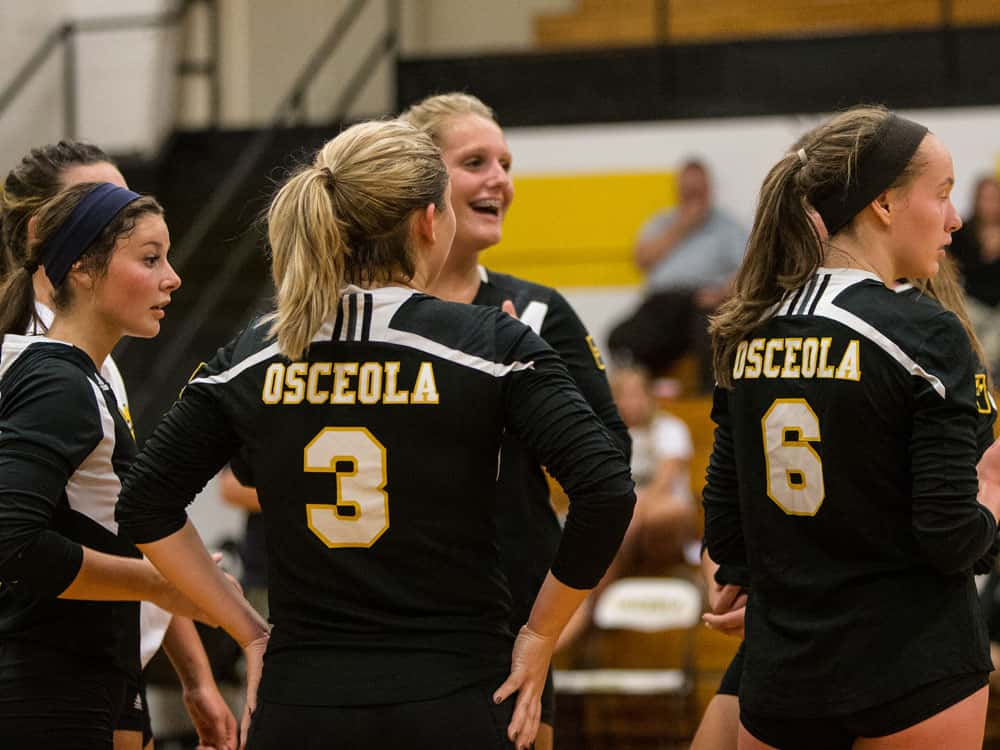 You know about the postseason success programs like Winona and Ozark have had over the past decade, but how about this run over the past 10 years for Osceola?
• 10 straight district champions
• 5 final four appearances
Not bad. Osceola has a golden road to another district title in this district. The only other team with a winning record in this district is conference foe Appleton City, and Osceola already has a pair of 2-0 wins against them this season.
Much of Osceola's success is based around its senior class. The Indians' drive much of their attacks toward a pair of 6-footers in Breanna Wood (141 kills, 24 blocks) and Rachel Motley (120 kills). Senior Geneva McGrath has a team-high 265 assists and senior Nora Wheatley leads with 108 digs.
Both of Osceola's potential semifinals opponents, Hume or Northeast Vernon County, are currently under .500. The odds are very good for an 11th straight district title for the Indians.
If Osceola can win this district, they would likely face Green Ridge (District 11) in the semifinals. The Tigers own a mid-September home win over Osceola.
CLASS 2 DISTRICT 9 @ Cabool HS – CLICK HERE FOR THE BRACKET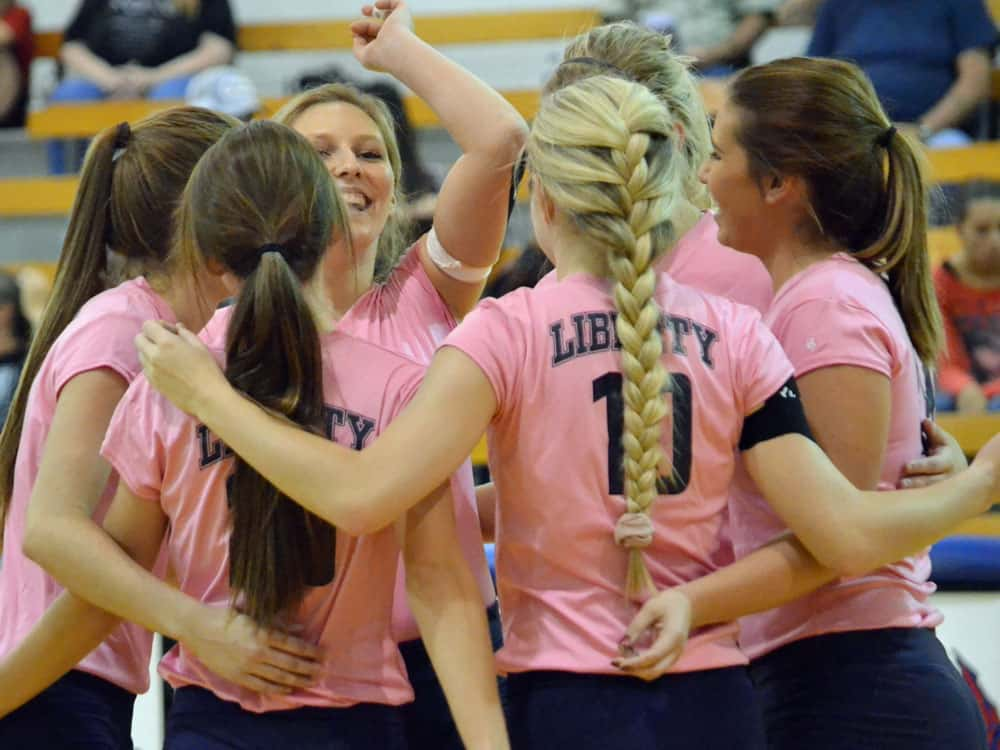 Credit to whomever planned the dates for this district tournament. I'm a fan of the setup for this six-team district: quarterfinals AND semifinals on Monday, and then the main event (finals) alone on Tuesday.
The favorite: Liberty's not quite at the level it was in 2014 and 2015, but the Eagles are still really good and a good bet to advance from this top-heavy district.
Liberty claimed its fourth straight SCA title last week and they'll have a very good chance to earn their fourth straight district title on Tuesday night. The Eagles own wins over No. 2 seed Willow Springs, No. 3 seed Cabool (twice), No. 4 seed Licking and No. 5 Houston, and didn't drop a set in any of those matches.
Cabool gave Liberty its closest run, playing the Eagles to a 25-22 loss in the first set in a meeting at the Licking Tournament on Oct. 1.
Liberty's a streaky team, aggressive but error-prone as coach Sheri Tune said in a recent game.
Since losing to Class 1 Eminence in the semifinals of the Licking Tournament, Liberty had won six straight entering Thursday's Senior Night home game against a good Class 1 team in Summersville.
Liberty lefty and senior Brenley Stearns is the team's top hitting option. She leads the Eagles in kills (212), kill percentage (55.1), hitting percentage (44.1) and is also a very good server (team-high 54 aces). When they don't go to Stearns, Liberty will usually look toward fellow senior Brook Conway (141 kills), who doubles as a setter (312 assists) in Liberty's 6-2.
Opposing attacks will have to hit around a very good blocker in Liberty sophomore Piper Francis (66 total blocks, 34 solo, 2.4 blocks per match), who has a lot of "ups" in her 5'9" frame.
And you're not seeing double, Liberty will have the twin tandem of Madison Berry (161 digs) and Marissa Berry (225 assists) on the floor a lot.
The spoiler: Willow Springs (20-8-2 overall) continues to establish a winning standard. This is a program that won fewer than 10 games each season amid a five-year span from 2009-2013.
The Bears were 13-15-4 in 2014, took a big leap last year with a 20-11-1 overall season, and have notched their second-straight 20-win season heading into districts.
Willow Springs shares the wealth its attack, but its preferred hitters appear to be the senior tandem of Grace Bailey (team-high 175 kills) and Cassidy Crewse (156 kills). Juniors Jessica Miller (125 kills) and Kameron Woody (101 kills) will also see attack opportunities.
The Bears present some considerable height at the net in the form of the 6-foot senior captain Bailey (team-high 65 blocks, 2.2 blocks per match) and junior Liliya Dudko (56 blocks, 1.9 blocks per match).
In the official SCA meeting, Liberty's defense proved to be the difference-maker. Willow Springs also lost to Liberty 2-0 at the Licking Tournament in pool play.
Notable wins on Willow Springs' resume include: Class 3 Mountain Grove, Cabool, Plato and Fordland. Not any eye-popping wins, but no bad losses, either. Willow Springs' losses have come against: Liberty (twice), Summersville (three sets), Cabool (three sets), Class 4 Hillcrest, Class 4 Willard, Winona and Eminence. For the most part, they've beaten the teams they should beat and lost to better teams.
The darkhorse: Cabool split with Willow Springs in the regular season, winning 2-1 at home on Sept. 20 in the official SCA meeting, but losing 2-0 at the Licking Tournament.
The Bulldogs are again pushing for the 20-win mark for the third straight season, after finishing with 19 wins in 2014 and 2015. Cabool knocked off Willow Springs in three sets to earn a spot last year's district finals, where it lost to MV-BT/Liberty.
Like Willow Springs, Cabool (18-8 overall) doesn't have any marquee wins or "bad" losses. Among the Bulldogs' eight losses, many of them have come against teams that are No. 1 seeds in district tournaments: Strafford, Plato, Liberty and Willard.
The good news? Cabool has played pretty well, for the most part, since mid-September.
The Bulldogs had won eight straight non-tournament games since Sept. 15 before a Thursday-night loss to Eminence and are 9-4 overall in that span. Three of the four losses occurred at the Licking Tournament, against Willow Springs, Liberty and Willard.
Cabool's best asset is its height. The Bulldogs have four girls 5'9" or taller and can limit teams with their blocking capabilities. Jaydra Johnson (110 kills in 288 attempts) and Kaitlen Beller (105 kills) are Cabool's primary hitting options, but Joelle Atkins (91 kills) and Grace Shockley (80 kills) will also contribute.
The team MVP is uber-active libero Alyssa Matherly, who leads the team in digs and (unofficially) floor burns.
Cabool only has two seniors, so they figure to factor in to the SCA race again next year.
The winner of this district would face the winner of District 12, where Strafford is the top seed, in Saturday's sectional round.
CLASS 2 DISTRICT 10 @ MARIONVILLE HIGH SCHOOL – CLICK HERE FOR THE BRACKET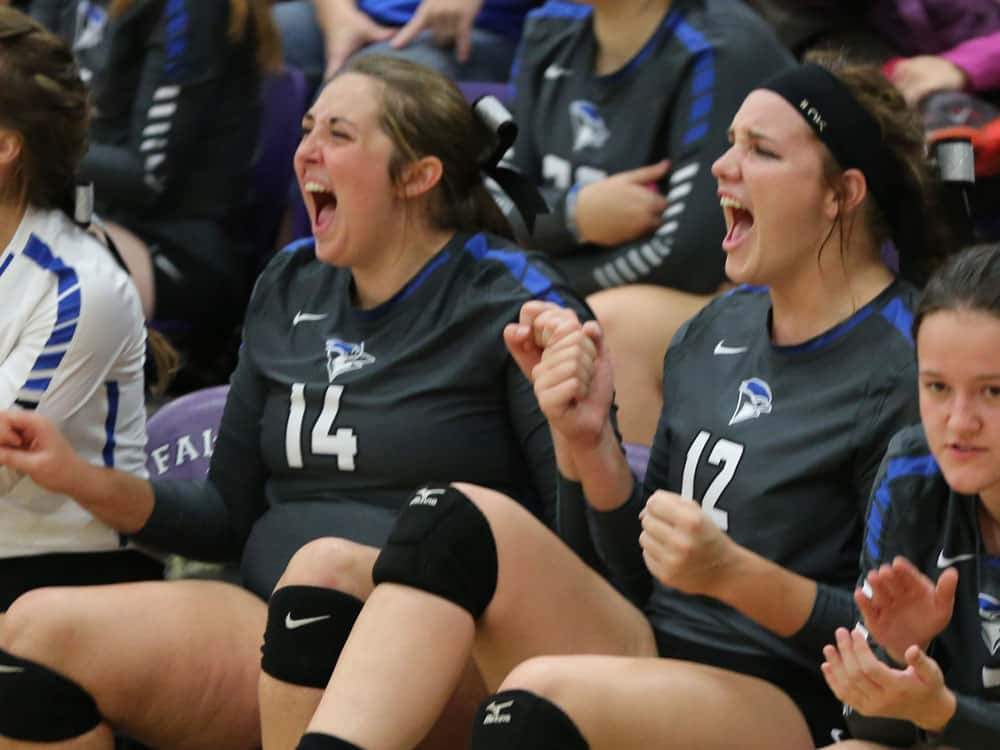 This district could be pretty entertaining. Clever and Marionville are solid at the top, but they've also fought inconsistency at times this year and have had a knack for close matches.
On down the seeding list, there's no glaringly "bad" team.
The favorite: There are few "locks" at district time, but Clever playing for a district title is a pretty safe bet. The Blue Jays are money come district time – they've reached the district finals in at least 10 straight seasons (MSHSAA's district tournament database only goes so far back) and have won 12 district titles overall since 2002.
Clever (19-9-3 overall) spreads its attacks rather evenly among four players: seniors Taylor Menzies (131 kills, team-high 62 total blocks) and Emily Mendenhall (118 kills), along with the sophomore duo of Harper Little (126 kills) and Abi Menzies (111 kills). Little is also a pivotal defensive player in the back (team-high 322 digs).
Juniors Lindsay Peebles (281 assists) and Jessica Swartz (203 assists) share setting duties in Clever's 6-2.
Clever's season-opening win at Marionville helped it land the No. 1 seed here. The Blue Jays also own victories over the likes of Class 4 Central and Class 4 Joplin.
Clever has eight losses, but three of those came in three-set matches to teams that will likely finish with 20+ wins: Fair Grove, Aurora and Hillcrest. The Blue Jays also lost twice to a good Rogers (Ark.) team at the Hollister Tournament last weekend. Clever's had consistency issues pop up in games against Spokane, Cassville, Catholic and Billings.
Among this district field, Clever owns wins over Marionville, Forsyth, Crane and Spokane. Spokane, the No. 6 seed, is actually the only team in this district that took a set against Clever this season.
The spoiler: Marionville fell 25-21, 25-17 to Clever in the Aug. 23 meeting. The Comets (22-7-1 overall) have won 19 or more games each season since 2014.
Marionville has some really impressive result on its season resume: The Comets beat Forsyth, Miller, Pierce City, Sarcoxie and gave Strafford and Fair Grove everything they could handle in close losses. Strafford may have been looking ahead a bit to a game at Fair Grove two days later, but Marionville playing the Indians to a 25-27, 22-25 outcome on the road says a lot about the Comets' abilities.
The Comets will lean a lot on the senior hitting tandem of Kymbra Kirby and Tori Brown, who will be fed by setter Tori LaSalle. Libero Mikayla Campbell will be busy with Clever's array of hitters.
This could be the last hurrah for a Marionville senior class that's won a lot of games over the past three years. The Comets won't go down without a fight on their home court.
The darkhorse(s): Forsyth may have something to say about that Clever vs. Marionville finals match. Forsyth (18-8-1 overall) has won 17 or more games for the fourth time this decade. The Panthers lost in straight sets to Marionville and Clever in the regular season. Like the top two seeds in this district, Forsyth has been up-and-down a lot of nights this fall. Forsyth is another senior-laden team, led by the likes of MH Maycee Lumley, setter Kayona Perry OH Lauryn Stiffler along with junior MH Baylee Henderson.
Purdy-Crane should be a competitive match in Monday's opening round. Purdy seniors Hannah White, Carly England (team-high 238 digs) and Rion Boyd along with juniors Hallie Henderson (313 assists), Casey Ellison and Carley Spears will try to spring the upset in the Ozark 7 vs. SWCL clash.
For Crane (14-15-2 overall), it's been a rebuilding year after graduating a stellar senior class following a district title in 2015. Much of Crane's offense is centered around the tandem of senior Madison Fulp and sophomore Madison Hicks, who's a rising three-sport start. Setters Sadie McMenamy and Maelyn Gonzalez run Crane's 6-2 scheme.
For a team with only seven wins, Spokane's been pretty feisty at times this year. The Owls have played likes of School of the Ozarks, Forsyth, Billings and Clever to three-set losses this season.
It's also been a rebuilding year for Southwest, which had won 20-plus games each season since 2016. The Trojans lean on a four-player senior class that includes Brianna Learned (106 kills, 276 digs) and Sydney Delossantos (288 digs).
The winner of this district faces the winner of District 11, where Sarcoxie is the top seed, in Saturday's sectional round.
CLASS 2 DISTRICT 11 @ STOCKTON HIGH SCHOOL – CLICK HERE FOR THE BRACKET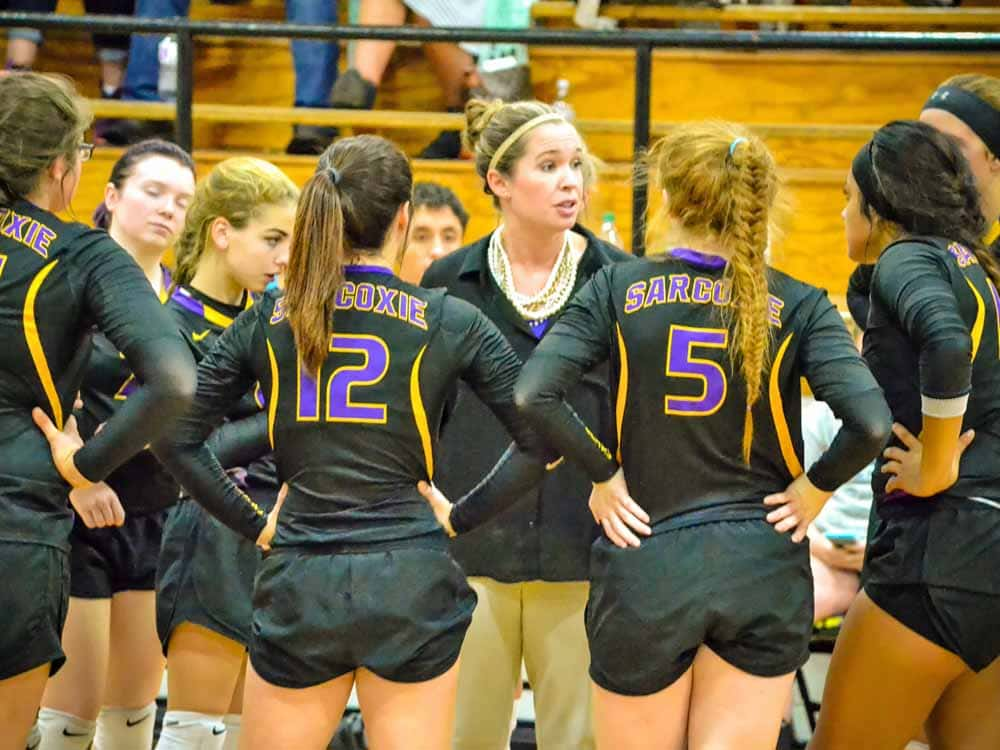 Not all districts are created equal. Sarcoxie (22-6-3 overall) has the luxury of being one of only two teams in this group with a winning record as of Oct. 13.
The favorite: Doormat no more, Sarcoxie has continued one of the biggest turnarounds of any local program.
Here's the win total for the Bears, by year, this decade:
• 2010: 1
• 2011: 2
• 2012: 3
• 2013: 6
• 2014: 2
• 2015: 15
Sarcoxie will come close to nearly doubling its combined win total from 2010-2014 this year alone.
Sophomore middle Chelsea Evans leads Sarcoxie with 6 kills per game. Another sophomore, libero Giselle Lopez, leads the back row with 7 digs per game.
Junior Micah Edwards is active around the net, leading the team in blocks and placing second kills.
Sophomore Kierston Dodson (21 assists per game) runs the show.
This won't be the last you hear from Sarcoxie. The Bears have a really young roster – only one senior and two juniors are in the regular varsity mix. Coach Lindsay Highley said her squad has become more consistent and mature with each match.
The interesting wrinkle in this district? Sarcoxie didn't play No. 2 seed Butler in the regular season, nor No. 4 seed El Dorado Springs. Both of those are teams Sarcoxie will likely play in the finals and semifinals, respectively. The Bears do own a three-set win against No. 3 seed Lamar – on the road – in late October.
Elsewhere: Butler played an OK schedule, but needed three sets to beat No. 4 seed El Dorado Springs in its season opener. It wouldn't shock me to see Lamar pull an "upset" and make the finals.
The Tigers suffered a trio of three-set losses in non-tournament games to good teams: East Newton, Sarcoxie and Liberal.
The bad news is Lamar's stumbling a bit heading into districts. They haven't won a match since beating Diamond on Sept. 19 and are 0-10-2 in their last 12 matches overall.
The winner of this district faces the winner of District 10, likely Crane or Marionville, in Saturday's sectional round.
CLASS 2 DISTRICT 12 @ STRAFFORD HIGH SCHOOL – CLICK HERE FOR THE BRACKET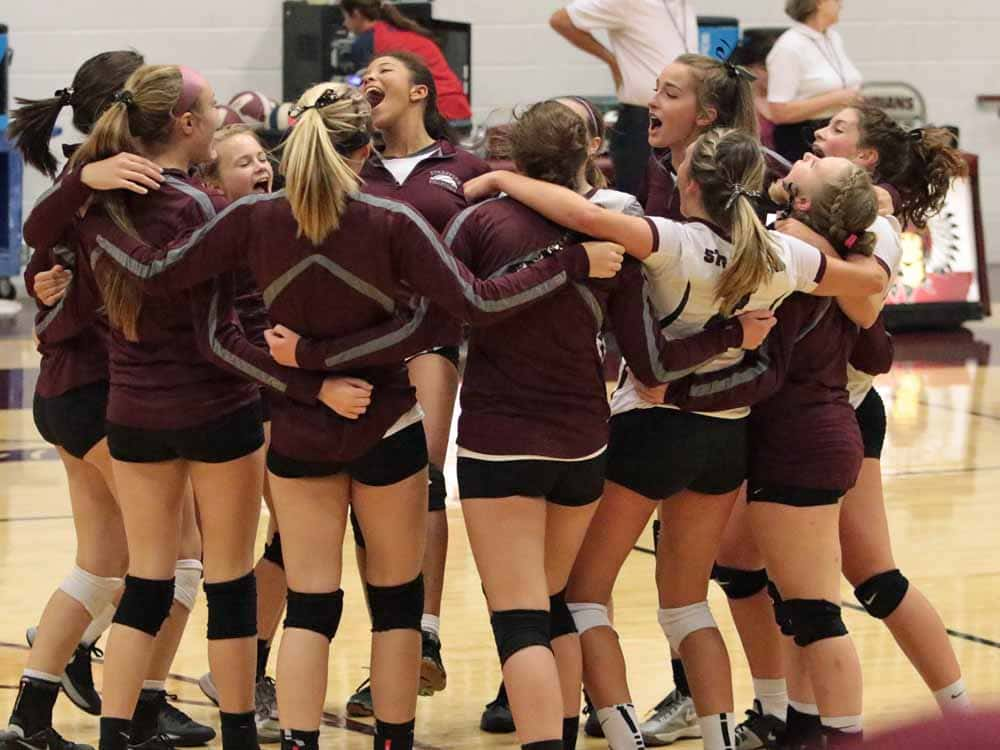 Here we go. It doesn't get much better than a (potential) finals matchup of Fair Grove vs. Strafford, rivals who both have a rich tradition of volleyball success.
The favorite: Strafford hasn't messed around this year.
The Indians have only dropped three sets all season!!!!! (Yes, I feel those extra exclamation points are necessary). Both of those were to Class 4 teams, Blue Springs South and Lebanon (Strafford's lone loss), on Aug. 27 at the Branson Tournament.
The strength of schedule in their other two tournaments – the Strafford Volleyfest and Stockton Invitational – wasn't great, but there hasn't been any hangover from losing in the state finals a year ago.
This despite graduating a senior trio – Kaylee Larimer, Grace Myers and Logan Eden – who were heavily involved in the team's hitting, blocking, defense and passing.
Chloe Rear has returned from an early season injury and has produced with her typical all-around game: 197 kills (4.7 per set), 123 digs, 103 assists.
Rilie Vote (252 kills, 4.1 per set, 57.3 kill percentage) forms a lethal hitting tandem with Rear. Jessica Allen (75 kills, team-high 47 total blocks) and sophomore Kentessa McMillen give Strafford even more depth.
Gracie Morton (468 assists) has flourished at setter and contributes defensively with 137 digs, along with sophomore Allisann Nichols (team-high 184 digs).
Notable wins by Strafford: Class 4 Carthage, a Class 2 Holden team that has over 20 wins and is a No. 1 seed in its district, and Fair Grove (twice).
The Strafford girls' basketball team ended the school's title drought last spring, but there may be more hardware coming to the trophy case soon.
The spoiler: Standing in the way of Strafford's return to Cape Girardeau is a familiar foe in Fair Grove. These two schools have had some epic meetings in the district finals in recent years and 2016 figures to be no different.
Fair Grove had Strafford on the brink, at home, in a Sept. 29 Mid-Lakes Conference meeting with a sizable lead for most of the first set. But the Eagles couldn't close out a resilient Indians team as Strafford rallied back to win the match, 2-0. The Strafford student section chanted, "You blew it," afterwards to sum up how the game went.
A rematch two days later at the Stockton Tournament saw Strafford also win, 25-13 and 25-20.
A young Fair Grove team has had some consistency issues this year, but when you graduate four-year program stalwarts like Jorden Stacey and Haley Stallings, it'll take some time to find new leaders.
Sophomore Alana Findley (220 kills, 3.7 per set, 47.5 kill percentage, 68 blocks, 185 digs) is as athletic as they come, and she'll never come off the court for the Eagles. Versatile senior Tori Fishback contributes with hitting (156 kills), defense (151 digs) and passing (311 assists). Freshman Maranntha Holliman (300 assists) is poised to become one of the school's all-time leaders in assists before her career is over.
Sometimes, district alignments just aren't fair. Strafford and Fair Grove may be the two best Class 2 teams we have. I'd like Fair Grove's chances to win any of our other local Class 2 districts, but beating Strafford on its home court in the finals is a tall task.
The darkhorse: Ash Grove will have something to say about the Strafford vs. Fair Grove finals most people (including me, I guess) are expecting. The Pirates, who head into districts 18-11-3 overall, are chasing their fourth 20-plus win season in five years and second district title since 2013.
Ash Grove has had a lot of three-set matches this season – some of those were losses to the likes of Fair Grove (twice), Bolivar and Marionville – and pool-play splits with Wheaton, Conway and Seneca, so the Pirates aren't far off from entering next week with over 20 wins.
The Pirates seem to match up well with Fair Grove.
Ash Grove lost to Fair Grove in three sets at the Ash Grove Tournament on Sept. 10 (25-19, 13-25, 14-25), then Oct. 4 at home in the official Mid-Lakes meeting (21-25, 25-19, 24-26), a game which went down to the wire.
Lefty middle Catie Martin paces Ash Grove's attack with a team-high 183 kills while tallying 50 blocks. Tori Tummons has 443 assists and Stefani Duncan has led the defense with 305 digs.