Springfield Central junior Makaiya Brooks announced her commitment to the University of Memphis on Saturday morning.
The Lady Bulldogs standout Tweeted the news, thanking her family, friends, coaches and teammates for their help.
https://twitter.com/26Youngiverson/status/1264238063082971136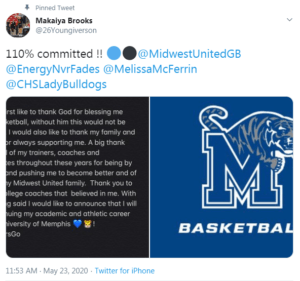 Brooks averaged 24.9 points per game, 1.7 assists per game and 2.4 steals per game on 38-percent shooting last season. She made 99 three-point shots on her way to Class 5 All-State and First-Team All-Ozark Conference honors.