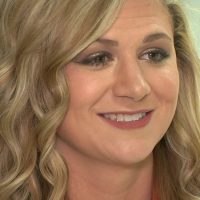 Madi Johnson's love for basketball started in the barn out back.
"My dad actually poured concrete out there, put wood on the walls, and hung up a goal," Central's assistant girls basketball coach Madi Johnson said. "I drew the lines with sidewalk chalk."
It was a father-daughter thing.
"He was my rebounder and biggest fan, all the way," Johnson said.
She went on to play at Ash Grove, and the Pirates made it to State for the first time in program history.
All of that time spent practicing in the barn continued to pay off, as she got an offer to play college ball at Avila.
"I actually started as a freshman. I scored 13 points in my first college game," Johnson said.
But after one season, Madi transferred to Evangel.
"It ended up being a family thing, my father was diagnosed with cancer, so I came home," Said Johnson.
A horrible situation made worse, when Madi's transfer meant sitting out the next year.
"It was a year that my father missed out on watching me play, it was a very difficult situation," Johnson said. "But, at the same time, I wouldn't have had it any other way."
She was back on the floor her junior year, and got through almost the whole season before cancer took her dad in February 2017. There were more dark times to come. Madi broke her lower fibula her senior season at Evangel, leaving her feeling like she didn't have a proper goodbye with the game she'd loved her whole life. Little did she know, it was merely a 'see you later'.
"After my graduation in May 2018, Caitlin Lamberth, who is the head coach here, she contacted me. She said, hey, I have a JV position open, do you want to come in and coach? And I said, yeah, absolutely," said Johnson.
Leading up to this season, Central's head coach was expecting a baby, and when she had it a month early, Madi Johnson filled in as the interim.
"I knew it was going to happen, obviously, but not as soon as it did," said Johnson. "I held tryouts this year, I made the cuts."
After only winning 7 games last season, Madi Johnson and the Bulldogs opened this year's schedule with a win over Branson.
"I woke up the next morning like, wow, we did it. They did it," said Johnson.
And then the team moved to 4-and-2 after a win over Carthage.
"I'll be honest, I didn't really know coaching was something I wanted to do at first," said Johnson. "It's just been eye opening, this really is a calling for me."
From drawing chalk lines in the barn, to plays on the white board, there's no question Madi's dad would be proud.