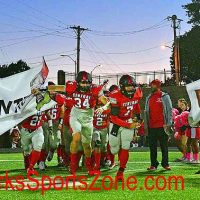 Coaches always want to put their athletes in the best possible spot to succeed.
The same can be said for administrators looking out for their coaches.
Starting next fall, Bolivar will take over Central's Ozark Conference football schedule with the Bulldogs scheduling as an independent.
After two years in the OC, the Central Bulldogs football team has a combined 0-19 record.
"We're thrilled with (Central coach Shem Johnson)," Scott said.  "We see this as a way to support him, support his staff, and support his kids.  Give them the opportunity to build that program the right way."
After two years as an independent school, Bolivar football is 14-6; including a 10-0 mark heading into the district semifinals this weekend.
But that success in 2019 has the Liberators as a third seed in district play because of its weak strength of schedule.  Only one, home playoff game for the undefeated Libs because their opponents are a combined 36-53.
One recent phone call appears to drastically improve the future of both high school football programs.
"I wouldn't say anyone approached us," Springfield Public Schools Director of Athletics, Josh Scott said.  "Our job is to keep a pulse on everything going on."
Scott is good friends with Bolivar's AD, Todd Schrader.  Since the recent conference restructuring in 2018, the two have talked often.
"(Schrader would) say, 'what is going on with the OC?  Anyone openings?" Scott said.  "We literally would talk three times a year about the Ozark Conference and them wishing to have a place for their kids to go."
The move is for football only.  All of Central's other sports will remain in the Ozark Conference while Bolivar's other sports will continue independent schedules.
"This is a drastic move we don't see often," Scott said.  "It benefits the other schools in the Ozark Conference and it benefits Bolivar."
"This is a way for (coach Shem Johnson) to build a (Central) program the way he wants," Scott said.
He move is open-ended and has been approved by the OC high school principals.  It will need a vote of the same group to bring Central back.
"Our goal is to have Central football back in the Ozark Conference," Scott said.
Central moving all of its sports to another conference is not being considered.
"Our girls tennis won the conference and the soccer team finished second.  Football, we just need to back-up and try a different approach."
The big difference is the way sports schedules can be built.
Teams in the OC can build its baseball, softball, soccer schedules, etc. to its sports strengths and weaknesses for every program except football which has a set, nine game conference slate.
"If we had a conference schedule of only five football games," Scott said, "we would not be leaving because we could (selectively) schedule another four games."
SPS would like to first get Central's numbers up to where a Class-5 football team should be, 20-30 per class.  Then it will see what options it has.
But SPS will also look at other conferences which may be a better fit in the years to come for Central football only.
As of now, Central has a seven game schedule set for 2020:
Week 1 – Eldon – Class-1 (1-9)
Week 2 – Rogers-Heritage, AR – (0-9)
Week 3 – Ft. Scott, KS – (1-8)
Week 4 – Rogers, AR – (1-8)
Week 5 – bye
Week 6 – Lighthouse Christian – homeschool (10-0)
Week 7 – MO Military Academy – Class 1 (1-9)
Week 8 – Buffalo – Class 3 (8-2)
Week 9 – bye