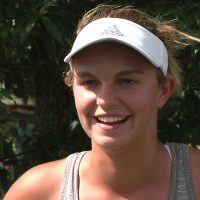 Erin Jarvis is Springfield Catholic's no. 1 tennis player again this season.
"When I'm on it's fun. I get pumped up, I try to get my team pumped up and it's just a really good feeling that makes me want to jump up and down," Jarvis said.
And those on the other side of the net witness her strengths first hand.
"I hit a ton of forehands, I try to hit as many forehands as possible," said Jarvis.
But just when an opponent thinks they've got her game figured out, they don't.
"The thing is she's got so much variety in her game that they can't sit on that. They can see it's coming, but she can go the other way," said Irish Tennis coach Martin Versteeg.
Her skills have improved every year with the help of some personal coaching.
"My brother coaches me all through the summer, so does my dad," Jarvis said.
For Erin, playing tennis wasn't really an option, growing up with a dad and brother that both played in college.
"I was always getting dragged to tournaments, so it didn't really make sense for me not to play, I guess," Jarvis said.
As a junior, Erin's motivation comes from a similar place; wanting to get better, and follow in her family's footsteps.
"Recently it's been the thought of playing in college, because it's getting closer," said Jarvis. "That's kind of exciting and also scary because I have schools I want to go to, but I have to get a little better before then, so that's what's kind of driving me right now."